IT ALL HAPPENED so fast.
Aaron McEneff was in primary school when a classmate asked him to line out for the local boys football club in Derry.
Before long, he was 16 and playing senior football in the Northern Ireland Football League Championship with Institute FC.
A few months later, he was in London to sign for Tottenham, one of the top sides in the Premier League — it was literally the stuff of dreams.
"It did take me a while to settle in over there, but it was a great experience," he tells The42. "I learnt a lot about myself as a person and a player.
"Moving away and playing with such top quality — you're playing with the best in the world really, training with them and seeing them playing in games, it's unbelievable. You play with massive players who you're looking at on TV every week.
Harry Kane was in my U21 team that season when he was breaking through. So I played a good lot of games with him and Ryan Mason. You would have been training with the first team and all the players were saying that Mousa Dembélé was the best player they played against or seen play, and I would definitely agree with that. He was unbelievable, you just can't get the ball off him."
Kane is a good example of a player who has really had to work to turn himself into a world-class star. Former Ireland international Liam Brady recently revealed the striker was let go by Arsenal as a youngster because the coaching staff there felt he was too "chubby". Other coaches too wondered whether he had the necessary pace, athleticism and technical quality to make it at the very top-level — time has proved those doubters wrong.
McEneff, however, always believed Kane had an excellent chance of going on to achieve great things when he encountered him at Tottenham, though the Derry star admits he did not necessarily envisage what a special player his one-time team-mate would become.
"If you're involved and you see the environment every day, the way he actually works, it's a different level. Before he broke into the first team and was scoring goals every week, he was doing it on the training pitch every single day — he would hit them from everywhere and they would be going in from all angles, both feet, and you could see that he had serious potential.
"Obviously, in football you can't tell what's going to happen, but if you asked around the training ground, I'm sure a lot of people would have had their money on him to do well."
Steven Paston McEneff played alongside a young Harry Kane for Tottenham at underage level. Steven Paston
In contrast with Kane's meteoric rise, McEneff's progress at Tottenham slowed in his two years there. From the outset, his Spurs career was maddeningly stop-start, having signed for the Premier League club in the summer of 2013.
"My international clearance took until January of my first year over there," he recalls. "For that period, where I wasn't playing proper competitive games, it was really frustrating.
"I did get a bit homesick — I'm not going to deny that. But then I did settle in, I started playing and started to do well. I got my injury in my last year [2014-15], when the season was about to start. That kind of killed me, because it basically just wrote the whole season off.
"I was out until around February time from late August, September, and when you come back, it takes you a while to get properly match fit again. And by that time, the season has ended.
That year was difficult mentally and I suppose there's nothing you can really do about it, these things happen in football and the way I see it, it's just about how you react. If you want [you can] dwell on it, sulk and let it get to you, or else you can just try to get on with it and pick yourself back up.
"In football, you always want to prove people wrong. But at the time, I'll be honest and say there were people progressing quicker than I was while I was out injured.
"That happens in football, people go ahead of you. One in particular, Harry Winks, he's been brilliant, he's played for England, so you can't hold any grudges. He's went on and done really well, so you have to just appreciate the things around you.
"And I appreciate the staff and how they helped me get through the injury and stuff.
"It's a game of opinions and you're always out there to do the best for yourself. But ultimately, I don't think I was ready to go into Tottenham's first team at the time.
"I think moving back to the League of Ireland has helped me massively to develop as a player and just gain a bit of experience of playing real football."
McEneff did consider staying in England and possibly trying his luck in the lower leagues, but ultimately chose to come home and link up with the Candystripes, who were managed by former player Peter Hutton at the time.
"It was a decision that was influenced by a few people for me to come back here and play and it was a bit surprising for me at the start that I actually was going to come back and sign.
You could tell that when I just signed at Derry, I didn't really get a run of games, I was in and out of the team and stuff. To be honest, mentally I was up and down dealing with the whole setback. But it's something you just have to get on with and try to get through it. Thankfully, I have done, and I'm just looking forward now.
"The standard of football [in the League of Ireland] is actually a bit better here than what a lot of people think. A lot of people wouldn't rate the league, but there are some very good players and teams that play quality football.
"There are people coming into the league who think that it's going to be easy – it's absolutely not. The talent's clearly there to see, it only takes you to look at the international squad and how many people have come from League of Ireland.
"The facts are there to see, I would never degrade the League of Ireland, for me personally, it's been brilliant."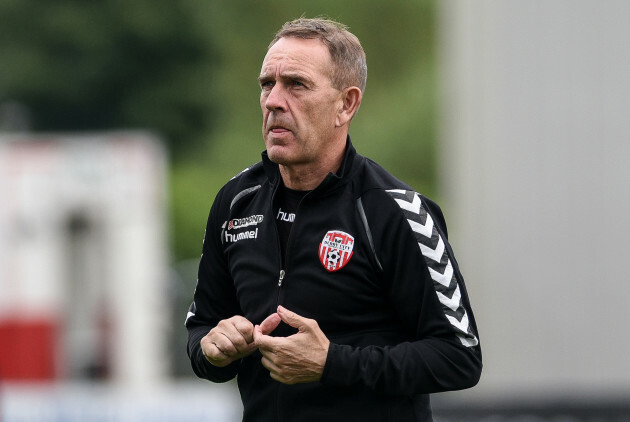 Ciaran Culligan / INPHO Kenny Shiels has helped to develop McEneff into one of the League of Ireland's top midfielders. Ciaran Culligan / INPHO / INPHO
Not long after McEneff arrived, Hutton stepped down and following a six-month spell with Paul Hegarty in charge as caretaker, current boss Kenny Shiels took over. The former Kilmarnock manager insists that his team play positive, attractive football, which suits McEneff down to the ground.
"Since Kenny came in, he spoke to me and he gives you a freedom to go and play and express yourself. He would never really discourage you if you made the mistake or gave the ball away, he's always encouraging you to get on the ball and go and express yourself.
For a player like me, the way I like to play, that's a great thing to have in a manager if he trusts you to go and get on it and show people what you can do. Not only with myself, he's done it with a lot of players. Since he's come in, a lot of young boys have upped their game and become a part of the first team and done really well."
After gradually adapting to life at the club, McEneff has established himself as a key player for Derry, almost three years on from signing for the club, helping them finish in the top four and getting into Europe for the past two consecutive seasons, while hoping to emulate that feat at the very least this year. In his first full season, the attacking midfielder scored six goals. Last season, he managed 10, leading him to be linked with a move to Dundalk ahead of the 2018 campaign. This year, the 22-year-old's aim is to get into double figures and he has already scored six goals.
Derry began this season in less than convincing fashion. Last month, they were hammered 6-1 by Shamrock Rovers at Tallaght Stadium. Since then, however, they appear to have improved considerably.
Exclusive Six
Nations Analysis
Get Murray Kinsella's exclusive analysis of Ireland's Six Nations campaign this spring
Become a Member
Shiels' side have belatedly moved back into the Brandywell following its redevelopment, after a stint in Maginn Park. New players such as the brothers Rory and Ronan Hale (on loan from Birmingham City) have gradually adapted, with the latter hitting six league goals and counting.
Monday's 3-1 defeat of Bohemians was their seventh consecutive win in all competitions and saw them move up to third in the table. They will consequently go into tonight's game at Oriel Park against table toppers Dundalk in a confident mood.
From that [Shamrock Rovers] game, I think everybody was on a downer, all the players and staff. We came in the next day and actually watched the full game back together. Everybody was critical of each other — players and staff. We just sorted a lot of things out within the changing room after that game.
"I'm not saying that that's what sparked the winning streak, but it's obviously helped and it was just out in the open – I think the players themselves, we've shown a lot of character to go on a good run after that.
"After that match, it was 'if we don't up it now boys, we're in trouble,' and thankfully we did."
And if, at another point in the season, McEneff or his team-mates worry that standards are slipping, they need only remember their late captain, Ryan McBride, for inspiration. The one-year anniversary of the defender's tragic death recently passed, and he was a big influence on the young midfielder.
"A personal memory would have been when we played a friendly against Glenavon. It was after the mid-season break. There was no meaning to the game really, it was just to get a run out, get the legs going again.
"I made a bad pass or something and Ryan's just come for me and digged me out. I was like 'calm down Ryan'. He said 'no, if you're going to do something, do it fucking right'. I was like 'oh Jesus,' but that sort of stuck in my head and I was like 'if he speaks, then I listen,' and that's the way it was.
"He had that character about him. He was quiet on the pitch usually, but if he said something, you listened, and that was the end of it. There was no arguing back. A leader like that, they're hard to come by."
Premier Division

First Division

The42 is on Instagram! Tap the button below on your phone to follow us!