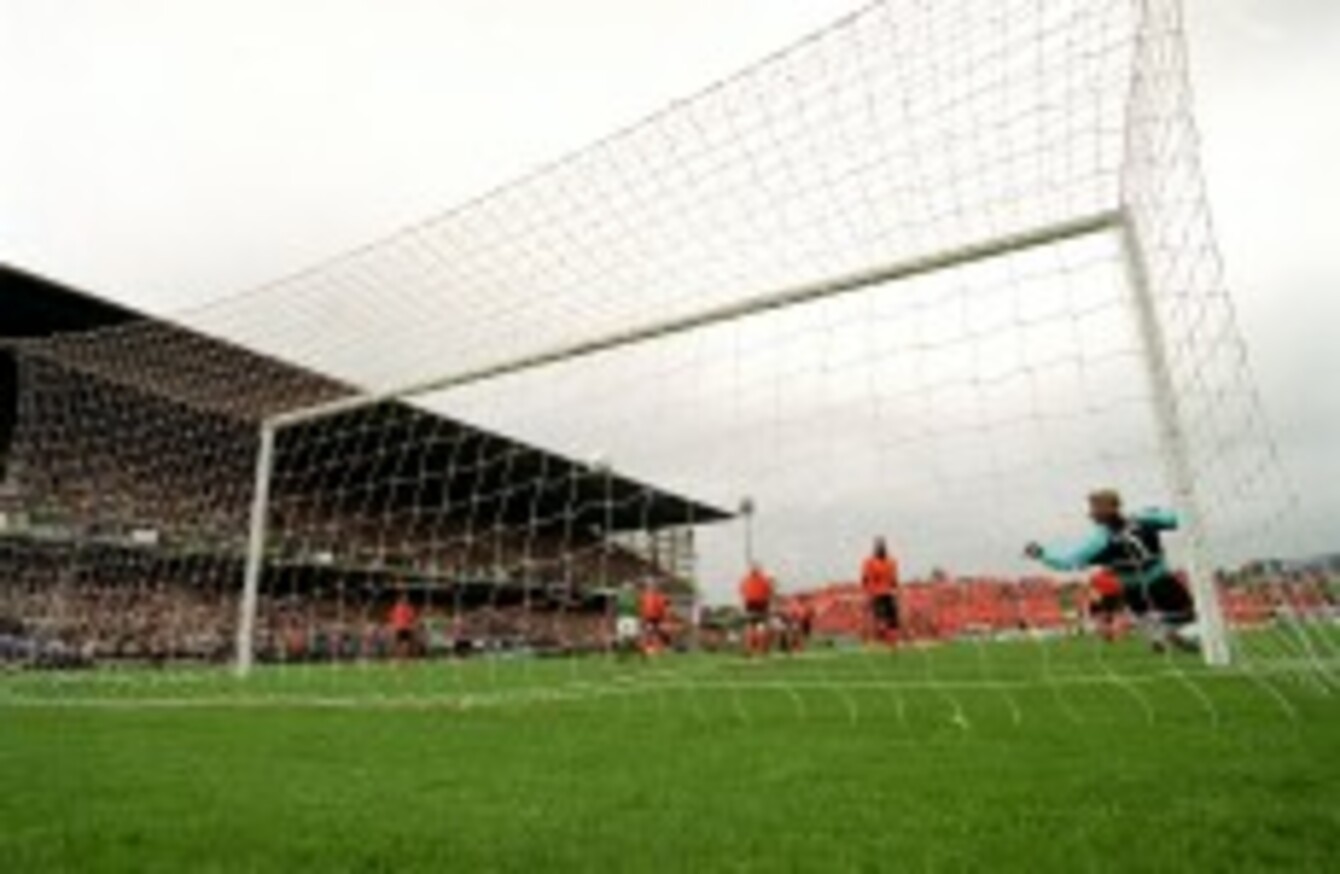 Time stands still as McAteer's shot nestles in the corner of Edwin van der Saar's net.
Image: ©INPHO/Morgan Treacy
Time stands still as McAteer's shot nestles in the corner of Edwin van der Saar's net.
Image: ©INPHO/Morgan Treacy
IF EURO '88 and Italia '90 marked a renaissance in Irish football, victory over the Netherlands in 2001 was the spark for a future generation of devout followers.
Seven long years had elapsed and three major tournaments had passed since Ireland's American adventure in 1994.
For the younger members of Ireland's fanbase, the recent past had been full of near misses and recriminations as the anguish of three successive play-off defeats gradually took its toll.
We were sick of play-offs. However, in September 2001, most Irish fans would have knocked over their own granny for a shot at redeeming our horrendous record. Though we were unbeaten in eight games, the fiercely competitive nature of Group 2 meant that a two-legged tie against an exotic opponent was the best which we could realistically hope for.
In order to even achieve that much though, Mick McCarthy's men would first have to dispose of Louis van Gaal and Holland in a winner-take-all match in Dublin. Overmars, Kluivert and van Nistelrooy were opposition not to be taken lightly.
The stakes could scarcely have been higher and within 30 seconds, the perfect tone had been set as Roy Keane barrelled through the back of an unsuspecting Marc Overmars, taking man, ball and everything in between.
Though Lansdowne buzzed and the Irish players hassled and harried, the Dutch eventually came into the game. Kluivert missed an early sitter. Overmars zoomed up and down the wing. Try as they might, Ireland couldn't get a firm hold on the game and with each passing minute, it seemed that a Dutch goal was becoming increasingly imminent.
Gary Kelly's dismissal shortly before the hour mark didn't help matters either, but all form went out the window in a 90-second period which turned the game on its head.
First, Shay Given hauled down Ruud van Nistelrooy as he attempted to capitalise on an underhit Steve Staunton backpass. Stonewall penalty. Waved away.
Then, as if sensing the fickle hand of Lady Luck by their side, Ireland broke almost immediately. As Steve Finnan's gently lofted ball somehow eluded everybody in the Dutch box and found its way to a totally unmarked Jason McAteer at the back post, time stood still.
The net rippled. Lansdowne erupted. Ireland were one step closer to Korea and Japan.

Were you in Lansdowne that day? Where did you watch the game? We'd love to hear some of your memories — leave them in the comments below.