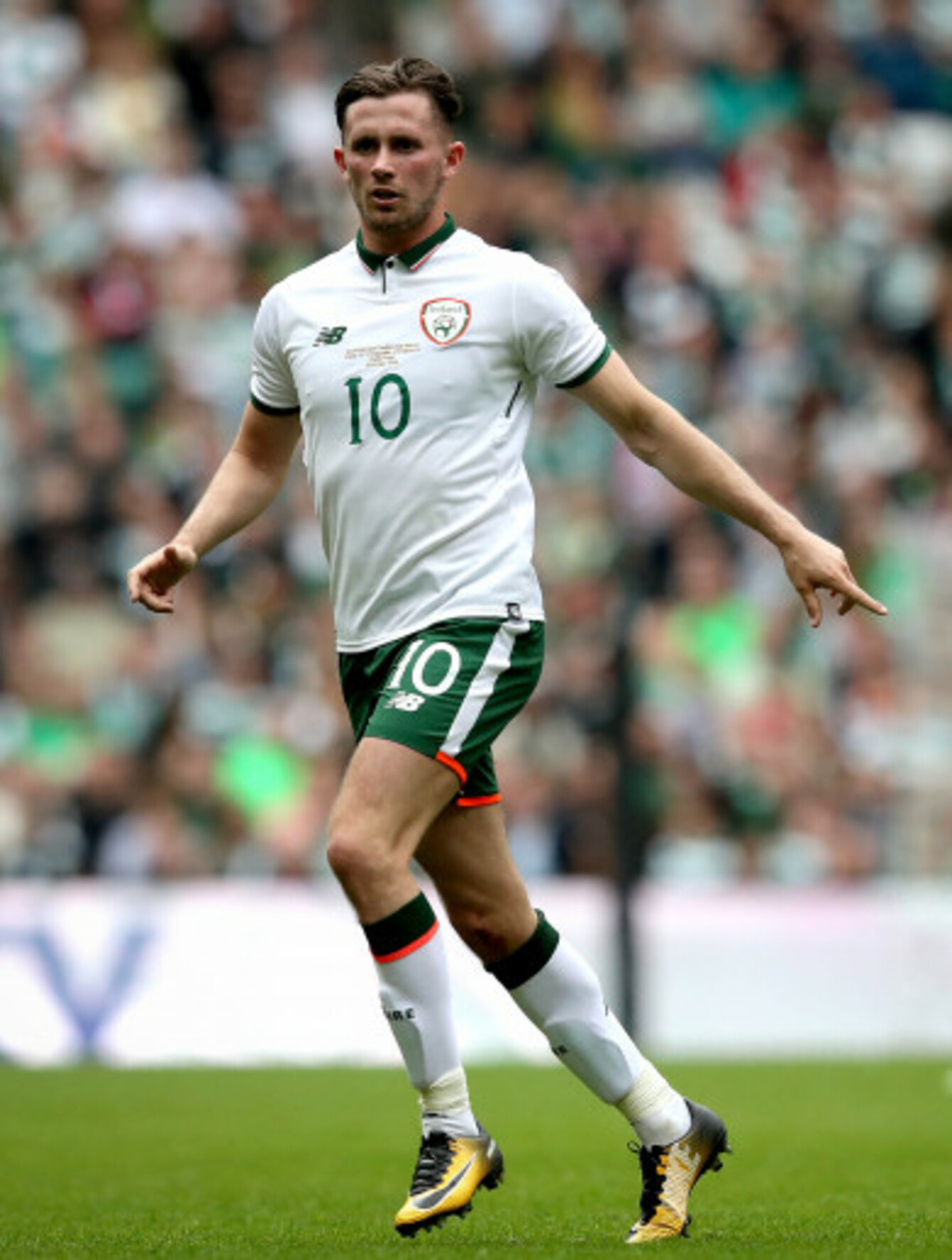 Browne in action at Celtic Park last weekend.
Image: Ryan Byrne/INPHO
Browne in action at Celtic Park last weekend.
Image: Ryan Byrne/INPHO
IRELAND'S ALAN BROWNE has just enjoyed his most consistent season as a professional footballer.
Pushed into a more advanced midfield role by Preston North End manager Alex Neil, the 23-year-old was a central figure for the club and claimed Player of the Year as they narrowly missed out on a spot in the Championship play-offs.
"I think in the past I was really trying to find my best position," Browne said at a training camp in Dublin today. "With the new gaffer coming in, it was a fresh start. He has really nailed down a position for me and I've found myself further forward.
"He's really pushed me all the way and tried to get more goals out of me everyday. I think I've managed to bring my game in training to match days, so that's something I've really improved on and hopefully I can continue to do so in the future."
With two caps to his name, Browne started for Ireland in last Sunday's game against Celtic and opened the scoring early on with a fine finish — his first goal in a green shirt but it won't technically go down on his international record because Scott Brown's testimonial wasn't recognised as an official fixture.
Despite that, however, Browne is eager to contribute with his fair share at international level.
"In my head, I scored it so I'm happy out and I think that's what I bring to the team," he says. "I've done it at club level and I want to add goals, as it's something that we're lacking to a certain degree. I'll try my best to do it in the upcoming games as I try get onto the next step.
"It was a great achievement for me on a personal note to get off the mark. As you said, it's not going to go down in the book, but I'll just continue to try and do that in every game that I play — like I've done at club level.
I'll try to take that into the international set-up. Obviously, I've got more work to do and I got caught out for their first goal so that was disappointing and it cancelled it out for me. That's something to look at and try to improve on."
"If everyone can chip in we'll go a long way," he adds. "We've got big [Shane] Duffy at the back who can win every header, so you'll expect a few goals out of him. I think the full-backs are really attack-minded and they can push on and get one or two here and there. We've really lacked in midfield to a certain degree but it's something that we need to look at.
"I see it's something that players do at club level but coming into international duty it doesn't seem to happen. For me, it's about playing my own game and getting up to support the striker — not just to score goals but to set them up as well."
Although Browne is still a relatively new arrival to the international fold, he is not short on confidence and feels now — with two friendly matches around the corner — is the right time to show that he can hold his own.
"Maybe to others, I might be new on the scene and obviously I've only played three games so in that respect I'm probably a bit inexperienced," he explains. "But at club level, I'm pretty experienced and to me it's just another step in my career and I want to try my best to make sure I'm here to stay.
"I've always been confident in my own ability and especially with the new gaffer coming in, he's put a lot of confidence into me. I think I'm probably playing my best football at the moment and I'm really enjoying it. If you're playing with a smile on your face it means you're enjoying it so, for me, it's been a really good season and one I can add to by improving and pushing on again next year."
The Boys in Green make the trip to Paris tomorrow for Monday's meeting with France, which will act as a World Cup warm-up for Didier Deschamps' talented squad, before facing the US in Dublin next Saturday. Browne has been involved in matches with more at stake, but this next one will rank up there when you take the opposition into account.
"It's probably not the biggest game I've played in terms of rewards at the end of it, considering it's a friendly, but it's certainly the biggest game I've played in in terms of quality," he states.
"I think everybody knows the quality that the France team possesses and they will be really giving it a go. They will be raring to go, I'd imagine, but it's just a chance for us to stake a claim in the team and we will give it our all.
"I think people doubt us at times, but I see the quality that the boys here possess everyday and I think we're more than capable of taking on any team. I think we just need to be a bit more bright and a bit more positive, we can take it to teams and push on to another level."
Ireland are awash with Preston players at present, with Browne's team-mates Greg Cunningham and Daryl Horgan on the current panel, while Sean Maguire misses out through injury and Callum Robinson is waiting for international clearance after switching allegiance from England.
"Seani has been different class for us this year," he says of the ex-Cork City striker. "He started out on the wing, but unfortunately for him he got a bad injury. He came back and he was like a new signing for us. He just brought so much life into the team and we're all aware of the qualities he possesses. He's a really confident lad as well and that is a big factor in his game.
"I know with Callum, it's a bit of history with his mother and his grandmother. I think he's more than happy to represent this country. It's something that's really close to his heart and it will be special to make his official debut. I know the Celtic one was a special moment for him personally, but hopefully he can get the papers done and break into this team."
"He can add goals," Browne says of Preston forward Robinson. "Not just that, he doesn't come across as it but he's really down to earth — an honest lad who will really work hard for the team. I know that a lot of the lads in this team work tirelessly and give 100%, so for him coming in he's going to have to do the same.
I see him everyday in training and there's no two ways about it, he's as honest as they come and he'll give his all. As well as that, he possesses real quality — he can set up goals and score them from all angles. He could be an important player in the future."
On Horgan, who has found himself out of favour at club level, he adds: "I think he has just been a little bit unfortunate with the new manager coming in, maybe he hasn't taken a liking to him.
"I've seen so many times where the manager signs a player and someone new comes in and thinks 'He's not my player' and doesn't really take a liking to him. I think that's the case with Daryl because I see him everyday in training and he's top class. He gives his all and he's just been really unfortunate this year.
"I think if he can get playing at club level he can take it another step and it's good to see that Martin has still shown confidence in him by bringing him in even though he hasn't been playing regularly. He always keeps himself fit and is ready to take his chance if it comes."
Having begun his career at hometown club Cork City (without making a first-team appearance), Browne continues to keep a close eye on how the Leesiders are doing and he will be present at tonight's SSE Airtricity League Premier Division meeting with St Patrick's Athletic at Richmond Park.
"I leave the banter to Daryl and Seani and I don't get involved in that too much because I haven't played first team in Cork and wasn't involved to that extent," he says, when asked about the slagging that goes on between him, former City striker Maguire and ex-Dundalk winger Horgan, "whereas the boys played against each other and maybe now can look back on the league and joke about it.
"I obviously have former team-mates within that team so I keep an eye on them and wish them all the best in the future.
"We have the option to the Bohs game but when I heard Cork were playing I said I'd go along and support the boys from the stands and I'm looking forward to tonight."
The42 is on Instagram! Tap the button below on your phone to follow us!