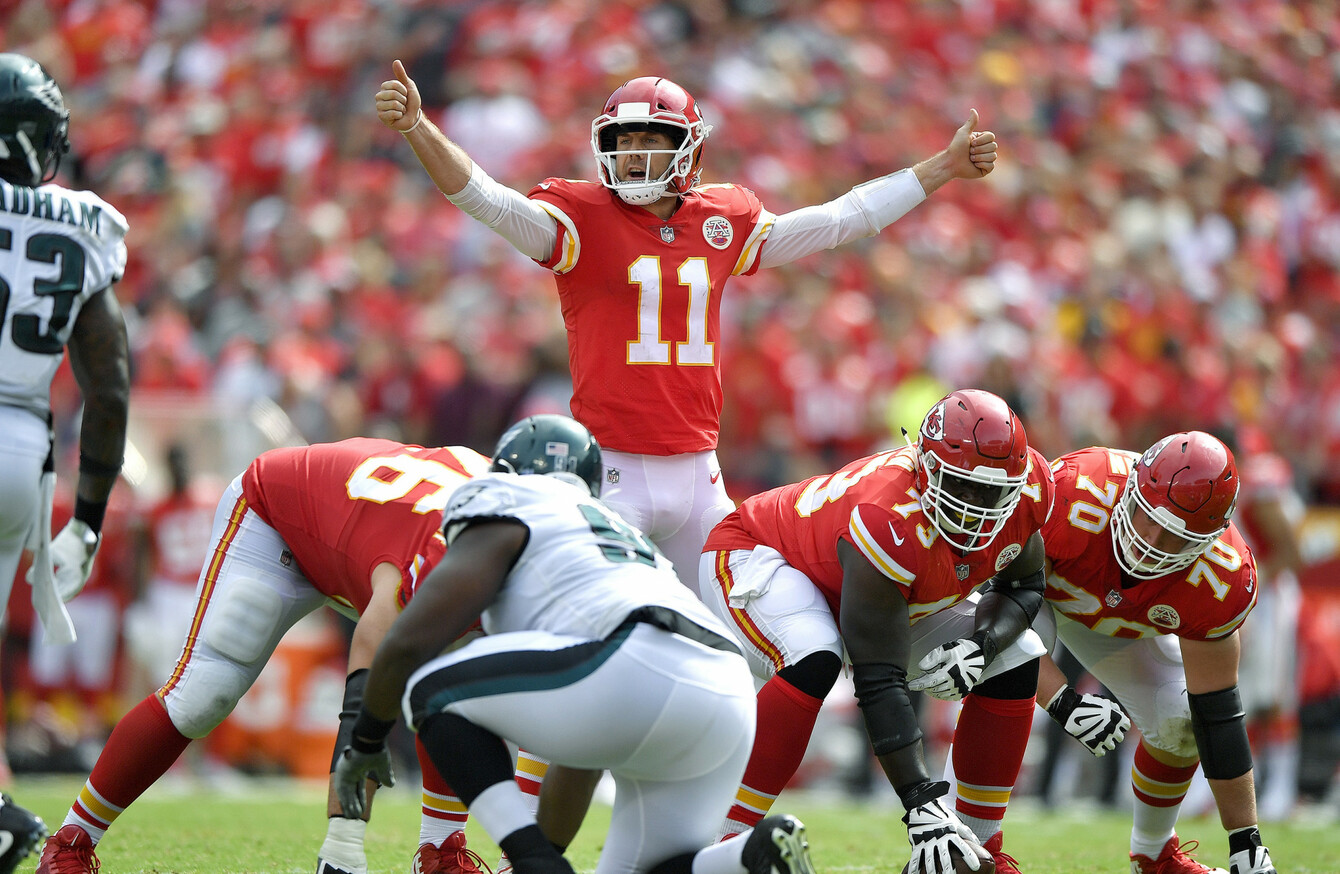 Alex Smith could be the prototype of the NFL's future.
Image: John Sleezer/PA Images
Alex Smith could be the prototype of the NFL's future.
Image: John Sleezer/PA Images
OVER THE COURSE of 30 NFL games so far this season, 12 teams have failed to reach double digit scores.
Half of the 32 teams have a negative points differential and three have failed to score a touchdown (though, to be fair, the Giants only play their second game tonight).
But even away from the stats, a simple eye-test suggests that America's game is not what it once was.
It's not just that bad quarterbacks — the likes of Brian Hoyer, Mike Glennon, Josh McCown — are unsurprisingly bad.
It's that the quarterbacks who were supposed to be average — Andy Dalton, Carson Palmer – or, in some cases good — Cam Newton, Eli Manning —  are playing well below expectations.
Even among the good quarterbacks who are playing well, most of them are old.
Tom Brady, Aaron Rodgers, Ben Roethlisberger and Alex Smith were all drafted more than a decade ago and are hardly players you can build the future of your franchise around.
That's a problem in a league so reliant — though, as the Broncos proved two years ago, not wholly — on good quarterback play.
Of course, it's not all bad news for young quarterbacks. Jameis Winston, Marcus Mariota and even Carson Wentz are playing up to their high draft picks while Derek Carr has enjoyed a start to the season that has Raiders fans wondering what might have been had he not broken his leg before the playoffs last year.
But the key for all those guys, as it is for nearly every piece of good quarterbacking we've seen over weeks one and two, is good offensive line play.
We've seen the problem slowly develop for years, but it came to a head in the 2017 NFL Draft when the first offensive lineman off the board was Garett Bolles at 20 to the Denver Broncos; the first time since 2005 one of the front five hasn't been selected in the top-10 picks.
I've touched on it before, but college football's drift towards the spread offence — so long blamed for the NFL's quarterback woes — has a huge role to play in the deterioration of offensive line play.
In spread offences, linemen are asked to be quicker and block for less time than in pro-style offences. The spread offence relies on screens, quick short passes and linemen are rarely asked to block for more than two seconds.
But an even bigger problem is that, when these linemen get to the NFL, they're severely limited in the amount of time coaches can have with them.
Indeed, under the most recent collective bargaining agreement (CBA), NFL teams are limited to just 14 padded practices during the regular season, 11 of which must come in the first 11 weeks of the season.
This is obviously done with the intention of protecting players. However, an unintended consequence of the CBA is that quarterbacks are taking more and more hits behind the line of scrimmage due to poor offensive line play.
This season to date, quarterbacks are being sacked on 6.93% of dropbacks, up on 5.85% from last season.
With no young talent coming through, good offensive linemen can demand what they want. The Oakland Raiders, for example, spend $42.3 million on their front five, the most in the NFL and recently gave left tackle Donald Penn a new two-year, $21 million, deal.
But nobody gave up fewer sacks last year than the Raiders, with Derek Carr only hitting the deck on 3.17% of drop backs.
(Of course, the irony is not lost on me that he did break his leg on one of those sacks).
They've started in a similar vein this year, here were their stats from yesterday's facile win over the Jets:
The Seattle Seahawks, on the other hand, have failed to invest in their offensive line for years — spending just $16 million on the unit this year, the lowest in the league — and are giving up sacks on over 8.3% of passing plays this year after recording a sack rate of 7.1% last season, the fifth worst percentage in the league.
Just yesterday, DeForest Buckner of the 49ers finished with four QB hits and five more QB hurries against Seattle, per Pro Football Focus, while his team-mates sacked Russell Wilson three times.
Of course, not every sack is on the offensive line and not every well-paid offensive line is good at protecting the quarterback (I'm looking at you Cleveland), but as line play continues to deteriorate, the haves will outperform the have nots.
But what are the solutions?
I've written many times about a developmental league — even calling for a return of NFL Europe — and I don't doubt that it would help players make the transition from college to the NFL.
But maybe it's time for even more radical action? The NFL has spoken about expanding the league, but what if there are too many teams?
If, for example, the league was to reduce to 28 teams, that's 32 less offensive linemen needed (with each team carrying an average of 8 in their 53).
That's probably too radical a solution but something has to change. Last year quarterbacks averaged just four air yards per throw, and the running back position is now that of an extra receiver with offensive coordinators having little choice but to build in multiple check down options as the offensive line crumbles in front of the quarterback.
We've spent the 12 seasons since Alex Smith came into the league slagging him and his offensive coordinators for throwing short passes rather than trying to stretch the field.
Now, unless there are major changes to offensive line play, we might have spend the next dozen watching every quarterback become the next Alex Smith.
Subscribe to The42 podcasts here: