A WOMAN WHO had just had part of her left leg removed in hospital, was coming out of the theatre when she got an uneasy feeling about the surgery.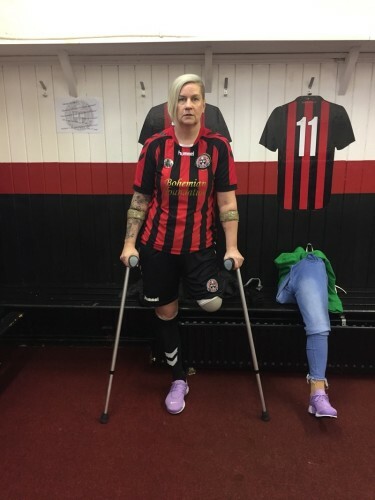 Nicole King (Amanda King) Amanda King Nicole King (Amanda King)
She was convinced that the surgeons had failed to complete the amputation, and despite the repeated attempts of loved ones trying to reassure her that the procedure was a success, she insisted that her limb was still intact.
Amanda King from Ballymun was 30 years old when she was diagnosed with a tumour that required the partial loss of her leg, and the confusion she was experiencing at the time was a sensation commonly known as phantom pain.
It proved to be the first of several stages of adjusting to her new body, and a new life that would ultimately lead her to taking up amputee football.
She first linked up with the national team and travelled with the side to the 2014 World Cup in Mexico. Having stepped away from that squad in recent years, she's now looking to pursue the club game with the Bohemians amputee football team in a league which is due to start at the end of the month.
But in those initial moments after the surgery, when she struggled to come to terms with losing her leg, King was facing a long road to becoming comfortable in herself again.
"I kept saying to my partner, 'the leg is still there, they didn't take it,'" she tells The42 in her home in Dublin.
"Because I could feel it, it felt like it was falling through the bed.
They were all laughing at me but I was telling them it had fallen through the bed and asked them to look under it because I could feel it hanging through the mattress. My family thought I was mental.
"The doctor had to explain that it was phantom pain and that it would go. Within a week I could feel the leg not being there but I still get phantom pain (after) nearly 12 years.
"I would get pins and needles and itchiness in the foot. It's horrible. You just get used to them and laugh at them and try to ignore them."
The journey to King's tumour diagnosis stretches back to her discovery of a lump on the back of her calf over a decade ago. She noticed that she was struggling to zip up her knee-length boots on the left leg, and the issue worsened until she could no longer pull the zip up over the lump.
She booked an appointment with her doctor, who believed that she was suffering from muscular spasms, and said that she needed injections for the pain.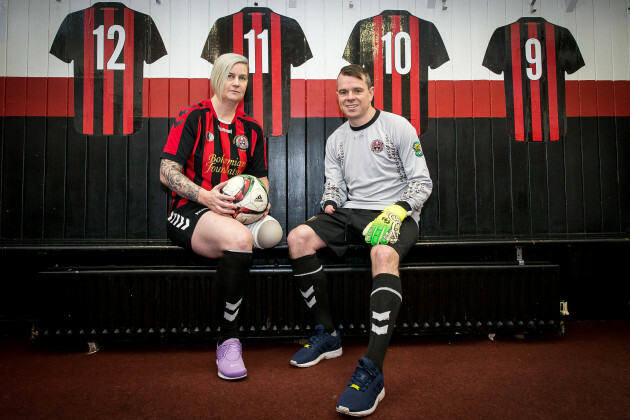 Gary Carr / INPHO Amanda King pictured with James Conroy at the recent launch of the Bohemian FC Amputee team. Gary Carr / INPHO / INPHO
This process continued for two years, but while on holiday in Lanzarote for a wedding, her health suffered again and the signs indicated that her medical problems were only just beginning.
"When I was coming back I was getting panic attacks, and I wouldn't be a panicky person. They wouldn't let me fly, I was in bits over there.
They sent me to a doctor in Lanzarote and he said, 'when you go home, you need to go to a doctor. You're not well.' Just by chance, the doctor that was giving me the injections (in Ireland) was out and there was a stand-in doctor. He sent me for an ultrasound and that's when they found it.
"They can't understand how it didn't spread within the two years.
Presuming she was face imminent death, she continues: "I wasn't expecting that whatsoever. As soon as they said tumour, I said, 'that's it.' The doctor said that it could be benign, but it wasn't and I knew. They gave me two weeks of intense chemo and they knew it wasn't going to shrink.
"And then they amputated it."
King first learned about her tumour in February of 2006, and went for surgery the following May.
Dealing with the life-altering change to her body brought a slew of challenges for the Ballymun woman.
She was fitted with a prosthetic leg some six weeks after the surgery and underwent some brief physio treatment as part of the transition.
But she didn't quite feel equipped to handle all of the adjustments.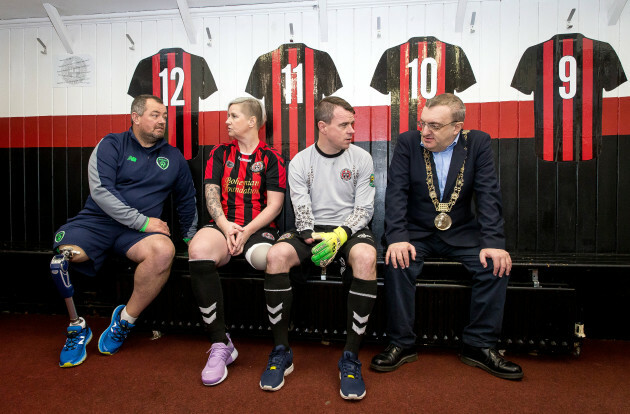 Gary Carr / INPHO Christy McElligott, Amanda King, James Conroy and Lord Mayor of Dublin, Mícheál Mac Donncha at the launch of the Bohemian FC Amputee team. Gary Carr / INPHO / INPHO
She worried about how she would manage to get to grips with her daily household tasks, and figuring out how to get her two daughters to and from school everyday was now a major concern for her.
Her wearied state never descended into depression, but the experience had a devastating impact on her self-confidence.
When I lost my leg, I wouldn't let anyone see me. If my family knocked on the door, I'd run up and put my leg on and I'd sit on the couch with a blanket on.
"I was thinking about how I was going to do stuff.
"I literally thought I was never going to walk again and thought I'd be stuck in a wheelchair.
"I kept thinking I was going to fall, I was petrified. It took me a good while, and I was on the crutches with the leg for a good while, I'd say it was about five weeks.
It was a good year before I'd go out. People were avoiding me, not my family now but friends and neighbours would avoid you because they don't know what to say to you.
"But now I make it my business and I'll go up and say, 'how's a going?' I just talk to them now because it doesn't bother me. If it bothers someone, I'm not going to let it bother me and I make them feel comfortable with me now."
Almost two years after undergoing the surgery, King found herself longing for something new. She was in a good place and had always kept herself active, but the notion of contemplating a competitive sport wasn't exactly on her radar.
She certainly wasn't considering football at the time until family friend Christy McElligott approached her with an invitation to join the Irish amputee team he was forming.
She was hesitant about giving it a try, but McElligott convinced her to come and have a look at their training in Blanchardstown.
McElligott is a former St Patrick's Athletic player who lost his leg in a road traffic accident in 2001. King admitted to him that she was still feeling anxious about committing to the idea, which prompted McElligott to try something that would help King conquer her fears.
I was on my crutches but I didn't want to be on my crutches. I wanted to be up walking. I wasn't very steady on the crutches and he asked me, 'what's your fear?' I told him I was petrified of falling and he just pushed me over.
"I went mad. He asked me if it was that bad and I said, 'no, not really.' Ever since then I fell in love with it.
"That was it. I was still nervous but I got over it and went out training. I did my own training at home. I've never looked back, it's the best thing I ever did."
King had some football experience from attending summer camps in her youth, as well as playing on women's teams, but stepping up to the international grade was particularly daunting for her.
Gary Carr / INPHO Gary Carr / INPHO / INPHO
Not only was she learning to master the skills of the game while moving around the pitch on crutches, and was trying to use only her right leg for kicking the ball, but she was also the only girl in the squad.
She recalls that she wore a 'little pair of pink and navy shorts' to her first training session, and was crippled with nerves.
Her teammates however, created a warm and welcoming atmosphere for her as she learned to settle into her new position as a striker. And although she has stepped away from the panel in recent years, she has maintained her connection with the players.
"It was a lot to deal with and as well as that, the lads would have had the football brain. They kind of knew the game whereas I didn't. I'd watch it on the telly and I did like it but I didn't have the brain.
"I'd say it was a good six months before I lost that nervousness. I wasn't nervous around the lads, I wasn't even nervous on the crutches. I just didn't know what I was doing and I think I was more embarrassed.
"I kept giving out to myself and I'm still doing it. I told myself that I needed to snap out of it.
"The lads made me feel really welcome. And they didn't mollycoddle me. At first it was like, 'oh don't pass to Mandy and don't tackle her.' And now they treat me like one of the lads.
"But it was daunting going to Mexico (for the World Cup) with a group of lads on my own."
Patrick Butler / YouTube
Prior to the team's departure for that tournament, Republic of Ireland legend Roy Keane came to meet the squad and gave them some advice.
He spoke to the players individually, and even came over to give King a polite nudge in the shoulder, congratulating her for being the only girl on the team.
Ireland finished the tournament at the bottom of their group, but King is grateful for the experience of representing her country on the world stage. She also came agonisgly close to pocketing a goal for herself during the campaign.
King has a tattoo just under her right shoulder which symbolises the significance of that trip to Mexico, and she received her international cap at a ceremony on the day the squad returned home from the World Cup.
That cap now sits proudly on the top shelf in her living room.
"I never played football before. My partner does be in stitches laughing at me because he's football mad, but I've an international cap up there on the shelf.
"It was brilliant, absolutely amazing. We finished bottom of the group but it was a very high group. It was tough but it was kind of good to give us a push."
There were some regrets when she withdrew from the team, but the intensity and commitment levels were no longer sustainable for her.
She got involved with coaching at underage level, which allowed her to continue working within the sport and also helped cushion the blow of no longer playing the game.
It brought joy to her life to see the players enjoying football, but low attendance numbers at the training sessions forced her to call time on that project as well.
King understands that parents of amputee athletes are particularly cautious about letting their child play a contact sport like football, but she would to see them put more trust in the sport, and realise what their children can achieve through the sport.
Parents wrap their kids in cotton wool," she explains "and especially when your child is an amputee , you're thinking of their good leg, you're not thinking of them bouncing around playing football.
"But they should because when they come and look at it, they change. But it's just getting parents to come up and look at other kids playing.
"It gives you strength and a bit of encouragement as well because you're looking at these kids saying, 'Jesus, they're marvelous, what are you afraid of?' But then kids are resilient, they're not like adults and they just bounce back."
After taking a brief sabbatical from football, King is ready to get back on the pitch and resume the sport that gave her a new lease of life.
Irish Amputee Football Association / YouTube
The tumour took away her leg, but through losing a vital part of her physical self, she has gained so much more on a psychological level through discovering her love of playing football.
She has no fear of the tumour ever resurfacing and offers support to other amputee patients who have been through a similar experience and are trying to make sense of their new life.
Bohemians will take on Shamrock Rovers, Cork City and Limerick City in the National Amputee League this year, and King is excited to play a key role in her team's campaign.
"I had a little scare last year and I had to have my ovary and my tube removed. It was benign, it wasn't anything. I don't let it stay in the back of my mind. If I have a pain, I don't think I have to get to the hospital quickly. It's not like that. I just think of myself as anyone else.
"I don't dwell on it.
"I often say to the lads on the football team, when I first lost my leg, I wanted it back. But I never think that way anymore. It's just part of me now.
If I didn't lose my leg, I wouldn't be the way I am now and wouldn't have the life I have now. I wouldn't have met all the lads and I definitely wouldn't be involved in coaching or in football.
"The World Cup was unbelievable and I did a 10k marathon in Limerick on my crutches with one leg as well. I wouldn't have achieved as much as I have."
The42 has just published its first book, Behind The Lines, a collection of some of the year's best sports stories. Pick up your copy in Eason's, or order it here today (€10):