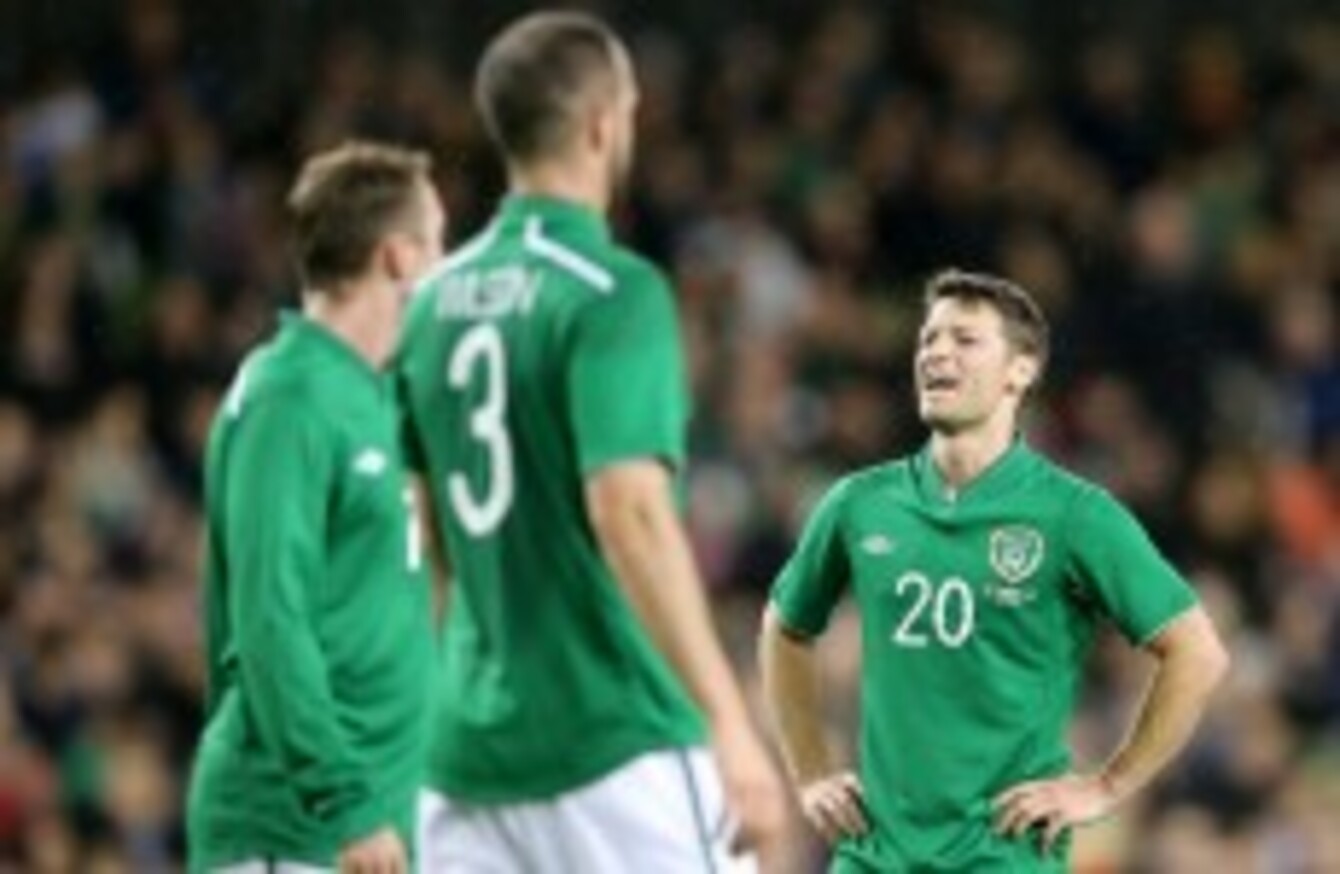 Ireland's Wes Hoolahan shows his frustration during last night's game with Serbia.
Ireland's Wes Hoolahan shows his frustration during last night's game with Serbia.
MORE OR LESS every international football team in the world has one idiosyncratic flaw that persistently lets them down.
England can't do penalty shoot-outs, France fall out with one another whenever a major tournament comes around, and even Spain were regarded as chokers and chronic underachievers until recently, when they became a rare example of a team that emphatically overcame their serial inadequacies, winning three consecutive tournaments and counting in the process.
Ireland, of course, are no exception to the aforementioned rule — and the flaw in question was conspicuous in last night's Serbia game.
Having produced a highly encouraging first-half of football, they faded badly after the break, producing an almost entirely passive performance that enabled the visitors to dictate the play and deservedly claim victory.
However, what was most dispiriting about this defeat was the sense of inevitability that accompanied it, as for many years now, the Irish fans have become well accustomed to anti-climaxes.
After 10 minutes of the second half, O'Neill's side appeared as if they had barely any energy left in the tank, in contrast with their vibrant start to the match, whereas their opponents were growing into the game and looking increasingly elegant and sprightly in possession.
The encounter resembled countless other occasions over the years when Ireland have promised so much yet finished with so little. Particularly in home fixtures against any half-decent opposition, the Irish side have become masters at starting games at a high tempo that often destabalises their rivals and gives the crowd hope, before losing their energy and purposefulness to a disconcerting extent thereafter, to the point where the team almost always finish games on the back foot (the matches where they come up against minnows of international football are the only anomalies that spring to my mind).
Last night may have effectively been a meaningless encounter, but there was a competitive feel to it, with both sides ostensibly eager to win. If the unusually high yellow-card count didn't make it patent that this contest had far more edge to it than the average friendly, Marc Wilson's disgusted reaction to his team's concession of the 48th-minute equaliser made this sentiment abundantly clear.
Yet the depressing feeling that lingered after last night's dispiriting display was not merely leftover fatigue from the disillusionment of the Trap era's final months. It was the consequence of a restlessness and frustration with the team that had lasted much longer.
And in the past ten years, there has been a recurring theme in Irish football — one that is becoming increasingly predictable, naturally.
Ireland, for one reason or another, seem to finish games particularly poorly — last night was far from an isolated example — a recollection of their competitive fixtures from the past decade consolidates this suspicion, going all the way back to the end of the McCarthy era and the beginning of the Euro 2004 campaign (Brian Kerr took over after the Barnsley native was manager for the first two games).
A close study of these results provides some telling findings. Out of all the outcomes, the games in which the team went ahead and won, as well as the games they went behind and lost are usually the least consequential. The latter mostly corresponds with occasions in which Ireland met vastly superior opponents (Spain, Russia)  and were well beaten, while the former normally relates to times when the team came up against no-hopers (San Marino, Andorra) and beat them well.
It is the games in between that invariably determine the side's qualification fate — the teams who conceivably aren't much better or worse than the Boys in Green.
Be part
of the team
Access exclusive podcasts, interviews and analysis with a monthly or annual membership.
Become a Member
(An exasperated Martin O'Neill looks on during last night's match)
Of the fixtures in question, accounting for every competitive match that Ireland have played since their first Euro 2004 qualifier on 7 September 2002 against Russia, the team have dropped points in 12 games in which they found themselves in winning positions (against Cyprus, Czech Republic, Slovakia twice, Israel twice, Russia, Bulgaria, Sweden, France, Switzerland, Italy).
These statistics become especially disheartening when compared with how many instances in which Ireland have come from behind to win in competitive scenarios:  just three times in almost 12 years, once against Georgia and twice against Kazakhstan — games that the Irish team should have been expected to win comfortably in the first place.
Similarly, the side have recovered to ultimately claim draws on just four occasions, but the level of opposition in these instances is somewhat more respectable — Italy, Cyprus, Wales and Austria (though the latter game also saw the team concede a demoralising last-minute David Alaba equaliser, having previously gone 2-1 ahead).
And finally, Ireland have won four times in games since their first Euro 2004 qualifier, after teams had initially equalised. But once more, the standard of opponent is relatively low, as it encompasses Cyprus, Georgia, Albania and (most embarrassingly of all) San Marino.
Most of which suggests Ireland have an issue with game management, as in the matches that matter most (i.e. against tricky but beatable opposition), they normally finish the contest appearing significantly weaker than they started it and without the much-needed three points.
Looking back further, readers who aren't too young will have relatively vivid and fond recollections of the Mick McCarthy era. While that time also included its fair share of late heartbreaking goals, Ireland also seemed more proficient at getting back into games against good sides — the recoveries at the 2002 World Cup against Cameroon, Germany and Spain (though they lost the latter game on penalties were all cases in point). Even in the qualifying campaign, the team managed to rescue a draw away to a formidable Portugal outfit.
So what's gone wrong since then? Surely it can't be a simple question of having inferior fitness levels, given that conditioning and handling of players' health at all clubs is considerably better now than it's ever been. And granted, the team is weaker, but not profoundly so — is James McCarthy inferior to Mark Kinsella, or Gary Kelly a better right-back than Seamus Coleman? Hardly.
There is the alternate theory that Irish teams start matches too well. Eager to make a positive impression, they conceivably adopt an excessively gung-ho style in the opening stages that leaves them exhausted when half-time approaches.
Yet another more basic problem seems to be possession. At the aforementioned 2002 World Cup, Ireland enjoyed superior overall possession in every game bar the Cameroon match, so it's no big surprise that Mick McCarthy's side consistently finished strongly.
Last night against Serbia, there were long passages where Ireland could barely get a kick of the ball — a problematic feature in the majority of the team's important competitive matches since the McCarthy era. Granted, Jack Charlton's highly successful tenure wasn't exactly based on possession football, but that was a drastically different era of football when teams were not so sophisticated tactically and Ireland had the players (Niall Quinn, Tony Cascarino) to utilise the long-ball kick-and-rush system to near-maximum effect.
As someone with even the most basic understanding of footballing tactics will know, rigorously chasing opposition teams is wearying. In the last ten years, the international game and football in general has gotten more technically sophisticated and possession-based than ever, with Spain providing the template. And Ireland, notwithstanding the fortuitous qualification for Euro 2012, are being left behind both literally and figuratively.