IT'S NOTABLE THAT Rob Kearney for Ireland, Leigh Halfpenny for Wales and Mike Brown for England have been right up there as the most criticised players for their respective nations in recent years.
Many supporters have called for them to be replaced by more exciting attacking players, but all three remain key men at Test level.
There are qualities these three fullbacks share – low error counts, aerial prowess, defensive positional strength, communication, solidity in contact and experience.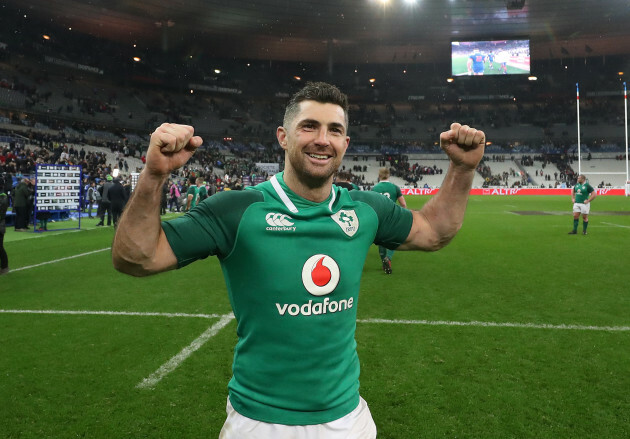 Billy Stickland / INPHO Kearney has been in strong form again for Ireland. Billy Stickland / INPHO / INPHO
For the likes of Joe Schmidt, Warren Gatland and Eddie Jones, these factors are non-negotiables in the fullback position.
Counter-attacking magic and dancing footwork may be thrilling to watch, but it is the aforementioned attributes which give these Six Nations head coaches far more conviction that they will win Tests.
Attacking magic is the layer that must be added on top of the basic fullback roles. It's great if a 15 can beat two men on kick return but what if he's contributing to his side leaking tries, giving up energy and momentum to the opposition by losing aerial battles, or leaving his side exposed in the backfield with poor positional play?
It's clear where the priorities lie for coaches like Schmidt and his continuing faith in Rob Kearney has been repaid once again in the opening two rounds of the Six Nations with typically composed performances.
31-year-old Kearney's longevity is impressive – he was a key player all the way back in 2009 when Ireland last won a Grand Slam – as is his mental strength.
He has seen off a host of competitors for his position over the years, dealt with plenty of criticism, and remains Schmidt's first-choice fullback in 2018.
Running the backfield
While most of us focus on the ball during rugby games, whether watching live or forced to ball-watch due to the camera angles, it is always fascinating to turn one's attention to the wide spaces in behind the frontline defence.
Watching games in the flesh provides a perfect opportunity to do so, and this is one area of the game in which Kearney truly excels.
It can be difficult to demonstrate through images – given that strong positional play often means the opposition don't attack into a specific area of the pitch – but we have seen plenty of Kearney's quality in this area in the last fortnight.
Below, Ireland are defending against France and operating with the 13+2 defensive system we discussed on last week's Rugby Show.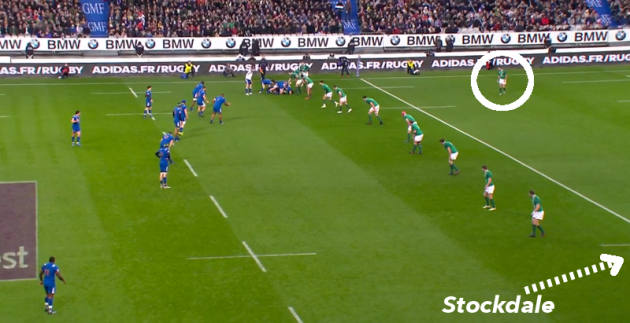 Kearney is circled in white wide above, to the right of Ireland's backfield, while Jacob Stockdale is off-screen occupying a similar position on the left-hand side.
As France moved the ball away from the left touchline, we can see below that Kearney has to fulfill two roles at the same time.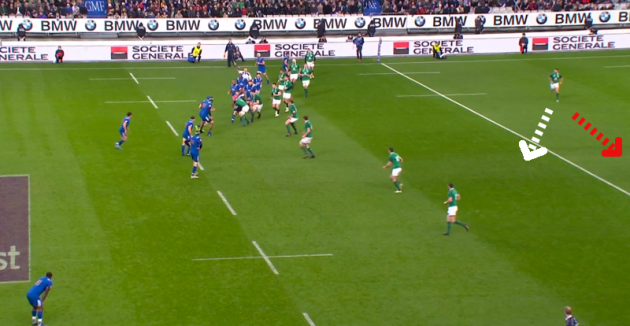 Kearney must cover the space in behind Ireland's frontline defence in case of a chip or grubber kick from the French [as indicated by white], while also tracking cross-field in case les Bleus shift the ball wide to the other side of the pitch [red].
France get to a midfield ruck, and as their scrum-half prepares to move the ball to Ireland's left again, we can see below how the defensive picture has changed again.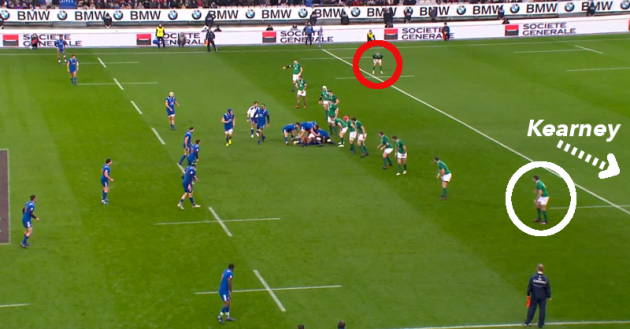 We can't show Kearney's communication here, but as he has tracked across the pitch he has prompted Stockdale [circled in white] to move up into Ireland's frontline defence.
Stockdale – still so inexperienced at this level – is dependant on Kearney's consistently concise communication in these instances, just providing that assurance from behind him.
Kearney is now off-screen in the left of Ireland's backfield, occupying Stockdale's previous role, while Keith Earls [circled in red] has dropped into Kearney's starting role wide on the right.
As France now move the ball all the way to Ireland's left edge, we see more good positional movement from Kearney.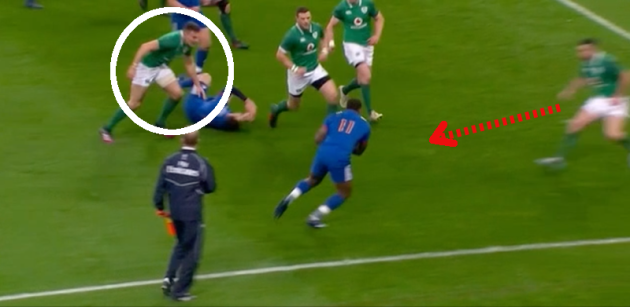 Stockdale [circled in white] has been forced to bite in by France's good handling, but Kearney has swung up from the backfield to close the gate as Virimi Vakatawa receives the ball [red].
Kearney strides up to get a good hit on Vakatawa and prevent any French progress, although Nigel Owens does halt play for a forward pass from les Bleus.
Nonetheless, this simple and unglamorous passage serves to highlight just one example of Kearney's assurance in these situations, providing excellent coverage, strong communication and level-headed decision-making.
In less structured situations, Kearney is well able to scramble too, as we see below against the French.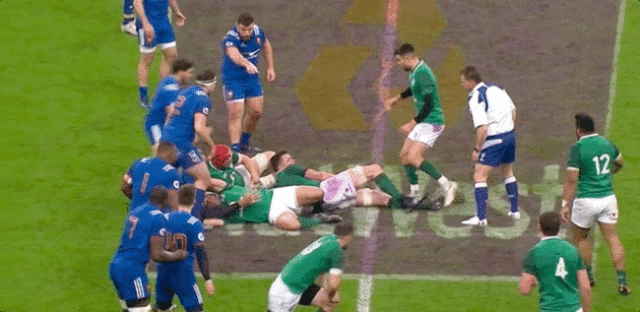 Click here if you cannot view the clip above
James Ryan's forced offload to Conor Murray goes to deck and the French are able to hack the loose ball through, putting Ireland in immediate danger.
The pace of Matthieu Jalibert on the chase is clear, but Kearney comfortably covers the ground here.
Kearney's speed times are thought to be as good as ever at present, as he enjoys an injury-free run, and he glides across the pitch.
Even before the burst of pace, we can see the anticipatory quality Kearney possesses.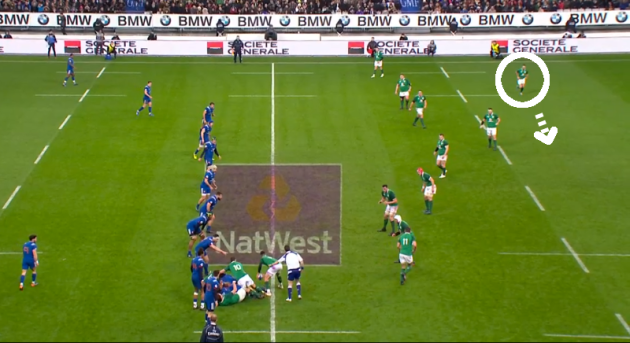 As Ireland begin this phase, Kearney is wide on the right but already moving infield.
He has identified that Earls is holding the width for Ireland in attack and it's likely that he feels he can offer more as a second wave attacker in behind the ball-carrying forwards lined up for Murray.
His movement may initially be with an attacking mindset, but Kearney's awareness and proactive movement leave him well placed to turn on the pace when the turnover comes and France hack through.
His actions when he gets to the ball show pure composure.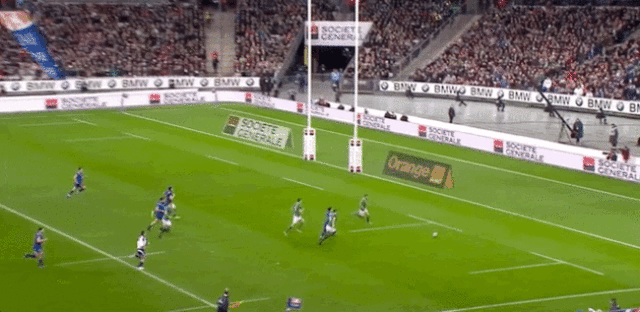 Click here if you cannot view the clip above
This is exactly the moment when a team needs their fullback to demonstrate his solidity and Kearney handles the task expertly.
He slides down onto the ball, scooping it up with his right arm, allows Jalibert to flop over him, times his spring back off the ground superbly, rides the impactful hit from Wenceslas Lauret strongly and then fights to present the ball cleanly when he goes to deck.
The confidence Kearney displays in these moments is infectious, with Ireland maintaining their calm and Murray delivering an excellent box kick to relieve the pressure and find touch.
Contact details
Kearney's one-on-one tackling has raised eyebrows at times over the years, but he appears to have made big improvements in this area with the pressure competition has brought on him more recently.
There looks to be a greater hunger in Kearney's tackling, as he attempts to get firm shoulders onto ball carriers and even dislodge the ball when he can.
There was a fine example against Italy last weekend, with Kearney coming up from the backfield to make a hit on the outside again.
Kearney hammers into Italy's Jayden Hayward and as the collision moves towards the ground, he aggressively strips the ball out of the Italian replacement's grasp.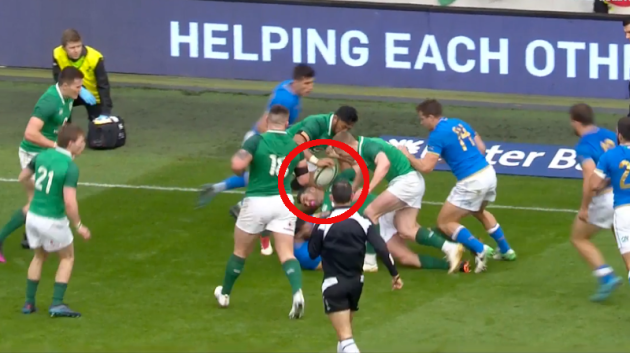 It's a big moment for the Irish defence, handing them turnover possession and allowing Bundee Aki to burst up the left touchline and change the momentum in an instant.
Kearney will continue to look for more impactful defensive moments like this.
When we look at Ireland's rucking performances here on The42, the Ireland fullback invariably comes out impressively.
While his position means that his rucking numbers are far lower than most of his team-mates, Kearney almost always brings quality.
We saw as much last week against the French, when Kearney had nine rucking actions, and all of them were positive, including one dominant clearout and five effective hits on French players over the tackle.
The ruck marks for the Italian game will be along in the coming days, but the first impression on this front was good for Kearney again.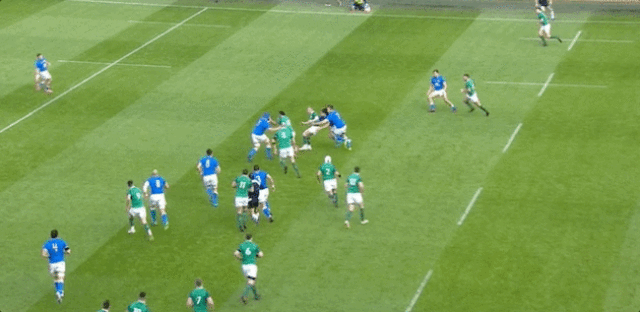 Click here if you cannot view the clip above
It's basic stuff, but we can see Kearney effectively clearing an Italian body away from the ball in the instance above, getting a welcome bit of venom into his left-shouldered ruck hit to ensure clean ball for Ireland.
With Schmidt placing such an emphasis on the ruck, every player has to contribute and Kearney is usually exemplary.
High ball prowess
Kearney's excellence in the air has been well documented over the years, but it remains a key strength for him and a key focus for Schmidt's team.
The Leinster man is calm in diffusing aerial bombardment from the opposition, giving his team-mates huge energy lifts when he wins those all-important battles in the sky.
And he can be an attacking weapon in this regard too, as we see below in an example against France.
Johnny Sexton launches a garryowen into the French half, with Kearney [circled in white] in pursuit.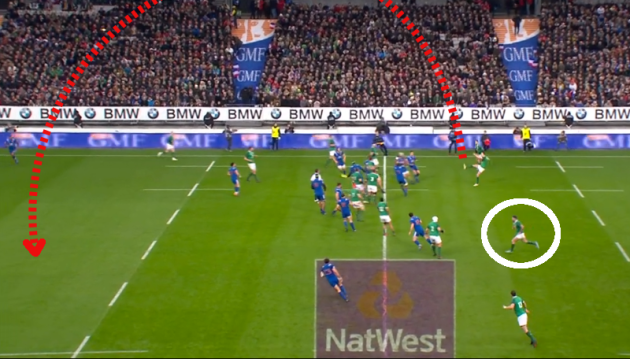 As Kearney chases Sexton's kick, we see France centre Henry Chavancy looking to shepherd him and delay his arrival.
Chavancy runs across Kearney's natural line [red below] towards the ball, looking to buy Teddy Thomas [circled in blue] time to get into the air and beat Kearney.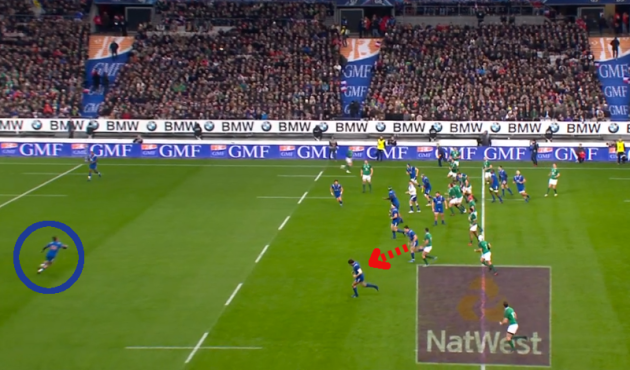 Chavancy's actions mean Kearney can't get to his ideal jumping point early enough to leap above Thomas, but he is patient and calmly redirects himself to Chavancy's right.
The Ireland fullback can then leap into the air against Thomas.
We can see above that Kearney can't get directly under the ball to claim it cleanly in the air, but we can also see that he has made it a physical contest with Thomas.
Again, Schmidt is huge on this. He doesn't want his players to give away penalties in the air, obviously, but if they cannot win the ball under kicks, there is a demand to at least get off the ground to make realistic contact.
Even the slightest nudge of contact can put off the defensive player and that proves to be the case here as Thomas spills the ball and Murray pounces on it, winning the 50/50 for the loose possession.
Though France then win a turnover at the breakdown, Kearney's contest in the air has initially provided Ireland with a chance to turn a regained kick into a real attacking opportunity.
Nailing roles
As we know, structured set-piece attacks and power plays are a huge part of Schmidt's coaching philosophy and Kearney is someone who delivers in this area too.
Ireland's players are expected to know their roles on set-piece attacks down to the very number of footsteps they should take to be in a specific position, meaning there are huge demands on them in terms of preparation and delivery.
Kearney ends up in exactly the correct position more often than not. He runs excellent decoy lines – always staying alive as a real threat until the very last split second – and when he is the strike runner, can be relied on to arrive on time.
Click here if you cannot view the clip above
Above, we get the latest variation of a move that Schmidt has used repeatedly over the last six years with Leinster and Ireland.
Kearney's frustration at Romain Poite blocking Peter O'Mahony's inside pass for what would have been a certain try is clear, but he fulfills his role perfectly here.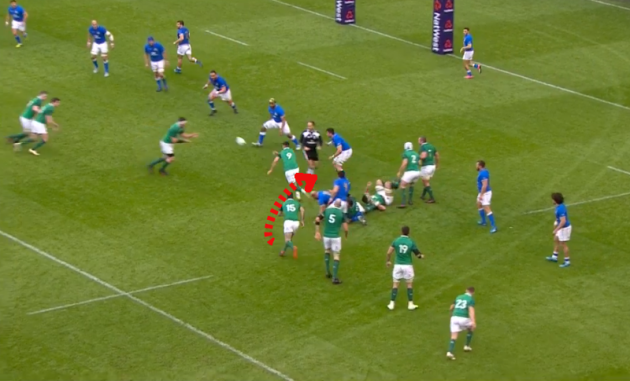 Kearney remains 'hidden' to the right of the ruck until the last possible moment, timing his running line to perfection to put himself in position to take O'Mahony's inside pass.
Ahead of the ruck, we can see that Rory Best and Jack McGrath are also nailing their own roles, blocking off the Italians' chance of folding across to halt Kearney [white below].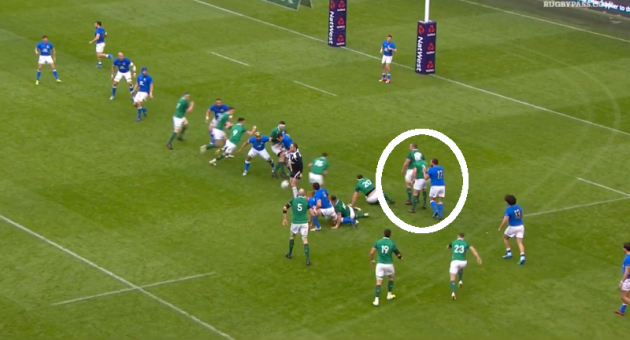 If Poite doesn't block the pass, it's a clear try for Ireland and though they will be frustrated – particularly after variations of this strike failed against France – it will have been pleasing for Schmidt to see Kearney and his team-mates getting those roles spot on.
Attacking touches
Another area of Kearney's game that appears to have improved this season is his simple catch-pass in phase play.
We saw him put expertly away Robbie Henshaw to beat Nemani Nadolo in the right corner during Leinster's win away to Montpellier in the Champions Cup in January and there were a few more examples against Italy last weekend.
Exclusive Six
Nations Analysis
Get Murray Kinsella's exclusive analysis of Ireland's Six Nations campaign this spring
Become a Member
Click here if you cannot view the clip above
We get one illustration above, as Kearney delivers a pass under real pressure to allow Ireland to make gains up the left-hand side of the pitch.
Only a minute later, he had another similarly clean catch-pass to Henshaw as Ireland's opening attack of the game swept back to the left side of the pitch.
The competition being provided by the likes of Jordan Larmour appears to have brought a renewed focus on the basic skills from Kearney and his passing in phase play has certainly improved.
Even when he's not on the ball in phase play, Kearney provides moments of intelligence, as we saw for Murray's first-half try against Italy.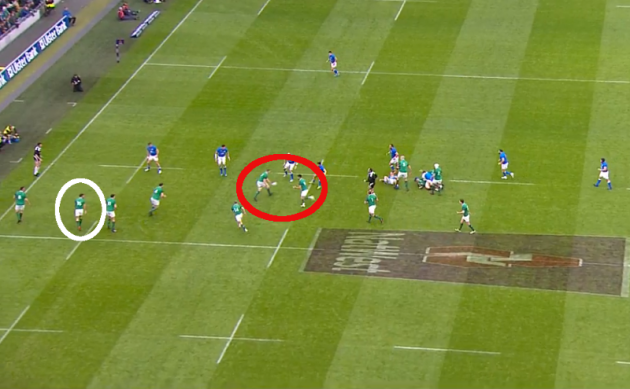 As Murray loops around Dan Leavy [red above], Kearney [circled in white] is out in the five-metre channel.
Already, that space is looking a little congested for Ireland and Kearney makes a subtle movement that proves to be important.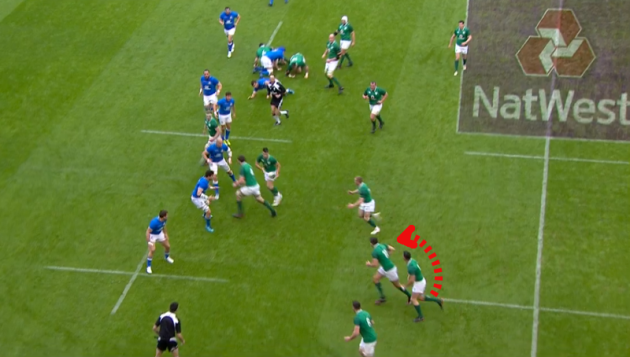 As Murray passes out the back of Iain Henderson's excellent decoy line to Keith Earls, we can see that Kearney is fading to the inside of Stockdale [red above].
That allows the Ulster wing more space to manoeuvre in that tight five-metre channel and it also means Kearney can add another layer of decision-making difficulty for the Italian defence.
Earls passes to Stockdale and, as we can see below, Kearney's presence on Stockdale's inside shoulder prevents the Italians from drifting out onto Jack Conan on the touchline.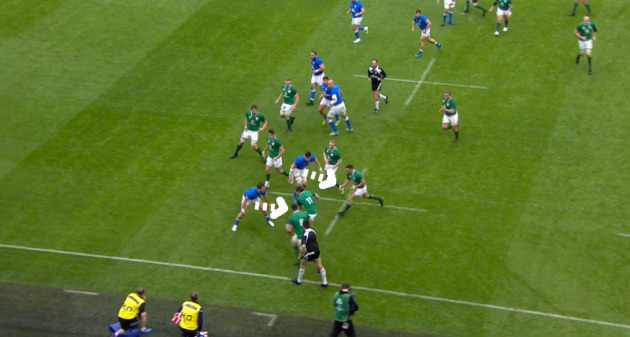 With Kearney's hands up and him shouting for the pass back inside, the final two Italian defenders are drawn in on Kearney and Stockdale, leaving the Ulsterman free to pop a pass out to Conan, who strides upfield and links superbly with Murray's excellent support line for the try.
It's a minor detail from Kearney, but one that Schmidt won't have missed.
Counter-attacking
The main stick with which Kearney gets beaten is his counter-attacking and kick-returning ability and this is certainly one area where he can continue to improve.
As Kearney has explained in the past, one of his roles when returning kicks for Ireland is to eat up as many metres upfield as possible in order to allow his forwards to retreat to the ensuing ruck more comfortably.
Providing a clear target for retreating team-mates is certainly important and something that Schmidt probably tasks him with doing, but there are opportunities for Kearney to be slightly more creative and daring in some instances.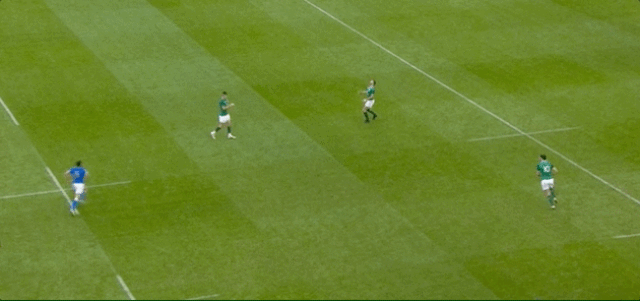 Click here if you cannot view the clip above
In this example, Kearney has an opportunity to pass to Earls wide on the right.
The Ireland fullback gathers and has plenty of time in possession. If he can move the ball to his right, Earls – perhaps Ireland's most in-form attacking player – has a clear one-on-one in front of him, such a rarity in rugby at this level.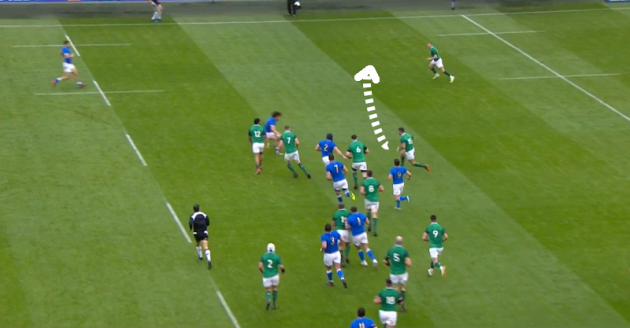 But Kearney has tucked the ball into his right arm very early and doesn't even consider the option of Earls outside him.
Something similar happens below against France, as Kearney ignores a passing option to carry the ball into contact.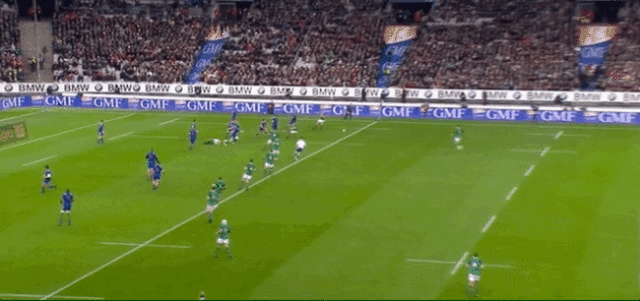 Click here if you cannot view the clip above
Earls gets a partial block onto France's exiting kick before Murray pops the ball up to Kearney.
Sexton [white below] is infield and wants a second pass from Kearney [blue].
We can also see that Cian Healy [red] is signalling the opportunity for Ireland in midfield, with the French chasing line ragged and delayed in that area.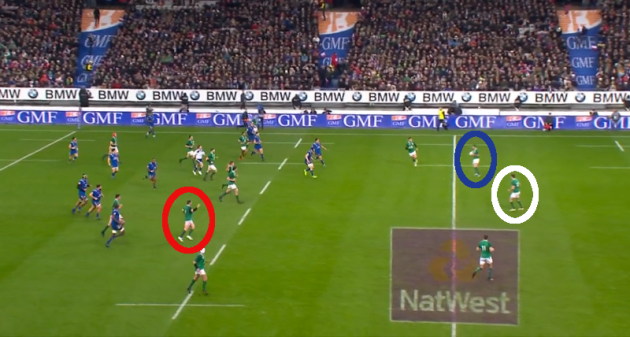 However, Kearney opts against the pass again and Sexton's displeasure is immediately obvious as he flails his arms out [white below] and then slaps his thighs.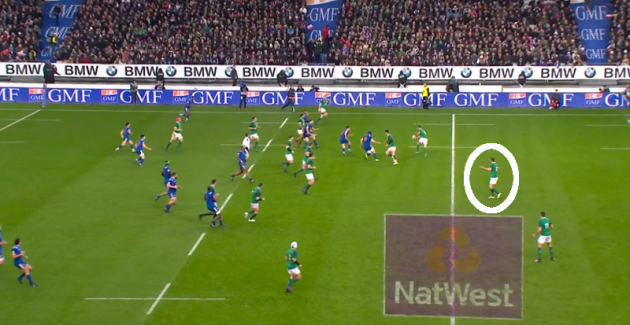 With Stockdale to his left and three French tight five players in front of him in the disorganised chasing line, Sexton has seen a clear opportunity but the pass doesn't arrive.
Kearney does make ground and he so rarely loses the ball in these situations, being so secure carrying into contact, but his apparent unwillingness to pass does see Ireland miss out on opportunities from time to time.
Kearney's relative weakness in beating defenders with ball in hand does also leave him exposed at times, as for the turnover penalty won by Guilhem Guirado in the win over France.
Priorities
A player like Larmour or Tiernan O'Halloran could certainly provide Ireland with more kick-returning and individual attacking ability, but it is a question of priorities for Schmidt and all coaches.
When compared to every other fullback in the country, Kearney arguably comes out on top in terms of positional play, communication, set-piece running lines, aerial ability, experience, mental strength, rucking, and solidity in the carry.
For Schmidt, these are the essential tools for a fullback, with attacking brilliance being seen as a layer that comes on top of the non-negotiable but less glamorous duties.
Kearney has shown up very well so far in the Six Nations having likely felt some heat for his position, and Schmidt's faith continues to be rewarded.
Originally published at 17.50
The 42 is on Instagram! Tap the button below on your phone to follow us!