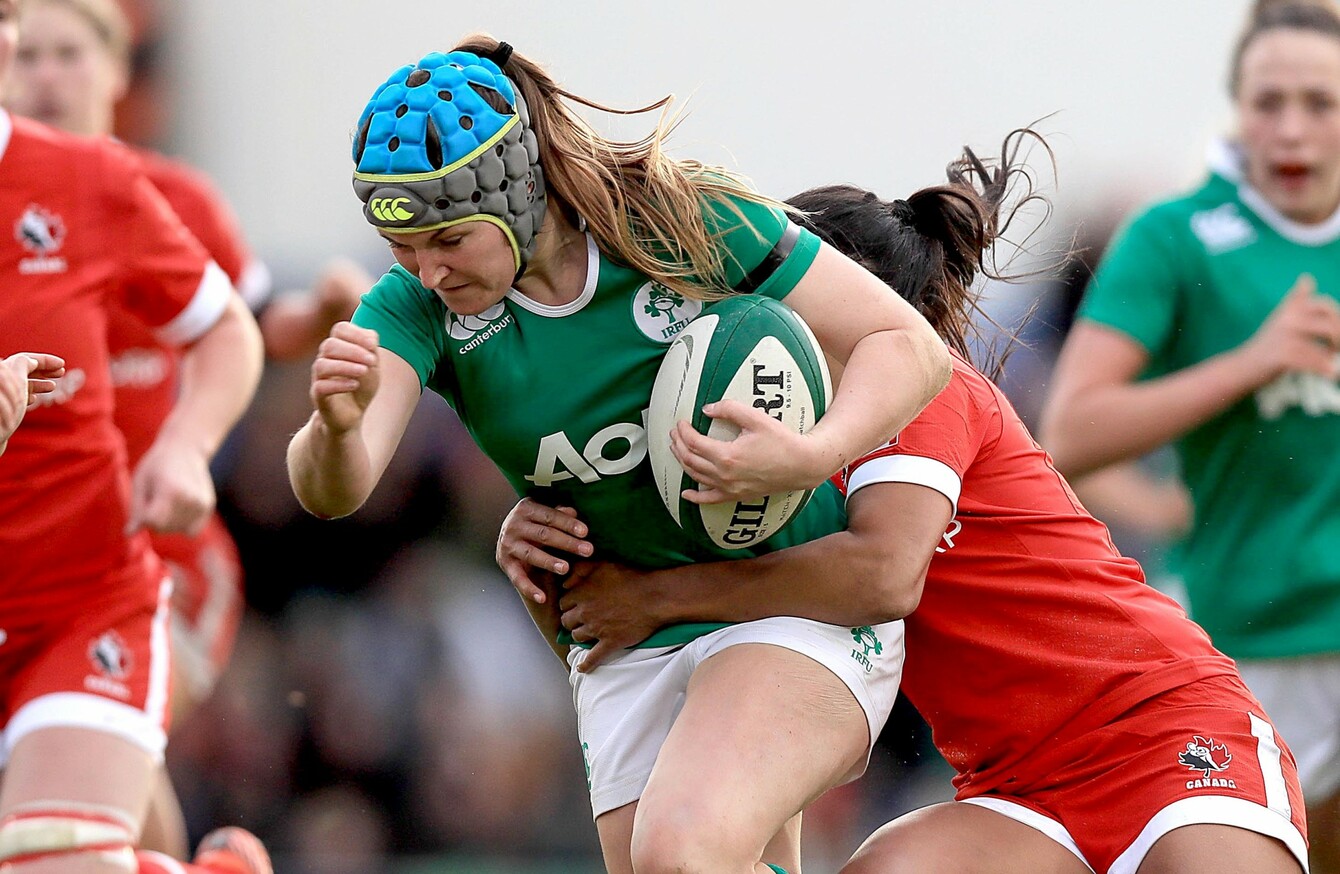 Anna Caplice in action for Ireland during the November Series.
Image: Donall Farmer/INPHO
Anna Caplice in action for Ireland during the November Series.
Image: Donall Farmer/INPHO
AS THE MUCK was rolling off Anna Caplice's leg and clogging up the drain after her first ever rugby training session, she found herself belting out 'The Fields Of Athenry.'
She checked herself at one point during her in-shower performance, thinking "this is so embarrassing," but something was brewing within her. As she recollects, the experience "triggered something."
The Mallow girl comes from a sporting family. Her mother is the captain of the Ladies Mallow golf club, while her father is "a big GAA man." Other conventional sports like soccer took her attention for a spell and she also tried fly fishing with the Mallow anglers.
But she was always a rugby fan. Her bedroom walls stand as a shrine to the Munster rugby team with all the great leaders peering out from the display.
She followed their journey to Heineken Cup glory diligently, and thought nothing of travelling around Europe as a teenager just to be at the away fixtures.
"I was obsessed," she tells The42. "I use to cry and cry when I couldn't get tickets for matches.
"In 2006, that was the best year ever. Obviously that was the year that Munster won (the Heineken Cup). I went over to France when I was 16 to watch Munster play Castres.
We went to see them play Perpignan and then against Leinster and then I went to Cardiff for the final with my Dad. And I went to the final in 2008 just before my Leaving Cert exams. I remember people asking me, 'What about your Leaving Cert?' Well the Heineken Cup final can't take place if I'm not there," she would say to them.
She continues:
"I was just engrossed in it and I owe so much to Munster rugby for this love in my heart for rugby. Those years leading up to 2006 and 2008 were so emotional and so incredible. We could buy into it so much and we were only teenagers and that's so fantastic. Even now, to play for Munster is such a huge thing."
But as much as she immersed herself in the sport, she could never play it. Or at least, there was no women's rugby club in the surrounding area that she could join.
She was ready to concede to the realisation that she would have to hold off playing until she got to University.
That was until her school principal made an announcement that women's rugby training was taking place after school. A new outlet for her interest in rugby presented itself and she went for it.
What triggered it for me was just the enjoyment and the absolute love of it. And if you love it that much, you don't mind. I remember reading up about how to be a flanker and it was telling you all these little things and I was just so interested in it and that was because I loved it so much. I couldn't wait to train every Wednesday. It was a really special immediate connection."
Her development in the sport was swift. At 17, she joined the Mallow Rugby club in 2007. She was called up to the Munster U18s the same year and later progressed to the Munster senior squad. Under then Head Coach Fiona Steed, Caplice received a stern education on the true worth of the Munster jersey.
While playing in France, Caplice was wearing the number seven jersey for the B team which was once occupied by Steed during her playing days. While trying to air out the jersey on the window ledge before transferring it to one of the A players, Caplice came into her room to see that it had vanished.
It was later retrieved and as punishment, Steed ordered Caplice to wear the unwashed jersey for the remainder of their trip until they returned to Ireland. Not a pleasant scenario to imagine but a memory she still holds fondly.
She later progressed to the Ireland Sevens team and this year, she was awarded her first cap with the Ireland 15s in their November Series Test against Canada.
But breaking into the squad took time. The invitations to the first few camps didn't include Caplice and disappointment was setting in. The urge to surrender to defeat was always there, but she never indulged it.
Self-pity was never going to bring anything good, but persisting with her training would ensure she was fully equipped for the step up, should an opening materialise.
She was with an old rugby friend, when the call from head coach Tom Tierney finally came through.
"Sometimes when that happens, someone will say, "Ah, well done," but they don't really understand the ins and outs of it. It was really special to share it with my one of my original UL Bohemians buddies. We were the newbies there all those years ago.
"Changes happen so quickly in rugby that you need to be 100% ready to go and I knew that. It was in my head that if there was an opportunity, you have to be 100% ready to go.
"I was happy with my fitness and stuff and keeping in that routine is a good way to keep playing well in your club games. I knew I was doing my best and I knew I was doing as much as I could so there was no room for excuses. I was training hard and wasn't leaving any stone unturned in that regard."
"If I had dropped the head and thought, "That's it now, I'm not involved" and drifted away from my training programme, I wouldn't have been 100% ready to go so I think from that respect I took it in my stride and I was actually surprised at how much I took it in my stride. I was really focused and really up for it."
Coming into the squad exposed her to a whole new world of detailed player analysis exercises, which gives her time to learn more about herself before the 2017 tournaments. But the one thing she was anxious about was how she would handle her emotions during the national anthem before her first cap.
I get emotional watching Ireland sing the national anthem on television. You don't have the anthems in sevens unless you make a final. It's such a huge thing for me, I just think it's such an amazing thing to do that for your country and to sing the anthem alongside your teammates."
She adds: "I was worried that I might get emotional but actually I didn't, I was just so focused and throughout the game when it was being played I was just like, "wow, this is it, this is the level that I want to be playing at." I don't think I got overwhelmed at any stage, I think I was happy to take it all in my stride.
Source: Irish Rugby TV/YouTube
"I knew as well that they're wasn't that huge pressure to win. Even when we were down, we were still focused on the jobs at hand. When the score gap was widening, our heads never went down. That's why I came off so positive."
2017 could potentially be a memorable season for Irish Women's Rugby. The Six Nations is the first assignment on the roster before they host the Women's Rugby World Cup later in the year.
The November Series allowed Tierney's side to adjust to the kind of pattern of games that will unfold, when the World Cup rolls around. Despite the 0-3 record they took from it, distributing first caps and experimenting different tactics, was the focus of the exercise.
Caplice has got her first flavour of 15s rugby and regardless of what next year holds for her, she's hungry for more. More importantly, she knows she'll be ready to deliver whenever the call arrives.
"I am 100% positive it will be a good year because if it's not, then that's your head starting to drop and you're not committing as much to training.
"There are always ups and downs and you have to be prepared for that as well. If something happens where you're not selected or something goes wrong, how do you deal with that?
"I learned a lot from Richie McCaw's autobiography. There was this quote from the book that I picked out and wrote down – what do you want to be remembered as? Do you give up when it gets difficult?
"That's the attitude that your whole squad needs to have coming into a World Cup. Everyone needs to be 100% positive that they're going to be in that jersey because it brings the best out of everyone."
The42 is on Instagram! Tap the button below on your phone to follow us!