AFTER SEETHING AT calls from either players or officials that seemed to swing five straight games against Munster over the last month of 2015, it was understandable that Anthony Foley was in comparatively jubilant mood when he presented for post-match media in Kingspan Stadium last night.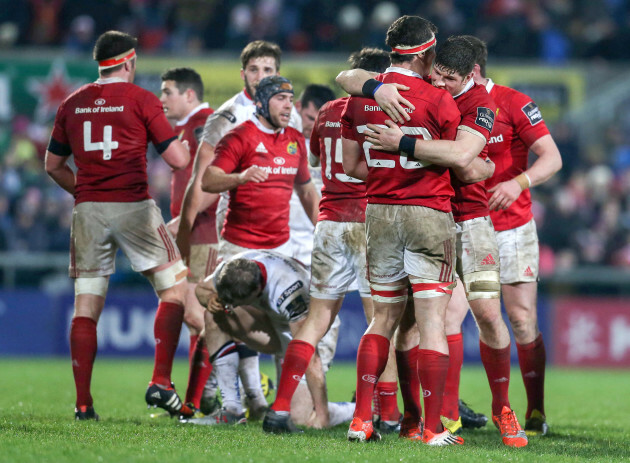 Presseye / Matt Mackey/INPHO Presseye / Matt Mackey/INPHO / Matt Mackey/INPHO
The Munster head coach sidestepped in behind the table where the TV cameras were trained, but chose to stay standing. Some days the news you bring requires a seat, but Saturday evening in Belfast, Foley still had a relieved joy flowing through his veins.
The 7 – 9 victory moved Munster marginally ahead of Ulster in the Pro12 table, stopped a five-game losing run and also ceased a run of over five years without a win in Belfast. A satisfying return after a winter of rank discontent, but not after wholesale changes to his approach.
"In most games over the last five weeks, the ones we've lost," said Foley, "there have always been moments or things that haven't gone our way. And if they had, it'd be possible to think of a different result.
We look at what we're doing, how we're doing it. There isn't much we've changed, you gotta keep putting yourself out there and keep putting yourself into positions. You can't play victim the whole time and we made sure we went out there today to grind out a result that we needed to keep our season alive."
It's interesting to hear Foley speak about the bigger picture of a season rather than the immediate match-to-match focus. Because with three Champions Cup pool fixtures ahead, the southern province are well and truly alive in two competitions. Reassuring then, that Munster's players displayed a willingness to dig deep at half-time when it would have been easy to be downhearted after being dominated by an Ulster outfit brimming with attacking intent, if still lacking killer instinct.
"Funnily enough,when I walked around the changing room (at half-time) there was a lot of energy there, there was a lot of purpose there.
James Crombie / INPHO Scannell was turned over soon after this break from midfield into the Ulster 22. James Crombie / INPHO / INPHO
"We just needed to build on the possession. Any time we got into their half and had good momentum in the first half we turned it over almost straight away. Whether it was Rory (Scanell's) break, or Ronan (O'Mahony) went across the pitch and didn't kick it well enough… the maul, we got turned over straight after that. We never had sustained pressure on them and invited them onto us."
In the second half, Munster did anything but.
Producing more that 'grind' that Foley was so proud of, the visitors repelled attacks which would have pierced them in the first half with ease. As the clock ticked upwards with Ulster still only four points to the good since Louis Ludik's 23rd minute try, confidence was swinging only one way.
Presseye / Matt Mackey/INPHO Presseye / Matt Mackey/INPHO / Matt Mackey/INPHO
Les Kiss' expansive attack was being shut down with ease thanks to tireless displays from Jack O'Donoghue, Billy Holland and the returning Tommy O'Donnell – who all put in 11 tackles for the cause. On top of that though, Foley again had a number 10 focused and confident in holding the reins.
And on tight nights like this one, that can be enough to tip the balance.
"It's important. Our half-backs are traditionally a strong part of our game. Ian has had a tough period and a performance like that here (in Kingspan Stadium) is something we can all go away with a lot more confidence from."