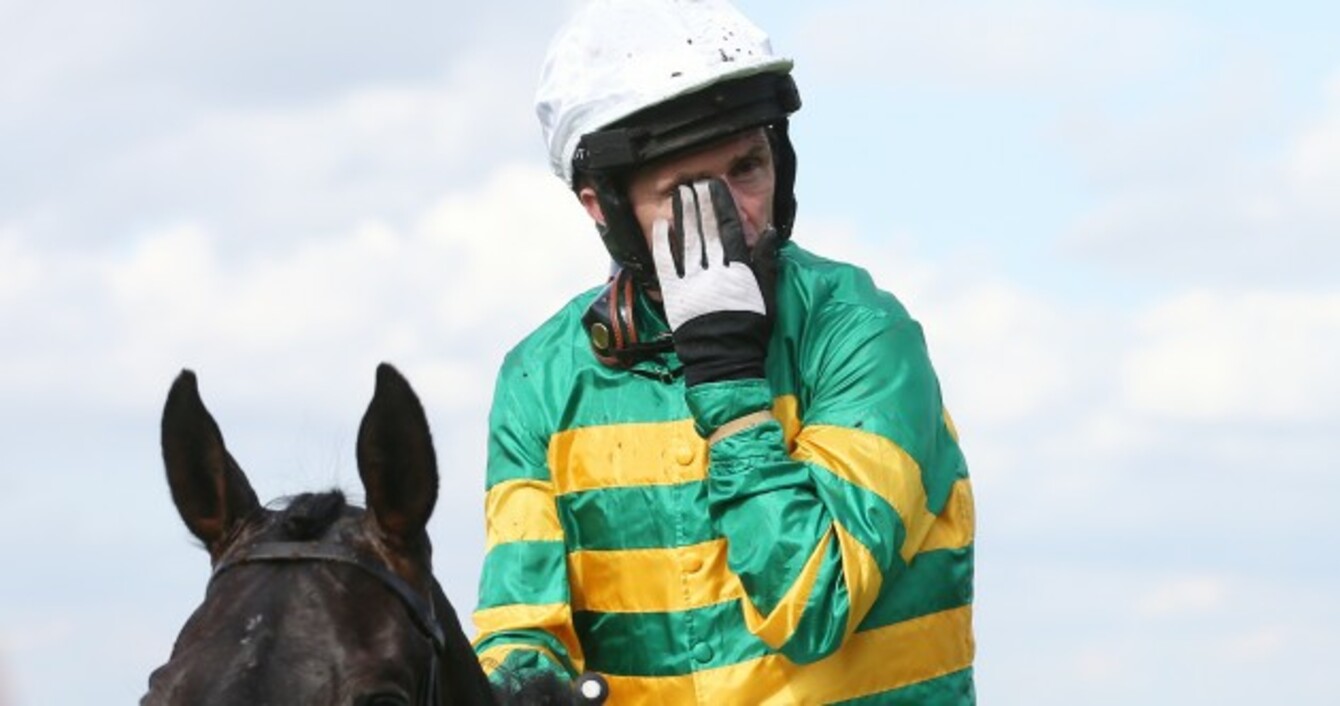 Image: PA Wire/Press Association Images
Image: PA Wire/Press Association Images
IT WASN'T TO be for AP McCoy in the final race of his record-breaking career as the champion jockey finished third aboard Box Office in the Handicap Hurdle at a sold-out Sandown Park.
McCoy fought back the tears as he took to the saddle for the final time and was given a rousing reception by the crowd of more than 18,000 but he was unable to bow out with another winner.
Having earlier finished third in the race named in his honour with Mr Mole, the 40-year-old worked his way into contention but the eventual winner Brother Tedd pulled away down the final stretch.
"It's amazing. I can't believe what's happening," he told Channel 4. "I've been so lucky all my life. I'll never forget this day.
"It's been a very emotional day. I want to thank everyone for coming out, the racing public. All my family were here, too, so it's very special. It's been unbelievable, a day I'll never forget."
McCoy was earlier given a guard of honour by his colleagues as he made his way from the weighing room and was presented with his 20th National Hunt Jockeys Championship trophy.
Clearly emotional, the Northern Irishman received the award from former Arsenal striker Ian Wright while Liam Brady was also on hand to present a Lifetime Achievement Award.
McCoy's words on the fragility of their careers had special significance as the first thing he will do next week is fly to Ireland to see Robbie McNamara and his cousin JT.
Robbie has lost the feeling in his legs after a fall earlier this month while JT was paralysed in a crashing fall at the Cheltenham Festival in 2013.
McCoy, who will then take a rare 10 day holiday in Barbados, said his relationship with his retainer JP McManus had been a special one.
"I was very honoured when he asked me to ride for him," said McCoy.
"I started off as his employee and as time has gone on we have become really good friends. Our wives became concerned when on a couple of St Valentine nights we were in London together!!
"I always found the people I worked with were very loyal and that is very important in life."
McCoy's long-suffering wife Chanelle — who has seen her beloved break every bone in his body and lose all his teeth — admitted retirement for him would take some getting used to.
"He's going to miss it dreadfully," she told Channel Four.
"There wll be lonely and empty days ahead of him but he will be alright," added Chanelle, who with McCoy had two children daughter Eve and son Archie through IVF treatment as the constant battle with his weight had reduced his sperm count.
Additional reporting from - © AFP, 2015