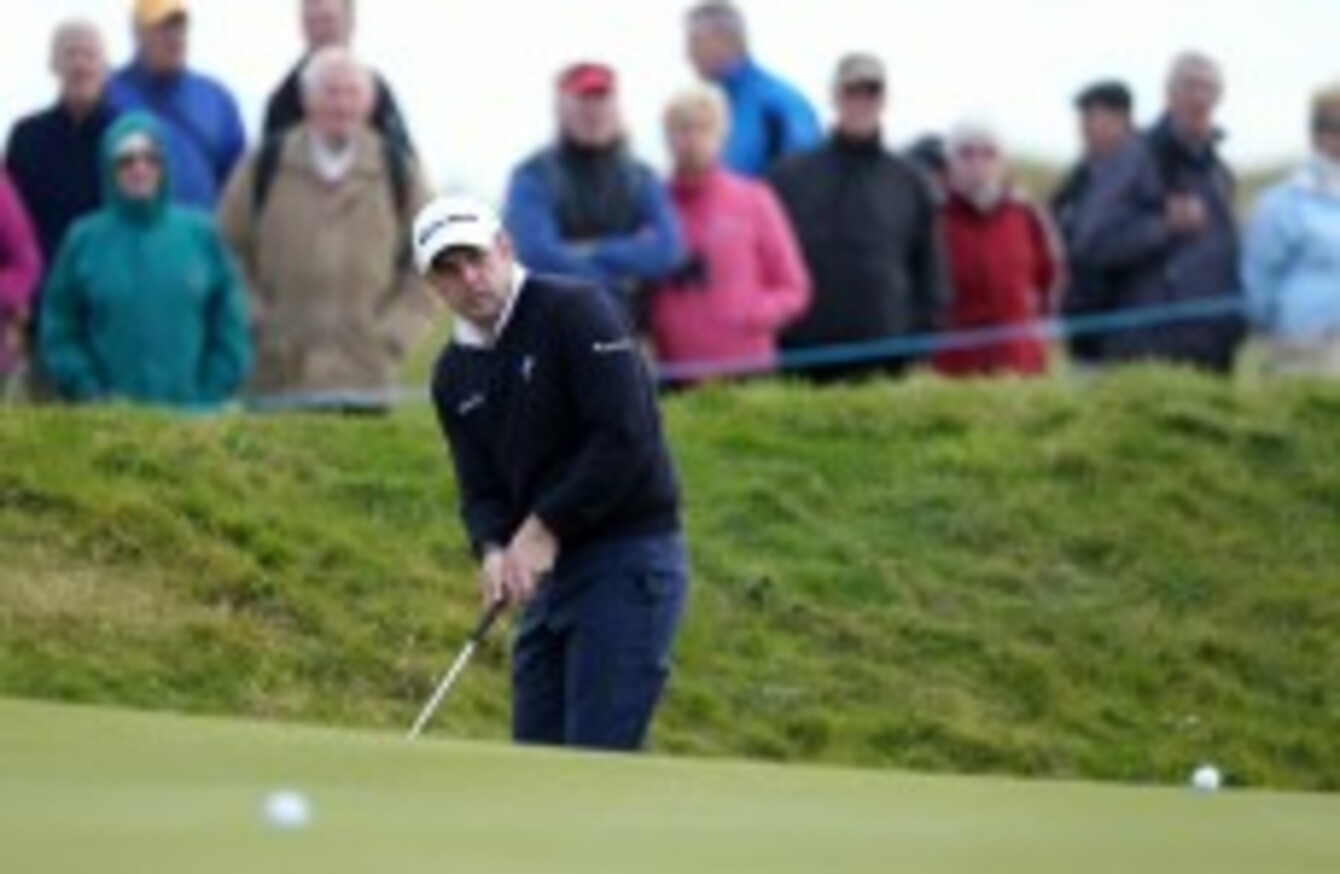 Image: Lynne Cameron/PA Wire/Press Association Images
Image: Lynne Cameron/PA Wire/Press Association Images
GRAEME MCDOWELL AND Luke Donald have backed Paul McGinley to be Europe's next Ryder Cup captain as they prepared for the $7 million BMW Masters which starts in China today.
Northern Ireland's McDowell told AFP it seemed to be a straight fight between two of 2012 captain Jose Maria Olazabal's assistants from Chicago — McGinley and former Open champion Darren Clarke, who are also playing in Shanghai.
The victorious European team of last month have been reunited this week, with only Sergio Garcia absent, for the first time since their historic 14.5-13.5 defeat of the United States at Medinah.
Former US Open winner McDowell and England's Donald believe that either of the Irish pair would be a great choice but that they would plump for McGinley to be given the captaincy first, at Gleneagles in Scotland in 2014.
Clarke, they added, should then be given his chance for the next battle, in the United States in 2016.
The 2011 British Open champion Clarke this week batted away questions about the captaincy but McDowell and Donald were happier to talk about the subject that has become almost a taboo among the team since the celebrations in Medinah died down.
"Both Paul and Darren would be great captains in their own right but then Paul has kind of forged a little niche for himself given the way he has conducted himself in the Seve Trophy and the Ryder Cup vice-captaincy roles," said McDowell, the 2010 US Open champion.
He's a scholar of the game and a strategist and would probably be technically, if that's the right word, a good captain.
"Darren would emotionally be a great captain and a great motivator, and also with that big personality he possesses," he added.
World number three Donald agreed either man would make an inspiring captain, but at Gleneagles he would also prefer to see McGinley in charge.
"Personally, probably I have spoken a little bit more to McGinley," he said.
"He always seems very up for the challenge. I do believe that if he doesn't get it this year, he probably won't get it. Whereas I feel like Darren will have other opportunities."
McDowell explained that, in his view, the captaincy role is not just about past playing success.
If it should boil down to pure playing credentials, of course Darren would win hands down as the next captain.

However, that opens a can of worms on the Ryder Cup captaincy debate because are we looking for a captain who has the right playing credentials or are we looking at Ryder Cup captains who will be great captains?

You've got to look at what makes a great captain and it's personally being able to relate to 12 very individual players in a team.
And McDowell hinted that maybe the European Tour's players committee, which will announce the next captain at the Abu Dhabi Championship in January, could decide a few captains in advance.
"There should a pecking order of guys who are next in line, and Paul McGinley really has good enough credentials to be a Ryder Cup captain," McDowell said.
"Darren… would make for a great captain in America as they love him over there. His personality suits America and they see him as the cigar-smoking, Guinness-drinking nice guy that he is."