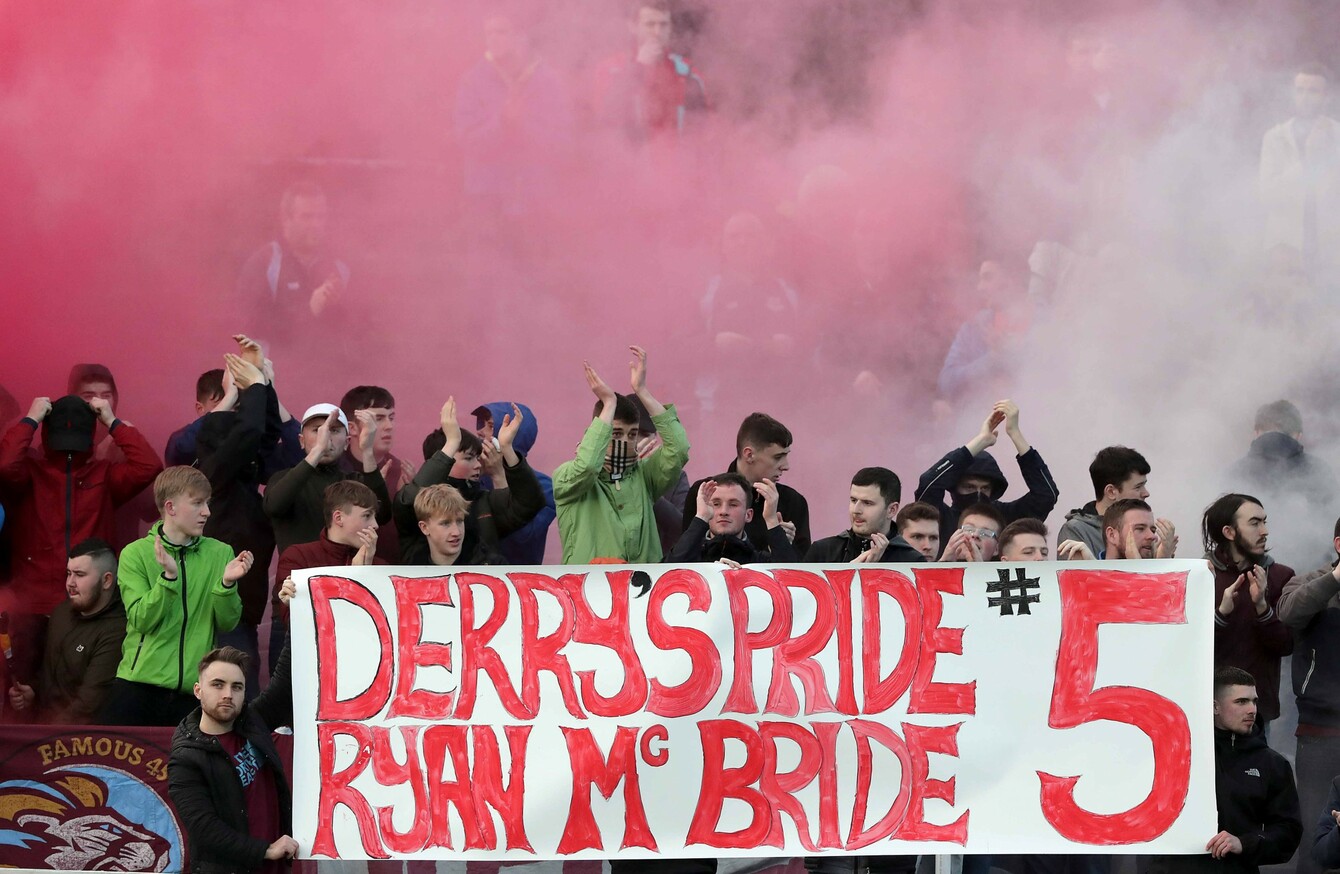 Image: Morgan Treacy/INPHO
Image: Morgan Treacy/INPHO
Updated at 10.41
NEARLY THREE WEEKS on from his sad passing, the memory of Ryan McBride still looms large over Derry City Football Club.
Before the tragedy, the club had been flying on the pitch. In their final 16 league matches last season, they lost just once — a run that saw them surprise many people by finishing third and qualifying for Europe, while reaching the semi-finals of both the FAI Cup and the EA Sports Cup.
After their opening four games this season, they had a 100% record, beating reigning champions Dundalk 3-1 — a side they had failed to defeat in five attempts last year. 25-year-old midfielder playmaker Barry McNamee had been as impressive as anyone during this run, hitting an eight-minute hat-trick in last month's 4-0 win over Drogheda.
The progress was clear, with Kenny Shiels' young side looking set to come of age. Then, the unthinkable happened, and the news emerged on 19 March that their 27-year-old skipper, a club stalwart since joining the Candystripes in 2010, had died suddenly.
"The confidence was high going into this year," McNamee tells The42. "We lost a few (players), brought a few in. We obviously started off great with four wins in four.
Then you get the news you probably never expected to hear in your life. It's obviously knocked us back a little bit."
Confirmation of the McBride's sudden death sent shockwaves not just among those involved with the League of Ireland but across the wider Derry community.
Having been with the club since 2011 — joining a year after McBride — McNamee was as stunned as anyone by the news.
The day he died we were in for a recovery session preparing for a game on Tuesday and you couldn't tell there was anything up with him.
"He came in and was just his usual self. We were doing our video analysis and he was sitting, having a coffee and chatting with the boys. It was just a shock. Nobody had seen it coming.
The majority of the squad are from Derry, a couple are from Scotland or from down the country, sharing a house. Mark Timlin, Scott Whiteside and I are the only ones who are more than a half-hour drive. Everyone got contacted on the Sunday night — it was just said that this news has come through. We all met up together, went down to the house and it was surreal, even then we still couldn't believe what had actually happened.
"There was very little said on that Sunday night. We were sent home and we were in on the Monday morning. We all met together on the Monday morning for breakfast and just kind of went through what we were going to discuss there and then.
On the Monday, Tuesday and Wednesday before the funeral, that was when the stories started coming out then. Stories from me or Ger Doherty or Rory Patterson, who've been here longer than (others). Stories that the newer boys maybe didn't know about him. Just funny stories that he was involved with, (we were) even listening in to

one of the podcasts with Keith Ward and Shane McEleney

. Just funny bits that maybe people didn't realise — the funny side to the serious character Ryan had.
"In Derry, it's a very close-knit changing room. It always has been. You could argue sometimes in the past few years we maybe enjoyed it a bit too much and we didn't take the football too serious.
I came in and Ryan was there the year before, Ger was there that long and Rory Patterson as well.
"Dean Jarvis grew up with him as well and lived less than 300 yards from him. Even the new boys, it was a close-knit team and everybody had their own memories of him. It was just nice to hear what everybody thought of him over the last few days. Even the turnout at the funeral shows how respected he was throughout the country."
Last Friday, Derry played their first match since McBride's passing, with the countless tributes ensuring an emotional occasion at Maginn Park.
We knew the emotions between ourselves and the fans. There were members of Ryan's family there as well, so it was going to be a tough game emotionally and mentally, but at the same time, it was a relief just to get back out on the pitch doing what we're used to doing and what we're best at doing."
The match itself did not go according to plan from a Derry perspective.
Goals from Gary McCabe and Aaron Greene saw Bray take a 2-0 half-time lead. First-half injuries to experienced players Rory Patterson and Gerard Doherty made life more difficult for the hosts.
However, a gutsy second-half display and goals from Aaron McEneff and Dean Jarvis got Derry back in the game, before a last-minute Tim Clancy header won it for the visitors.
Yet despite the late setback, it was an admirable showing from an extremely young Derry side. After the enforced substitutions, Lukas Schubert, at 27, was their oldest player — the only footballer for the hosts born in the 1980s who was still on the field.
We came in 2-0 down and at that stage, Ger was injured, and Rory Patterson came off injured… If there was ever a moment in the season where we could have felt sorry for ourselves and say 'we're going to lie down here,' (half-time last Friday) was the moment, but there was never any sign of that. We came back out and put our hearts and souls into it knowing the occasion and we got back into it. I don't really think it's going to bother us. If anything, it's going to be similar to the Munster experience (the rugby side have excelled on the field since the tragic death of coach Anthony Foley).
"It's going to drive us on, and that's what we're planning to do, starting with Cork (tonight)."
Predictions
Every week, we're giving readers the chance to take us on in predicting the Premier Division results. After Week 7, here's the standings:
The42: 21
The Readers: 20
Next up is James Clancy from Cork…
The Reader (James Clancy) 
Cork City v Derry City — Cork City win
Bray Wanderers v Galway United — Bray Wanderers win
Drogheda United v Shamrock Rovers — Draw
St Patrick's Athletic v Limerick — Limerick win
Finn Harps v Dundalk — Dundalk win
Sligo Rovers v Bohemians — Draw
The42 (Paul Fennessy)
Cork City v Derry City — Draw
Bray Wanderers v Galway United — Bray win
Drogheda United v Shamrock Rovers — Shamrock Rovers win
St Patrick's Athletic v Limerick — Draw
Finn Harps v Dundalk — Dundalk win
Sligo Rovers v Bohemians — Bohemians win
The42 is on Instagram! Tap the button below on your phone to follow us!