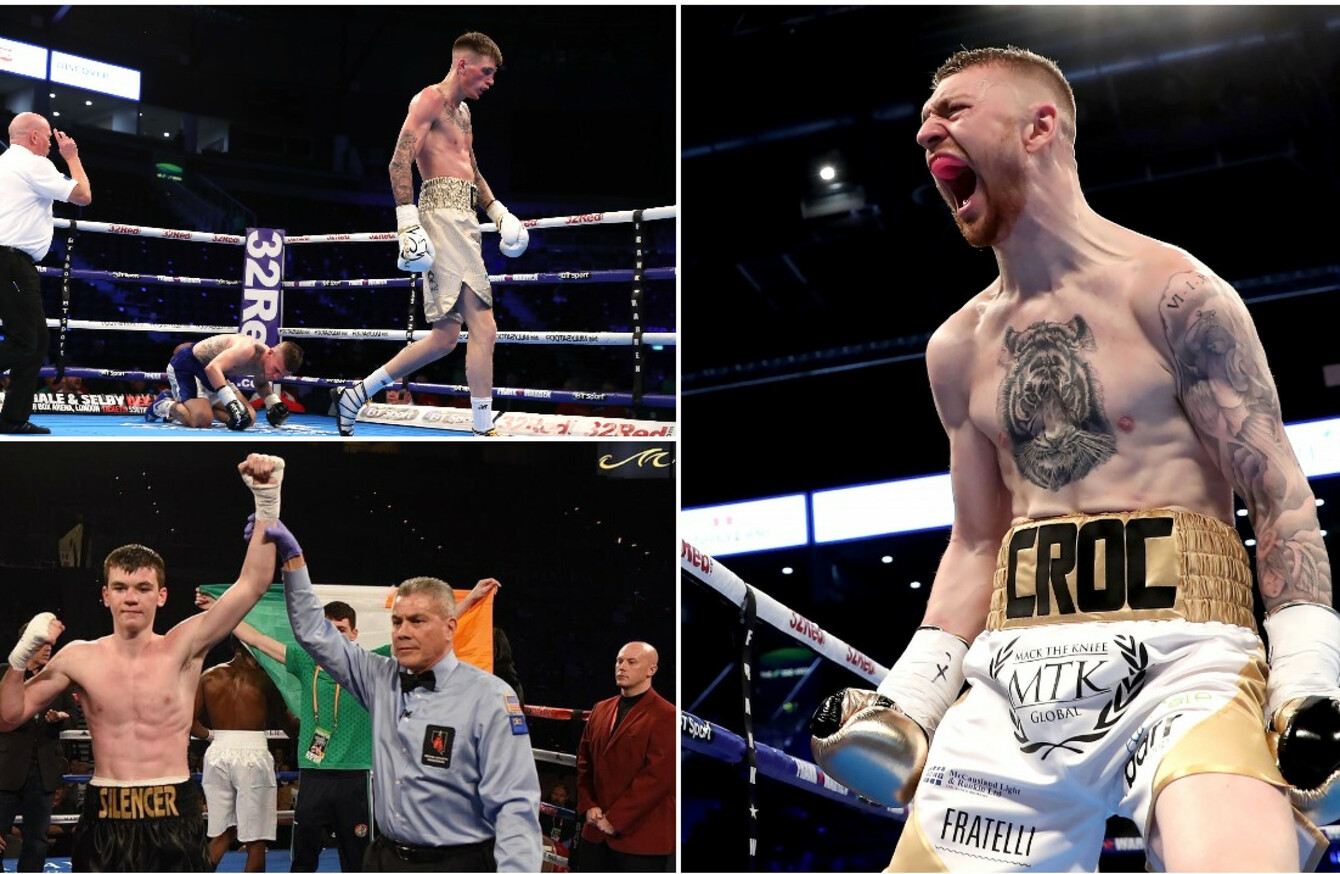 BY THIS DAY 12 months ago, nine Irish boxers had stated their intention to ditch the vest and embark on a professional quest in 2017.
It might have been taken as a sign; in a regular year, nine fighters would have been considered a healthy influx of pro boxing debutants in Ireland.
2017, though – as predicted on its eve by one of these eventual first-timers, Michael Conlan – was less a regular year and more the beginning of a pugilistic revolution in these parts.
By its end, an unprecedented 40-plus fighters born of this island had turned pro – many of them doubtless influenced by Conlan himself, and more pertinently the stark contrast between his present circumstances and those of an altogether more nefarious nature which befell him at the 2016 Olympic Games.
The majority will never follow in Conlan's footsteps and see their names adorn the walls of Madison Square Garden, sure, but such is the depth of talent on this island now, it seems equally unlikely that a minority won't shatter the glass ceiling and join him – or perhaps even surpass him – on the ascent to world honours and stardom.
"It'll be a year where Ireland properly gets on the map of professional boxing, I feel," Conlan recently told The42 of this coming 12 months. "I don't think we've ever really been on the map in the pro game, but this year [2017] has kind of sparked something."
It certainly produced potential luminaries, three of whom stand out as candidates primed to ensure that should Irish pro boxing indeed become a mainstay on the global stage, it will remain so for years to come.
Gary Cully
Age: 21
Weight: Lightweight
Record: 3-0 (2KOs)
Notable honours: Six-time Irish champion; European Youth gold medalist; Haringey Cup gold medalist and Best Boxer
"It was something I've always wanted to do anyway," says Naas man Gary Cully. "My aim when I started boxing was always to be a world champion as a professional. That was the main thing."
Amateur boxing's loss was the pro game's gain when Cully, once described by Ireland head coach Zaur Antia as 'the perfect amateur boxer', abandoned his Olympic ambitions to chase a lifelong dream.
His defection wasn't dissimilar to that of Jason Quigley in 2014 or current unified world champion Ryan Burnett a year prior; Cully would likely have been a legitimate medal hopeful for the next Games, but wasn't particularly arsed with the expectations bestowed upon him by others.
Aged 20, he decided to go his own way.
"When I started winning Irish titles and stuff when I was younger, the mention of Olympics came along, and it was obviously something I looked at," he recalls.
"But then things started changing in the amateur game and I just wasn't enjoying it as much – I was finding it hard to train.
"And it was my job, like, so… I wouldn't work in a job if I wasn't enjoying it. There was no point in boxing if I wasn't enjoying it. It was time for a change.
"When I say the amateur game changed, I mean literally the rules changed: three three-minute rounds with no headgear? You might as well be a professional now anyway, sure.
And then I think Rio didn't help, the whole ticket scandal, drugs scandal – everything that went on out there – and then seeing Mick [Conlan] being robbed as well.
Conlan warned after his acrimonious Olympic exit that some amateur up-and-comers the world over would be sufficiently perturbed by the shady goings-on that they would either hang up the gloves entirely or bypass high-end amateur boxing in pursuit of a fairer shake in the pro game where, while hardly morally spotless, fighters at least get paid even when slighted by judges.
For Cully, though, this was never about money. Instead he loathed the idea of wasting his time, fearing a fate similar to that faced by Conlan in Rio, or perhaps something altogether more innocuous – an act of God – which might have seen four years' work down the swanny in any case.
"There's always been robberies, but that really opened my eyes when I saw it on the biggest stage," he says of Conlan's Olympic quarter-final exit to Russia's Vladimir Nikitin.
I've seen it in the [National] Stadium over the years, but when I saw how hard Michael trained for the Olympics, to go out and be robbed like that on the biggest stage – in front of the whole world, like – that was a big thing as well, yeah.
"When they're robbing guys like that, with the world watching, they don't really care anymore.
"Like, boxing is a risky game: you can qualify for the Olympics, train the whole way up to it, and then break your hand the week before. And what was it all for, then?
"You're not guaranteed to qualify – I mean, seeing the state of the robbery that happened to Mick, you're obviously not guaranteed to qualify.
"And it happens a lot more, but it's just not usually on the biggest stage of all, which is the Olympics. I've been on the Irish team since I was 15 and I've seen massive robberies. Over in Russia and all these types of places, you're seeing lads being robbed blind, but nothing happens about it because it's not really in the public eye.
"But when it happens then with Mick, when it's actually in the public eye – in front of the whole world, an Olympic bronze medalist – you're thinking, 'they're just doing it anywhere now. They don't care.'
"There's just too much money involved, and politics and everything else."
He laughs when it's put to him that he has entered the wrong game if he wishes to escape money and politics, but other similarities between amateur and pro boxing – at least when viewed through Cully's prism – have stood him in good stead during an accomplished start to his career.
"I don't think there's a major change in it: I think if you can fight at the highest level as an amateur, you're going to transition into the pros well anyway.
If you can fight at the top level as an amateur, you're already a fairly high-level professional.
"I'm enjoying it more. I'm enjoying the training a lot more. I like being under the big lights – I like being the centre of attention.
"The pro game is more like…you have one fight every couple of weeks, and you really need to impress. I'm enjoying the actual boxing side of it more as well: the little things like learning how to sit down on your punches, slowing things up – like, my first camp I trained at 100 miles an hour, but you need to slow things down as well.
"There are just a lot of things to learn, and I'm still learning. I'll be learning for a long time yet – I'm only 21!"
Cully knows enough to realise the importance of self-promotion, however.
In October, just a month after his professional debut, the former six-time Irish amateur champion was in Belfast for his sophomore bout – on the undercard of hometown hero Ryan Burnett's world title unification bout with Zhanat Zhakiyanov.
While casually browsing Instagram some hours before he was set to open the show, Cully spotted an opportunity and was brazen enough to take it.
"I heard I was going to be on first", he recalls, "so obviously, with Ryan being the main event, late at night, I reckoned Eddie Hearn mightn't have been down for the start of the show.
"So, he had an Instagram story up – he was staying in the same hotel as me, and he was down in the gym.
I just replied to his Instagram story saying: 'I'm on first. I want a chance to impress you, like. Come down and have a look.' So I got out of the ring anyway afterwards and Eddie was sitting in the front row, and he said: 'I got your message. Well done – good performance!'
"So it worked. Sure if I hadn't have done that, he wouldn't have seen me, d'you know what I mean? And a lot of guys wouldn't have done it, but I'm confident in my own ability.
"And I know that if these top promoters do see me, they'll see my ability and see how good I am. I like being under that kind of pressure rather than hitting away and not being seen.
"That's the thing, see. He's going to come back to Ireland, and it's good to impress these guys. Like, Eddie is running boxing over here, and he's making people world champions – and he's making them money.
"He's going to come back to Ireland, it's going to be a huge card, and I'm going to want to be on that card, so it was obviously a good move – it just made sense!"
Incidentally, Hearn took to media duties following Burnett's gruelling victory while the new unified champion was whisked away to hospital as a precaution, and singled out 'the young lad, Cully' as having seriously impressed him, admitting that only for the Kildare man's message on Instagram, he would have missed Cully's performance altogether.
"I made a little comment even before the Frampton undercard [Cully's third fight in November] to Joe O'Neill from Irish-boxing.com," Cully continues. "Joe said: 'Any message to Frank Warren?'
"And I said: 'Get to me before Eddie gets me first.' And it's just a little joke, but it gets me out there, and it gets seen. It's good to catch the eye a little bit."
Until he secures a promoter (a duty which befalls his management team at MTK Global) and receives sizeable subsequent backing, Cully's rise will be gradual more so than meteoric. Unlike many fighters of his age, though, he's unperturbed by the prospect of steady progress.
"This year is still going to be a big learning year for me," he says. "Obviously, I'm a boxer, I'm a fighter, so I want this title, that title, everybody, but I think I still need to step back and pick a few fights to learn.
"I want to be as active as I can. I want to get maybe six fights this year, go up to six and eight rounds, and I'd love to pick up an Irish title if it comes along.
"But I'm sure the titles will come if I keep winning and learning.
"There's a lot more to come from me as well: them three performances this year came along quickly, and I'd been out of the ring for a year-and-a-half before that, so I was a bit rusty for them as well.
"This year, I think I'll step it up, but most importantly I just want to keep learning."
That education will be continued under the tutelage of Pete Taylor at his Bray Boxing Club.
Taylor, father and former trainer of WBA World lightweight champion Katie, boasts among his ranks his daughter's fellow Irish Olympian David Oliver Joyce, as well as big domestic names such as Irish middleweight champion Luke Keeler and heavyweight big-hitter Sean Turner.
It speaks not only to the depth of Cully's raw talent, but to his humility, that his level-headed trainer immediately speaks of him in more glowing terms than he does himself.
"Our hope is that this year he'll start fighting for titles," says Taylor in his Bray base. "He's the biggest puncher at his weight in the country by miles.
"He's a six-foot-two southpaw, do you know what I mean? He's a freak of nature to tell you the truth.
"He'll take some beating. I'd put him in with anyone now at the moment. We're going to get him fights with experienced operators.
The last guy he fought – I think he gave away 12 pounds in that fight. He was a tough opponent. But Gary was brilliant against him.
People go on about prospects, and there's lads in his weight – Eric Donovan, Jono Carroll, all these lads – but he's well able for any of those lads. Even now, at this stage.
"Obviously we won't be putting him in with these lads yet", Taylor interjects upon himself, "but he's well able now, I think.
"He's only fought four rounds so far so his next fight is going to be a six-rounder. Then we'll do an eight-rounder.
I think he should be fighting for an Irish title at the end of this year, easily. This year I see him making a huge impact on Irish boxing.
"He's getting the best of sparring as well with the likes of Davey Oliver [Joyce]. The two of them are big fans of each other."
The excitement exuded by Cully's trainer is near-palpable, though he adds that the predominant focus for the Naas lightweight as they eye six and eight-rounders is strength and conditioning – a field in which Taylor lacks no expertise.
At 21, Cully will doubtless fill out physically and progress through the divisions, but his 2012 Olympic gold medal-winning coach is reticent to remould his lanky frame, preferring instead to compare him to one of the sport's most destructive ever beanpoles: 'The Motor City Cobra'.
"Do you know who he reminds me of? Do you remember Thomas Hearns? That's who he reminds me of.
He's like an Irish Thomas Hearns. He finds his range, and for someone so tall and skinny, he can really punch. I mean, a six-foot-two southpaw is a nightmare. Especially at 60 kilos: he's everybody's nightmare. He's so elusive – he's difficult to land a clean punch on.
"He's just a special talent."
Lewis Crocker
Age: 21
Weight: Welterweight
Notable honours: Seven-time Irish champion; BoxNation 'Punch of the Month' June 2017; Irish-boxing.com 'KO of the Year' 2015; Fastest KO in Irish amateur boxing history
"I always felt that I was strong and stuff, but when I turned 17, 18, I was just… I don't know where it came from: it was just 'left hook' and people were going down," says Lewis Crocker with a laugh.
"I haven't looked back since!"
The mind would be naturally inclined to wander backward 10-or-so years to the day when a young Crocker discovered concrete in his fists, only – somewhat frighteningly – his late teens and their accompanying fistic revelation occurred far more recently.
Indeed, no sooner had Crocker realised he was packing heat did he eye a move to the professional ranks, within which such explosiveness can garner all kinds of riches.
'Croc' likens himself to Marcos Maidana and Canelo Alvarez and fights like some sort of sinister hybrid of the two, bred solely with the destruction of mankind in mind; when he was first mooted to turn pro as a 19-year-old in 2015, he remarked that he had lost interest in winning fights on points.
It was believable, frankly.
2 KO's In 2days.. Just call me @MikeTyson pic.twitter.com/N6gb2hq9Av

— Lewis Crocker (@lewiscrocker1) September 13, 2015
He's begun his professional career in a vein fitting of such an attitude, with all four fights ending quickly and gruesomely in his favour.
This is juxtaposed with his personality: Crocker is amiable, cheery, almost shy – until he steps through the ropes and does wreck.
"Yeah, I don't know what it is," he says, sounding genuinely stumped.
"Maybe it actually comes from being a fan of the sport: you see Mike Tyson and stuff, or even MMA – all combat sport – and growing up you see all these big punchers and knockout artists. I want to implement that in my future, and hopefully people will look up to me one day the way I've looked up to others.
"But I don't feel I need to be some vicious guy outside of the ring. I'm a happy person. I'm just different in the ring.
Outside of it I'm the most chilled out person you'll ever meet: all I want to do is play X-Box and watch boxing, and that's pretty much it, mate.
"Then get to the gym, put the head down, and do what has to be done. That's it.
But when I'm fighting I don't even consider it a boxing match, in a way: it's a fight, and I'm going to take you out. I don't care about the rounds or the minutes. I'm in there to knock you out, without a doubt. That's my mindset going in, and it always will be.
A proud Belfast man, Crocker has long since had the backing of one of the city's sporting icons: when he was omitted from the Northern Irish squad for the Commonwealth Games in Samoa in 2015, Carl Frampton labelled the decision "disgusting", describing Crocker – whom he had trained alongside briefly in London – as "the best kid in the country."
Frampton remains a massive fan of the recently-turned 21-year-old, and his support has provided Crocker with ample motivation to one day emulate Northern Ireland's first ever two-weight world champion.
"For someone like that – my hero – to be supporting on my journey, and to be giving me shout-outs and stuff, it's class. It's very humbling.
"And fair play to him, like, because he's a superstar, and to have someone like that backing me, it's such a boost for me.
"I'm just taking it as it comes, d'you know what I mean? It seems a bit surreal right now that my career has taken off, and that I've had my four fights and stuff. I'm just enjoying it, to be honest.
"But I do have big plans. I've never once thought that I'm not going to make it.
"I want to fight for world titles and sell out arenas and stuff – I want to be successful: I just have that mindset, even since I was a kid."
As to how he intends to capture his home city's imagination to the same extent as 'The Jackal', the plan for Crocker is relatively straightforward: put lads on their bums and put bums in seats.
"I think it comes down to what you do in the ring, and if you're not taking care of business then the fans aren't either," he says.
The Belfast people will follow you. I'm getting stopped in the street and people are saying 'I saw your fight' and stuff. Like, I only turned 21 there the other day, and when I hear things like that it's just class.
"I think if you just be yourself, and if I keep the KO streak going, the fans will keep coming.
"All the big shows going on up here – even from the fans' point of view – it's great. Especially in your hometown of Belfast, like, and most especially getting on the cards myself as well.
"It's great motivation fighting on the big shows, and hopefully it'll be me in the future who's headlining them."
While training under the prodigiously talented Ray Ginley, just three years' Crocker's senior, at Belfast's Gym Co, the seven-time Irish champion regularly mingles with another iconic Ulsterman during a day's graft.
Former Irish international back row Stephen Ferris now frequents the gym having had his own sporting career cut short through injury in 2014.
Despite having a pre-existing knowledge of Crocker and his ability, Ferris knew better than to believe the hype – that was until he witnessed his new gym-mate first-hand.
"Well, I suppose a bit like rugby, you kind of hear about these guys before you actually see them," he tells The42. "And sometimes that's not a good thing, because from a rugby point of view, a lot of guys get talked up, and when it comes to the big stage they don't deliver.
I think everybody with Lewis was like, 'you have this guy who's a knockout specialist, has a serious left hand, can knock anybody out with either hand.'
Everybody was walking around the gym talking about this young kid who liked to play X-Box and was really down to Earth, and had all this ability and all this talent, but they weren't 100% sure if he had the right kind of attitude to apply himself. And then as soon as he gets into the ring, he just turns into a different animal.
"For me, just being around the gym training with Ray Ginley a few times, and obviously Anto Upton as well, Páidi McCrory – all these guys are around the gym – so speaking to them on a daily basis, the big talking point – the name on everybody's lips – is Lewis Crocker.
And I think that for what he's achieved in such a short space of time – he's only a young, young fella – but to be the talking point, kind of behind Carl Frampton in Belfast, I suppose, is a big achievement in itself.
A long-time friend and fan of Frampton, Ferris too believes Crocker can fill the void in Belfast when the 30-year-old does eventually hang them up.
He's more concerned by the immediate future.
"I think his opponents to date haven't been that high in quality," explains the former British and Irish Lion. "He was expected to win, he was expected to knock them out. So I think going forward, speaking to Ray and the rest of the guys, they're looking to get him through a few rounds to maybe test him, and push him to somewhere in a fight that he hasn't been before.
"That can be difficult to do. Like, I think it's going to be really difficult to get him a top-quality opponent, because he is so dangerous, and he does have that knockout ability.
For somebody like Conor Benn [son of Nigel, 11-0, 8KOs], or some other prospect like that to fight him, they'll be very, very cautious, because with Lewis, you could come out on the wrong end of that extremely quickly.
"That's the whole thing with Lewis Crocker", Ferris adds, "is building him up in terms of quality of fights, trying to get that bit more experience under his belt, and trying to get somebody of a little bit more ability to try and push him on a bit, because at the minute, I'm not sure what he's getting out of walking in there and knocking boys out in the first or second round."
A self-professed boxing fanatic, Ferris speaks at length of his admiration for the sport and its participants, describing boxing with trainer Ginley or young pro Padraig McCrory as "one of the toughest sessions you'll ever do – in any sport."
Don't get too excited by the prospect of the former oval-ball proponent climbing into the squared circle in an official capacity any time soon, though:
"Am I ever going to get into a boxing ring? Jesus, definitely not!"
Instead he'll park himself on the safe side of the ropes, from where he can watch on as Lewis Crocker channels into his performances a maniacal aggression not dissimilar to his own.
Aaron McKenna
Age: 18
Weight: Welterweight
Record: 1-0
Notable honours: Eight-time Irish champion; European Schoolboys gold medalist; European Junior silver medalist; Nikolay Pavlyukov Memorial gold medalist; youngest fighter signed to Oscar De La Hoya's Golden Boy Promotions
Where so many of his peers dream of a career which might one day culminate in a major fight across the pond, Monaghan's Aaron McKenna has, not unlike his Golden Boy stablemate Jason Quigley, turned the conventional route on its head.
The teen gunslinger is the youngest fighter signed to Oscar De La Hoya's international stable having penned a deal with the former six-weight world champion and Hall of Famer aged just 17.
Ireland's most junior professional, who featured in our 18 for 18 series over Christmas, told The42 in December: "Oscar's in good hands with me and Jason. We'll get those fights in New York and Boston where there's a lot of Irish, and build up a great Irish support.
"I think I definitely will be fighting in Ireland in a couple of years. My dream would be to fight in Clones, in St Tiernach's Park. That'd just be unbelievable."
For now, though, the Old School Boxing Club graduate will have to settle for less prestigious venues such as Madison Square Garden in New York or Las Vegas' Mandalay Bay Hotel & Casino: back in December, McKenna made his debut in the latter just a week after a scheduled professional bow in the former was cancelled at the 11th hour.
His performance in earning a four-round points win over the previously 1-0 (1KO) Travis Conley was disproportionately accomplished for a fighter of just 18. He received plaudits, too, from Ring Magazine editor Dougie Fischer among others, for choosing a live dog as his first ever opponent in the paid ranks.
Nicknamed 'The Silencer' due to his being naturally introverted outside of the squared circle while displaying a propensity for violence within it, McKenna has probably thrown more punches publicly than he has spoken words, but his arrival from across the Atlantic has already turned plenty of heads – most notably during fight week for the Miguel Cotto-Sadam Ali card on which McKenna enjoyed his first outing last month.
"We were at the press conference and the weigh-in, and people were coming up to meet Aaron while Miguel Cotto was sitting on the other side of the room!" laughs Rachel Charles, whose Sheer Sports management company advise McKenna as well as his fellow Ulsterman and Golden Boy stablemate Jason Quigley.
"It was like, 'all right, hey, Miguel – I'm just going over to meet this kid Aaron.' Everyone was making a big fuss of Aaron, which is lovely."
De La Hoya and Golden Boy want the Monaghan man to make it big in the Big Apple just as Cotto did during his Hall of Fame-worthy career. So too do the suits at Madison Square Garden, who made themselves known to the teenager a couple of days before his original debut bout at their venue was canned, and are keen for him to fight there in 2018.
But at 18, there's hardly a rush. As McKenna told The42 of seeing his dream debut go up in smoke at the time, in typically unperturbed fashion: "Of course I was disappointed, but I get the sense that I'll box there [MSG] again, and in bigger places again, so…not too bad.
"Listen, it's early days."
In the meantime, he'll have ample opportunity to hone his craft in some of the world's most unforgiving boxing bullpens, with father and former head trainer Fergal having joined his son in relocating to the American west coast.
Former heavyweight contender Courage 'No Limit' Tshabalala has taken the reins as far as coaching is concerned, however, and the South African sage is audibly excited in suggesting he sees to no limit to McKenna's potential.
"The most important thing about a fighter is that he has a very good work ethic, and he's coachable," he says.
"Aaron is a kid that you can really tell has got a solid foundation from his amateur background: his father, Fergal, did a great job. He's got experience.
"So when he comes over here and he's adapting to the new style of boxing – the pros – it's easier for him in the sense that he's coachable.
He's got good instincts, and he will work hard. You have to tell him to stop working. You have to tell him: 'No, that's enough.'
"That work ethic, with the talent that he has, is going to take him real far. He's a very dedicated young man, and I see great things coming out of him."
Tshabalala was particularly impressed by how, during his debut victory, McKenna implemented workings from the pair's first ever fight camp together.
In the game Conley, meanwhile, who put up a fight during the first two rounds especially, Tshabalala recalls fondly the process of watching it dawn on an opponent 10 years McKenna's senior that he couldn't hold a candle to the baby-faced gunslinger's ring savvy.
"That first fight, he did a lot of good things – things that we had practiced in the gym. He worked around the fighter [Conley] and capitalised on the things he does really well, like use his footwork.
"Actually, the third and fourth rounds were excellent, because he settled down and started picking the guy apart. When the guy rushed him, he played the matador: he sidestepped, used his angles really well, and knew how to take a step back and make the guy miss. It was perfect.
"It was only the other guy's second fight, but he was confident because he had never lost – he didn't know how to lose. He thought he was just fighting some regular 18-year-old kid, only to find that Aaron might be young in years, but he's very mature. Aaron just totally outclassed him, outworked him; it was a good showcase of his skills.
He has the characteristics of a champion. Some guys have that x-factor, and Aaron has it.
As impressed as Tshabalala was by how McKenna acquitted himself in Vegas, however, he maintains patience will be paramount to future success.
"Aaron doesn't have 'man strength' yet. Even the guys we spar: do you know what it's like for a 17/18-year-old to walk into the gym and spar a guy who has over 20 fights? He's sparring with grown men. He's used to it, but you can tell that he doesn't have the man strength yet.
"What he's doing now is using his speed and his youth to outwork the guys. He throws a lot of punches and the guys can't keep up with him, because his recovery is quick.
"He's compensating by relying on his work ethic and activity while he develops his strength.
Only time will tell, man, but I'm telling you this much: once he gets his man strength, we're going to see some fireworks. Everyone is in for a surprise. Give him another three years, and it's going to be a different story.
"I can't wait, personally," adds the South African big-hitter – 22 of whose 26 career victories arrived by knockout. "We're all excited to see it. After this first fight, I'm just so motivated to be watching from the sidelines and see him grow.
"There is no rush – the kid is young – but we've got to keep him active.
You see, he's like a thoroughbred, and if a thoroughbred is healthy you've got to run it. As long as he's healthy, we've got to keep putting him in there.
"He's got a promoter, Golden Boy, who have been doing this for a while, and they just want to nurture him, nurture him, nurture him until he ripens up."
McKenna's stablemate, Jason Quigley, is adamant that Golden Boy Promotions will stage a card in Ireland in the near future – a pipe dream, perhaps, but not beyond the realms of possibility given Quigley's own pugilistic ability.
Were it ever to happen, McKenna would likely feature as a co-main event to Donegal's 'El Animal', who's now based in Sheffield.
The 3Arena is no St Tiernach's Park, but it's not a bad spot, either.
With regards to an eventual homecoming for his young charge, Tshabalala – who has a cousin in Dublin – knows just one thing for certain:
"You'll see me coming out of the Foggy Dew before long!"