THE NEXT TIME you're at a sporting event. Keep an eye out for the men and women working to blend in with the very fabric of the occasion.
They sit between advertising boards, walk among ball-boys and make sure to get swirled up in the centre of any post-match storm endeavouring to capture the moment to sum it all up.
They're there in the mud, rain, sleet or, less often, intense heat; hitting the turf and thinking on their feet to get the angles they need while most journalists sit in relative comfort and shelter up in the stands.
Dan Sheridan / INPHO Dan Sheridan / INPHO / INPHO
For over 30 years, Billy Stickland has worked in close proximity to Irish and international sporting greatness to distill single moments into iconic images that have furnished – and, in some cases, even replaced – our own actual memories of an event.
Next Saturday, Stickland will once again frame up one of the forces of nature that most captivated him before founding Inpho Sports Photography 30 years ago this week.
The company wasn't a month old when Stickland set off for Paris for a Five Nations match that would live long in no Irish memory.
"We were completely beaten out the gate," Stickland recalls of a 25 – 6 February humbling with Serge Blanco and Philippe Sela among five try-scorers for Les Bleus.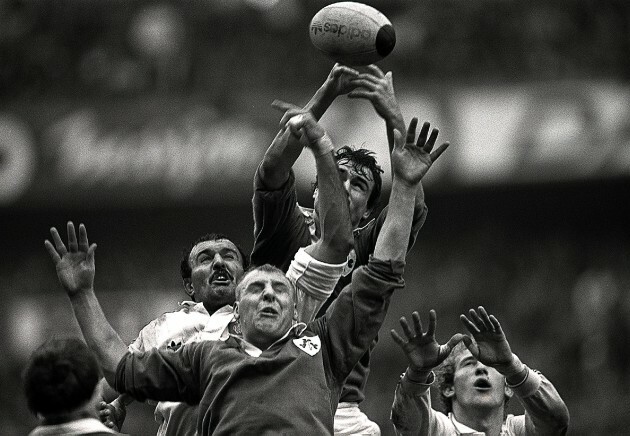 INPHO INPHO
"Irish players were like rabbits in the headlights. The noise of the crowd in the Parc des Princes, the French flair and passing… no matter what else we did in the Championship, going to France was always intimidating and we couldn't even score a try never mind win a match."
Even aside from the level of optimism and expectation surrounding a modern Irish trip to Stade de France, there are precious few comparisons to the job 30 years on. Next weekend, he will be one of a team of three photographers and media outlets in Ireland will have access to pictures from the ground before the match even kicks off.
Facilitating that is a wholly different kind of stress and strain for Stickland than when he established the business with James Meehan.
"Certainly in '88, I would have been going on my own," Stickland tells The42.
"It would have been shot on film. I wouldn't have processed the film at the match. Literally after the final whistle I'd have flown to London and then to Dublin to make the deadline for the Sunday Tribune at 10.30 that night."
The nature of sports photography has changed irrevocably on top of the vast difference in the process of producing images, notes Stickland.
With 14 people employed – nine of whom traverse Ireland, Europe and beyond as photographers to beam back high quality images that bring Irish sports stories to life – Inpho is a far larger, wider-reaching and bigger-spending operation than the partnership Stickland first envisaged.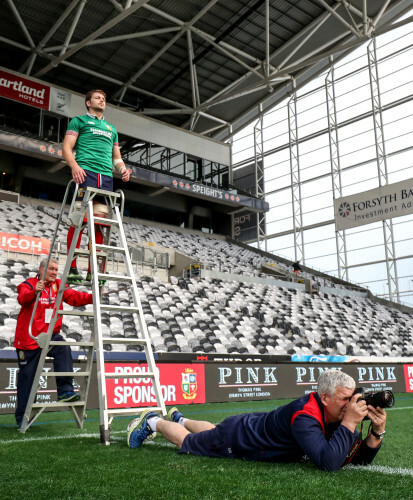 "It's like feeding a big machine. I never thought I'd run a company with this many people.
"We have some really good people and it works. But you've got to keep up all the time with the pressures of what's needed. Even to equip a photographer properly costs about €25,000. So, it's a business.
"It's very much turned from an artistic-type occupation to more of a service industry. In the old days we'd deal with a picture editor of a paper and they'd consider them (aesthetically). Now, it's about providing as much from as many fixtures as you can."
Mercifully, developments in technology have reduced the number of occasions when Stickland feels like kicking himself for missing a vital moment. The early days of Inpho brought Stickland to Stuttgart. But the defining moment of Ireland's Euro '88, Ray Houghton's winner against England, arrived when he was out of film.
A few years later in Croke Park, a similar harrowing tale of missed opportunity, but at least on this occasion Stickland had grabbed a shot or two of the all-out All-Ireland final brawl between Mayo and Meath. The incident demands just 44 seconds to watch on YouTube today, a heart-stopping length of time for Stickland as he tried desperately to reload and shoot.
"When Mayo played Meath in 1996, there was a huge fight – they just laid into each other in the first two or three minutes. I remember the fight started and it was looking brilliant and then the camera ran out of film.
"By the time I took the cassette out and put another one in, the fight was over."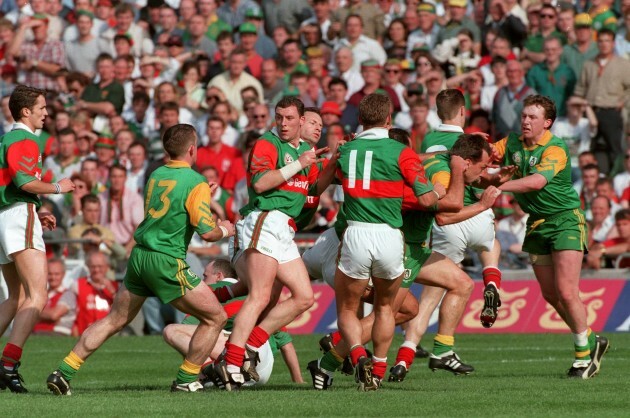 INPHO INPHO
"Ray Houghton's goal… ran out of film. It's really infuriating, but there's nothing you can do. The crowd is going mad and it's a great moment, one of the most famous in Irish soccer… and I ran out of film.
"One of the things about being a photographer is during a match, you get immune to what's happening (on the field), it's all about taking photographs. So you can go to match, one of the best Ireland have ever played in, but if your photographs aren't good you leave pissed off.
"It could be a really boring game, but you leave delighted if you got good pictures. It's selfish in that sort of way."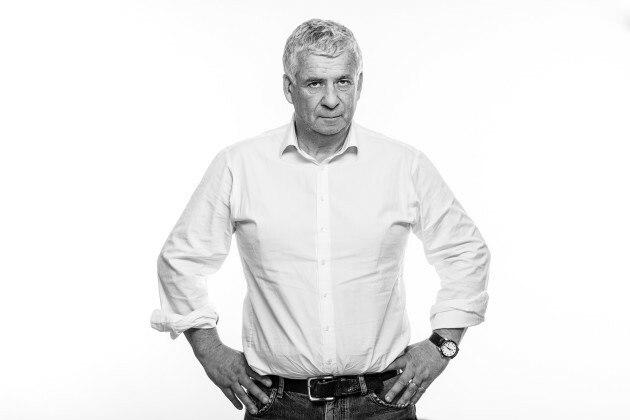 Steve Langan Steve Langan
Before speaking for this interview, the last time The42 encountered Stickland in person, he was slowly thawing and peeling off outer layers while uploading or captioning images deep in the bowels of the Ricoh Arena in Coventry.
Ulster had just lost heavily to Wasps and the combination of snow, undersoil heating and, for good measure, extra sheets of rain made for one of the most miserable settings imaginable.
"Last Sunday was pretty tough alright," he offers with a laugh full of gallows humour.
He's been through worse.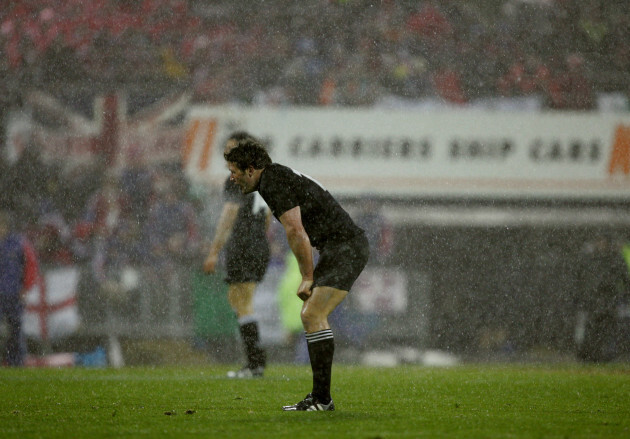 INPHO No hiding place: Aaron Mauger captured by Stickland in the rain during the first Lions Test in 2005. INPHO
"I remember 2005, the Lions Test in Christchurch: you hear there'll be a southerly (wind) and, coming from Ireland, your brain is trained to think that's nice, but it's coming straight off the Antarctic.
Exclusive Six
Nations Analysis
Get Murray Kinsella's exclusive analysis of Ireland's Six Nations campaign this spring
Become a Member
"The weather changed just before the match and I've never been more cold or miserable.
People think sports photography is a glamorous game, but at times you're absolutely dying, trying to get photographs out during sleet and snow and anything else."
It's far from glamorous, but the groundwork and chills become worth it for the ultimate pay-off of unforgettable images that form a sort of storyboard not only for Inpho's past 30 years, but sport itself in this part of the world.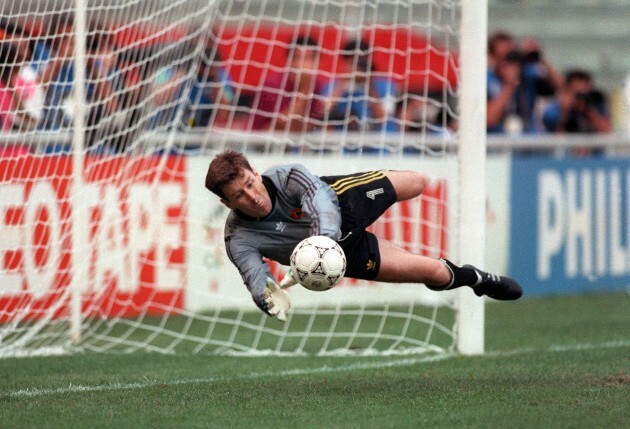 INPHO INPHO
From the image of Packie Bonner's 1990 penalty save ingrained in everyone's memory, to a perfect shot of Paul Gascoigne as the tears began to flow in the same tournament.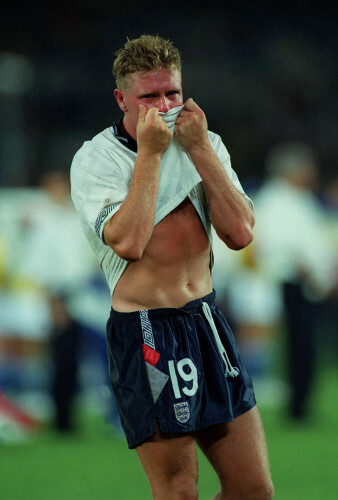 Billy Stickland / INPHO Billy Stickland / INPHO / INPHO
From carefully set up shoots that reveal the clown within Donncha O'Callaghan to carefully set up shoots that suddenly deliver genuine moments of personality.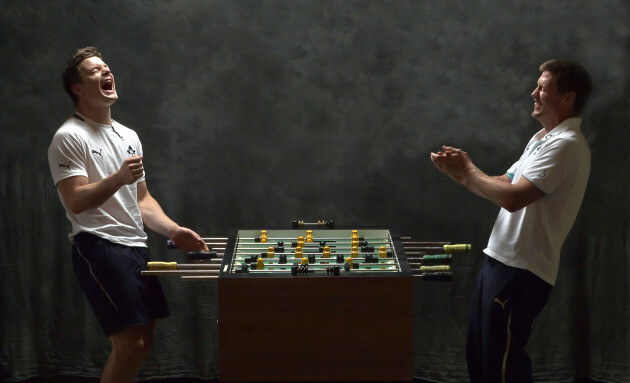 Billy Stickland, INPHO BOD v ROG, Fussball edition. Billy Stickland, INPHO
"The idea was that we'd give them something to distract them.
"Brian had gone up to bed just before we had the Fussball table set up and were ready to take the photo. ROG went up going: 'for fuck sake, man. you have to come down'. He came down, strolled into the room and I asked them to just play. And because they were so competitive, they lost all sense of being in a photograph. They just wanted to beat each other.
"It was great. It was a perfect example of getting people distracted and when I finished the photo, they went on playing."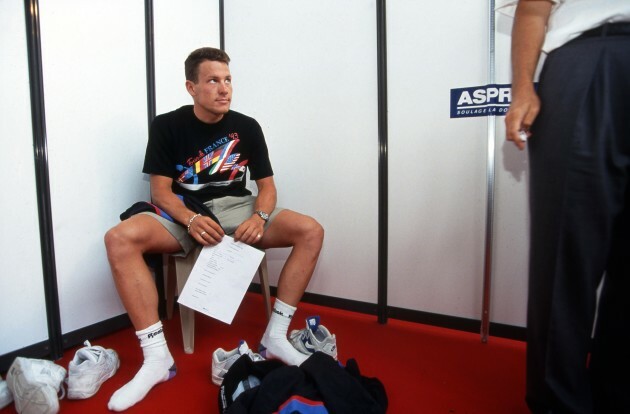 Billy Stickland / INPHO '1993, I think it was Lance Armstrong's first Tour de France. He was a bit of a phenomenon and I spent the whole day photographing him... it's odd looking back on them now.' Billy Stickland / INPHO / INPHO
At 63 years of age, with his business long since established, why does he put himself at the whim of the elements multiple times a week and make his uniform head-to-toe wet gear?
The idea of a more comfortable existence, the role you might expect of someone titled managing director, sounds good in theory. But Stickland can feel the benefits of staying in and around the playing fields too.
"I keep getting people asking me: 'oh this must be your last tour'. And I keep saying 'yeah, definitely…'
"I will be pulling back over the next few years, but there's a lot to be said for being active and keeping going. I've friends the same age as me and when we'd go out, after two pints everyone else is falling asleep. 'Come on, lads!'"
Above all, always, there is what Stickland calls the "absolute privilege" of working and witnessing sporting history, whether it be glorious or infamous, in the driving rain or baking heat, at point blank range yet somehow almost unnoticed until the images capture, validate and fuel every sports fan's imagination.