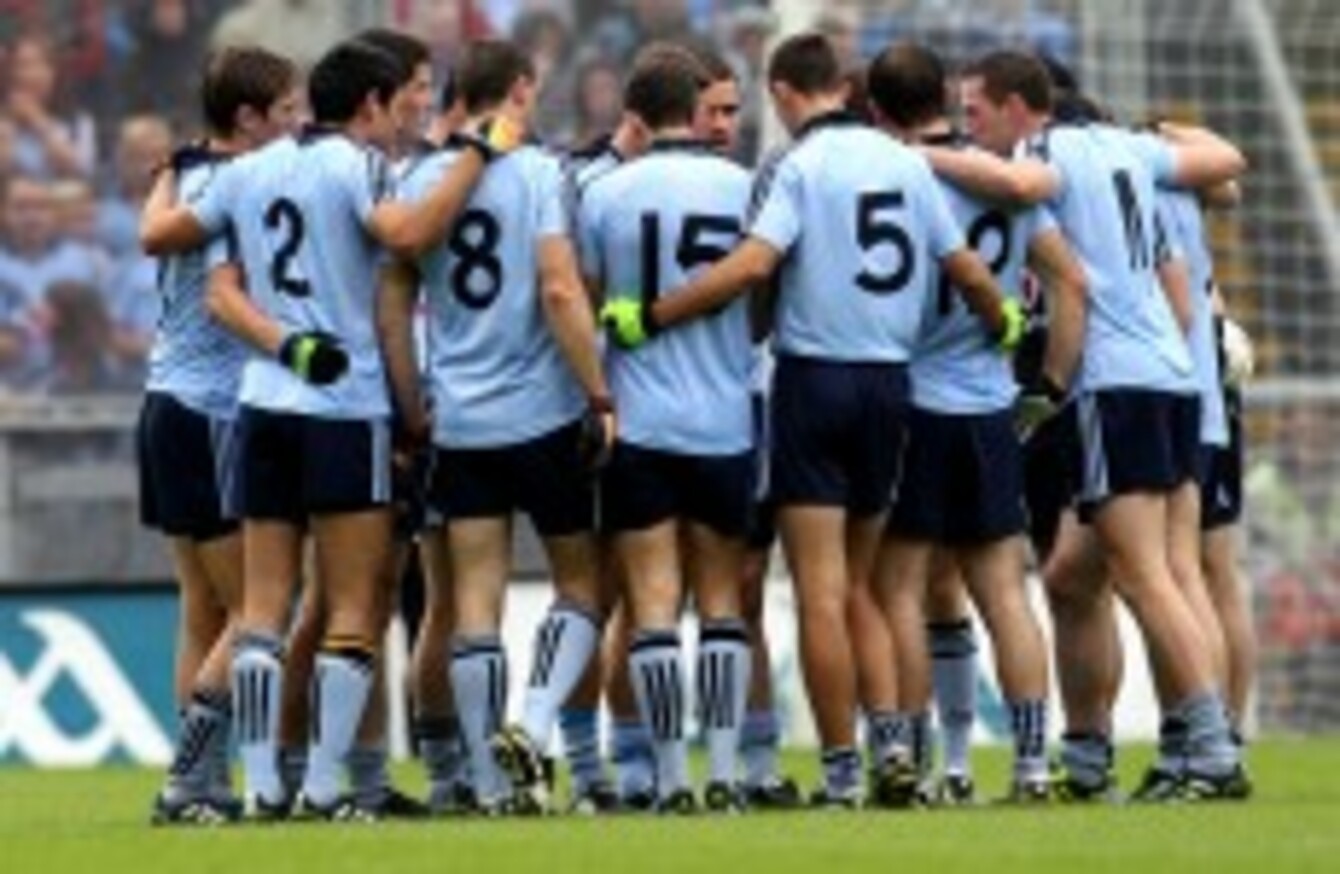 Image: ©INPHO/James Crombie
Image: ©INPHO/James Crombie
THE DUBLIN COUNTY BOARD'S call to "unleash the blue wave" may have generated a swell of hostility, but capital chiefs boldly insisted today that they will not be swayed from their vision for the future.
Published last month, Dublin's strategic plan for 2011-2017 targeted an All-Ireland senior football title every three years and a hurling title every five years among other things, as well as suggesting that the county should be treated as a province for the purpose of funding and representation.
The far-reaching proposals were seen by some as evidence of a sense of entitlement, sparking a backlash around the country as well as within the capital's GAA community.
But in a report to be delivered to the county's annual convention next Monday, secretary John Costello brushed off the criticism as little more than begrudgery and narrow-mindedness.
"It is perhaps unsurprising that the publication of our strategic plan was met with a degree of hostility and suspicion in some quarters," Costello wrote. "There will always be a cohort that tries to belittle ambition and approaches such issues with a closed mind."
"Not alone is this country financially bankrupt but culturally it's on [its] knees also so when a unit of the Association puts [its] chest out and shows some self-belief you can expect a stampede headed in your direction.
"You sometimes have to remind yourself what the National Games of this country are as it seems now to be de rigeur to utter such phrases as 'we beat them in their place' when talking about some Premiership team defeating another one.
However, what is most important for us as a county is that we remain unflinchingly committed to the clearly defined targets contained in this comprehensive document. It is not an à la carte menu for Gaelic games in the capital; we cannot admire its ambitious content and leave it on the shelf; achieve the handy objectives and ignore the difficult ones.
Building for the future
Costello's report also reiterated Dublin's plans to build a new stadium with a capacity between that of Croke Park and Parnell Park — expected to be around 25,000 or 30,000 — despite speculation that the project would have to be shelved for financial reasons.
With an estimated 1.27m people now living in the capital, Costello said, a stadium of this size is needed to ensure that Dublin's "demographic time bomb" is properly catered for.
"The strategy is a roadmap for the county with measurable milestones en route. Choose to ignore it, to rest on our laurels, and it will serve as a stark reminder of our failures and shortcomings. Follow it, strive to meet those targets and we can build a successful future for this county.
"And that successful future will only be realised if we monitor every step we take, pick ourselves up when we fall short, keep on striving to be the best. Our population – a fifth of the island – is growing and it is our responsibility, to our communities and the GAA as a whole, to provide opportunities to this vast demographic to engage with and participate in our games and our Association."
Ambition
Costello also defended the three-year and five-year targets set for the county's senior footballers and hurlers, despite manager Pat Gilroy's belief that such prescriptive goals are missing the point entirely.
"Targets like that are not practical," Gilroy told reporters last month. "Teams are built to get to a certain level. Some will get over the lines, others won't. The ones that won't, you have to start again with. It would be hard to say that every three years you are going to get one."
But Costello explained: "The targets for our county teams contained in the strategy were, ironically, set long before the season commenced.
However, aiming to be as successful as Kerry in football and Kilkenny in hurling, cannot be considered unrealistic for a county of our scale. To have a hope of emulating the elite of hurling and football on an on-going basis, we must continue to provide a realistic pathway for the stars of tomorrow.
Costello also had some harsh words for the 2011 All-Star selection committee, describing it as "more than a little unusual that a team which Dublin had beaten on their way to All-Ireland glory, that had come in for such criticism by the media (who pick All Stars) and who operated a less successful and far more crude defensive system that Dublin's, was rewarded with more defenders in the All Stars team."