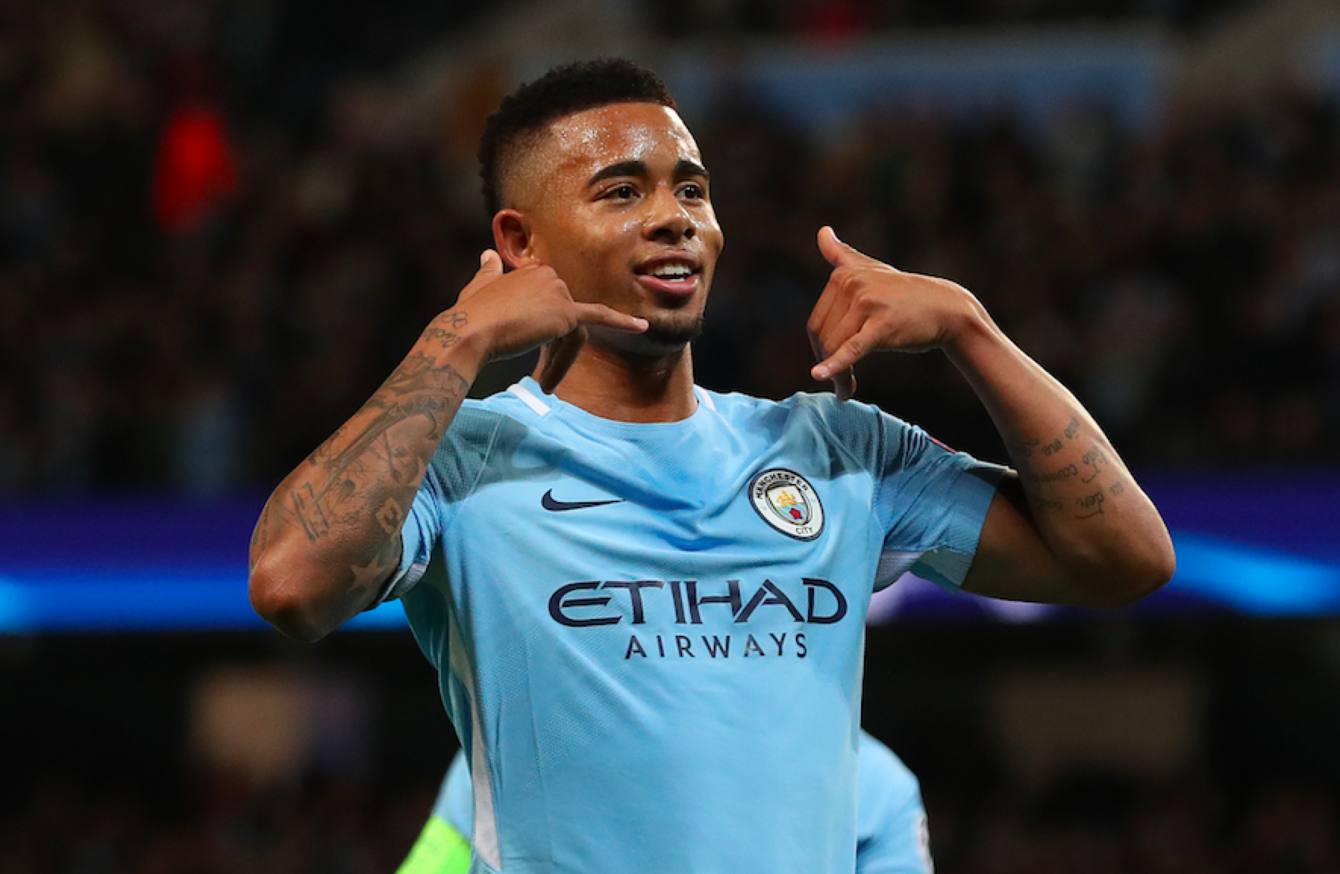 When they're in the zone, Manchester City look absolutely superb
MANCHESTER CITY KNOCKED seven past Stoke City last weekend and the obvious counter-argument to those who were effusive in their praise for Pep Guardiola's side was inevitably about the quality of the opposition.
So, tonight represented a big test. Facing Maurizio Sarri's extremely talented Napoli side – the best team in Italy right now and a group of players that have been there or thereabouts for quite a few years – we'd really see how good this City outfit is.
And we certainly got our answer.
The first-half was an astonishing display of control and relentless pressure from the hosts and they could easily have led 4-0 at the break rather than by two goals.
Raheem Sterling and Gabriel Jesus, again, found the net but it was Kevin de Bruyne, again, who held the baton and conducted the orchestra with his meticulous passing and overall contribution.
He would've had a goal worthy of his special talents were it not for the crossbar, and how his performance deserved one.
Still, the bigger message was clear: this City team have every right to feel they're the best team in Europe currently. Yes, they were made grind things out late on. But, their scintillating first-half performance proved to everyone that the hype is justifed.
Eoin O'Callaghan
The good and bad of Aurier on display again
There is no doubt that Serge Aurier is an immensely talented player – Tottenham would hardly have paid £23 million for his services otherwise.
However, the 24-year-old right-back also arrived at White Hart Lane in the summer window with a reputation for having a suspect temperament.
His suspension by PSG in February 2016 for an alleged homophobic remark aimed at then-coach Laurent Blance gave the impression of a troubled youngster yet to properly grow up in many ways.
While his short spell at Tottenham has thankfully not been similarly controversy-ridden as of yet, it has not been without its blips either.
He has made the first XI in just four games for Spurs since moving there last August and the results have been mixed.
His only Premier League start so far came against West Ham, and while there were some eye-catching moments of play from the young defender, all that was good about his performance was overshadowed after he picked up a needless second yellow for a reckless challenge on Andy Carroll.
Though Aurier stayed on the pitch for the full 90 minutes against Real Madrid at the Bernabeu this evening, his display was similarly inconsistent.
Particularly in the first half, he was a regular thorn in the side of the Spaniards, frequently finding space on the right wing and delivering dangerous balls into the box, one of which resulted in Raphael Varane unwittingly diverting the ball into his own net.
15 minutes later however, Aurier's weakness was exposed. A rush of blood to the head saw him make a reckless challenge, taking down Toni Kroos and conceding the penalty that got the hosts back into the game.
In many ways, the Ivory Coast international is the perfect replacement for Kyle Walker, as his speed, power, energy and end product are at least on a par with the Englishman. Yet the suspicion remains that there is always a mistake in him, with the player prone to bad habits he needs to eradicate sooner rather than later if he is to thrive at domestic and European level in the long term.
Paul Fennessy 
Maribor most definitely did not park the bus
Man United, a team who along with Man City and PSG, have comfortably been the biggest spending side in Europe in recent times, decided to shut up shop and play in a defiantly pragmatic matter against Liverpool at Anfield last weekend, earning a 0-0 draw in the process.
Consequently, if a team with the Red Devils' riches feels the need to adopt an overtly cautious approach, you would expect Slovenian outfit Maribor, whose budget is miniscule in comparison with United, to do likewise.
Yet surprisingly, Maribor played more like Man City than United tonight, except without any of Pep Guardiola's side's bravura technical quality.
It was as if they had never before watched Liverpool play, as they adopted a remarkably open approach, the type which Klopp's men have mercilessly exploited in the past against far better opposition than the Slovenians.
Countless passes were misplaced in key areas at pivotal moments, with the Reds effectively having the game won inside the opening 13 minutes. Mo Salah in particular had a productive night, claiming a brace and fully capitalising on the acres of space he was frequently afforded down the right win.
Yet even having trailed 4-0 at half-time, the hosts persisted with this high-risk approach of playing it out from the back, inviting Liverpool to press them into submission ultimately.
The Anfield outfit have lacked cutting edge at times this season and were badly in need of a morale boost ahead of Sunday's crucial clash away to Tottenham – fortunately from their perspective, the generous home defence were obliging throughout.
The stats sum it up 70% possession, 26 shots from Liverpool, 14 of which were on target, whereas Maribor tested the goalkeeper with just two of their five attempts, all of which contributed to the biggest-ever away victory by an English side in the history of the Champions League/European Cup.
The Reds are unlikely to have an easier game this season, albeit that's assuming Maribor belatedly wise up and decide to take a page out of Mourinho's book for the return visit to Anfield.
Paul Fennessy
Subscribe to The42 podcasts here: