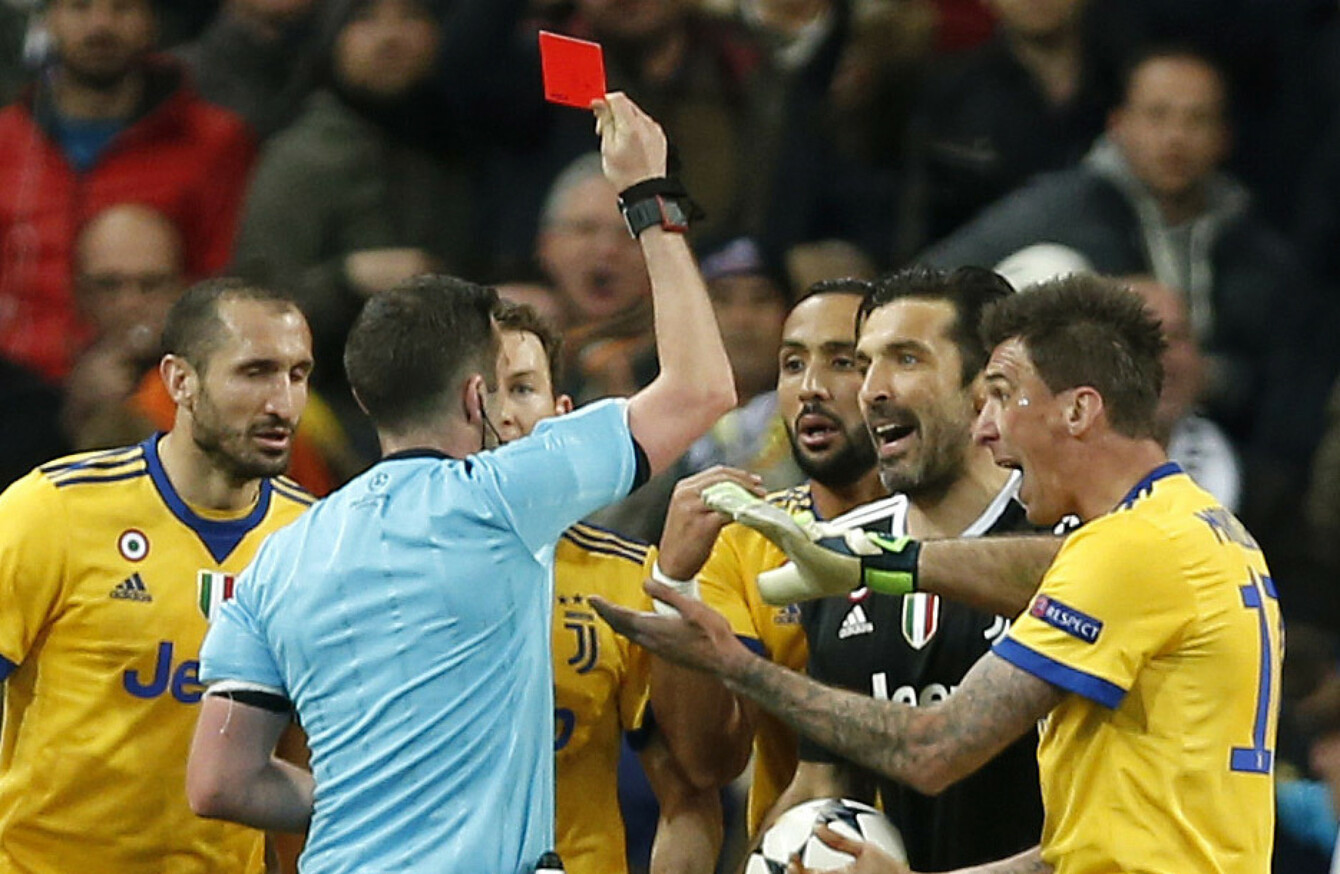 Juventus players protest as referee Michael Oliver issues a red card to Gianluigi Buffon.
Image: Francisco Seco
Juventus players protest as referee Michael Oliver issues a red card to Gianluigi Buffon.
Image: Francisco Seco
1. Brave referee deserves immense credit
IN MODERN FOOTBALL in particular, there is a sense that referees too often abdicate responsibility at crucial moments during games.
If a big call needs to be made, the safe option from a referee's perspective is to simply do nothing and allow play to continue.
Officials are far more likely to be remembered for an incorrect decision than a non-decision.
While referees are sometimes accused of aspiring to be the centre of attention, generally the opposite is true — they don't want to be talked about after the game, and the less the focus is on them, the better they have performed in many cases.
Sometimes though, there is an element of cynicism in officials' thinking. A good example was in the 2016 Chelsea-Tottenham clash.
Then-referee Mark Clattenburg later suggested Spurs players should have been sent off, but indicated he deliberately refrained from issuing a red.
"I allowed them (Spurs) to self-destruct so all the media, all the people in the world went, 'Tottenham lost the title,'" Clattenburg told NBC's Men in Blazers podcast.
"If I sent three players off from Tottenham, what are the headlines? 'Clattenburg cost Tottenham the title'. It was pure theatre that Tottenham self-destructed against Chelsea and Leicester won the title. I helped the game. I certainly benefited the game by my style of refereeing."
Clattenburg's brutally honest recollection seemingly confirmed what many fans and critics already believe — that referees are more interested in self-preservation than making the correct call as they see it at the time.
However, it would be unfair to tar all officials with the same brush and tonight demonstrated why.
English official Michael Oliver could easily have done nothing, when Medhi Benatia impeded Lucas Vázquez in the box in stoppage time of a highly entertaining second leg Champions League quarter-final between Real Madrid and Juventus — it was not an entirely clear-cut penalty in real time.
If he had ignored Real's claims for a spot kick, it would likely not have been a major talking point in a game of constant thrills.
In the end though, in the most tense circumstances imaginable, Oliver bravely opted to make the controversial-but-correct decision and award Real a penalty.
As Didi Hamann pointed out on RTÉ afterwards, he probably should have sent off Benatia as well, but it mattered little as Ronaldo hammered home the decisive goal with impressive assurance.
The subsequent reaction of Gianluigi Buffon and others in the Juventus team to this big call was unacceptable, and the goalkeeping legend was rightly given his marching orders as a result of overly aggressive protests.
It is a sad way for the 40-year-old to bow out of European football (provided he doesn't make another u-turn as he did with the national side).
Buffon is a popular figure in the game not only for his achievements but also for his comportment and surely on reflection, he too will realise that his behaviour in this instance was unsavoury.
Oliver, meanwhile, can reflect with the satisfaction of knowing he got a pivotal decision right, despite the endless abuse he was required to put up with afterwards.
2. Is Jupp Heynckes the most underrated manager in football? 
When Jupp Heynckes took over Bayern, they were in considerable difficulty by their high standards.
The German club started the season unconvincingly, and Carlo Ancelotti departed after a relatively brief stint in charge.
The 72-year-old former West Germany international has since played a big part in turning things around at the club.
Granted, the Bundesliga is by no means the most competitive league in Europe, but claiming a sixth title in succession on Saturday should still not be scoffed at.
And Heynckes has now guided the club to the Champions League semi-finals, after a fairly convincing defeat of Sevilla over two legs.
Should he go two steps further and help the club triumph in Europe, it would surely consolidate the veteran coach's status as the most underrated manager in the game.
After all, he departed Bayern previously in 2013, after guiding the club to a treble that included a Champions League success. They haven't won the trophy since, despite the many millions spent and the subsequent tenure of the more high-profile and much-lauded Pep Guardiola.
3. Liverpool's attack proves it is up there with the best in Europe
At the start of the season, few people would have tipped Liverpool to reach the semi-finals of the Champions League.
The future of star player Philippe Coutinho was uncertain, while new signing Mo Salah had previously struggled to make an impact at Premier League level with Chelsea and there were doubts as to whether he would justify his €42 million price tag. On top of all that, the Reds' defence at times looked like a disaster waiting to happen.
And while not all of these issues have been entirely rectified — their backline looked nervy and error-prone in the first half on Tuesday night — it is clear that Liverpool have improved immeasurably over the course of this season.
Virgil van Dijk and Andy Robertson have given the defence a more solid look, 19-year-old Trent Alexander-Arnold is constantly improving, while their attacking trio of Salah, Sadio Mane and Roberto Firmino are up there with the best in Europe in terms of ability.
In addition, the £35 million signing of Alex Oxlade-Chamberlain, which was derided by some critics at the time, is increasingly looking a wise investment, with the ex-Arsenal man providing plenty of pace and power in the middle of the field, while scoring a crucial goal in the emphatic 3-0 first-leg victory over City at Anfield.
And as dynamic as Mane and Firmino have been, there is no doubt that Salah is the single biggest reason for the Reds' attacking excellence.
There are endless stats to back up this assertion. Liverpool have now scored 33 goals in the Champions League — the most by an English side in a single campaign.
Salah and Firmino now hold the joint club record in terms of goals for Liverpool in a single European campaign (8).
And Salah has been directly involved in no fewer than 50 goals in all competitions for his side this season (per the BBC) — 39 goals and 11 assists.
4. Man City's Champions League woes continue
Manchester City are about to seal a third Premier League title in seven seasons, but the Champions League trophy remains elusive.
Conquering Europe has always been the ultimate aim for City's owners. It is essentially why they made such great efforts to recruit Pep Guardiola, enabling him to become the best-paid coach in the world, and why they assembled the most expensive squad in history.
But given the money that has been pumped into the club, their form in Europe has been distinctly underwhelming.
The record in the Champions League in the past six seasons indicates as much — they have exited three times in the round of 16 and once each in the quarter-finals, semi-finals and group stages.
Perhaps more so than ever, these two Liverpool clashes felt like a big missed opportunity.
At their best, Guardiola's side will feel like they are a better team than Jurgen Klopp's men, and much of the evidence in the Premier League this season has backed up that belief, with the Reds currently trailing their rivals by 17 points.
They can justifiably complain about Leroy Sane's disallowed goal on Tuesday — a pivotal moment in the tie — but there is no doubt that Liverpool were the better side over the two games and deservedly went through.
After plenty of hype and suggestions of a quadruple at one point, there is no escaping the sense that a memorable season is ending in decidedly anti-climactic fashion as far as City are concerned.
5. An upset no one saw coming
Last season, a Neymar-inspired Barcelona produced arguably the most incredible comeback in Champions League history, scoring three goals in the dying minutes to prevail 6-5 on aggregate against PSG.
This year, the Catalan side imploded almost as spectacularly against Roma.
Having led 4-1 from the first leg, few people gave the Italians hope of going through, but a 3-0 victory in the reverse fixture saw them claim an improbable triumph.
It was a big shock, particularly as Barca have been in excellent form domestically, topping the league while on course to go the entire La Liga season unbeaten.
They also have an impressive defensive record in the league, having conceded only 16 goals in 31 matches.
However, Tuesday night was a reminder that there is a big difference from the level they are used to when it comes to the latter stages of the Champions League.
The majority of the matches Barca play in Spain would invariably see them come up against vastly inferior sides with limited attacking ambitions.
Roma, meanwhile, have an excellent home record — this week was their fifth consecutive Champions League clean sheet at the Stadio Olimpico.
But such factors only go some way towards explaining Barca's dreadful non-performance for which they have been rightly hammered — it almost overshadows their astonishing La Liga record and had all the signs of a team beginning to believe their own hype.
The42 is on Instagram! Tap the button below on your phone to follow us!