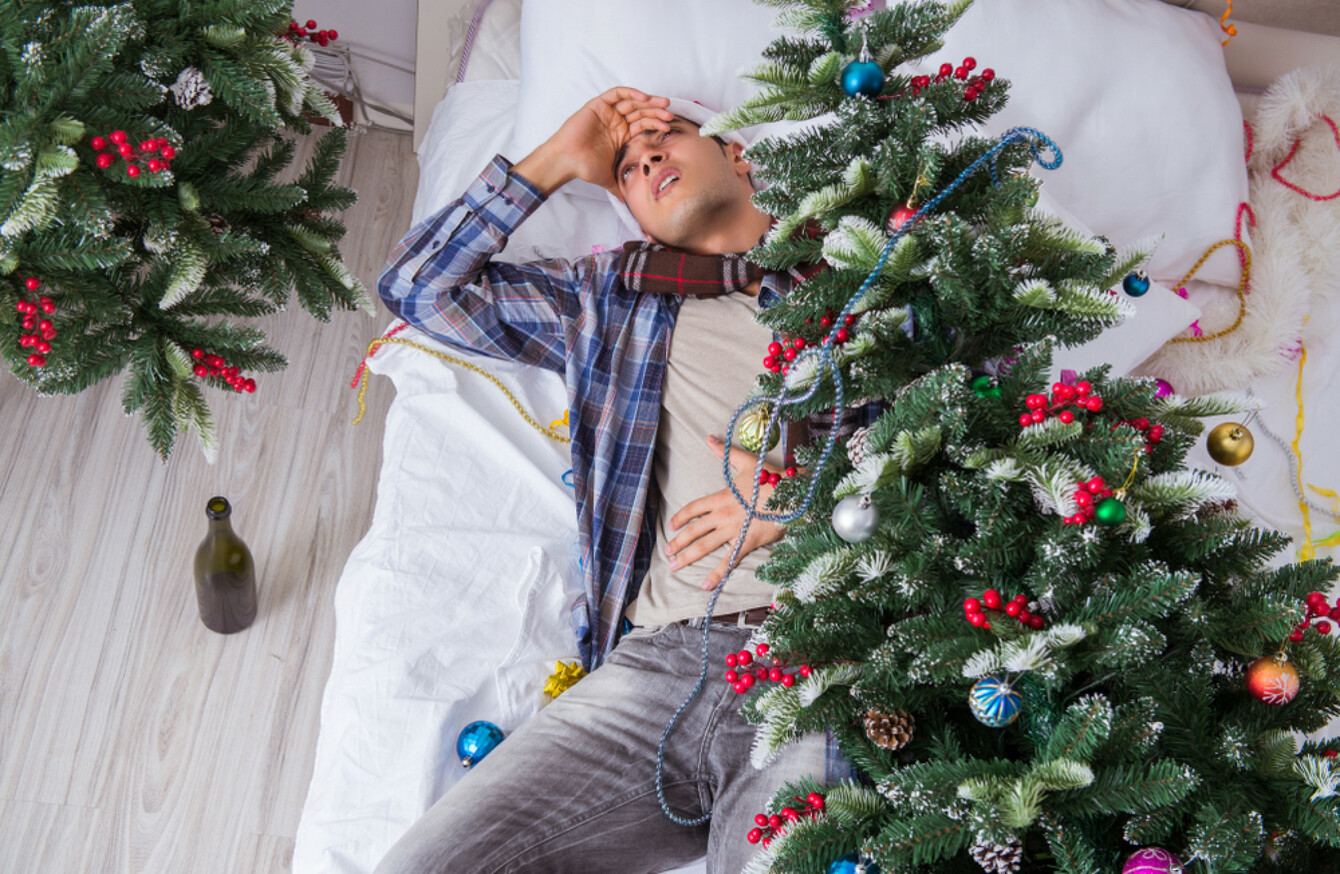 Image: Shutterstock/Elnur
Image: Shutterstock/Elnur
IT'S THE WEEK before Christmas and by now, I hope you are in full swing with Christmas parties, late nights, sore heads, and perhaps even running around picking up last-minute gifts.
(If you are still stuck, check out last week's article where I gave you my top 10 fitness gifts this Christmas.)
Over these last few weeks I have stuck with the Christmas theme and each week I have given you my top tips, from quick effective workouts to squeeze in, to gift ideas, and a quick checklist to keep you ticking over for the festive season.
The biggest message I want to pass out in these Christmas articles is yes, enjoy yourself firstly, but if you are someone who wants to hit the ground running on a fit and healthy 2018, then you should bring in a bit of balance over this period.
Sure, the main priority should be to enjoy yourself with good food and drink and use the holidays to switch off and spend quality time with family and friends. However, I am big believer that you can do still a bit over this festive season to keep you ticking over.
With the week that's in it, I am sure you have a big night out planned — heck, you might have two or three big nights planned! So what I decided to do this week is to give you a quick list of tips and advice on how you can maintain and look after your health, fitness and wellbeing over this particular party week.
Generally speaking this is the week when we are going to be drinking alcohol, eating nice food (which generally means a lot more in calories), and perhaps getting less sleep and a little less exercise (unless you are planning on lighting up the dancefloor.)
So this week I am giving you some tips that should be able to help you out over these next few days and perhaps they can keep you that little bit fresher on your feet.
Eat before you drink
Drinking on an empty stomach is a bad idea. If you eat before ingesting alcohol, your body will thank you later on.
Before a night out, make sure you eat something that is slow digesting which also has a good source of protein and slow-digesting carbohydrate. This helps slow down the rate at which food leaves the stomach. The longer food stays in your stomach, the slower the alcohol gets absorbed into your bloodstream.
A quick example here could be a dish with some sweet potato and chicken/beef or perhaps some salmon and avocado with brown bread or a wrap.
Avoid fizzy mixers or sweet alcoholic drinks
The list is endless now on what alcohol to go with and the most common question I always get is "What is the best choice of alcohol or drink to have on a night out?" My best advice is always to try to avoid fizzy mixers and sweet alcoholic beverages.
OK, it is Christmas after all and you need to enjoy yourself and perhaps you should just go with one or two of your true favorites and then keep it in moderation. However, the best choice I say is sticking to lighter beers and clearer spirits.
As well as that, drinking plenty of water on the day and in between drinks will always help you out.
The take away home
I will admit, this is my downfall too at times and no doubt a lot of us have fallen into this bracket. At the end of the night this is a very easy way of picking up an extra 1,000 calories that you'll barely remember.
If you are someone who has a few parties on the town lined up this Christmas then my best advice is to try to steer clear of this habit as much as you can and have some food already planned before you head out so when you head home, it will keep you away from those late-night greasy calories.
On top of that, when you do return home, my best advice is to get a glass of water and start the hydration process.
The morning after
We have all been there. Getting through the morning after is a tough task and it can be tough 24 hours ahead for most of us. A lot of these tips are easier said than done but I find if you can manage to bring yourself to get these done, then this will help you get back up and running again.
Upon awakening, you should be looking to rehydrate and stabilise your blood sugar levels. Some fluids that have electrolytes, some water and a little bit of a cordial mix, or even a dioralyte will help you out here.
Soon after, the best step is to seek out food that is going to help you bring down the inflammatory responses in your body after a heavy night out. Of course, for a lot of us, the first food port of call generally involves a Christmas fry or even the turkey leftovers; however if you can start the day with a super smoothie, that really can be a great choice to get you back up and motoring again.
Get out and move (even just a little bit)
I know it's hard. We have all been there before and the last thing we want to do after a night out is move and exercise the next day. What we generally do is stick on the Netflix and park ourselves on the couch for the next five hours.
My advice here is, yes stick to some Netflix, but try to give yourself 30 minutes to do some form of physical activity. This will help everything from clearing out those toxins to getting the blood flowing around the body again, and overall it will just help you come back around to normality.
Exclusive NZ - IRE
Rugby Analysis
Get Murray Kinsella's match analysis and Garry Doyle's updates from New Zealand exclusive to members
Become a Member
I had a big night out last Saturday and didn't want to do much on the Sunday, but eventually got out and did the below:
Source: David Last/YouTube
I'd like to finish this short article by wishing you a very happy Christmas. I appreciate you reading and taking an interest and I look forward to continuing to help you out with advice in 2018
I hope you've found this information useful and if you need any more advice you can pop me a direct message from the links below.
You can also get more advice on my social media pages, which are also linked below.
David Last is a personal trainer based in Dublin. For more information you can follow him on Facebook, Instagram and Twitter. Or you can send him a direct message here.
You can also see some of his previous articles here.
The42 has just published its first book, Behind The Lines, a collection of some of the year's best sports stories. Pick up your copy in Eason's, or order it here today (€10):