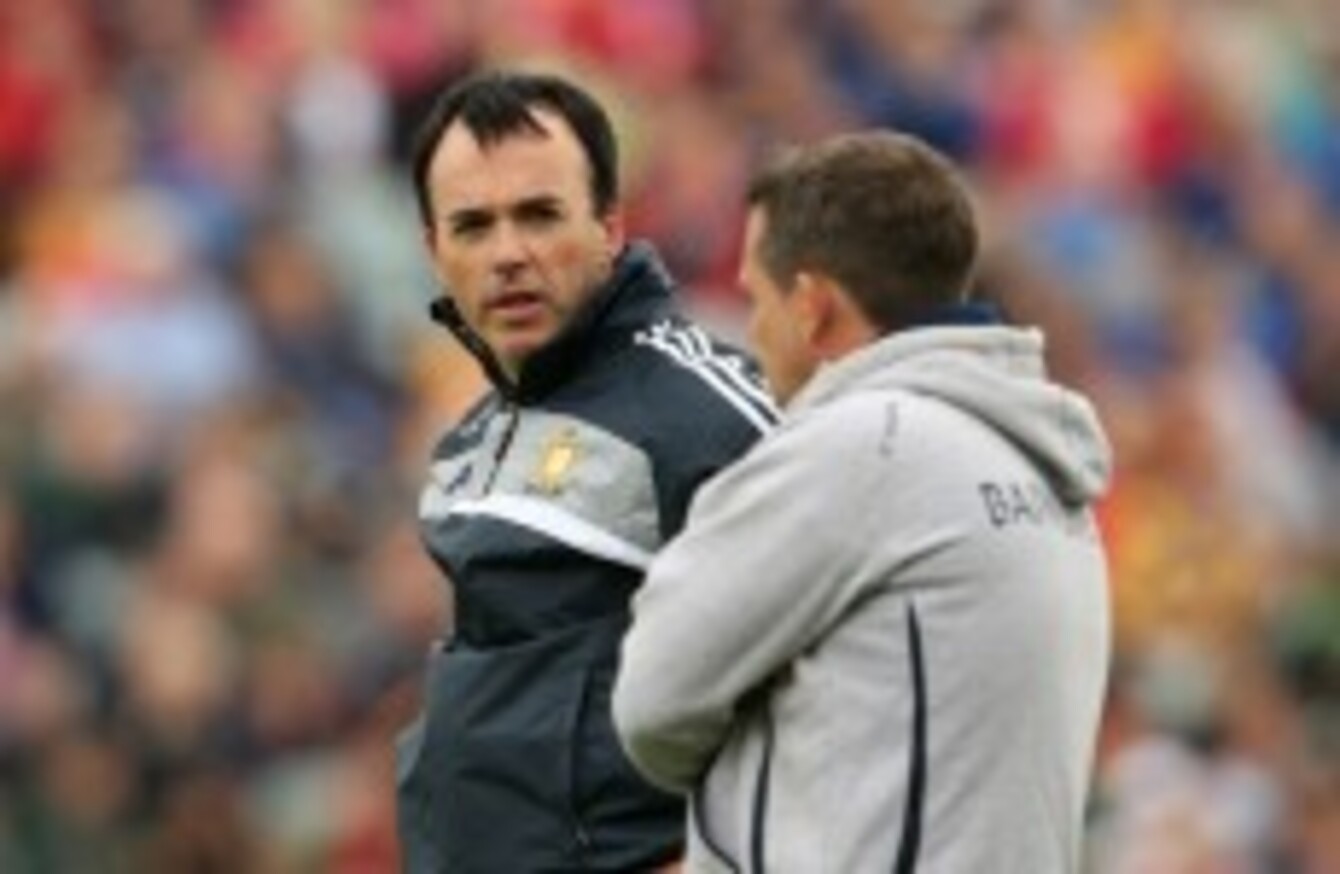 Clare selector Louis Mulqueen with Manager Davy Fitzgerald.
Image: INPHO/Cathal Noonan
Clare selector Louis Mulqueen with Manager Davy Fitzgerald.
Image: INPHO/Cathal Noonan
How difficult it is to manage this group?
It's an privilege and an honour to be honest. I've been involved with Clare teams for nearly 30 years now, different levels, different managers, different times, different groups but what I most like about this group is the enthusiasm, the freshness, the honesty, the workrate.
Probably because of the youth you've got legs, you've got speed. Other Clare teams you were watching the bit of experience but these young lads go hell for leather. In training and in matches they give everything they've got.
When they're winning the confidence builds up and you're seeing some great skilful play. You look at Tony Kelly, I think he has the potential to be one of the best hurlers in Ireland, over time. He's only developing his trade. He was only 18 when we put him out in the Championship last year – when you're looking at players of that calibre, then Clare have good hurlers of good quality coming through but it's getting the balance right, getting them in the right positions, getting the performances out of them, that's the development we're talking about.
If we can get it right the next day then you're in big territory, the All-Ireland final; if you don't get it right you have to regroup and look at it again next year. These are fellas who can do that, they're good young lads.
Podge Collins has been exceptional for Clare this year.
Image: INPHO/Morgan Treacy
How long have you been working on the Podge Collins move?
We try to practice that at least five times before training and three afterwards and then Podge just does it with his eyes closed!
But you know what, at the start of the year we were questioning whether or not to put Podge on the team. He was doing well at underage but we put him out once or twice in challenge matches and what he brings to the team is an enthusiasm. He covers every blade of grass, he's up and down the field.
Apart from the skill level a lot of it is his engine, his heart, to me that's everything. He's five foot what? Six, seven? But the engine – I wouldn't like to mark him. He's there, he's in your face, he's hooking and blocking. He's a great young lad. And he played football for Cratloe at the weekend, outstanding. They beat the county champions, Kilmurry-Ibrickane (Marty was devastated); he's centre-forward for the U-21s and then we're going to ask him to give a big display for us in the All-Ireland semi-final. But he'd play again tomorrow, he's that type.
What I love about him as a player is the enthusiasm of him – nothing is a problem. 'Mark Diarmuid O'Flynn' – right, grand (if he only knew like!); 'Mark Henry Shefflin' – right. Anybody, no task is too big for him, for a young lad, great heart.
Has said that in going from game to game for club and county, hurling and football, a lot of the time he doesn't even know what game is up next, just turns up and togs off?
Yeah, I think the classic case of that was when he was being interviewed by TG4 after the Waterford win and being asked about Tipp winning the night before – 'Was it on?' he asked, 'Did you see it? Was it good?' He was actually so caught up in his own game he didn't know.
The TG4 man didn't know what to say. That's the way he is, that's the kind of character  you're dealing with and a lot of them are like that – Tony Kelly, even Peter Duggan, in and out of the team, they're all good lads, they want to do well in the Clare jersey.
Clare manager Davy Fitzgerald would die for Clare according to Mulqueen.
Image: INPHO/Donall Farmer
What are they
really like?
Rare insights on sport's biggest names from the writers who know them best. Listen to Behind the Lines podcast.
Become a Member
What about Davy?
Everyone has their critics but I think he's the right man at the right time for Clare hurling. He brings a passion – I trained Davy at U-21 and senior level when I was involved before and he brought that kind of enthusiasm, bouncing around.
Davy would die for Clare to win and he infuses that in the players.
He has people around him who can do other things as well, he's clever in who he has around him, an astute manager, meticulous in his planning. They are all things I've seen working with him for the last years and when I worked with him before, with club teams. He brings that to players, that kind of enthusiasm spills over on to the players. He minds them, he's like a father-figure to them, guiding them and watching them.
He's professional also, which is what players are used to at colleges level?
Totally, yes; Davy has worked with LIT, with Waterford, with other teams, and he's bringing all that he's learned from those roles to this, for the benefit of Clare hurling and for the benefit of these young players. I think he's been good for Clare hurling, he's now getting players to play with confidence, with belief in themselves, getting good hurling out of them which is what we need.
What would you say to us if we told you Clare would win the All-Ireland?
I'll say thank you for telling me that all those weeks ago! But wouldn't it be a lovely thing to have to do? Wouldn't it be great to come back? Like these are great days for Clare hurling, great days to be part of a squad that has hope – hasn't achieved yet but are in with a shout.