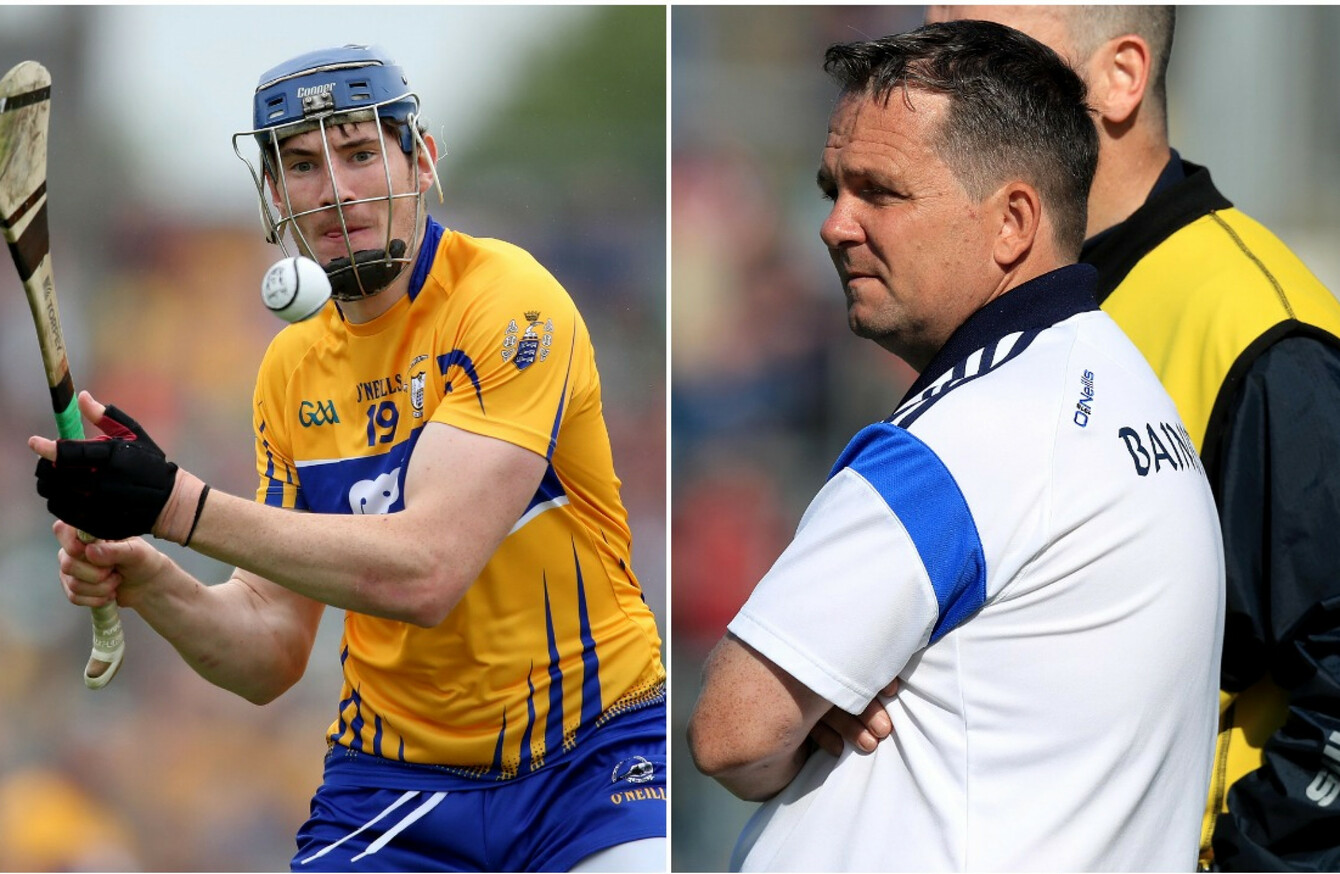 Clare take on Wexford in Saturday's All-Ireland quarter-final.
Image: INPHO
Clare take on Wexford in Saturday's All-Ireland quarter-final.
Image: INPHO
DAVID FITZGERALD MADE his Clare hurling breakthrough in 2016 and is now set for championship combat against the man who handed him that inter-county opportunity.
The defender made his senior bow for Clare as a youngster two years ago, carving a reputation for himself during a spring that yielded league glory, and on Saturday will face his namesake in Páirc Uí Chaoimh.
Davy Fitzgerald's presence on the sideline as Wexford boss adds a layer of intrigue to the All-Ireland quarter-final showdown.
"He will get the best out of you no matter what, he'll have every player driven. I suppose it's evident in Wexford, the strides they've made. I knew he'd go into management again. He's really driven that way. He's good.
"You see what he's done with Wexford. They're really All-Ireland contenders at the minute. They were very unlucky this year not to make the Leinster final, there was only a puck of a ball between themselves and Kilkenny, below in Nowlan Park. It'll be the same on Saturday.
"We played him already below in Wexford Park. They beat us by a few points. They were more physical than us on the day, it is a tough place to go to Wexford Park, they were full value for their win that day."
The Inagh-Kilnamona club man has no qualms about the choice of venue for Saturday's fixture as Clare head to Páirc Uí Chaoimh for a second successive All-Ireland quarter-final meeting and the absence of HawkEye in the stadium
"We knew it was either Páirc Uí Chaoimh or Thurles so we were prepared for either scenario. We've played there already this year, it's a nice stadium. Hopefully third time lucky this time.
"You've played so many years without it (HawkEye), as a player you wouldn't be relying on it. You wouldn't be thinking about it.
"It is handy alright on occasion when it is needed. Other than that you wouldn't be basing your performance around it. You wouldn't be conscious about it."
Fitzgerald has highlighted the spike in support Clare have received this season as a factor in propelling them through the Munster championship.
"Last year I suppose we only had the Limerick game, then we'd the Munster final. This year we've a great fanbase built up and they've been great in fairness, they travelled in their droves to the Munster final. Unfortunately we couldn't deliver for them but hopefully they continue their support for the team, it's really appreciated.
"The round-robin situation, it has given people a chance to go to games. Cusack Park, it's a 19,000 venue and we sold it out I think on both occasions. That was great to have Clare people in supporting you. They really got behind us.
"It was a great atmosphere around the place for the Limerick game, even the week leading into it, looking for tickets, there was a big scramble for it and it was nice to see people are really getting behind the team."
Saturday offers Clare an opportunity to nail down a game in Croke Park, a venue they have not visited since their 2013 heroics.
"It was an objective of ours at the beginning of the year to try to get back to Croke Park," said Fitzgerald.
"We could have got there if we beat Cork, we didn't, so Saturday is our last chance, do or die now really. Lads are looking forward to it, gives you the chance to go out again in quick succession and up your game. As a whole we have to up it from the Cork game."