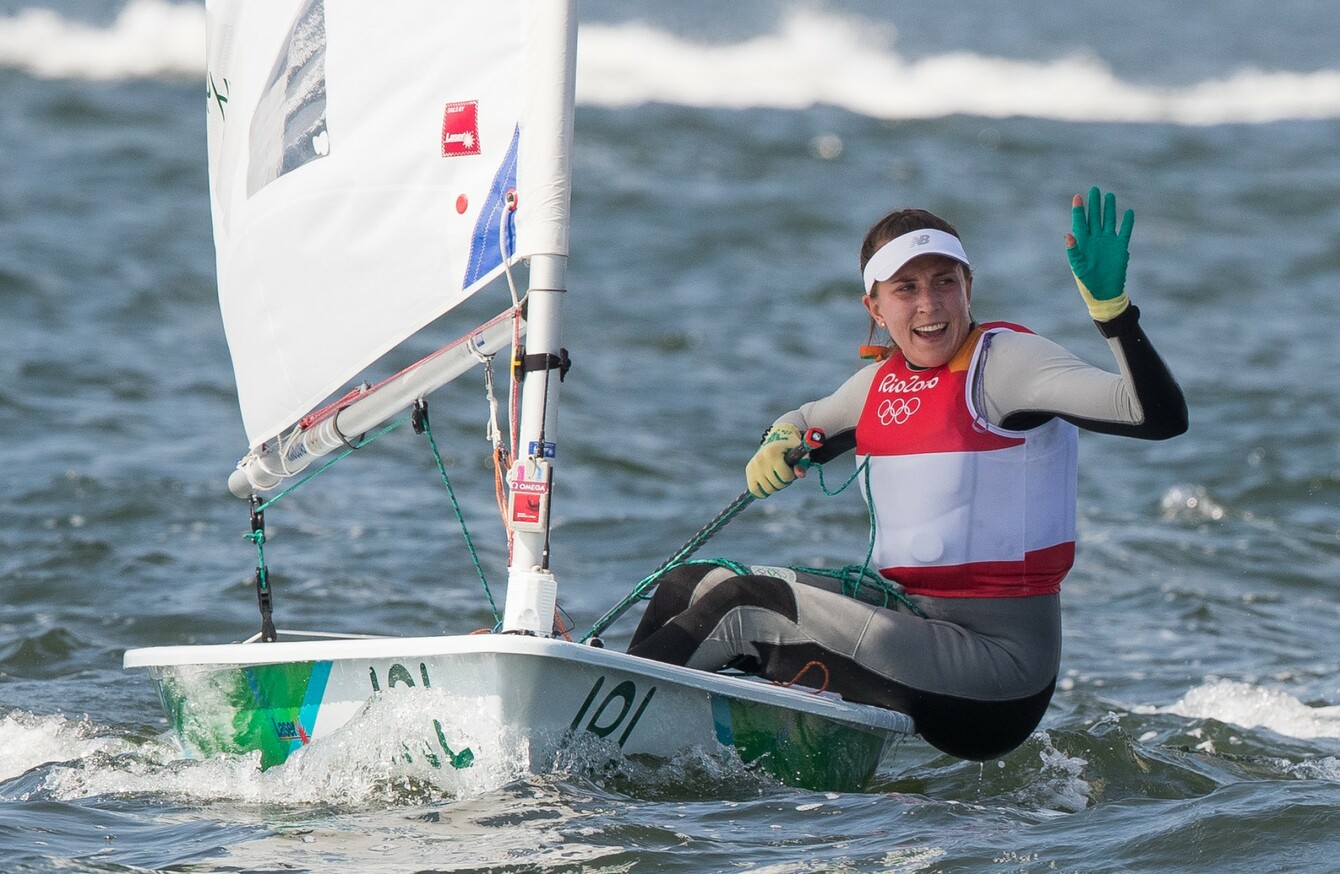 Annalise Murphy crosses the finishing line to claim a silver medal.
Image: Morgan Treacy/INPHO
Annalise Murphy crosses the finishing line to claim a silver medal.
Image: Morgan Treacy/INPHO
Wow. What a week for Irish sport.
The last seven days have had it all. Highs and lows for sport both at home and abroad. And of course comments to go along with it all.
The standout low was Michael Conlan's exit from the Olympics on Tuesday. A lot has been said about the fight and it's controversial result, but David Ahern is waiting until the experts weigh-in before forming an opinion:
"I want to hear what Vogue Williams and Roz Purcell have to say about this before I decide what to think."
While Sean Healy felt that anything that could go against Irish athletes, would go against Irish athletes:
"Dreadful. At this stage, I think we can expect a submarine to sink Annalise Murphy if she's doing well."
Of course, Annalise Murphy did do well. Very well. John O'Reilly weighed in on the unfortunate timing of her fantastic achievement:
"Well done Annalise, sad that Michael Conlon's controversies are overshadowing this achievement."
Similarly, it was a bittersweet day for Waterford's Thomas Barr yesterday, who put in a great shift, but finished 0.05 seconds off the podium. Michael Kenny drew a hopeful comparison, though.
"Annalise Murphy was in that same position 4th in the London games 4 years ago and got a silver in these games. He will learn from this experience and do it again in Tokyo and hoping he do one better. Brilliant performance. We're very proud of him!"
Outside of the Olympics, the Premier League got back up and running next week and one of the weekend's highlights was Liverpool's 4-3 win over Arsenal. As usual, some Liverpool fans are jumping the gun a bit, like Chocolatito:
"37 more of those and Liverpool will win the league there Bill."
With another week and a half of transfer window, rumours of moves are rife. Everton manager Ronald Koeman said that Aidan McGeady doesn't feature in his plans, which leaves him at a crossroads, leading to this gem from Brian Les:
"He could be stuck at that junction for a while. Crossing not his strong point."
It was also a big week for the GAA, with the All-Ireland hurling final contenders being decided last week. One of the key talking points was a big hit from Tipp's Paudie Maher on Galway's Joe Cannning. Barra O'Riagáin reckons if you don't like it, switch channel:
"It was a perfect and legal hit, some bitter people on this haven't a clue. Hurling is a man's game if you want to bitch and moan about that hit go off and watch a soccer match for yerselves."
There was a touching moment after the Waterford and Kilkenny match, as Pauric Mahony was consoled by a Kilkenny fan after the match. On an unrelated note, kjholt had something in his eye…
"Who's cutting onions in here?"
Be part
of the team
Access exclusive podcasts, interviews and analysis with a monthly or annual membership.
Become a Member
UFC 202 will be taking place tomorrow night and there was some commotion at the press conference, where Conor McGregor lost his temper. Some people are suggesting that Nate Diaz has gotten to him, in a familiar fashion, according to Don Dealgan:
"Conor's been outConored."
UFC featherweight questioned the veracity of the altercation, saying it was "as fake as Pamela Anderson's tits". Martin Kenny took issue with that:
"Not a thing wrong with Pamela Andersons tits."
And finally, Ryan Lochte and other U.S. swimmers reported to police that they were robbed at gunpoint in Rio. Eyepopper has, rightly or wrongly, been speculating as to who it might be:
"It wasn't an elderly, white haired gentleman, with a strong Irish accent, was it lads?"
The42 is on Snapchat! Tap the button below on your phone to add!