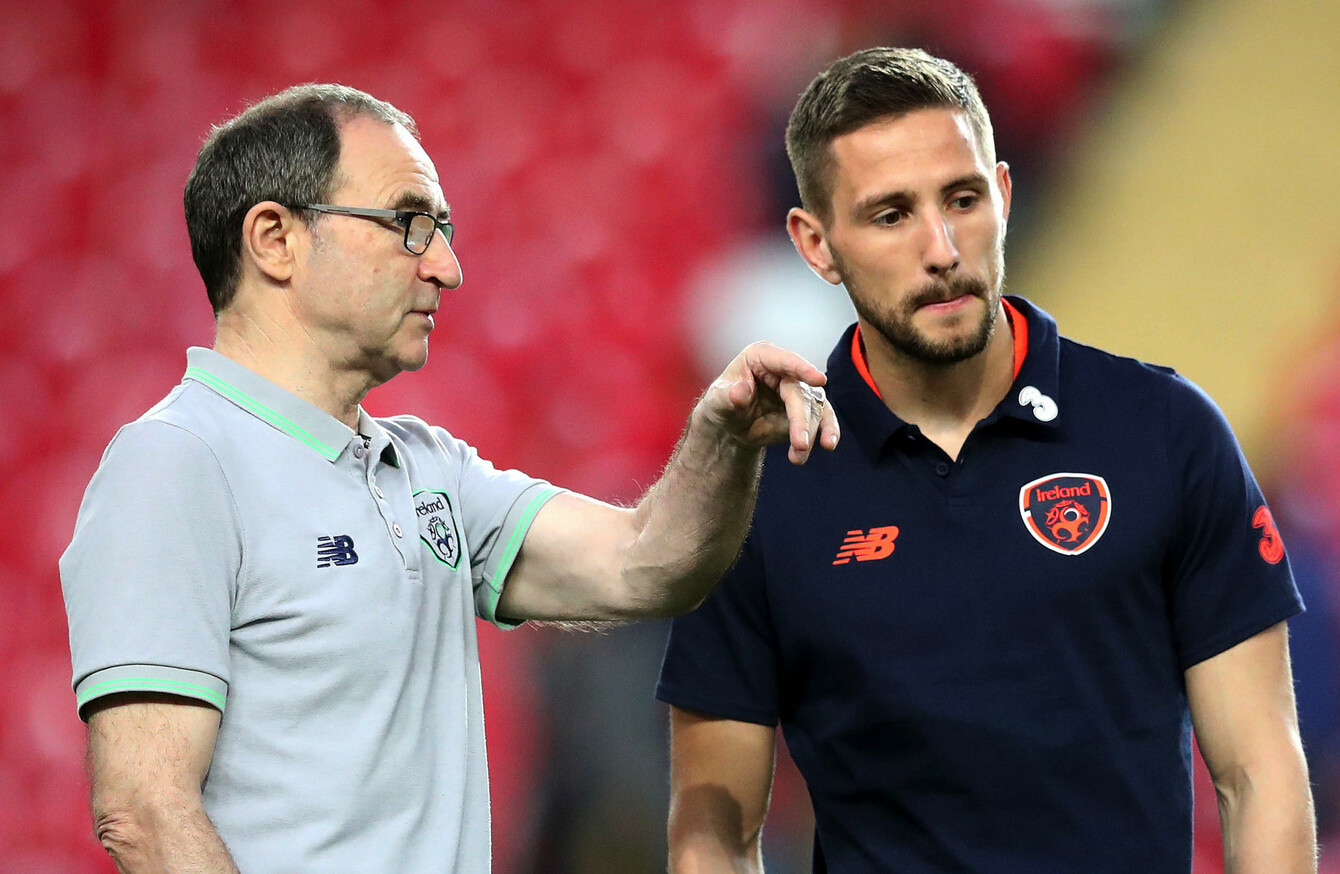 Conor Hourihane (right) pictured with Martin O'Neill before the game against Turkey in March.
Image: INPHO/Ryan Byrne
Conor Hourihane (right) pictured with Martin O'Neill before the game against Turkey in March.
Image: INPHO/Ryan Byrne
CONOR HOURIHANE HAS dismissed the belief that Ireland's results and performances won't be improved by a change of manager.
Despite being part of a team that has won just one of its last 11 matches, Hourihane is adamant that Ireland have the players to be successful again.
After his side failed to score for the fourth consecutive game, Martin O'Neill's five-year tenure as manager came to an end on the back of Monday's goalless draw with Denmark.
"First and foremost, I'll always be grateful to Martin for giving me international caps. I would have snapped your hand off for one. For that, I'll always thank him," Ireland and Aston Villa midfielder Hourihane told The Keith Andrews Show.
"But it hasn't been easy. I'd be one of the first to say my form for Ireland hasn't been as good as my club form. That's disappointing for myself. Club form for a lot of lads is good.
It's very hurtful to hear people say that it's a very poor squad or the worst in years. I don't think that's the case.
"We might not have quality players like the Damien Duffs and the Robbie Keanes, but I still do feel strongly that there is talent in that squad if the right man is there to take charge and put us in the right direction.
"I've seen lads doing it in training and playing against them in the Championship, which is a competitive league. Lads are playing well here in England every week. To go over then and not play so well for your country, something just isn't right and it is frustrating. That will hopefully change with a new manager involved."
Hourihane was handed his senior international debut by Martin O'Neill in a friendly against Iceland in March 2017. The 27-year-old Corkman won his eighth cap last week when O'Neill's side were fortunate to draw with Northern Ireland at the Aviva Stadium.
"I think [the squad] is capable of more than what it's showing, definitely," said Hourihane. "I obviously play in the Championship and it's a competitive, good league, without a doubt. The majority of our players are in the Championship or lower Premier League.
Are you telling me that Northern Ireland, for instance, have got a better squad than us as they played some good football? Definitely not.
"I don't feel like we're probably maximising what we have right now. We, as players, just want to show what quality we have. It's hurtful, it's not nice, to hear people say it's a terrible squad because we really feel that's not the case.
"There is quality in that squad, without a shadow of a doubt. Hopefully now it's an exciting time. With the right man in place, hopefully he can get that quality out of the lads that I know there is in the group."
Hourihane also admitted that the level of preparation under Martin O'Neill was unlike what he's accustomed to at club level. Ireland team-mate Matt Doherty had been critical of O'Neill's "old school" approach in an interview yesterday.
"Dean Smith [Aston Villa manager], the detail he goes into for every single game is second to none. We have a very attractive style of play," Hourihane explained.
He leaves no stone unturned for any game. He's not satisfied with, let's say, going away to Derby and taking a draw. He wants to win every single game with an attacking style of play, which suits us here. It's fantastic to play in.
"Obviously that's maybe not the case when we go over to the Ireland squads, but ultimately lads have to do the best they can with what's put in front of them. We'd run through a brick wall, as so many players would, to play for Ireland.
"The detail, I would say, from club level to international level was definitely different. It was definitely a tougher environment to play in."
Subscribe to our new podcast, Heineken Rugby Weekly on The42, here: