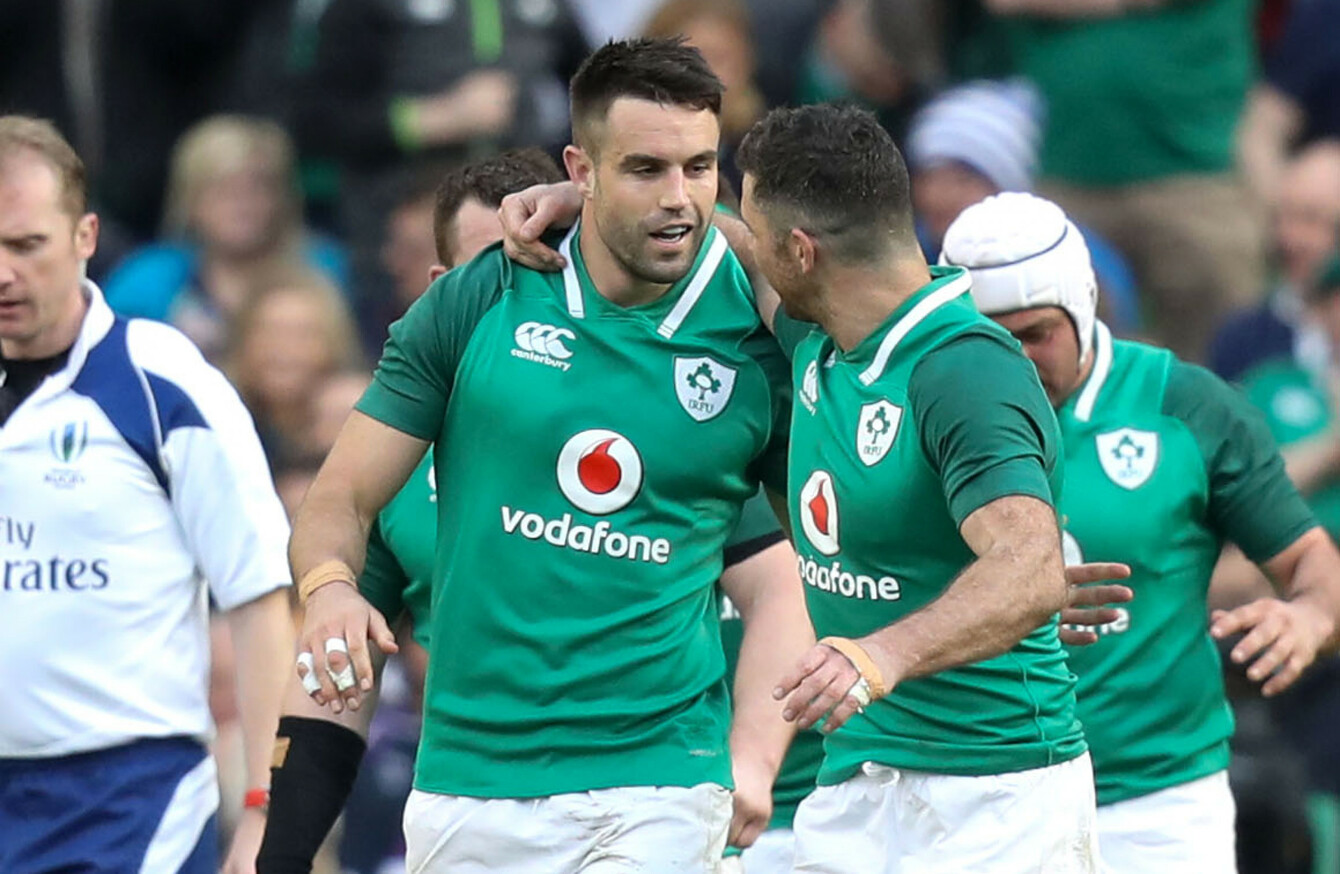 Image: Oisin Keniry/INPHO
Image: Oisin Keniry/INPHO
FOUR GAMES DOWN and the ultimate goal is now in clear focus for Ireland.
The medals are guaranteed, but to make this Championship a truly memorable one, to lift it above the successes in 2014 and 2015, a victory is required in Twickenham.
Through the history of Irish rugby, a Grand Slam has always stood as something extra special. Only two have ever been achieved after all, and separated by 61 years. But this weekend, nine years on from the last day of glory, the current squad have two men (Rob Kearney and Rory Best) bidding to earn the distinction of being the onlyIrish internationals in history with two Grand Slams.
Before the tournament started, the fixture schedule made this Saturday's scenario a likely one, for at least of of the nteams, but there were too many tricky hurdles in between to ponder the enormity of the prize on offer.
"Only Rob and Rory are left that have done a Slam and we can start talking about it now, because that's what's in front of us if things go well," said Conor Murray at Carton House this afternoon.
In Murray's view, to complete the clean sweep in Twickenham, Ireland will have to raise their performance to new heights. However, that fits in nicely with the continuous-improvement approach Joe Schmidt has always been keen on drilling into his teams.
It's a massive occasion, but it's one this group is going to enjoy and relish. We do have the ability, it's just about getting that performance together and trying to nail it as best we can."
Be part
of the team
Access exclusive podcasts, interviews and analysis with a monthly or annual membership.
Become a Member
"We're all aware of what it is, and what could potentially come at the end of it, but I think what this group is really good at is focusing on what we need to do, and it's effectively just another game-week.
"I know there's a lot of hype around it, and there will be more, there'll be a lot of distraction that you'll have to deal with and put to the side, and we're good at focusing on what we need to do, and what we need to get better at from last week."
"It's just a big occasion. It's a massive occasion and one a lot of lads haven't faced into before. There's a lot of lads in the group that have played in massive, massive games and know how to go about a big matchweek. That's there, it's a comforting thing to have."
Helping Ireland slip into that business-like mode was the uncertainty that came hand-in-and with playing the opening match of the weekend. The Championship was not yet secured when the final whistle blew against Scotland, so there were no jubilant celebrations either in the crowd or on the field. Just a job well done and another one to start thinking about.
Murray and his team-mates had slipped into their post-match suits and were mingling with beaten opponents by the time the title was officially decided.
"It was a bit of a weird feeling on Saturday, watching the England game and knowing we had effectively won it," said the Limerick man.
"We said well done to each other, but there's something more that we want, and that's going to be our focus this week.
"Being champions going into the last round, you've got to take confidence from that, that happened for a reason, we've worked hard for that, it'll give us confidence going into this week.
"But we won't get carried away with ourselves. It's the flip of what happened last year (when Ireland denied England a Grand Slam) and we know what England's motivation is going to be.
"We know how tough it is over there, we know all the things that'll be coming into this game. It was a bit weird winning (the Championship) with a week left, but there's a hunger in this playing group, coaching group, everyone involved, that we want to go one more."