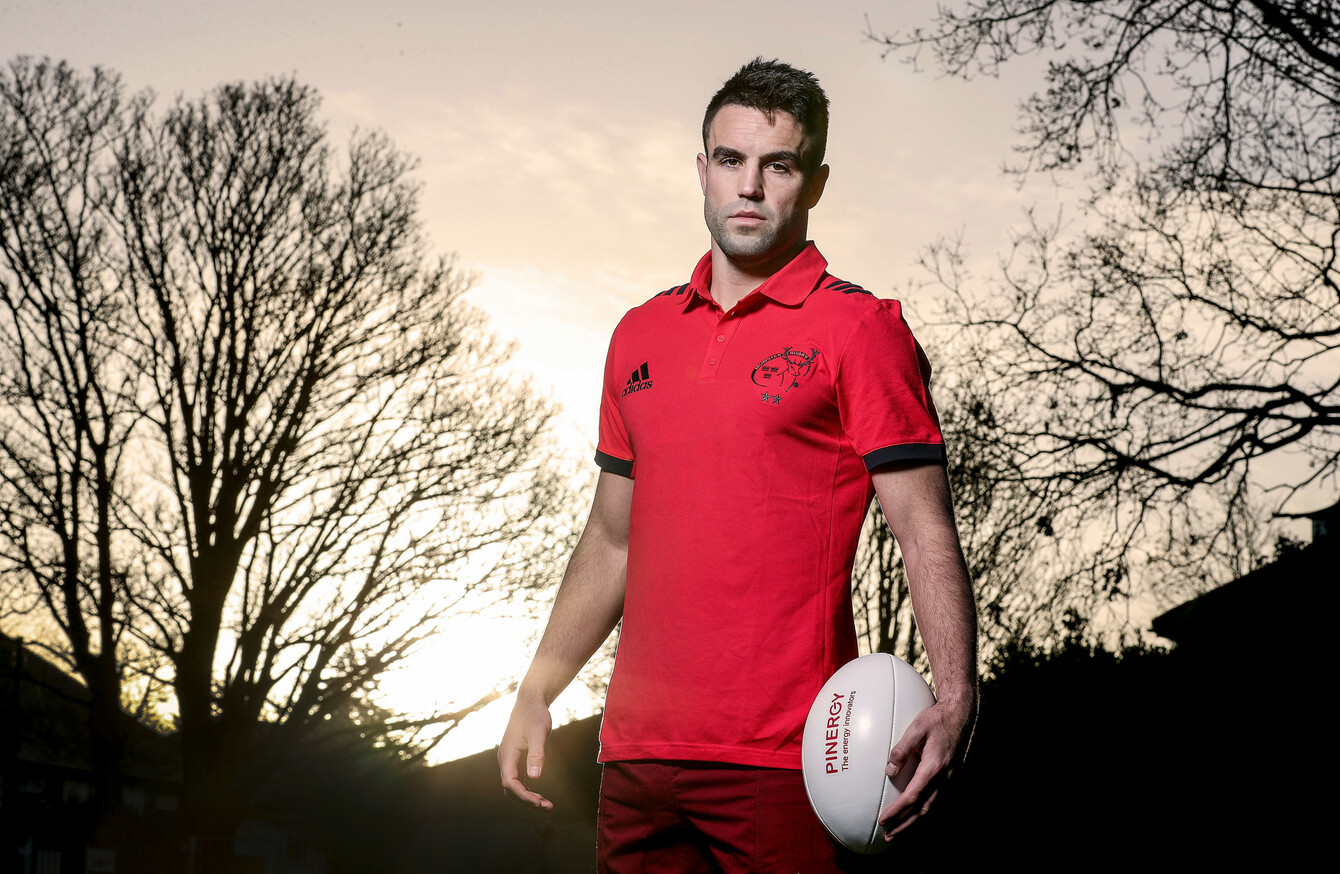 The Ireland scrum-half was in Dublin yesterday to launch Pinergy's partnership with Munster Rugby.
Image: Dan Sheridan/INPHO
The Ireland scrum-half was in Dublin yesterday to launch Pinergy's partnership with Munster Rugby.
Image: Dan Sheridan/INPHO
SO FAR, SO good.
Three games, three straight wins, three bonus points.
Munster, under new head coach Johann van Graan, are picking up a head of steam.
A seamless transition.
But this weekend is the real litmus test, not just one which signals the end of van Graan's honeymoon period but also one which represents a significant marker in both the context of Munster's campaign and current development.
"This game is massive in many, many ways," says Conor Murray.
There's a lot on the line.
Firstly, the significance of Sunday's renewal of battle lines between two of Europe's heavyweights [KO 5.3opm, BT Sport] on this stacked pool; a Munster victory would put them firmly in the driving seat to secure top spot and would certainly be a big step towards achieving qualification to the quarter-finals. A Leicester Tigers victory, on the other hand, would open up the pool again and change the complexion entirely heading into the final two rounds in January.
And then there's the significance of the game in the context of Munster's entire season.
"We want to be a consistent team and a consistently good team and if we're going to be that it has to happen this weekend," Murray adds.
It is probably a stretch to say what happens at Welford Park on Sunday evening has the potential to define Munster's year, but to that end, it is also a golden opportunity to send out a statement of serious intent. Lay down a marker, and set the standard.
A trip to the East Midlands to face the two-time champions is always a stern appraisal of any team's credentials and not least 12 months on from when Munster were unable to follow up a vintage home display up with the same level of performance on the road.
Therefore, Munster have the chance to right write those particular wrongs tomorrow but, more significantly, is the chance to prove they have developed as a team from last year and have learnt from the mistakes which cost them that day.
"In terms of us, and our game plan, we have definitely developed, and I feel we have a lot more strings to our bow than we have had in recent years," Murray explains, but also fully aware of the fact it's all well and good saying it. They need to show it on the pitch, and no better stage than under the lights at Welford Road, a ground the Tigers have lost just two of their last 36 European games at.
Murray continues: "There will be a backlash from them this week, they're a really proud team at home, especially so we've got to be ready for it. We've got to learn from last year.
"I know I'm talking about last year but we're a different team than we were last year and hopefully, we'll put in a better performance.
"It's a massive game in terms of what it could mean for the group and where we go as a team this year. If we can back up last week against a quality team then we begin to assess our goals and push on a bit.
"It will set the tone for the rest of the season. If we can back up two really good performances and push on for the rest of the year, it'll give us confidence in our own game and where we can go as a team. It's a really tight pool, you want to be top of the group and this game will go along way to deciding that."
Presumably, the players are fully aware of that?
"It's been talked about at training," he says. "Last week we had a good performance but there were things we weren't quite happy with it, and things that Leicester could have punished us.
"There's always an edge to European weeks, there's always a bit of bite. There was yesterday: the 'A' team are getting ready for a big game, we are too, so there was an edge to training. That's what you need in big games.
"You walk into training and you just know there's a big game this weekend, so it doesn't need to be mentioned too much. Enough lads in the squad have been there and done it."
Been there and done it, but now need to do it again.
Just like last week, Munster will need their big players on Sunday. They'll need to be disciplined, accurate and clinical. They'll need to be aggressive in defence and dominant at the breakdown again. Replicating that level of performance is always the hardest part, but consistency is the word Murray uses.
"You can have all the developments in your game — out wide, trick plays — but breakdown, again I go back to it, it's what wins and loses you games," the scrum-half stresses.
Munster know what's coming. They expect the backlash, but are confident in their defensive systems having worked hard on that particular area during the week with Andy Farrell. The aggressive line speed, tireless work ethic right until the final whistle and turnovers forced was a real hallmark from the round three win and, in fact, their campaign to date as a whole.
Interestingly, no side has missed fewer tackles this season than Munster who have the best tackle success rate in the competition (91%) while the province have allowed their opponents the fewest metres (834) and clean breaks (16) during the opening three rounds. Furthermore, in the process, they've conceded the fewest points of any side (34).
"The transition was a concern, and still is a concern," Murray admits. "Johann is going really well and working hard with Felix [Jones] and Jerry [Flannery] and obviously Andy has been down helping out. It's going well so far and we're working really hard to make sure it's a smooth and as seamless as possible."
The handover has been a relatively pain-free process so far, with van Graan's coaching methods and philosophies very similar to his predecessor, Rassie Erasmus, while an away trip to Zebre and back-to-back home games against Ospreys and Leicester has proved to be a relatively comfortable introduction to the job for the South African.
Murray is full of praise for the new head coach.
"The fact he's South African and knows Rassie, the fact he came here so highly-rated by senior figures within the game of rugby it made it a lot easier. The way he has approached it, he's a really soft-spoken man and very aware of what we've been working on over the last couple of seasons.
"He knows what he wants to bring into our game plan and he's started to filter a bit of that through. But he's very aware he can't change too much as it's a very weird situation that you'd change coach mid-season. So far, so good.
"I chatted to him when we played South Africa, I chatted to him at the Aviva for quite a while and since I've been back in Munster just getting to know him. Getting to know his ideas and philosophies is really exciting and I think it's going to be a really good fit for us moving forward.
"Off the pitch, he's very similar to the lads in terms of keeping a happy squad and is all about the players and wants the families involved on game day. A really respectful man, I think he appreciates you go out on a Saturday and it's quite a tough sport.
"He appreciates the effort you put in and he's really genuine about that which is nice as it only motivates you to play for him. It's early days yet but we'll only get to know him better."
And van Graan very much appreciates the family and community culture associated with the club, something Rob Penney and Erasmus fostered and maintained before him.
"We highlighted it as something we could improve on when Rob Penney came in," Murray explains.
"It's not having them [family] involved them in a game, in the dressing room. But it's about having them at ease, and making it easier for them on game day. Or if we had a day off, we'd have a barbecue, or a family day, as a way of them being involved with Munster. Because the fans, that's so tight, so we thought we could make it a little better with our families.
"Rob probably started it, Axel kept it going by bringing the lads out for pizzas in his house in Killaloe a couple of times, and then Rassie and Johann took it up another level.
"Rassie did an awful lot of work behind the scenes in looking after families with boxes in Thomond Park, and there's a creche at Thomond Park on gameday now. So things like that, to put everyone at ease and take a little bit of stress off the players."
There's certainly a different feel to the place these days. Anyone who was at Thomond last week will have felt it. Things are building nicely, and heading in the right direction.
"In terms of the way we play, we've definitely progressed," Murray adds.
The challenge now is to show that on the biggest stage.
Pinergy has teamed up with Munster Rugby player Conor Murray to announce it is the official energy partner to Munster Rugby, and launch #WeAre16 an innovative campaign to support the sponsorship.
The42 has just published its first book, Behind The Lines, a collection of some of the year's best sports stories. Pick up your copy in Eason's, or order it here today (€10):