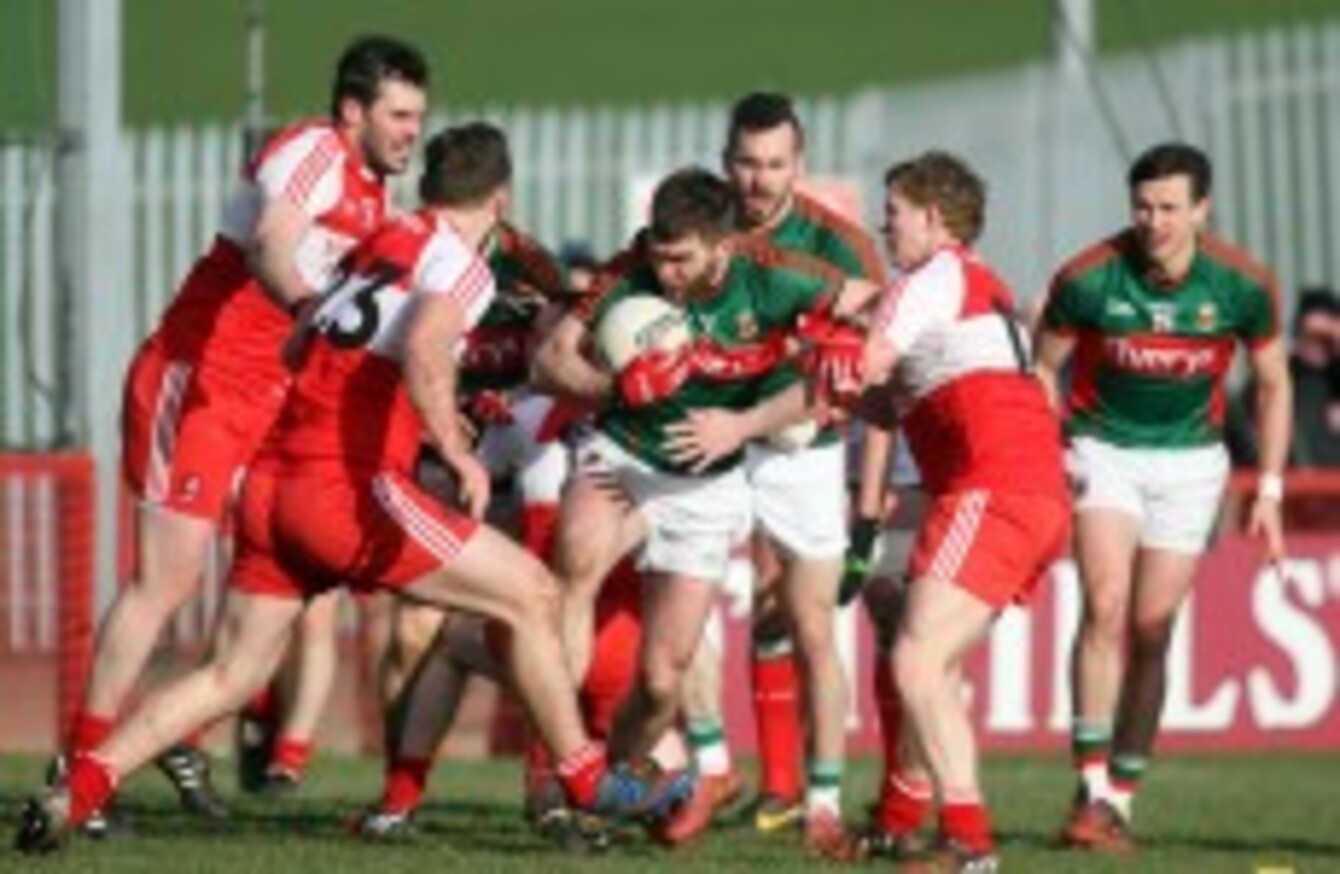 Mayo battled to win in Celtic Park today.
Image: Presseye/Lorcan Doherty/INPHO
Mayo battled to win in Celtic Park today.
Image: Presseye/Lorcan Doherty/INPHO
1. What value can be placed in Cork thrashing Kerry in spring?
The most eye-catching football result today was in Páirc Uí Rinn. There was five goals packed into the first-half before Cork ran away comfortably from Kerry to secure the spoils at the finish. Kerry's defence, so sturdy and impressive last week against Dublin, was prised apart as Cork posted the biggest score total to date in the 2015 Division 1 campaign.
It was a great afternoon's work for Cork but aside from boosting their league semi-final prospects, what value can be placed in it? We've been here before. Cork only need to throw a glance back to last April for when they previously rolled over Kerry in the spring. Their camp will be cautious after this success, using it as a building block ahead of a truer test in a few months time.
2. Dublin get used to prospect of massed defences
Four rounds gone in the league and Dublin are growing accustomed to teams relying on a solid defensive structure to thwart the attacking ideas of Jim Gavin's side. Aesthetically speaking, there was little to enthuse about last night in Croke Park. Tyrone came with a plan in mind and their execution of it almost yielded a win.
Dublin have been frustrated already this year as they lost out in Páirc Uí Rinn and Fitzgerald Stadium. Dean Rock rescued a draw for them last night but after winning the last two league titles, they are in a different place this season with three points on the board so far. Opponents aren't allowing Dublin to rampage forward at will, something Jim Gavin is acutely aware of.
3. Mayo's priceless points in Celtic Park
We've spoken already about how Mayo – with one league title to their credit since 1970 – are exactly the kind of county who could accrue serious benefit from lifting the crown this spring. Pat Holmes was at the helm when they last won out in 2001 and in conjunction with Noel Connelly, he's overseen the team pick up three wins to date this spring.
Today was the kind of gritty win that will nourish their confidence levels. Dictate the exchanges in the first-half, withstand a furious second-half rally from the hosts and grab the vital goals through Mark Ronaldson and Mikey Sweeney. A win at home to Dublin next weekend and they should be in pole position for a semi-final place.
4. Kildare and Laois lift the gloom
Leinster neighbours Kildare and Laois both got a big lift this weekend. Slumped at the bottom of the Division 2 table, they rose up to each claim a first victory of the spring. It was in tricky games as well, Kildare winning away to Cavan last night while Laois clipped the wings today of a Roscommon team that had been flying high.
Kildare's need for points was more pressing given they had played a game more than Laois. Neither are completely out of the woods in trying to avoid the drop but they're back now with a fighting chance at least.
5. Meath's penchant for goals proves vital 
With snow causing the postponement of last week's game in Roscommon, Meath needed a positive result last night against Westmeath. They'd only raised one green flag in their two games before throw-in but putting four past Westmeath was central to a result that propels them back into the promotion race.
The match showed the attacking capabilities that Meath possess with Graham Reilly at the hub of their efforts while Stephen Bray and Mickey Newman are also vital forwards for the Royals. Mick O'Dowd's side face a hectic upcoming schedule but they've made a good start.
6. Draw suits Ulster rivals in Division 3
Armagh and Fermanagh ventured towards last night's encounter in search of a victory but neither found it. Draws can often be frustrating yet in the context of the drive to get promoted, a draw suits both teams.
They're both on seven points with three games left and crucially Tipperary's win over Clare yesterday, means the Ulster duo have breathing room between themselves and those that are chasing. Kieran McGeeney and Pete McGrath's teams have the initiative.