IT WAS THE 40th All-Ireland Ladies football final and Cork were eager to defend the trophy they emphatically won in 2012. Monaghan have not won the Brendan Martin Cup since 1997 but looked the form team all championship summer.
As always, we'd love to hear your thoughts on the game. E-mail patrick@thescore.ie, tweet @TheScoreGAA, post a message to our Facebook wall, or leave a comment below.
Cork, the seven-time All-Ireland champions, take on Monaghan, who won the cup back in 1996 and '97, from 4pm at Croke Park.
The Rebelettes defeated Kerry 2-9 to 0-11 three weeks ago while Monaghan were five points too good for Galway.
Cork goalkeeper Elaine Harte came up with one of the quotes of the championship summer when she spoke about what will be her eighth final:
Yesterday's dinner won't feed you today and any of our previous finals won't help us on Sunday."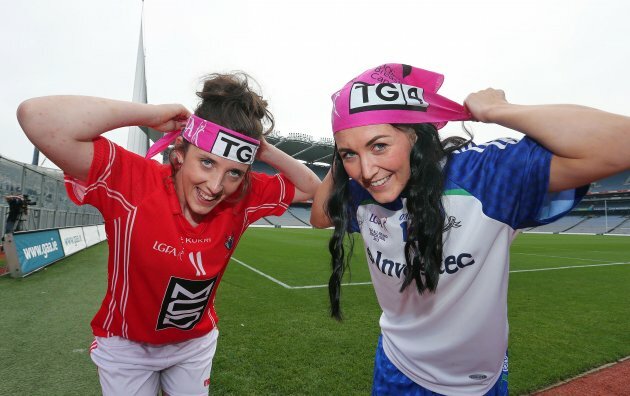 Senior finalist captains Ciara O'Sullivan of Cork and Monaghan's Therese McNally get their bandanas on for a TG4 supporters' promotion. INPHO/Lorraine O'Sullivan
Here are the highlights from the two semi-finals to get you in the mood for the big game.
YouTube credit: LadiesFootballTV
I was fortunate enough to catch up with Tyrone GAA legend Cathy Donnelly on Saturday and she fancies Monaghan to win today. Who do you think will take home the main prize?
Here are the teams listed in the match programme:
Cork: Harte; A.M Walsh (c), Stack, O'Reilly; Corkery, Buckley, O'Flynn; Murphy, Walsh; Cleary, O'Sullivan, Annie Walsh, Mulcahy, Ní Bhuachalla, O'Sullivan.
Monaghan: Martin; G McNally, Courtney, Reilly; McEnaney, McCarron, McAnespie; Casey, Connell; T McNally (c), Mohan, Courtney; McConnell, McKenna, McAnespie.
The two sides are parading on the pitch after getting a meet and greet with your favourite President, Michael D.
Megan Burns sets the tone for the 40th ladies football final with a handy rendition of Amhrán na bhFiann. Here we go!
THROW-IN
Cork 0-0 Monaghan 0-1: First scoring chance falls to McConnell and she scythes over a fine point from an acutely angled free.
Cork 0-1 Monaghan 0-1: McAnespie with a howler as she spills a high ball. It falls to Cleary but she opts for safety with McAnespie diving to put her off. Over it goes.
Ciara McAnespie is fouled and McConnell drives in a low free that causes havoc before it is knocked out for a 45.
Cork 0-1 Monaghan 0-2: Good work by the Monaghan forwards as their hand passes open up room for McAnespie. She slots over to give the Farney an early edge.
Cork 0-2 Monaghan 0-2: Annie Walsh marauds forwards and settles herself before towering a kick between the posts. We're level after nine minutes but Cork have a free from close range coming up…
Cork 0-3 Monaghan 0-2: Mulcahy curls it over from 20 yards out. The reigning champs hit the front.
Cork 0-4 Monaghan 0-2: Great Cork defence as Walsh steals the ball and sets up a sweeping attack. Cork have the numbers on the attack and a cynical foul is needed as they close in on goal. Mulcahy gets her second score of the game.
GOAL CORK!
Cork 1-4 Monaghan 0-3: Therese McNally with a point, which went over via the crossbar, but Cork strike back with a goal. Another lightning quick move and Mulcahy shows composure to slot home.
Here's that Mulcahy goal [courtesy of TG4]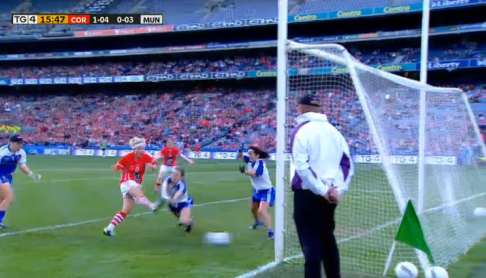 Cork 1-5 Monaghan 0-3: Julie Murphy fists over a score to stretch the Rebelette's lead and Reilly has to be at her defensive best, moments later, as Ní Bhuachalla threatened to break through on goal.
Monaghan need McConnell to slot over her frees but she has missed two good opportunities. With 22 minutes gone we have a HUGE moment as McConnell is one-on-one with Harte but she chooses to shot from 15 yards out and is brilliantly denied.
Cork 1-6 Monaghan 0-5: Monaghan have not scored in 10 minutes but Cork are wasting chances too. As I lament the waywardness on both sides, Mohan scores the point of the game. The bounce beats Buckley, her marker, and unleashes a fine, left-footed score. She follows it up with another steepling point. Great stuff from the forward.
Mulcahy lobs over a free from 30 yards out to settle Cork nerves.
Cork 1-6 Monaghan 0-6: That is better from McConnell as she puts over a free from 30 yards out and slightly to the left of the posts. Monaghan finishing the half well but Cork are bringing back 13 players behind the ball.
TG4 are loving their Ref Cam footage. Here is a clip of what the man with the big whistle is seeing out there: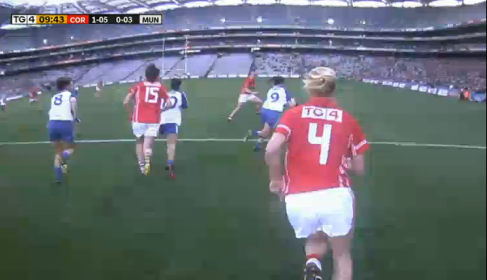 Cork 1-6 Monaghan 0-7: Caoimhe Mohan is really having an influence on this game. She earns another free that McConnell converts.
Now, Monaghan penalty…
GOAL MONAGHAN!
Cork 1-6 Monaghan 1-7: Goalkeeper Linda Martin races up, composes herself, and slots home a penalty for her team after a cynical foul stopped a clear goalscoring chance. Monaghan lead.
Cork 1-6 Monaghan 1-8: Another sweeping Farney attack is finished off by halfback McEnaney.
Here is a snapshot of the Martin goal: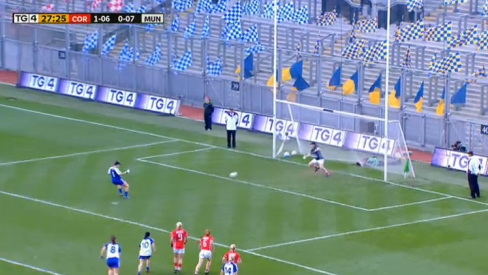 Cork 1-7 Monaghan 1-8: Cork though on goal but play called back for a foul and Cleary is not happy. Mulcahy compounds the disquiet by missing her free to the right. Geraldine O'Flynn rallies the Cork troops, though, with a fine point from play.
Cleary with a chance to level affairs but he point effort goes right and wide. 21 minutes left to play and Mulcahy gets a chance to slot over a free. It is five yards off target but the ball stays in play.
Cork sub Orlaigh Farmer has the ball in the Monaghan net but it is ruled out. Lucky for goalkeeper Martin as she had gone walkabout.
McConnell has just missed a vital, easy free for Monaghan from all of 25 yards out. The excellent Mohan had earned that opportunity after two Cork defenders took her out.
Cork 1-8 Monaghan 1-8: We are level, midway through the second half. Mulcahy hit the post with a spinning effort but Cleary was there to pop the ball over.
Cork have done well to battle back into this match after conceding the goal and point in the space of 60 disastrous seconds. Will their cup-winning experience tell?
The referee is really cutting into the flow of this game by giving frees for any bit of contact between players. We're up to 20 frees conceded apiece with 12 minutes left to play.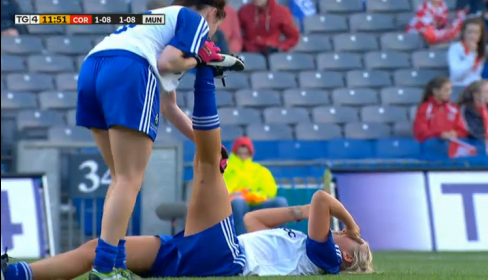 Mohan cramps up but wants to play on. Orlan Finn, meanwhile, comes on for Cork. Credit: TG4
McConnell is wayward with another free from in front of the posts. McKenna then gets flashed with an extremely harsh yellow card. The game moves into its final 10 minutes.
Farmer goes close for Cork but not close enough. What is going on here? Monaghan streaming upfield but a foul 20 yards from the action causes play to be stopped from the ref. He should have played on.
Oh no. O'Sullivan with a barnstorming run but her shot veers wide at the last moment. No separating these sides.
Cork 1-8 Monaghan 1-9: The impish Courtney is fouled by three over-zealous Cork defenders and surely McConnell won't miss this? Nope. Over it soars.
CROSSBAR! O'Flynn's excellent run and shot does not get its just rewards and Cork still trail as Monaghan haul tail up the park.
O'Flynn is wide of the mark with her free after Murphy is fouled 35 yards from the Farney goal. Ní Bhuachalla, back on for Farmer, is denied by a super defensive block. The cameras focus on Courtney.
Cork 1-9 Monaghan 1-9: Juliet Murphy steps up when her county needs her and soars over a brilliant 30-yard point.
Cork 1-10 Monaghan 1-9: The Ulster side are livid as another soft free is conceded but Mulcahy cares not a jot. Over it goes. Cork lead with two minutes to play.
Monaghan pile forward in search of a score but Walsh is sweeping up in front of Harte and clears. Less than a minute on the clock…
Late drama as Cork concede a free about 35 yards from goal.
Miss. McConnell misses and CORK WIN!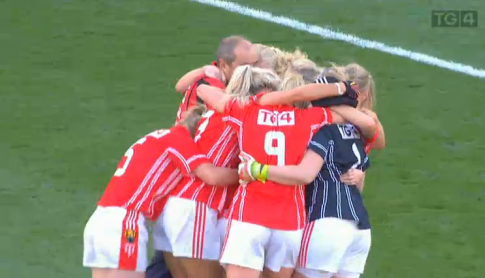 CORK: All-Ireland champions for the eighth time in nine years.
That is your lot from Croke Park as Cork boss Eamonn Ryan declares 'that is the hardest All-Ireland we've had' and adds that 'your heart has to go out to Monaghan'.
Thanks for joining us for our live coverage. An All-Ireland is coming back to Cork after all. The Rebelettes win again. They are a truly remarkable team.