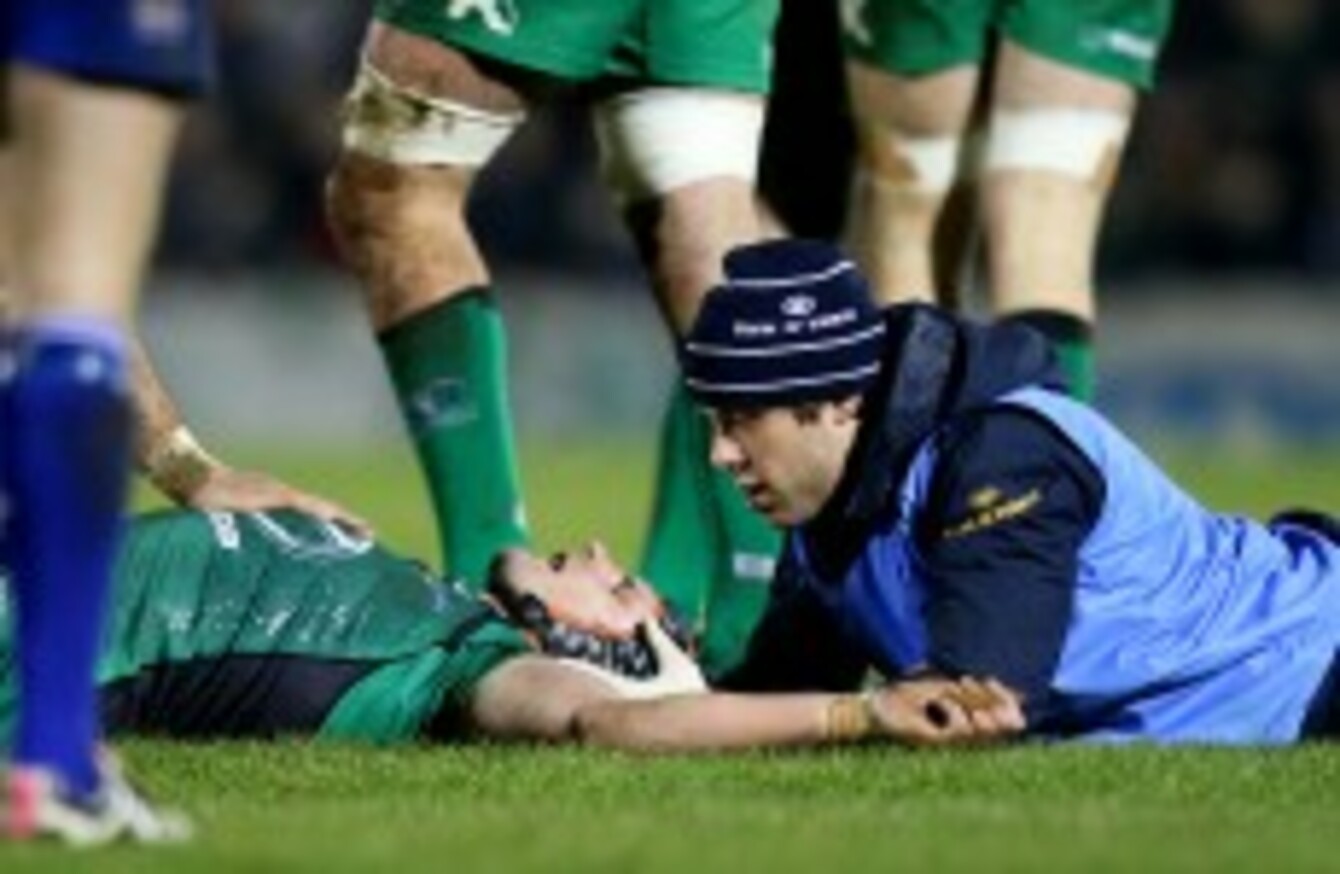 Clarke: needed treatment during Pro12 derby against Leinster last month.
Image: INPHO/James Crombie
Clarke: needed treatment during Pro12 derby against Leinster last month.
Image: INPHO/James Crombie
CONNACHT CAPTAIN CRAIG Clarke has been sidelined 'indefinitely' after suffering his tenth concussion in 22 months.
The scale of the concussions suffered by the New Zealander, in the Super 15 and since he arrived in Ireland at the start of the season, will undoubtedly again highlight the growing issue of head injuries in professional sport.
Connacht coach Pat Lam yesterday confirmed that Clarke will not play for the foreseeable future but he remains hopeful that he will recover.
Clarke has taken over the Connacht captaincy since arriving here on a three-year deal after skippering the Chiefs to successive Super 15 titles, but now the 30-year old faces an uncertain future.
Remarkably, Lam said that this is the second time a player he has coached has suffered that scale of concussions with former All Black Benson Stanley — who, ironically was linked with a move to Connacht before joining Clermont Auvergne two years ago — enduring a similar fate when they were with Auckland Blues.
Lam said the primary thing now was to manage Clarke's latest concussion which he suffered in the Heineken Cup 64-6 drubbing by Saracens over a fortnight ago. It was his second concussion since arriving in Ireland, with the other eight incurred when playing for the Chiefs.
Craig has had his tenth concussion in 22 months, so he is a big concern. At this stage he is going to be unavailable indefinitely, until there is a bit more testing and so forth.

It is obviously a big blow for us but you can just not mess around with that sort of situation.
"The players had a week off after the Saracens game but he was suffering even last week. Obviously we favour investigations but more importantly is just time.
"I had a player before who has had that as well, Benson Stanley, and he was considering retiring and he just had to go through the timing and he was thinking about stepping down. But through timing and treatment and rest he got through and he is playing at Clermont now, so we are hopeful," said Lam.