LAST SEASON, THE University of Central Florida's 34-31 victory over Penn State in Beaver Stadium, Pennsylvania was a crucial win on the way to the most successful season in the Knights' short history.
UCF only fielded a football team for the first time in 1979 as a Division III – roughly equivalent to junior inter-county football/hurling here – but had made their way into the Division I Football Subdivision (FBS) – senior grade – by 1996.
However, last year's appearance – and victory in – the Fiesta Bowl was by far the standout moment for the Knights who can count current and former NFL stars such as Daunte Culpepper, Kevin Smith, Asante Samuel and Brandon Mashall among their alumni.
This year though, they must take on Penn State – twice consensus winner of college football's national title – without two big names on their offence, both of whom are now playing in the NFL with the Jacksonville Jaguars.
In last year's match-up, quarterback Blake Bortles threw three touchdowns and totalled 288 yards while running back Storm Johnson added 117 yards on the ground, including this 58-yard touchdown run at a key moment in the game.
brahmanknight / YouTube
However, the Knights can welcome back an impressive 15 starters from last year's campaign – nine on defence, six on offence – including a talented trio of wide receivers in Ranell Hall, Breshad Perriman and JJ Worton.
The three combined for no less than 143 catches, 2,400 yards and 16 touchdowns last year including this, catch of the the year, from Worton: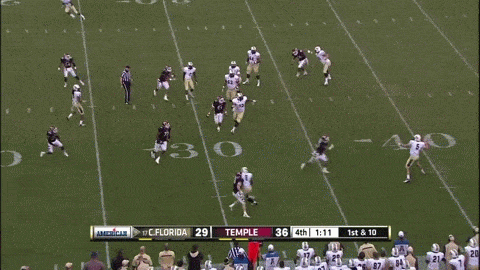 YouTube / ESPN YouTube / ESPN / ESPN
The defence remains as formidable as it was last year with Terrance Plummer (110 tackles) and Clayton Geathers (100) a real threat to the Penn State offence from linebacker and safety respectively.
For the Nittany Lions, quarterback Christian Hackenberg will look to build on an impressive rookie season in 2013 that saw him emerge as one of the best QBs in the Big Ten conference.
The Penn State run game is also a threat with Zach Zwinak and Bill Belton both capable of breaking big plays and totting up impressive yardage.
However, due to sanctions still stemming from the Jerry Sandusky sex-abuse scandal, Penn State lack depth, particularly on defence, and have a new coach in the form of James Franklin who has only had a few months to implement an almost entirely new system.
For that reason, UCF enter today's game as slight favourites. Whatever happens, it should be a lot closer affair than Notre Dame's demolition of Navy the last time college football visited these shores.
Prediction: UCF by 5.