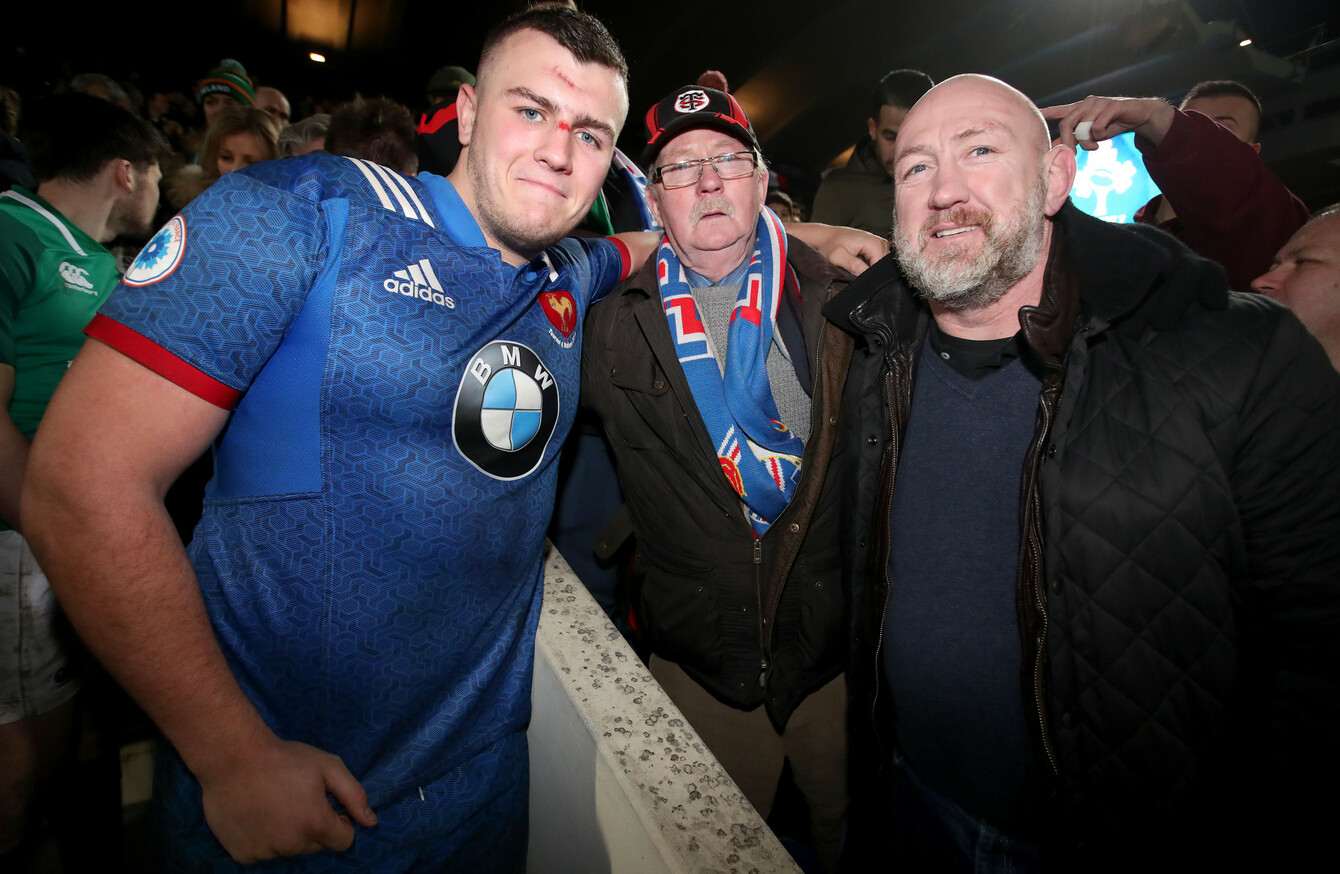 It's a family affair for the Brennans.
Image: Bryan Keane/INPHO
It's a family affair for the Brennans.
Image: Bryan Keane/INPHO
John Fallon reports from Narbonne
MUNSTER TRIED TO sign Trevor Brennan's son Daniel last year when Rassie Erasmus was in charge but the young tighthead decided to remain in France to develop more as a player.
On Sunday he will bid to become the first Irishman to win a World Rugby U20 Championship medal but he will do so in the blue, white and red of France having moved to Toulouse when he was just three.
The whole family moved to France when dad Trevor, having played for Leinster and won 13 Irish caps, was signed by Toulouse in 2002, going to help them win the Heineken Cup twice.
Daniel has grown up in France since then with 16-year old brother Josh, who is on the French U17 side, and eleven-year old Bobby who was born in Toulouse.
"I didn't go to an English school. They stuck me in the French school and I didn't know what they were talking about at the start.
I ended up learning the French language. It's much easier when you are a kid to pick up a language. It was more difficult for my parents, Trevor and Paula. They speak fluent French now but they have these accents.
"When I speak French you wouldn't know I was born in Ireland. It just came quite naturally. But people slag me for my Dublin accent, not least because I am supposed to be a Lilywhite.
"The whole family, my mum and dad, are all from Leixlip but I have a Dublin accent when I speak English," said Daniel, speaking at Domaine de l'Hospitalet, the vineyard where the French squad are based ten kilomtres outside Narbonne for the World Rugby U-20 Championship.
Brennan holds an Irish passport and makes regular trips home and a year ago gave serious consideration to making a permanent move back when Munster came calling.
"I had a chat with Rassie Erasmus last year. I just said it's not my time to leave France yet. I had the U20s this year. I had that noted on my notebook, I wanted to make the U20s. I played with them in Georgia last summer but it wasn't my year and I wanted to be here when France hosted it.
There was a little chat at the start of the year, Johann van Graan. But I signed pretty early with Montpellier, in January. I just wanted to get it over and done with. I had the Six Nations coming up," added Brennan, who will move to Montpellier in the coming weeks after signing a three-year deal.
I think I can still play for Ireland. I have always played rugby in France. I am born in Ireland. I am obviously really proud to be Irish. I love my Irish origins. I love where I come from. I love going home meeting everybody. But I also love being French.
"French rugby has been so good to me. They have always been good to me. Toulouse has been good to me. For school everyone has been good to me. It's a way to give back, sticking on the French jersey, all the opportunities they have given me," he added.
Joe Schmidt's son Tim played with Brennan on the second team in Toulouse when he was doing his Erasmus study there for a year and there was 'some slagging' between the Irish coach and the former Irish international but no approach was made by the IRFU about getting the young prop to come back.
Brennan, who is 6'3" and weighs just over 20 stone [130kg] made his senior debut for Toulouse towards the end of last season when he was drafted in for an away match to Clermont Auvergne but he can't wait to get going under Vern Cotter in Montpellier where he hopes to learn a lot from Springbok tighthead Jannie De Plessis.
"I just said where will I learn the most? It's like a painter, you have to get your job experience. I had a lot to learn off guys like Vern Cotter. Jannie du Plessis is on his last year. He is one of the best tighthead props in the world. I will get a good bit of experience back there."
Brennan's introduction to rugby came 'messing about' with the children of the likes of Jean-Baptiste Élissalde and Yannick Bru when they would accompany their dads to training at Stade Ernest Wallon in Toulouse.
The Brennan family settled in the village of Castelginest just north of Toulouse and after the 2007 World Cup Daniel and his mates started playing with the neighbouring village Aucamville.
"We used to play soccer, ice hockey and judo, whatever was going, and some of the lads said let's try rugby. It just took off from there."
He made a regional team where he was just about the only one in the squad not on the books of Stade Toulasain or Colomiers (the Pro D2 club in the city) but by the time he was 13 Toulouse were coming looking for a second-generation Brennan.
Daniel made it into what is essentially a national academy, travelling each week to Paris and then coming home to play for this club.
"They take all of the best guys from these schools and bring them to Paris. That was for a year. That was a tough year because you left at 4am on the Monday on the plane, you flew to Paris, you train all week, you flew on the Friday at around 3pm and played on the weekend. That was all year. I was 16."
Dad Trevor, who has sold his renowned pub De Danù in the city and who has opened Brennan's Bar in Castelginest, has never interfered or being pushy.
"He would leave me to myself. But now I find when I'm doing well that's when he is annoying! 'Dan stop eating sh**e, Dan get up and go for a run.' Giving me tips, but he wouldn't put any pressure on me. He just wants to give me to do well, he's come to all the matches and he's delighted things are going well."
Sunday in Beziers will be a huge day for the Brennan household and indeed for French rugby as they bid to lift the World Rugby U-20 Championship for the first time.
They reached their first final with a devastating display which blew holders New Zealand away by 16-7 and now only England stand in their way of the title.
Dad Trevor and all the family will be there, many of them coming out from Ireland, as Daniel bids for glory and another step towards an almost inevitable senior international career with France.
The42 is on Instagram! Tap the button below on your phone to follow us!