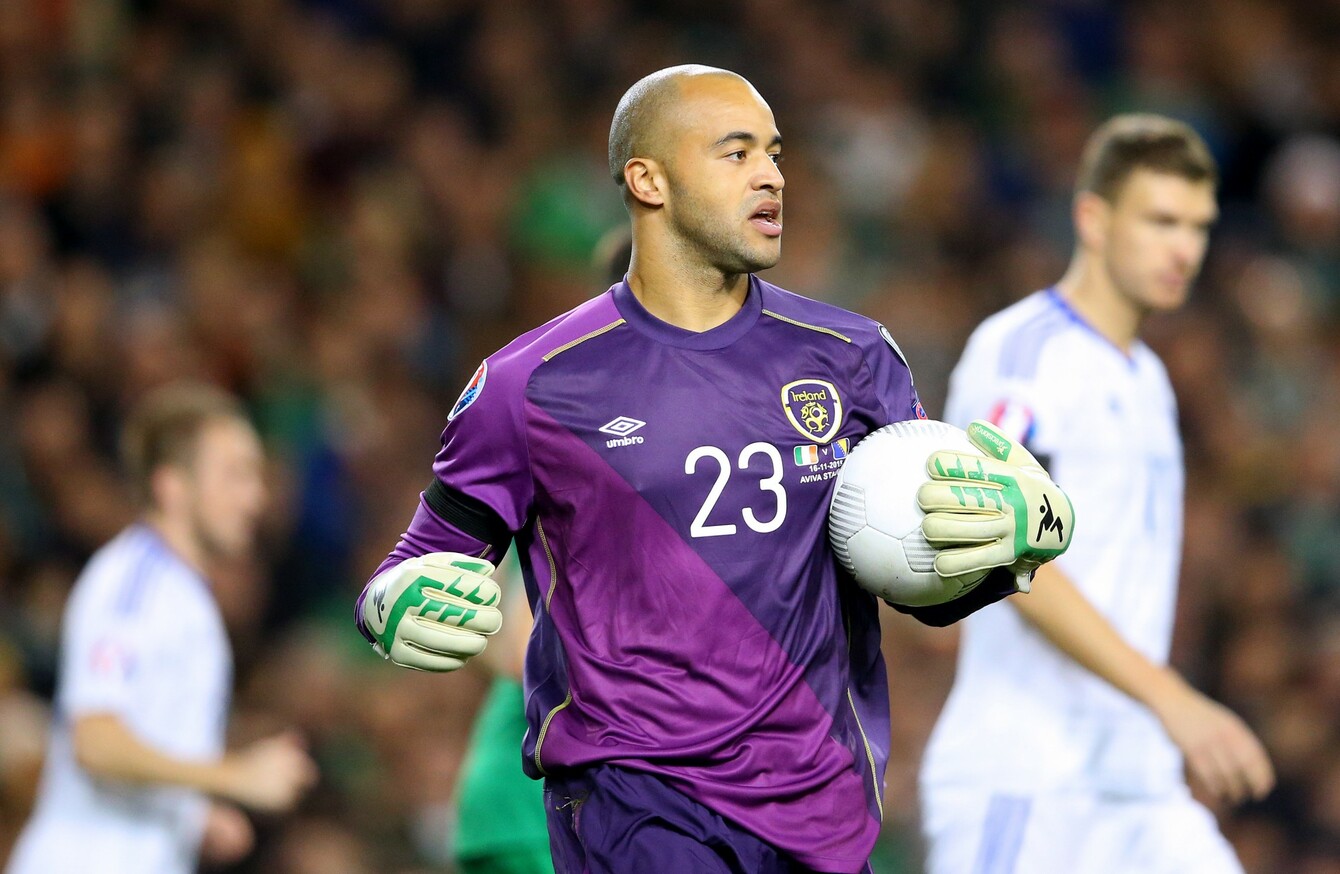 Randolph was part of the Ireland team that gained victories over Germany and Bosnia earlier this year.
Randolph was part of the Ireland team that gained victories over Germany and Bosnia earlier this year.
IT'S FAIR TO say that Ireland goalkeeper Darren Randolph is a natural athlete.
Growing up in Bray, in addition to turning out for his local football team Ardmore Rovers, Randolph also played rugby, GAA and basketball at various levels.
The Irish star's athletic prowess undoubtedly comes from his American-born father, who moved to Clare to play basketball during a spike in the sport's popularity in the 1980s.
Ed Randolph fell in love with future wife Anne and the couple eventually moved to Dublin.
Randolph Jr subsequently inherited this love of sport from his father, who still plays and coaches basketball now.
However, soccer ultimately won the battle for Randolph's affections, as Ardmore Rovers went from strength to strength with him in the side.
"They were my local team out in Bray," he tells The42. "I played there from when I was eight or nine. All my mates used to play there. We had quite a strong team. A couple of the teams before us went to the Major or the DDSL and we were winning every competition that there was in Wicklow.
I was a centre-half to begin with. One of the keepers got injured in a game. I went in and ended up staying in afterwards. I'm glad I didn't stay outfield, I don't think I would have made a very good defender.
"We moved into the DDSL, but I'd left to go to England at that stage in that first season in the DDSL and now they've got a lot more teams in the Dublin league, which is credit to them and shows how far they've come since I was playing there all those years ago."
A highly active youth saw him also show promise in rugby and GAA.
"I played rugby when I was at Pres Bray, and GAA for Bray Emmets as well. I was always busy during the week and the weekend doing different sports and travelling around a lot.
Luckily enough, I tend to pick up other sports quite quickly, so anything I tried I was fairly decent at. GAA I represented Wicklow, I can't remember where the tournament was. I think it was under 15s or something.
Be part
of the team
Access exclusive podcasts, interviews and analysis with a monthly or annual membership.
Become a Member
"Rugby was just in school — I played first or second centre, or fullback."
Randolph, who grew up idolising Packie Bonner, Peter Schmeichel and future teammate Shay Given, says a career in basketball was an ambition at one point.
"It was between basketball and football. Probably growing up, basketball was my favourite sport. But I just felt I had a better opportunity having a career out of football rather than basketball — I was never good enough to go to the NBA."
His father, he adds, has been a big influence, as someone who also gained experience of the demands of professional sport during his glory days in Clare.
He was one of the first Americans to come over to play. He played for UCD Marian. He started off playing in Clare with Killester. Now he's playing back out in Bray, so he's still going strong.
"We used to go everywhere together. Anytime I could go shoot around, I would see him in the gym or doing press-ups in the house and looking after himself if he had a game or training or anything else. So I suppose in a way that's rubbed off on me as well."