DAVE KILCOYNE FEELS like a different athlete this season and it's down to two changes in particular.
During the pre-season, he altered his diet and increased the number of weights sessions he does each week.
The loosehead prop had had a chat with Ireland boss Joe Schmidt over the summer and did plenty of what he calls "self-analysis" before making those changes.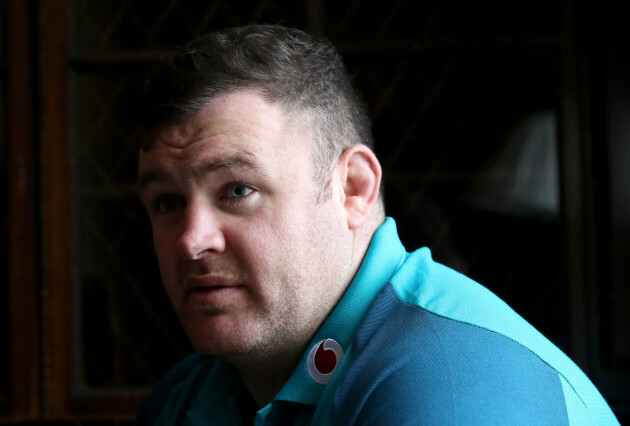 Dan Sheridan / INPHO Kilcoyne says he's hungrier than ever. Dan Sheridan / INPHO / INPHO
As a result, Kilcoyne has been "very happy" with his form for Munster so far in this campaign and is now ready to make his second Ireland appearance of the season on Saturday against the US.
The 29-year-old's scrummaging has been strong and he feels this is, in part, down to his improved physical conditioning.
"I did a lot of change in pre-season with my diet and in terms of the amount of weight training I am doing during the week," says Kilcoyne.
"I've seen big shifts in my body composition and the amount of weights I can do now. I'm lifting a lot more this year than I've ever lifted and that is benefiting me right across the game – not just scrum but right around the park.
"You get that direct transition into scrum. Those heavy lifts during the week, there is a correlation between that and my scrum.
"I'm probably doing an extra two weight sessions a week. I try and lift four to five times a week, plus a game. That's probably the major change in my training."
Four or five weights sessions a week sounds like a huge amount and it's certainly more than most players get through but Kilcoyne has found the increased workload actually helps him to train and perform better.
"I just felt on a Sunday after a game on Saturday, the way the game is gone, props might only play 50 or 60 minutes," said Kilcoyne.
Dan Sheridan / INPHO Kilcoyne has been lifting more weights than ever. Dan Sheridan / INPHO / INPHO
"I felt that Sunday might be an opportunity to go in and do a weights session, to go in and get an early lift in the week. That's an extra session done before the week even starts. I'd generally lift on my day off as well so that's two weight sessions added on to your weekly schedule.
"I just saw a window there that I can maximise. I have my own beliefs about over-training. I believe you can either under-recover or under-eat but I don't believe you can over-train. I know some S&Cs [strength and conditioning coaches] and others will disagree but that is my own belief."
It's easy to imagine Munster and Ireland's strength and conditioning teams showing concern when Kilcoyne told them he'd be adding in two extra weights sessions to his workload, but the Limerick man says there's been understanding.
"I'm 29 years of age, I'll be 30 in December and you've got to know your own body.
"Certain things work for certain people, I find that the more weights I do, the better I find I play and the better I feel. Every player is different, I think.
"It's been controlled, it's not being silly.
"Going in on a Sunday, I suppose the worst thing I find that I can do on a Sunday is if you just stay at home on the couch or if you're just not really recovering. So I think actually getting moving on a Sunday is the best thing.
"I go into Castletroy Park and I generally would go for a swim, get moving, do some body movement stuff and then I do my lift then, and then I actually feel way better on the Monday for training, so I feel like I've gotten rid of the soreness and the cobwebs from the Saturday and I'm ready to attack the week on a Monday."
Dan Sheridan / INPHO Kilcoyne and Finlay Bealham make a big tackle against Italy. Dan Sheridan / INPHO / INPHO
Kilcoyne has been paying even more attention to what he's been eating since last season too, with the combined result being a change in his body composition.
"I haven't trimmed down but I've definitely put on some lean muscle. I'm probably around the same weight but I had a big swing in my Dexa scan the last time," says Kilcoyne.
"I think I've put on three kilos of lean muscle and lost three kilos of body fat. I've probably improved since. I had also changed my diet a lot. I was kinda nearly on a ketogenic diet or as close as I could be for pre-season and then as games started to ramp up, just for energy and trying to put on weight, I started increasing the carbs. So I have just found a diet that works for me at the moment.
"I had been in really good form in those autumn games [last season] and then I picked up an injury coming into the Six Nations and I probably tried to put on weight too quickly to get back for the Six Nations last year and I did it the wrong way and I thought it affected my game at the end of the season.
"I wasn't too happy just with how I was playing and then I had a great chat with Joe during the Australia tour and went away and did some self-analysis, stripped down everything. I identified areas of my life where I could improve on – extra weights and my diet were the two areas I landed on."
Having impressed off the bench against Italy in Chicago earlier this month, Kilcoyne was frustrated to have to watch the wins over Argentina and the All Blacks as a supporter.
There was an obvious delight for his team-mates last weekend but envy was among the strongest feelings and the former Ardscoil Rís student is keen to make his point this weekend against the US.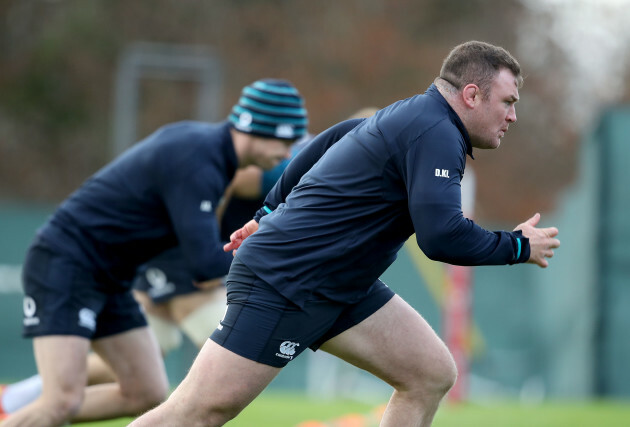 Dan Sheridan / INPHO Kilcoyne turns 30 next month. Dan Sheridan / INPHO / INPHO
"This is the hungriest I've ever been in my career," says Kilcoyne.
"Part of a winning team that's beaten the All Blacks, you're up there with the best teams in the world if you're playing in that team so that just drives the hunger more and more.
"If I'm lucky enough to be selected this week I'd love to show what I can do within the system."
Subscribe to our new podcast, Heineken Rugby Weekly on The42, here: