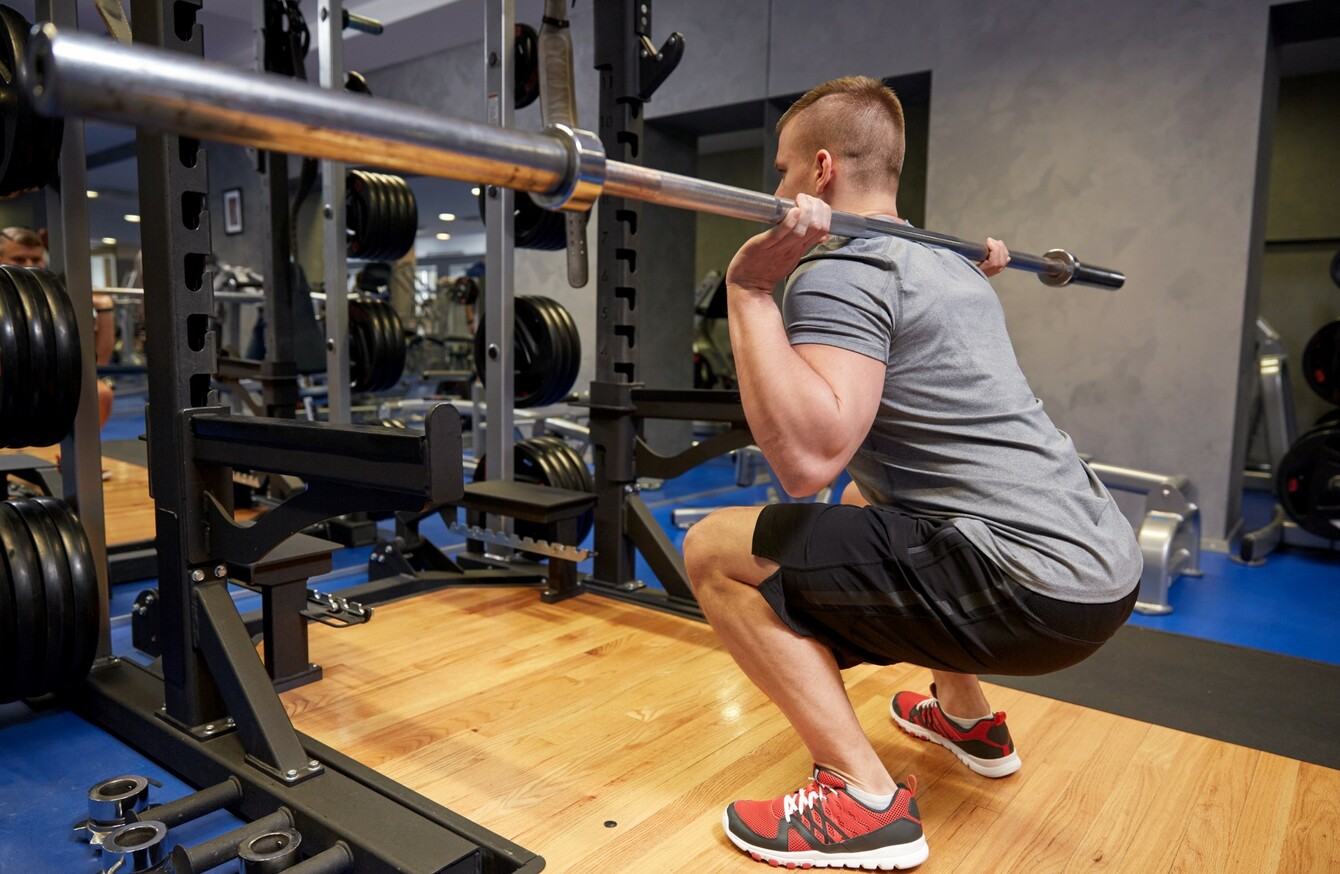 Image: Shutterstock/Syda Productions
Image: Shutterstock/Syda Productions
IN A PREVIOUS article I mentioned the importance of focusing on the basics so that you build a strong base from which you can work from.
I regularly see a lot of clueless people on the gym floor; they're unsure where to start when it comes to training programmes and often end up just jumping on the nearest cross trainer.
In that same article you will find videos with warm-up advice and I've demonstrated a handful of exercises with a focus on technique.
Once you have read that article, watched the videos and worked on those exercises, I suggest you consider these five movements which I feel are excellent for gym programmes.
1. Squat
This is the king of all exercises and something everyone should be working on, whether it's a basic air squat or a heavy front squat.
If I only had to choose one exercise for most people to do, it would be this movement. There isn't a better exercise for the development of full-body strength, improving core strength and lower-body muscle development.
Start by working on the basic air squat and once you get that movement right you can advance.
There are many variations of the squat. Generally I start my clients with an air squat before progressing to a goblet squat and then to the barbell back or front squat.
All the usual set-up rules apply for the exercises: assuming the correct stance, bracing yourself before you descend into the bottom of the squat, keeping the back tight, sending your knees out and sitting your weight into your heels, with the aim of breaking parallel once your mobility allows.
If you're struggling to reach that point you need to work on your mobility every day; on issues such as tight ankles, calves, or hip flexors.
Once you have mastered the basic air squat technique, which can be seen here, then you should work towards adding an extra load to a goblet or barbell back squat, as seen below.
Source: David Last/YouTube
2. Deadlift
I'm also a huge fan of this compound exercise — it's another great movement you need in your gym programme.
I always recommend clients to pull from the floor at least once a week.
There are many variations of the exercise, including the kettlebell deadlift, straight bar and the hex bar deadlift.
I use the hex bar myself and with 80% of my clients, while the other 20% use a straight bar as they have great range of motion in their hamstrings which allows them to pull from the floor in that position.
The deadlift is a super posterior chain exercise which improves overall strength. Being able to pull a heavy weight from the floor also provides an excellent confidence boost.
A good set-up involves getting your feet under your hips with your toes pointing forwards. Hinge at the hip as you sit into the bottom position, keeping your back flat, chest up and your head in a neutral position.
I sometimes hear of people complaining of lower back pain after deadlifting. This could be down to something as simple as not bracing yourself before you set up, poor technique, going too heavy, or perhaps you should be using a hex bar as you're not mobile enough to find the correct position at the bottom of a straight bar.
You can see an example of a hex bar deadlift below.
Source: David Last/YouTube
3. Pull-up/Chin-up
This is another classic exercise that everybody has the ability to work towards. And when you do eventually hit your first chin-up or pull-up it's a pretty good feeling.
For most this movement will take time to build towards. The majority of us can't just rock up to a bar and hammer out full, strict chin-ups or pull-ups for multiple reps.
We all need to start somewhere though and I generally recommend working on basic things like ring rows, single-arm rows, hanging from a bar or negative chin/pulls-up, which you can see a client of mine perform below.
Source: David Last/YouTube
4. Overhead pressing
In the previous article mentioned above I highlighted the importance of working on push-ups and doing them right.
In that video I covered all different progressions of push-ups, from beginners to advanced, and I hope those tips helped you out.
Moving on from the push-up I would like to see at least one other form of pressing movement in a gym programme. This could be anything from a standing barbell overhead press to a favourite of mine, the kneeling barbell/dumbell single-arm press.
SEE SPORT
DIFFERENTLY
Get closer to the stories that matter with exclusive analysis, insight and debate in The42 Membership.
Become a Member
5. Core/carry movements
This list of exercises is endless but here are two drills that I would certainly have in my programme:
Farmer carries
This is an exercise I rarely see performed anymore in most mainstream gyms.
At our gym, we include some form of weighted carry in almost every workout, so I am used to seeing people do them.
It doesn't matter what your goals are, the loaded carry has benefits for everyone. It's an excellent all-round exercise for improving your grip strength, increasing shoulder health and a superb drill for engaging and working on your core.
Pallof press
This is also a really good exercise to have in your workout for developing and improving your core strength and a drill that forces you to learn how to brace better.
All you need is a basic, medium resistance band.
If you are a golfer, tennis player or any other rotational sports person that needs a strong core then I would highly suggest you incorporate this exercise in your programme.
Source: David Last/YouTube
I hope you've found this information useful and if you need any more advice just pop me a message. You can also see more advice on my social media pages, which are linked below.
David Last is a personal trainer based in Dublin. For more information you can follow him on Facebook, Instagram and Twitter. Or you can send me a direct message here.
The42 is on Snapchat! Tap the button below on your phone to add!