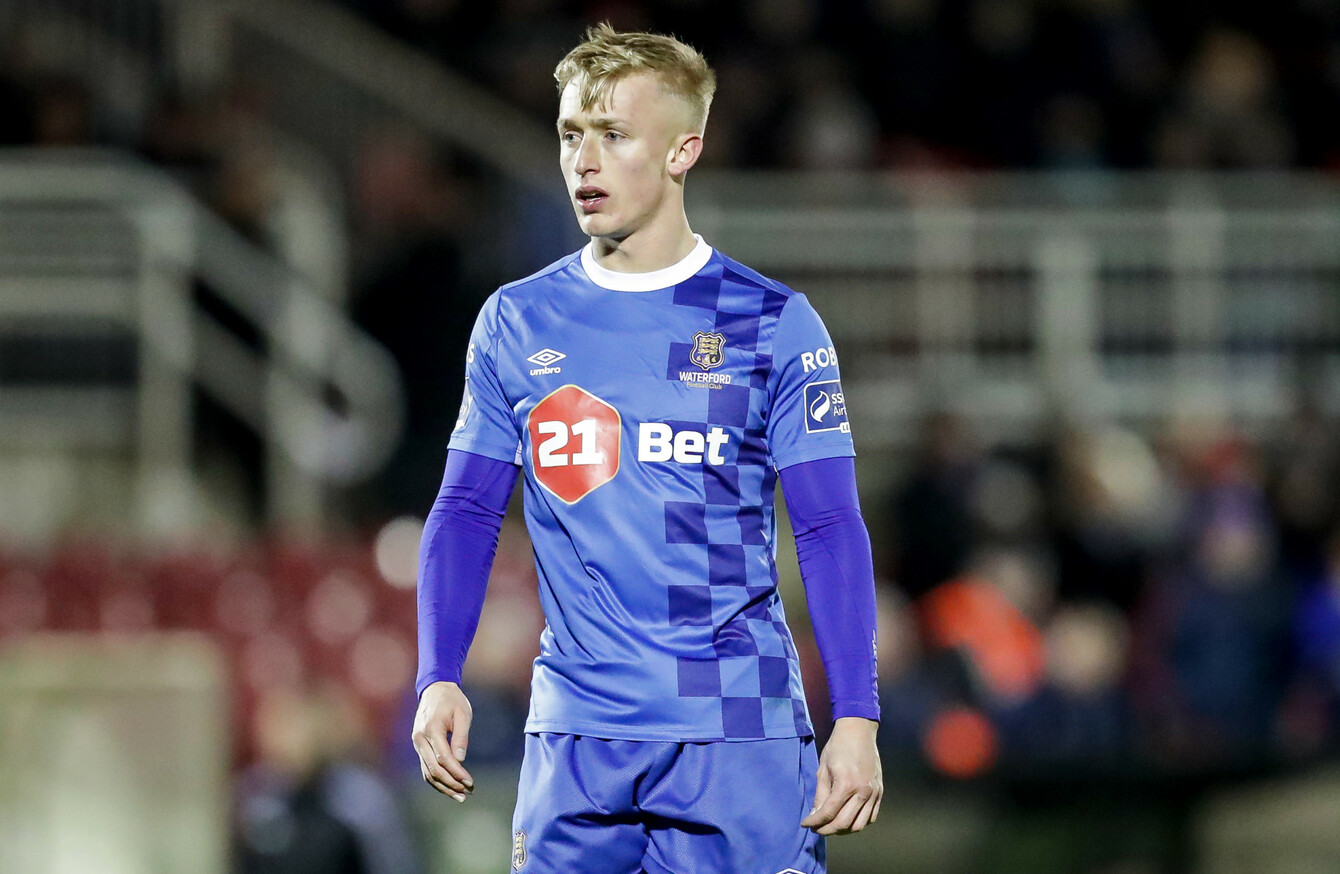 Dean O'Halloran pictured competing for Waterford.
Image: Laszlo Geczo/INPHO
Dean O'Halloran pictured competing for Waterford.
Image: Laszlo Geczo/INPHO
DEAN O'HALLORAN REMEMBERS the two fixtures well and thinks of them as a career highlight to this day.
Not long after the Cottagers had won the U18 Premier League, O'Halloran was part of the side that reached the FA Youth Cup final.
The hosts were 1-0 down in the first leg at Craven Cottage against a hotly tipped Chelsea team when O'Halloran was introduced off the bench just after the hour mark.
He helped his team turn the game around and go 3-1 up, before Charly Musonda's late goal gave the visitors hope ahead of the second leg.
O'Halloran did well enough to start the next match and produced a brilliant cross for the opening goal that saw Fulham go 4-2 up on aggregate.
Yet it was crazy game that Chelsea ended up winning 5-3 on the night, prevailing 7-6 on aggregate as a result.
While it may have ended in disappointment, O'Halloran looks back on the occasion fondly. He was certainly in good company.
Among his team-mates that day were Moussa Dembele and Patrick Roberts, who have since gone on to impress with Celtic.
Their opponents' line-up, meanwhile, included Andreas Christensen, Ruben Loftus-Cheek and Dominic Solanke, who have subsequently all played first-team football with Chelsea, Crystal Palace and Liverpool respectively.
For a young lad from Waterford who had moved over to England a little over two years earlier, it represented significant progress to be sharing a stage with some of the best prospects in European football.
O'Halloran had previously impressed with local side Southend United, having made the difficult decision to choose soccer over his other passion growing up, GAA.
"I played for De La Salle and I was quite good at it, I was going to play for the U14 Waterford [GAA] team, but I had to give it up," he tells The42.
"It was getting too intense, going on trials and you're under pressure to go train and that sort of stuff, so I made a choice to stick to the football.
[Picking between the two] was kind of disheartening, because I grew up playing hurling and all my friends were up there, but to make a mature decision at that age, career-wise, it's tough. It took my parents to speak to me and explain there's no real career in hurling, so you have to work alongside it, whereas football could be your job
"It was easy in the end and I'm delighted I've made that decision."
O'Halloran is not the only member of the family with a sporting background.
His cousins, Pauric and Philip Mahony, have both represented Waterford in GAA, while his grand uncle, Billy Howlett, was part of the Waterford soccer team in the 1960s. He was on the verge of a move to Aston Villa, before tragically dying from stomach cancer in his early 20s.
It was one of the reasons O'Halloran will have felt immensely proud that he was able to do what Howlett likely dreamed of by securing a move to England just as he turned 16 in early 2012. And while signing with Fulham was something the teenage starlet had worked hard to achieve, like many aspiring footballers abroad, homesickness was an issue initially.
Source: The Emirates FA Cup/YouTube
He was not the only young Irish lad at the London club though, as he at various points played alongside Sean Kavanagh and Daniel O'Reilly, now of Shamrock Rovers and Longford Town respectively.
"The start, six months or a year or so [was hard]. Getting used to not going home and if you do come home, it's only for a night or two nights," he recalls.
For the first year, Patrick Roberts was playing on the right wing, so I was only coming on for him. When I moved up in age then, I actually started in the team with Patrick and Moussa [Dembele].
After making good initial progress, O'Halloran felt his career stalling and with a first-team spot still seemingly far off, he made the difficult decision to come home after a couple of bittersweet years in Britain.
"I was captain of the reserve team and playing every week, but it got to the stage where there was a gap between playing reserve football and playing in the first team.
"I got an injury, it just fizzled out and I thought it was the right decision to come home and find my feet.
"There's that sort of stereotype, people are like 'it's the League of Ireland,' but when you look at the lower leagues in England and you watch football [here], there's not much between it, the higher end of the League of Ireland could possibly play Championship or League One."
O'Halloran has been encouraged by players like Sean Maguire, who return home after a difficult spell in England, do well domestically, and ultimately get a second crack at British football, better prepared for the rigours of first-team games.
The Waterford native has certainly had to toughen up since returning to Ireland, owing to the increased physicality of the football compared to what he had become accustomed to.
"Not that there's more pressure on you, but you're playing against men and it's a lot more physical," he says.
When you're playing in academies in England, it's more standoff-ish and you can play, there's a better quality of player in that sense, but it's a lot more hands-on in the League of Ireland."
Having joined Bohemians initially, the following season O'Halloran linked up with his hometown club and was part of their successful promotion-winning campaign in 2017.
"When I was about six or seven, going down to Waterford United games at the time when they got to the FAI Cup final and lost it [against Longford in 2004] — that'd be my first memory.
"But then as I got into my teens, it wasn't really a realistic thing [to sign for them], because the club wasn't doing so well. I had been playing for the international team at U15 and U16 level, so I was looking away to England.
"When I decided that I wanted to come home from England, still even at that stage, they'd just been beaten 8-1 by UCD.
"I wanted to go somewhere [where the team] was half decent. I signed for Bohs and at the end of that season, I got a phone call saying: 'The club is after being taken over, would you be interested in meeting with the owner?' So I went down and here we are today."
There have been setbacks since then — last year, O'Halloran missed a considerable chunk of the season after suffering a knee injury.
The 22-year-old hasn't always been first choice this season, playing in 12 of his side's 20 fixtures thus far.
"Of course there's a bit of frustration, but that's football at the end of the day," he adds. "You need to keep your head and when the team's doing well, it doesn't really make a difference. It obviously makes a difference personally, but it's kind of a bonus, when the team's doing really well, you're not too frustrated.
Be part
of the team
Access exclusive podcasts, interviews and analysis with a monthly or annual membership.
Become a Member
"I've been speaking with Reyny [Alan Reynolds] and it's clear where I'm at, so hopefully I can push on now towards the end of the season and get in [to the team] more."
But despite the occasional disappointment, representing Waterford has been a positive experience overall. O'Halloran has been part of a side that has exceeded expectations, climbing to third place in the table this season and earning memorable triumphs against the 'big two' of Dundalk and Cork City (they travel to face the latter again tonight).
O'Halloran also scored the winner as the Blues earned a morale-boosting three points at the expense of Derry City on the opening day of the season and after a difficult recent five-game winless run, another victory over the Candystripes last Friday restored the feel-good atmosphere at the Regional Sports Centre.
And while things have been going pretty well on the pitch, there was a sense of shock off it, amid last weekend's news that manager Alan Reynolds had been hospitalised, suffering facial injuries and a suspected broken leg, after what the club described as an "unprovoked attack".
"We haven't seen him but we've been speaking to him over the past few days and he's in good form," O'Halloran says.
"The coaching staff have been in touch as well and he wants to keep up to date with what's going on, keeping as involved as possible, laughing and joking.
Paul Cashin, one of our staff, said the first thing [Reynolds] said was wondering what was going on and planning out the week for us. So he's trying to keep as involved as possible."
It's no surprise to hear that Reynolds is reluctant to spend time away from work, as it's been an eventful few days, with confirmation last night that ex-Ireland international Noel Hunt is joining the club as player/assistant coach.
It is the latest in a series of impressive recruitments, as Waterford — with the help of owner Lee Power, who took charge of the club prior to the 2017 season — bid to break the stranglehold that Dundalk and Cork have had over the league in recent times.
In addition, this year marks the 45th anniversary of Waterford's last title triumph, but O'Halloran believes his club have the potential to end this long wait for the illustrious prize.
I don't think we're that far off. If we get through this season and finish in the top three, next season we'll have a year of experience under our belt, add a couple of players and push for the top two.
"We beat Dundalk, obviously they beat us [as well], we beat Cork twice, they beat us, so if we can [avoid] all the poor results against the bottom-half-of-the-table teams, I think we could challenge for the title."
Premier Division fixtures:
First Division fixtures:
The42 is on Instagram! Tap the button below on your phone to follow us!