IT'S HARD TO believe that this time 12 months ago, Declan Rice was still a relative unknown.
Unless you were paying close attention to the Ireland or West Ham youth set-ups, the London-born player is unlikely to have come on the average fan's radar.
At last year's FAI Awards, he was named U17 Player of the Year. At the same event on Sunday, he picked up the U19 equivalent accolade. If his meteoric rise continues, then Ireland may not be required to give their Senior International Young Player of the Year award to a 25-year-old next time around.
Rice, who turned 19 in January, made his Premier League debut for West Ham against Burnley as a late substitute on the final day of last season.
Just days later, he was called up to train with the Irish senior squad, and his excitement at the prospect of playing international football seemed genuine.
[West Ham underage coach] Terry Westley called me and I was sat at home and just couldn't believe it when he said Martin O'Neill had called him up to say he wants me to go to the training camp," he told

West Ham's official website

. "My heart was pounding and I was thinking 'Is this true?'"
Since then, Rice has continued to progress at a steady rate. He has made 23 appearances in all competitions for West Ham's senior side this season, including seven Premier League starts. He was particularly impressive at Wembley last January, keeping Tottenham star Harry Kane quiet as his club emerged with an unlikely 1-1 draw.
Perhaps wary of losing him to a bigger team, recent reports have indicated Rice — who is widely considered as one of the best young players in England for his age group — is set to be offered a significant wage increase by the Hammers.
In addition, what was striking when speaking to Rice at last week's awards ceremony in RTÉ was that despite his tender years, he seemed just as at ease answering queries and engaging with journalists as he frequently looks on a football pitch.
He responded to his inquisitors in the media with a smile and a coolness not always associated with teenage footballers.
Rice has been playing for Ireland since U16 level, having been recruited by the FAI's English-based scout Mark O'Toole, who the player has in the past described a being akin to "a father-figure".
Disappointing past experiences involving others have created a heightened sense of paranoia with regard to English-born players and their supposed allegiances (or lack thereof) to Ireland. But amid rumours that Gareth Southgate was monitoring his progress, Rice was happy to reaffirm his commitment to Ireland last Sunday and dismiss suggestions that he could perform a Jack Grealish-esque u-turn.
And Friday night, on his international debut against Turkey, competing alongside a group of footballers he barely knew and never played with before, Rice produced an eye-catching man-of-the-match display. His proud father was there watching on, as he is for most of his son's matches.
Wasn't the result we wanted tonight.. but on a personal level delighted to have picked up man of the match on my debut💚☘️. Very proud moment for me & my family. Big love to my dad who came all the way out to come and watch, love you❤👏 #COYBIG pic.twitter.com/Ic8S9epKBi

— Declan Rice (@_DeclanRice) March 23, 2018
And it perhaps said as much about Irish football's current problems as it did Rice's maturity that the teenager was the team's most assured presence on the field in Antalya.
The plaudits predictably came in abundance afterwards. On RTÉ, a former defensive great, Richard Dunne, described his performance as a "huge plus" for Ireland.
Manager Martin O'Neill described the display as "excellent," while captain Seamus Coleman tellingly added: "A few of us could have taken a leaf out of his book today." Rice himself hailed a "special" evening.
One common theme looking through this Irish squad is players who have overcome adversity or at least difficult situations over the course of their career. James McClean spent a couple of seasons in the League of Ireland before getting his big move to Sunderland. Jon Walters has played in all four top divisions in England. Harry Arter had a stint in non-league. Sean Maguire, at his lowest ebb, admits he even considered quitting football.
Rice's rise to the top may look seamless from the outside, but he too has gone through periods of real struggle.
"I was released by Chelsea at 14 years old," he told Sky Sports back in January.
"I remember it, a Tuesday night. On the Wednesday I was training with Fulham, five minutes from my house, and then on the Thursday I was training with West Ham.
"After one session at both clubs they both wanted me. There was interest from other clubs as well but I made the switch to West Ham.
"I had to change house, change school, so it was a massive decision — and it's paid off.
When Chelsea let me go it was really deflating. For me, as a youngster, it's all I ever knew — living 10 minutes from the training ground, going to loads of the games.
"It's one of those where you've just got to pick yourself up and go again.
"I think some of the boys at Chelsea might be thinking 'wow! Look at Dec doing well for West Ham.'"
Even the best players in the history of Irish football have had turbulent journeys to the top. A teenage Roy Keane was told he was too small and was required to revive a flagging career by joining Cobh Ramblers. Liam Brady was punished at school for his preference of soccer ahead of GAA. John Giles was let go by Manchester United as a youngster and sold to a Leeds team that were not even in the English top flight at the time.
Of course Rice, who qualifies for the Boys in Green through his Cork-born grandparents, has a very long way to go before he can even dream of emulating those heroes of Irish football.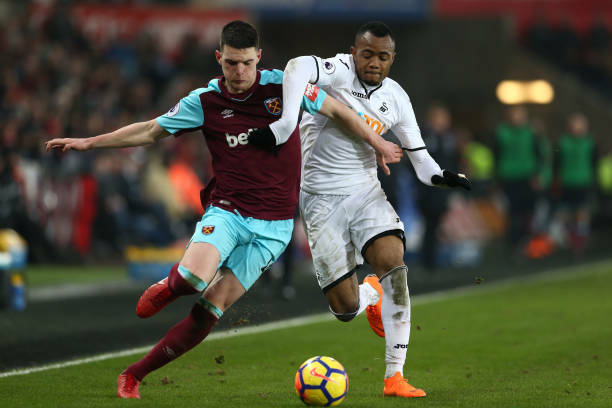 Getty Images Rice has made 23 appearances in all competitions for West Ham this season. Getty Images
However, the starlet's potential is clear and has seen him draw comparisons to both Rio Ferdinand and his idol and friend John Terry by various admirers at underage level.
Rice's astute reading of the game makes the player a natural at centre-back, the position he only took up at U18 level, while his energy and comfort on the ball enables him to be similarly adept in midfield, where he played for the final 20 minutes in the New Antalya Stadium last night.
Needless to say, footballers of similar talent have gone off the rails in the past and Rice has only begun to justify the hype surrounding him.
But it takes considerable resilience and self-belief as well as ability to merely emerge from the notoriously cutthroat world of English youth football and play with such consistency amid the pressure-cooker environment of the Premier League.
If Rice can avoid injury and complacency, he has all the credentials to be a top player both at club level and with the Irish team for many years to come.
Yet before this potential footballing stardom arrives, a reminder that Rice hasn't made it yet — after the dream debut at senior level, he will be brought back down to earth to a degree on Tuesday, competing in the relatively modest surroundings of Tallaght Stadium in front of a few thousand people for Ireland U21s against Azerbaijan.
Rice, though, gives the impression he is well aware that nothing can be taken for granted in the game. The youngster's reaction after making his Premier League debut is equally applicable now: "My feet are always on the ground," he said. "I know today is only a tiny step in my career."
The42 is on Instagram! Tap the button below on your phone to follow us!