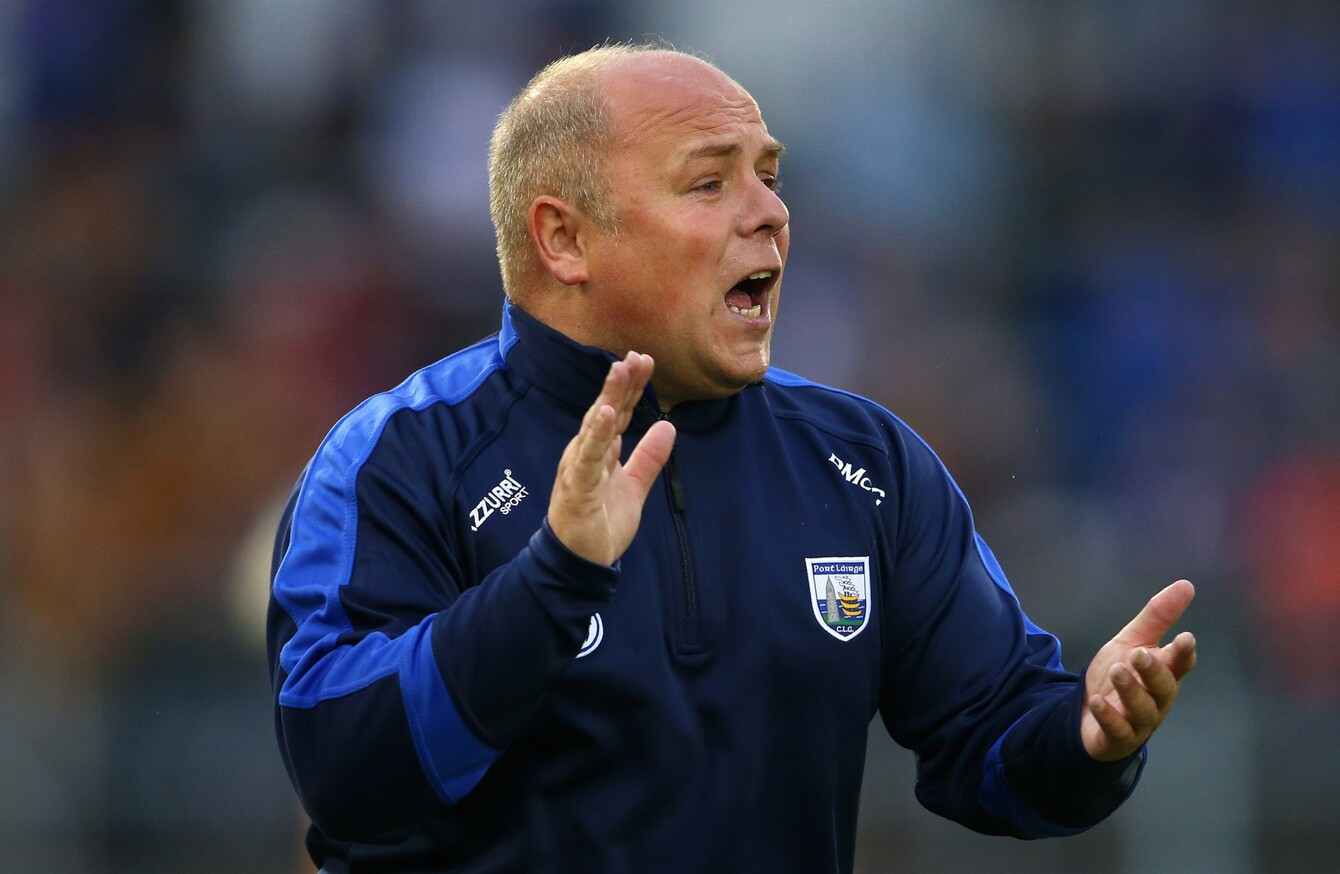 Waterford hurling manager Derek McGrath.
Image: Cathal Noonan/INPHO
Waterford hurling manager Derek McGrath.
Image: Cathal Noonan/INPHO
IN THE WEEK after St Patrick's Day, Derek McGrath had revealed that he extended his parental leave from his teaching position in De La Salle in Waterford.
The reason was plain and simple. His role as Waterford senior hurling boss was consuming so much of his time that he felt he was neglecting his day job.
McGrath has opted to pour all his energies into aiding g the fortunes of the Waterford hurlers.
His decision prompted plenty talk about GAA inter-county managers juggling professional and sporting commitments.
That may not have been McGrath's intention but he feels it's a healthy consequence.
"I suppose I acted as a catalyst for a debate about paid managers but I didn't actually say they should be paid," stated McGrath at last night's Munster championship launch at Muckross House in Killarney.
"I said it might clear up ambiguity about it, I didn't say they should be (paid).
"I knew leaving Croke Park that day – I wouldn't say that I'd made a mistake, but I'd probably been too candid.
"I was just being myself, so if you make a mistake being yourself, that's alright then. My personality was such that I wasn't performing well in the classroom. In my school my commitment is to the kids, all or nothing, and I mean that not in an overpowering way, but I have a great commitment to those kids and that school.
"I went there in 1989 as the only student from St Saviour's Ballybeg, so I have a massive commitment and emotional bond with the school – and I wasn't doing my job properly.
"I was doing it okay but not properly. I think others are probably better switching off from hurling, but it sparked a huge debate. Maybe that's healthy as well."
McGrath insisted he received no negative feedback from the school.
"No, I've received nothing but support from the school.
"I probably failed to mention the fact that parental leave is ultimately for looking after your children as well, that's a prerequisite of parental leave.
"I got no ticking off from the school – nothing but support from the principal, Margaret Betts, nothing but texts before matches.
"As I said, the sustainability of it is questionable but I'm determined to enjoy the championship."
The championship model that McGrath is currently preparing for, could be radically altered if new proposals are brought on board.
" Looking at the changes, I welcome them, I have to say," says McGrath.
"I've been championing that from a year ago, or an alteration to the league set-up.
"Clearly the Munster and Leinster Councils still retain power, if you like, but the two home and two away games would be welcome.
"Speaking to some players yesterday, I could possibly see a dilution of the league. If the league came to January-February, and then you shut down March and April for the clubs, then the championship begins.
"I'm not sure if that's the definitive calendar, and I don't know how provincial officials would feel about it, but in my own head that's how the calendar would be.
"When it comes to club fixtures, the reality is that the fourth or fifth teams could be finished in mid-June, I'd say, by the sound of the proposals. In that case your club championship would run fairly well.
"I'd have faith in the hurling committee. I don't think they're reactionary but that those were their proposals anyway, it's just the football structure has probably accelerated them drawing up those plans."
The42 is on Instagram! Tap the button below on your phone to follow us!