Liveblog
Afternoon all and welcome to our coverage of today's All-Ireland senior football final.
The minor decider between Kerry and Galway is currently underway with the five-in-a-row chasing Kingdom 0-13 to 1-9 ahead after 44 minutes.
Then our attention will turn to the big game at 3.30pm as Tyrone look to upset the apple-cart and consign Dublin to a first championship defeat in over four years.
Here's how the sides are named to start:
Dublin
1. Stephen Cluxton (Parnell's)
2. Philly McMahon (Ballymun Kickhams)
3. Cian O'Sullivan (Kilmacud Crokes)
4. Eoin Murchan (Na Fianna)
5. John Small (Ballymun Kickhams)
6. Jonny Cooper (Na Fianna)
7. Jack McCaffrey (Clontarf)
8. Brian Fenton (Raheny)
9. James McCarthy (Ballymun Kickhams)
10. Niall Scully (Templeogue Synge Street)
11. Con O'Callaghan (Cuala)
12. Brian Howard (Raheny)
13. Paul Mannion (Kilmacud Crokes)
14. Ciaran Kilkenny (Castleknock)
15. Dean Rock (Ballymun)
Tyrone
1. Niall Morgan (Clonoe)
2. Michael McKernan (Coalisland)
3. Ronan McNamee (Aghyaran)
4. Padraig Hampsey (Coalisland)
5. Tiernan McCann (Killyclogher)
6. Frank Burns (Pomeroy)
7. Peter Harte (Errigal Ciaran)
8. Colm Cavanagh (Moy)
9. Cathal McShane (Eoghan Ruadh)
10. Mattie Donnelly (Trillick)
11. Niall Sludden (Dromore)
12. Kieran McGeary (Pomeroy)
13. Mark Bradley (Killyclogher)
14. Richard Donnelly (Trillick)
15. Connor McAliskey (Clonoe)
Some famous faces arriving at Croke Park for today's game: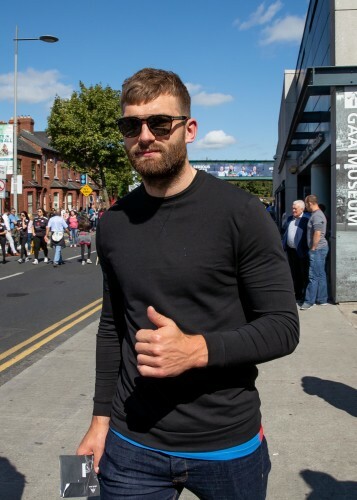 Aidan O'Shea arrives ahead of the game Source: Morgan Treacy/INPHO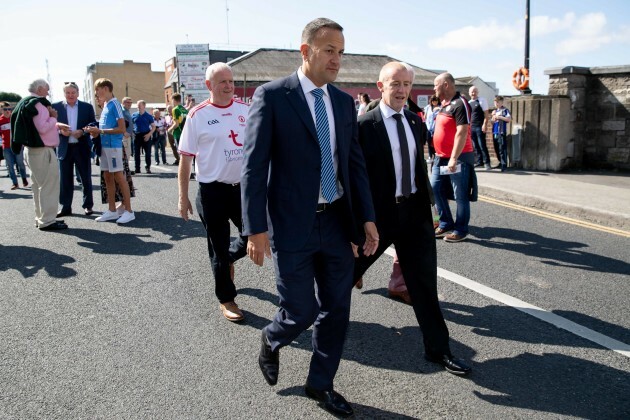 Leo Varadkar arrives at Croke Park Source: Morgan Treacy/INPHO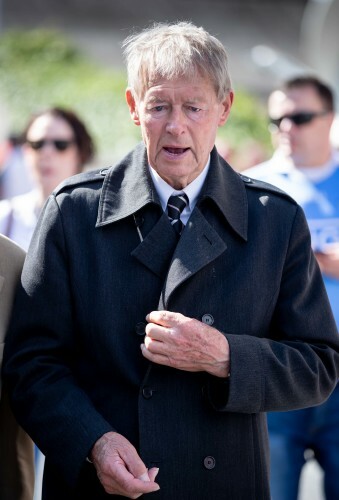 Micheal O'Muircheartaigh entering the venue Source: Morgan Treacy/INPHO
Joe Kernan attending the game Source: Morgan Treacy/INPHO
Jim Bolger is another big name in attendance Source: Morgan Treacy/INPHO
The results of today's poll have been fairly predictable so far.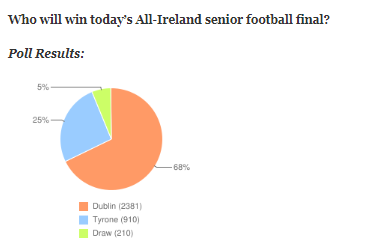 Right, it's prediction time. Who do you fancy to win and by how much?
The latest from the minor final is Kerry 0-16 Galway 1-13 after 58 minutes.
The minor final is over and Kerry are the All-Ireland champions for the fifth time in-a-row. Kerry 0-21 Galway 1-14 - FT
Enjoying their well deserved lap of honour 💚💛 pic.twitter.com/qpsx0PPmdF

— Kerry GAA (@Kerry_Official) September 2, 2018
Here are the Dubs getting off the team bus earlier today. There's no room for Bernard Brogan in the 26-man panel despite his return from a torn cruciate.
Source: Morgan Treacy/INPHO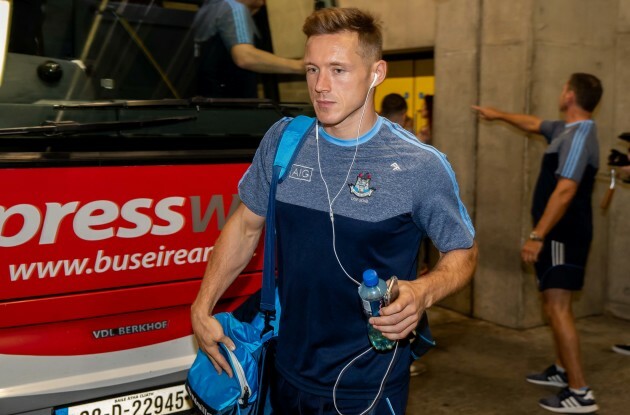 Source: Morgan Treacy/INPHO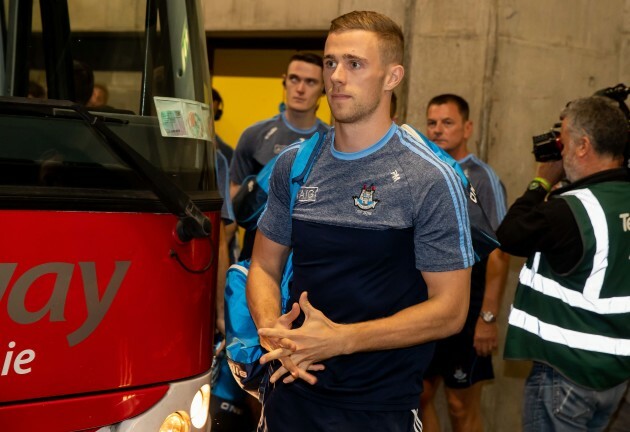 Source: Morgan Treacy/INPHO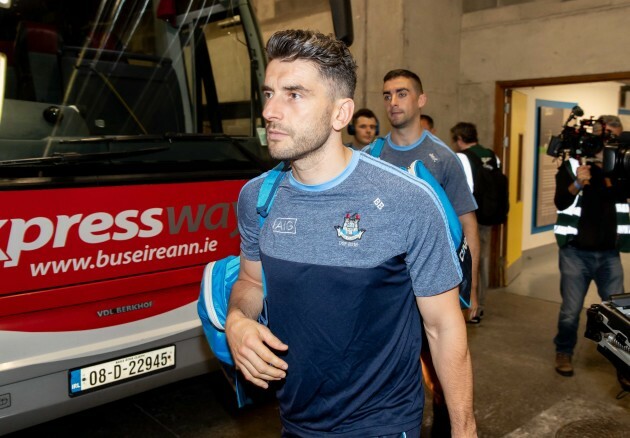 Source: Morgan Treacy/INPHO
Two late changes for Tyrone. Rory Brennan and Conor Meyler come in for Frank Burns and Richard Donnelly. Dublin start as selected.
The anthem is complete and we're underway.
Dublin 0-0 Tyrone 0-0
Early wide from Tyrone as they attack from the throw-in. Tiernan McCann is picking up Ciaran Kilkenny.
Dublin 0-1 Tyrone 0-0
Dean Rock opens up his account with an early free. Kieran McGeary hits a wide for Tyrone at the far end and moments later Colm Cavanagh adds a third wide.
Dublin 0-1 Tyrone 0-0
Philly McMahon kicks Dublin's first wide of the day. Good start to this game.
Dublin 0-1 Tyrone 0-0
Mattie Donnelly takes down Con O'Callaghan and Rock sends a free wide from about 40m.
Dublin 0-1 Tyrone 0-1
Jonny Cooper gives away a free and Harte pops over the placed ball from the right. We're all level.
Dublin 0-1 Tyrone 0-2
Tyrone are in front after a poor kick-out from Cluxton. Mark Bradley sends Tyrone ahead off the left.
Dublin 0-1 Tyrone 0-3
Cluxton sends a second kick-out out over the sideline and Tyrone work it into Bradley, who feeds McCann for a score. Tyrone are rolling now!
Some great images from the crowd in Croke Park. The atmosphere looks electric.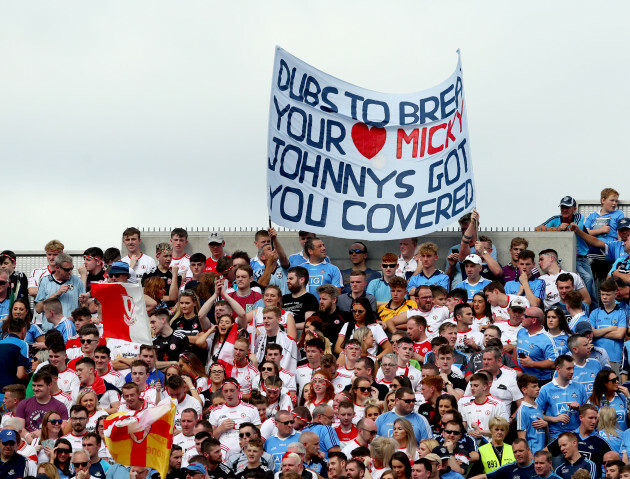 Source: James Crombie/INPHO
Source: James Crombie/INPHO
Dublin 0-1 Tyrone 0-3
Poor miss from John Small in front of the posts. His fellow defender McCaffrey missed one earlier too.
Dublin 0-1 Tyrone 0-3
O'Callaghan is fouled and Rock sends it wide – this one out of the hands. He's had a very poor start to this game from placed balls.
Dublin 0-1 Tyrone 0-4
Connor McAliskey swings over a tricky free for Tyrone's fourth score in-a-row.
Dublin 0-1 Tyrone 0-5
McAliskey with a delightful strike over from outside the right boot. Cracking score.
Dublin 0-2 Tyrone 0-5
Dublin get their first score in almost 18 minutes. McCaffrey drove forward down the left flank and Kilkenny slots it over from distance.
PENALTY! Paul Mannion is fouled in the area!
GOAL! Paul Mannion slots home a penalty for Dublin!
Dublin 1-3 Tyrone 0-5
After all Tyrone's hard work, Dublin are back on level terms. Tiernan McCann was booked for the foul on Mannion. From Niall Morgan's next kick-out, Rock curls one over the bar. Dublin lead by one.
Dublin 1-4 Tyrone 0-5
Rock slots over his third after good work from O'Callaghan.
Dublin 1-4 Tyrone 0-6
Cathal McShane kicks a very important score for Tyrone.
Brilliant block by Cooper to deny Tyrone a scoring chance.
Dublin 1-4 Tyrone 0-6
McCaffrey pops up for a crucial score for Dublin.
Tiernan McCann is booked for the foul on Mannion
Dublin sub: Michael Fitzsimons is in for Cian O'Sullivan, who is struggling with a hamstring injury.
GOAL! Niall Scully hits the net for Dublin's second goal!
Dublin 2-5 Tyrone 0-7
O'Callaghan was heavily involved again as he put the goal on a plate for Scully to palm into the net. Tyrone are in trouble now.
Dublin 2-6 Tyrone 0-6
Dublin show great patience in possession and Kilkenny feeds Rock for a good curled effort.
Hampsey makes a great dispossession on Mannion and Tyrone counter-attack but McGeary kicks it wide. Tyrone's shooting has let them down big time.
Dublin 2-7 Tyrone 0-6
Rock kicks another free. Tyrone haven't scored in the last 14 minutes and Niall Morgan's kick-outs are not working.
Peter Harte raised an arm to John Small who went down like he was shot. Harte gets away without a card.
Dublin 2-7 Tyrone 0-6 – HT
"In the space of three minutes, three bad kickouts lead to 1-3. Game over" - Pat Spillane praises Tyrone for taking the game to Dublin but says the reigning champions showed great composure to take charge #DUBvTYR #GAA pic.twitter.com/2RSxEp7UaM

— The Sunday Game (@TheSundayGame) September 2, 2018
Dublin 2-7 Tyrone 0-7
McCann is heavily involved in a move and McAliskey curls it over.
Dublin 2-87 Tyrone 0-8
Fenton spins and clips over a nice point.
Dublin 2-9 Tyrone 0-8
Brian Howard lands a superb score from distance to send Dublin seven in front.
Tyrone sub: Lee Brennan is in for Conor Meyler.
Dublin 2-9 Tyrone 0-9
Peter Harte is fouled and Brennan curls over the free.
Dublin 2-10 Tyrone 0-9
Kilkenny drives forward and slots over a fine score. He's definitely got the better of his match-up with McCann and the Tyrone wing-back isn't driving forward as much as usual.
Dublin 2-10 Tyrone 0-10
Mark Bradley reduces the gap to six, but Tyrone badly need a goal if they're to threaten Dublin's crown.
BLACK! Kieran McGeary gets a black card for a late hit on Brian Fenton.
Dublin 2-11 Tyrone 0-11
Mannion jinks inside and dispatches a fine score over the bar. Tyrone respond immediately through McShane who slots over his second.
Harry Loughran has come in for the black-carded Sludden. He's mad a big impact off the bench in recent games, can he do it again? Meanwhile Bradley kicks a disappointing wide.
Dublin 2-12 Tyrone 0-11
Fenton ghosts into a scoring position and splits the posts. Cormac Costello has come in for Niall Scully as Jim Gavin begins to roll out the finishers. At the far end, Tyrone have half a sight on goal but McShane wastes the chance.
Dublin 2-13 Tyrone 0-11
Costello has shot on goal saved by Morgan. Rock converts the 45.
Tyrone sub: Declan McClure replaces McShane.
Tyrone have sent Colm Cavanagh into full-forward where he is being tracked by Philly McMahon.
Some action from the game: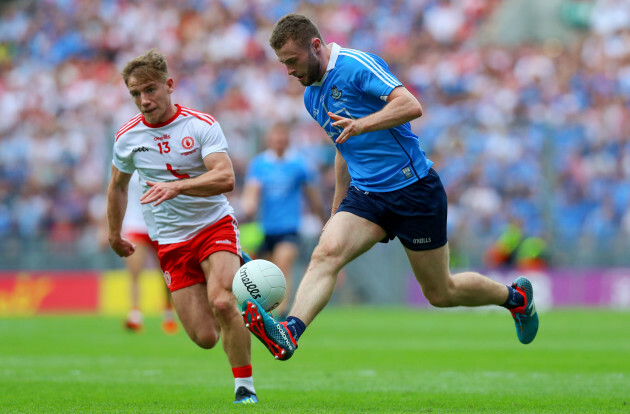 Source: Tommy Dickson/INPHO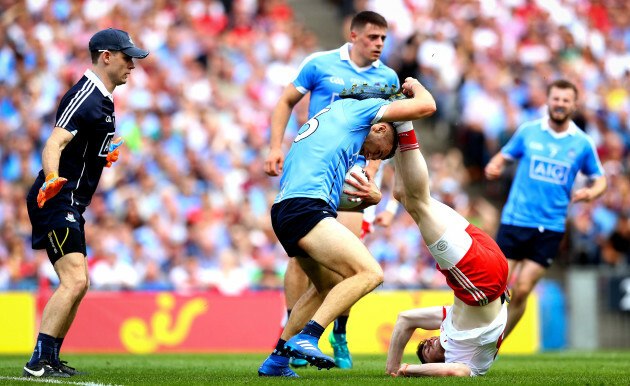 Source: Ryan Byrne/INPHO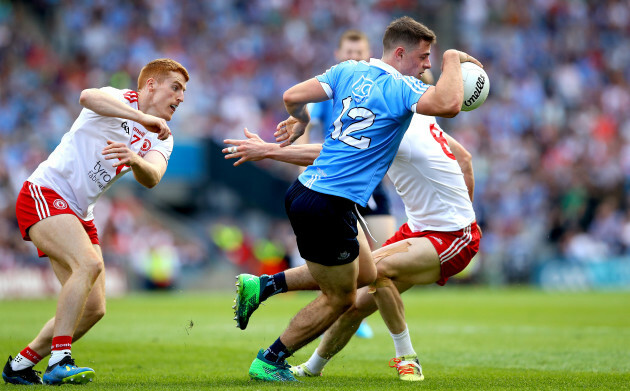 Source: Ryan Byrne/INPHO
Dublin 2-13 Tyrone 0-12
Brennan points a free from close-range.
McCarthy is now picking up Cavanagh at full-back. Tyrone have yet to let a high ball inside.
Dublin 2-14 Tyrone 0-12
Hampsey is booked for a late hit on Cooper and Rock applies the finish from the free. Dublin are coasting to a fourth title in-a-row here. Rock now has 0-7 to his name.
Frank Burns kicks a poor wide after Harte did well to win a free off Fitzsimons.
PENALTY! Philly McMahon drags down Tyrone's Colm Cavanagh!
GOAL! Peter Harte scores a late penalty for Tyrone!
Dublin 2-14 Tyrone 1-12
Harte's spot-kick makes it a five-point game. Can Tyrone launch another few high ones into Cavanagh?
Bad miss by Lee Brennan off his right after a great catch by Richard Donnelly. Good chance gone for Tyrone.
Tyrone are on 15 wides. Can they find another goal?
Dublin 2-14 Tyrone 1-12
Morgan delivers a high ball into Cavanagh which breaks to Harte and he's fouled by Small. We'll have seven minutes of added time.
RED CARD! John Small is dismissed on a second yellow!
Dublin 2-15 Tyrone 1-13
Brennan converts the free. We have a four-point game momentarily but McManamon responds with a point for the Dubs. Five minutes of stoppage-time left.
Dublin 2-15 Tyrone 1-14
Cracking score from Mattie Donnelly reduces the gap to four.
Dublin 2-16 Tyrone 1-14
Kilkenny gives Dublin some breathing space.
Dublin 2-17 Tyrone 1-14 – FT
Dublin are four-in-a-row champions!
The42 is on Instagram! Tap the button below on your phone to follow us!
Contribute to this story: