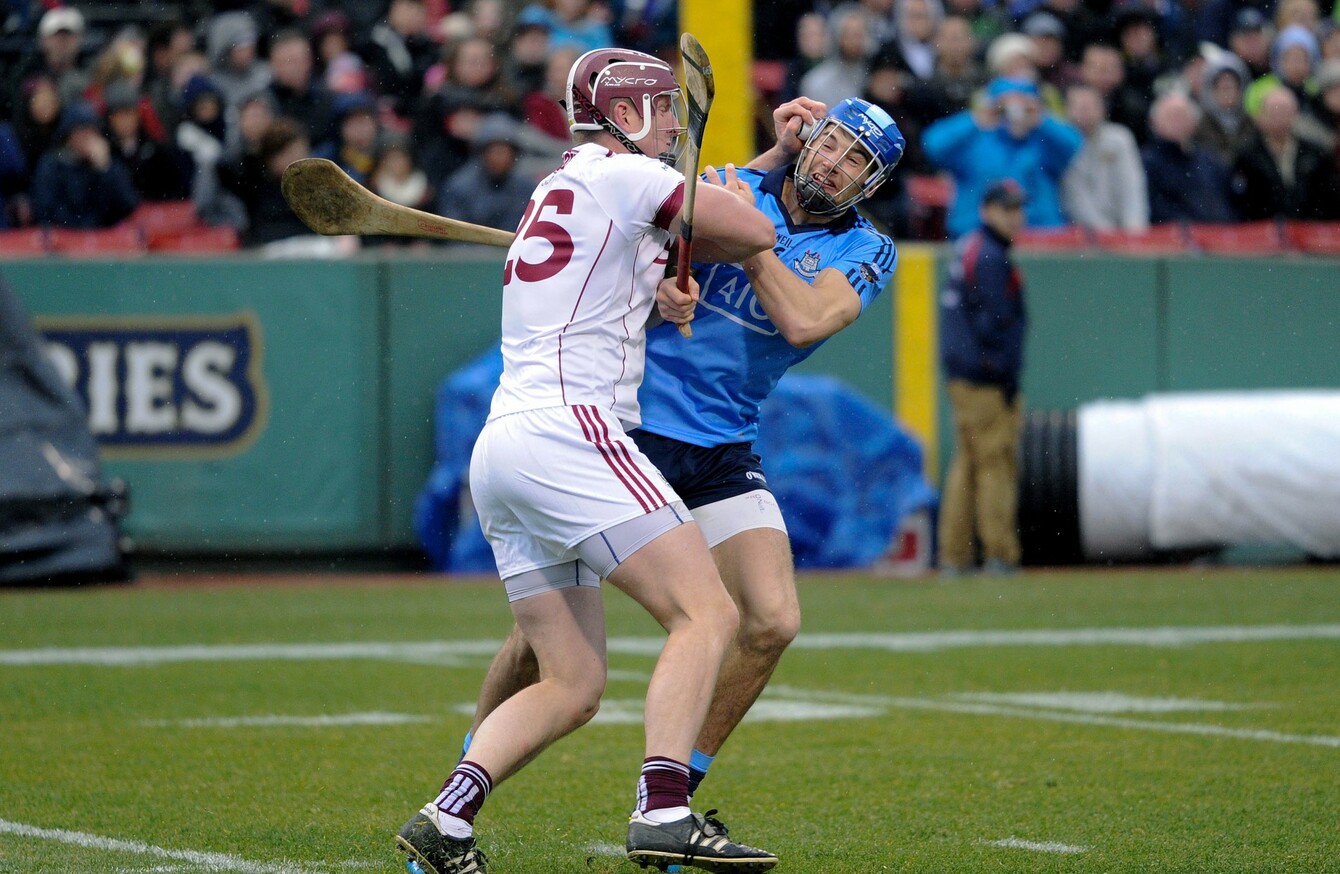 James Skehill and Eamon Dillion take chunks out of each other
Image: Emily Harney/INPHO
James Skehill and Eamon Dillion take chunks out of each other
Image: Emily Harney/INPHO
LAST NIGHT'S FENWAY Hurling Classic in Boston was marred by an unsavoury incident during the first-half of Galway's win over Dublin – and it has people talking on both sides of the Atlantic.
Tempers flared between the two teams during the 'exhibition match' at Fenway Park, leading to a mass brawl at one end of the pitch.
The incident has been described as a "fu#*ng embarrassment" by Monaghan footballer Dick Clerkin while former Kilkenny star Eddie Brennan and Dublin's Conal Keaney weren't left overly impressed.
Three players were shown yellow cards by referee Alan Kelly and Eamon Dunphy believes there is no place in sport for such carry on.
The RTÉ soccer pundit has condemned the scenes in Boston and says if the players wanted to engage in such activity, they should 'go cage fighting'.
Speaking to Game On on 2fm, Dunphy said: "If you want to do that kind of stuff, go cage fighting.
"I never had sympathy for people who didn't have the discipline to play a game and take what you get, take what comes without losing the head.
"Discipline and self-discipline is part of sport and it's part of life. Indiscipline and that kind of stuff is not really what sport is about.
"Rule-breakers in sport are at odds with the spirit of sport.
"Sport is the one place in the whole of life where things are equal and it's a level playing pitch for everybody. It depends on how good you are, how honest you are, how disciplined you are.
"If you bring the real world into sport – in other words, get away with whatever you can, then I don't think that's good for sport and I'm against it."