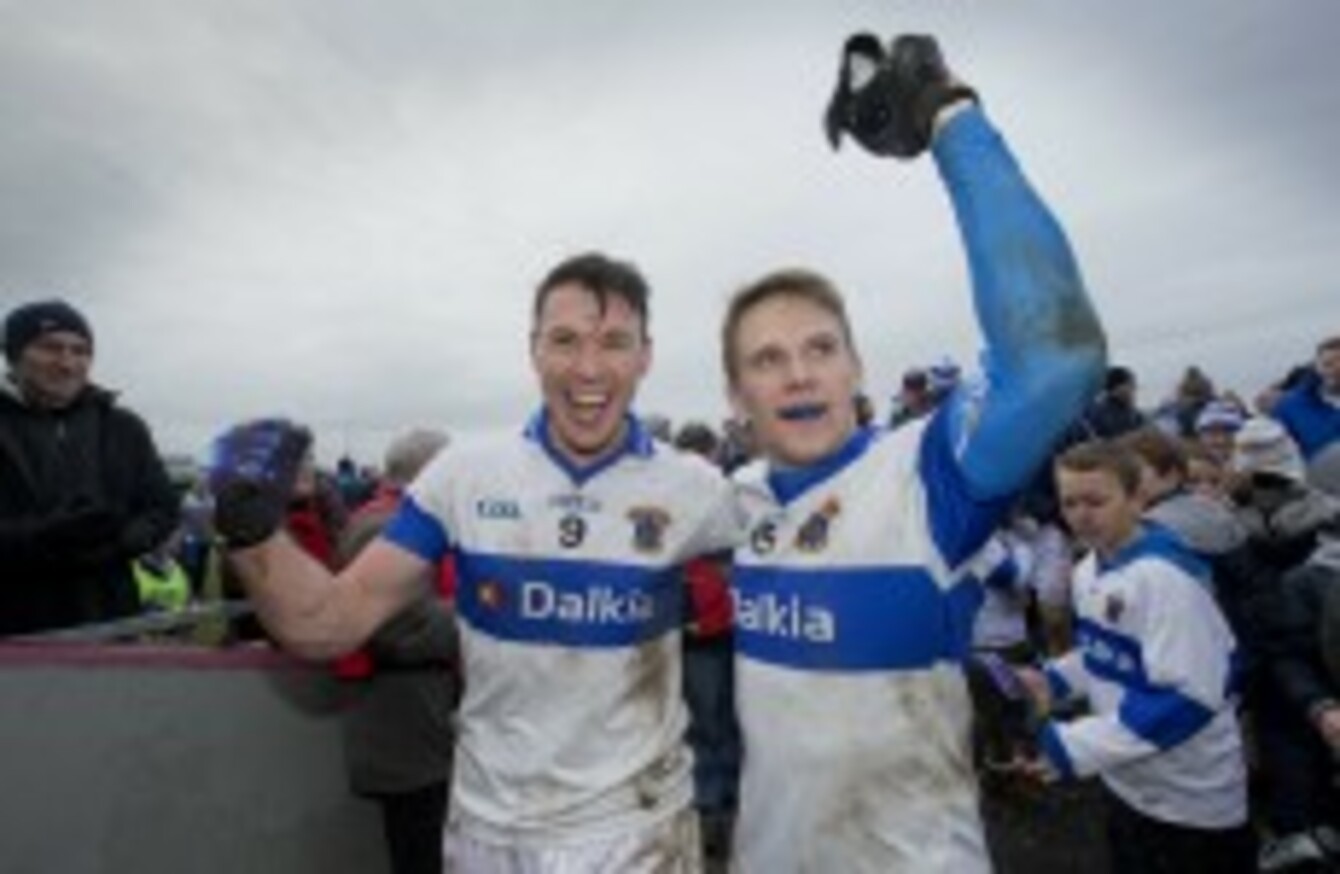 Fennell, left, celebrates with Mossy Quinn after Sunday's quarter-final.
Image: INPHO/Morgan Treacy
Fennell, left, celebrates with Mossy Quinn after Sunday's quarter-final.
Image: INPHO/Morgan Treacy
EAMON FENNELL'S FIRST county title with St Vincent's was particularly sweet.
Now his sights are set on provincial glory.
Fennell's towering performance helped the newly-crowned Dublin champions down St Loman's of Westmeath in the AIB Leinster Club Senior Football Championship on Sunday.
That win came hot on the heels of Vincents' dramatic replay against Ballymun which saw them clinch their first county crown since 2007.
Afterwards the midfielder paid tribute to all of those who stood by him during his long-running transfer dispute.
It was only in 2011 that Fennell finally got the green light to join the Marino giants, more than three years after his initial request to leave O'Toole's.
"All the hard work was worth it in the end," he said after the two-point win in Cusack Park.
"I'm just happy to keep playing football and keep playing as we are now and hopefully we can go on from it.
"Over the last week it's been obviously great. I have tremendous friends and my family have been amazing through the whole time. To have them up in the club the whole time, it's great.
Without the support I've got from close friends and family, I probably wouldn't be here today because there are a lot of people that did a lot of work for me. I have to thank the likes of Brian Mullins, Tony Diamond and all these people who are within Vincent's.

You're only as strong as the people you have around you and I have a great group of lads within Vincent's and a great group of lads around me as friends.
He added: "It was always going to be a rough road leaving O'Toole's. I left to try and get to play football and to win things so I'm happy with how things are going at the moment.
"This is hopefully just the start of it but we have a lot more to do."
Brian Mullins congratulates full-back Jarlath Curley on Sunday (INPHO/Morgan Treacy)
Sunday's win ended a punishing run of three games in the space of eight days for Vincent's.
Tommy Conroy's men now have two weeks to recover before they take on Summerhill on 24 November.
But they will meet the Meath champions without two of their biggest names as Diarmuid Connolly and Ger Brennan are both set to miss the provincial semis through suspension.
"We've got through the whole year without them," Fennell said. "They haven't really been there, [they have been] with the county so it's nothing new to us.
We've got a strong panel there so it's just a matter that lads now are going to get a chance, and when you get the chance you have to grab it. In fairness, against Ballymun and against Loman's, people are taking the chance when they get them.
"Ger and Dermo are obviously a massive loss but we've gone so far without them. We have the players in reserve to come in."