IT TAKES A while before we talk because Eddie Foley is a busy man.
There's a Uefa trip to Slovenia to contend with and then his daughter's wedding. When we finally chat, he's been on the go for a while. He worked in the morning, left Cork at 2pm, there was a three-hour FAI discussion up in Dublin that evening and then another drive south that would get him home close to 11pm.
But it's all part of the vocation.
"Ironically, I grew up in a GAA environment," says the Youghal native, a seaside town in east Cork famous for its strands and amusements.
"Soccer wasn't readily available to me. I never claimed to be a soccer player and I never was and obviously never will be at this stage. I was never any good at it but I did so some hurling. But, I got involved with a club and went along to a meeting with a colleague of mine one night and they were looking for people to go along to a referee's course.
I have no idea why I said yes but I did and it just grew from there. You start refereeing and you have good days and bad days. It becomes part of your life. You become engrossed in it and obsessed by it to a certain degree. Because you have to be. It's time consuming and some would say it's a lonely life. You travel to games on your own, come back from games on your own and you're certainly on your own when you're referring a game."
For Foley, it was an interesting challenge. He may never have been good enough to play the game but as a referee, he could still be part of what happened on the pitch. The role required discipline, commitment and an eye for detail. Stamina and excellent fitness levels were also pre-resuisites. For an Army man, he seemed an ideal fit and the various elements intrigued him.
"There has to be a certain element of being in charge," he says.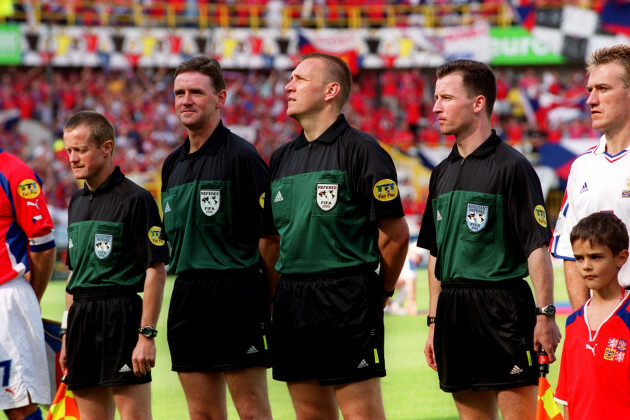 Matthew Ashton Eddie Foley (left) pictured before a Euro 2000 fixture between France and Czech Republic. Matthew Ashton
"If you like being in control, it makes it easier. That grew on me and I enjoyed that aspect of it. Now, let's face it, when you start off some games don't go well. But the longer you're at it, the better you get and it becomes more enjoyable. You have to manage people too, sometimes under adverse conditions because people get agitated. Nobody thanks you for giving a penalty against them so you become a type of man-manager. And you're constantly making decisions over 90 minutes. Not a lot of people get to do."
Foley followed the usual rites of passage. He started out with the small, nondescript fixtures. The slanted pitches, the beer-bellied centre-forwards and one man and his dog. And even the mutts abused him. But, like any good player, a good referee won't be put off by the environment, however intimidating it is.
"You're talking about amateur players who want to go out, kick a ball and maybe want to go for a pint after," Foley says.
"You don't have the same security as more high-profile games. There's no press coverage or TV coverage and you just have to deal with it. There's an element of abuse, especially at grassroots level. But it defining what's passionate and what's abusive. As referees, you quickly learn that most of the abuse comes from the touchline. If you recognise the mushroom before it becomes a mountain then it makes your life a lot easier. But there were times driving back in my car and thinking, 'I must be mad.'"
After putting in the hard yards in the AUL and Munster Senior League, Foley was first selected for the national refereeing panel in 1990 when he was in his late-twenties. From there, he took on League of Ireland games before impressing Uefa delegates as an assistant referee.
"I had no aspirations," he admits.
"I felt, 'If I can master this, I'll be happy'. I had no idea that somebody would select me for my first League of Ireland seminar because, genuinely, I didn't think I'd be of that calibre at the time. It was 1995 when I was promoted to the international panel as an assistant referee but after about two years I thought about giving it up and going full-time as a ref in the League of Ireland. But I was selected to go the finals of the Under-16 European Championships in 1997 and, obviously, somebody saw something because I was selected for the final of that tournament and then got the World Cup the following year."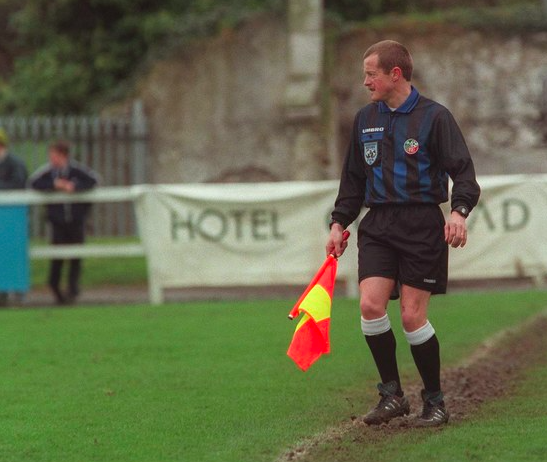 Shortly before heading to the World Cup in France, Foley handles a League of Ireland fixture in 1998.
In between, there were some other notable calling cards including Uefa Cup and World Cup qualifiers. And then, it all came down to one day in February.
"Informally, I knew that I was on a shortlist from the previous October/November," he says.
"After every assignment, the rumours would come in that I was still there. The list is always being cut, right up until the final decision, and I knew that the 2 February was the release date for who was going to the World Cup."
And I remember it very well. I was at home with my wife that afternoon and evening but I wasn't a happy camper because I'd received no call or anything so I thought I hadn't made the final cut. But then the call came through to say the fax had arrived to the FAI and my name was on the list. And I don't mind saying it, because it's over 20 years later now, but I cried when I got that phone call. It's not everyday you go to a World Cup and I was fortunate to do it."
As he absorbed the news, there was one memory that filled his mind. The early days. The very start. His mother's kitchen table.
"You could go in somewhere and pick up a whistle but there was no shop where you could get a referee's kit," Foley says.
And I remember one night being in my mother's house and making yellow cards out of a cereal box. I made a red card out of something else because I didn't know where to buy them. So, I got some self-gratification. From making your own yellow and red cards to being selected for a World Cup. It also served to keep my feet on the ground, not lose track of myself and stay focused on the tournament by just remembering where I came from."
"You do need some luck. You can argue that you make your own luck also. When you get the opportunity you grasp it. The old cliche: an opportunity is never lost because the guy behind you will take it if you don't grab it. Sometimes you get one chance and if you do it in the right place at the right time with the right people looking at you, you get another break. But, when I took up referring, I never in a million years thought I'd be selected for a World Cup. You don't think it will ever happen to you."
The following month, Foley was summoned to France – along with the other officials who made the World Cup shortlist – for a pre-tournament seminar. There were lectures and presentations and different scenarios to discuss. And there was also the physical.
"We were told that anyone who failed the fitness test would be sent home and would not be going to the World Cup," he says.
"We all thought it was a bit harsh but that's what was explained to us. And the night before the physical, you could hear a pin drop in the hotel. Because in the back of everybody's mind was, 'If I fail tomorrow – even though it's only March – then my World Cup is over before it even starts'. Fortunately, there weren't any failures the following day. But the intensity was so high because everyone was so concerned. I was always quite fit but you're worried about maybe getting an injury or something going wrong. And there was the extra pressure in terms of what was going to happen if you failed."
Despite the pressure, there were no setbacks and in June, Foley made history and became the first official from the Republic of Ireland to feature at a World Cup.
Stu Forster Gabriel Batistuta celebrates scoring the only goal of the Argentina v Japan group game. Stu Forster
Though he was based about 30km outside of Paris (along with the 34 referees and 32 other assistants), his first assignment took him to Toulouse for a Group H clash between Argentina and Japan.
Inevitably, there was a degree of anxiety. Added to the mix was the unfamiliarity of his colleagues that afternoon.
"When I was selected firstly, I was paired off with (Scottish referee) Hugh Dallas so I would've done some games with him before the tournament," Foley says.
But for Argentina v Japan I was actually with Mario van der Ende from Holland, who was one of the top referees in the world at the time. The first game of the World Cup and you're working with a team of officials for the very first time. And that adds to the intensity. I remember being in the dressing-room beforehand and I was constantly talking to myself to calm myself down and praying to God that my first decision would be an easy one and not a big one. Thankfully it was a throw-in or a goal-kick – something nice and handy. And that just eases you into the game if you're first decision is a bread and butter one and not a yellow card or red card or penalty."
"I prefer to get my 'moment' out of the way earlier on – maybe when we arrive and we're walking around the field and still in our suits and ties and people are still coming into the stadium. As far as I'm concerned, once you come out of the tunnel the game is already on. So I go out and into the lineup and normally pick a spot in the stand and stay concentrated and focused. And when you go to the line for the start of the game, you're almost talking to yourself…'Who's defending? Whites are defending'. And it just gets you into the game before it even starts.
The night before was relatively okay. Yes, I woke up early. And it would be a lie to say I thought about anything else that morning. You wanted it to go very well and once you're on the field of play, it was game on. Thankfully it did go well and there was no major controversy."
In the second half, Foley correctly flagged for an Argentina offside after he judged that Gabriel Batistuta had fractionally strayed.
He may have been one of the best strikers in the world at the time but Foley cared little for that. What he did care about was Batistuta's tendencies. Before the game, Foley researched his movement, just to give him a better understanding of what he could expect in the game.
"I wasn't interested in him or his skilfulness with the ball," he says.
But I was interested in the runs he made, how he made them, how fast he moved. Because that helps you in judging any offside. And more information gives you an extra edge. It's not about the name but about the technique the player uses. And that goes for the team too. How does one attack and the other defend? If you have that information, it prepares you for the game. Nowadays, I train beginners and run courses for new referees. And I always tell them, 'My Mother – who has a crutch – will referee a match. But it takes something else to read the game.' And unless you're reading the game, you won't referee it properly. And there's a lot of information available to you before you even get to the stadium."
Batistuta scored the only goal of the game but as much as Argentina's result put them in a decent position to progress, the same went for Foley. Ahead of the tournament, every official was guaranteed one fixture. But it was up to them to secure further appointments. If they performed well and were graded accordingly by their observer, they would see more action and get to hang around longer.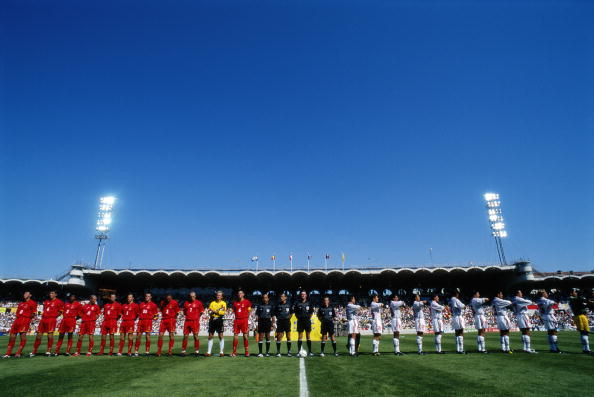 Doug Pensinger Foley in the middle, along with his fellow officials, prior to Belgium's clash with Mexico. Doug Pensinger
Six days later, Foley was rewarded with a second game – a Group E clash between Belgium and Mexico in Bordeaux. And four days after that, he was in action again for South Africa's game against Saudi Arabia.
But, despite some whispers suggesting he would be involved in the latter stages of the tournament, it didn't play out that way.
"I thought I did very well and the feedback was very good," he says.
But when it came to the knockout round, I didn't make the cut. It was quite ruthless. You're in a room and you're being told who's staying on. They make appointments for the next games so some people walked out with a next assignment and I walked out to go to an airport desk and get a flight home. Not a nice feeling. But not everybody can be kept on. Do I know why I wasn't kept on? I don't. I thought I'd done a decent job but you have to accept it. You have to take the good with the bad. You have to experience failure to appreciate success, I suppose."
Foley had certainly left his mark. He was back for the European Championships in 2000 and involved in three group games there too. There were a litany of Champions League assignments, including the quarter-final clash between Bayern Munich and FC Porto that same year. Right up until 2006, he was getting Europa League matches and Euro qualifiers.
He's still involved with the game now as both a tutor and a referee observer. The obsession still needs feeding.
"I did worry greatly about the day I'd retire and whether I'd still get the same enjoyment out of it," he admits.
"But I think I'm getting as much enjoyment out of it now, especially when some young referee comes along. You can help him and he gets promoted and I get immense pleasure from that."
Foley developed into an internationally-recognised official. But it didn't come easy or naturally.
There will always be naysayers. The kind who ridicule relentlessly and offer nothing but condemnation. They will accuse match officials of being obsessed with the spotlight and intent on making everything about themselves. Or genuinely feel there is a premeditation or motive behind a referee's error of judgement.
It's a draining, thankless existence. But Foley has had a lifelong addiction.
"Concentration, without a doubt, does not come easy," he says.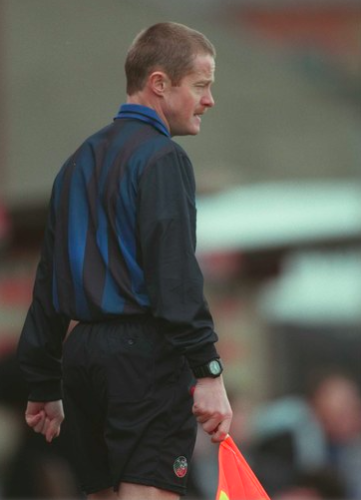 "As an assistant, the ball might be at the other end of the pitch and, to the untrained eye, it looks like you have nothing to do. And sometimes that's the hardest part for you because you're trying to maintain the level of the officials who are involved in that end of the play or can see the play but without being physically involved. But with one touch, the ball could be in your end and if you're not focused you might miss an offside, a foul or –  even greater – something like a red card."
Concentration drains you. In my early days, I would've come off the field with a headache  from pure concentration. I find it easier to concentrate when everything is happening around you and you're busy. But when everything is happening at a distance and you have to maintain those same levels, it's very demanding over 90 minutes."
"People say a good referee is not noticed but it's easy to not be noticed if the game is looking after itself and the players are behaving. You cannot send off a player and not be noticed. You can't give a penalty kick and not be noticed. So, sometimes the players can help the referee a lot. But remember, there can be history between two teams or certain players can be more volatile. And it's like what I said before – you have to manage the players and you have to manage the occasion. The players can sometimes get caught up in emotion. Winning isn't everything it's the only thing."
And 20 years on, can he put it all into context?
"I enjoyed every game, don't get me wrong," Foley says.
But there are some where you're concerned about everything going right. You do get a bit apprehensive and nervous. Some people will say that a certain amount of nerves is okay because you're concerned and just preparing yourself subconsciously. But if you're too nervous then you don't perform. Refereeing is all about confidence and having the confidence to make the right decisions. If you're too nervous, it can inhibit your ability to make the right decision. There is enjoyment but there are occasions where you're so focused and it can get you worked up and chunks of it will certainly pass you by."
"I've had a few good moments and some very good games. From the three World Cup games I had, I've had more difficult matches. But, it's the greatest moment of my sporting life, without a shadow of a doubt. Last Friday I walked my daughter up the aisle and of all my achievements in football, that was the greatest moment in my life. But walking onto the field of play for my first World Cup match?
Certainly my greatest sporting moment."
The42 is on Instagram! Tap the button below on your phone to follow us!