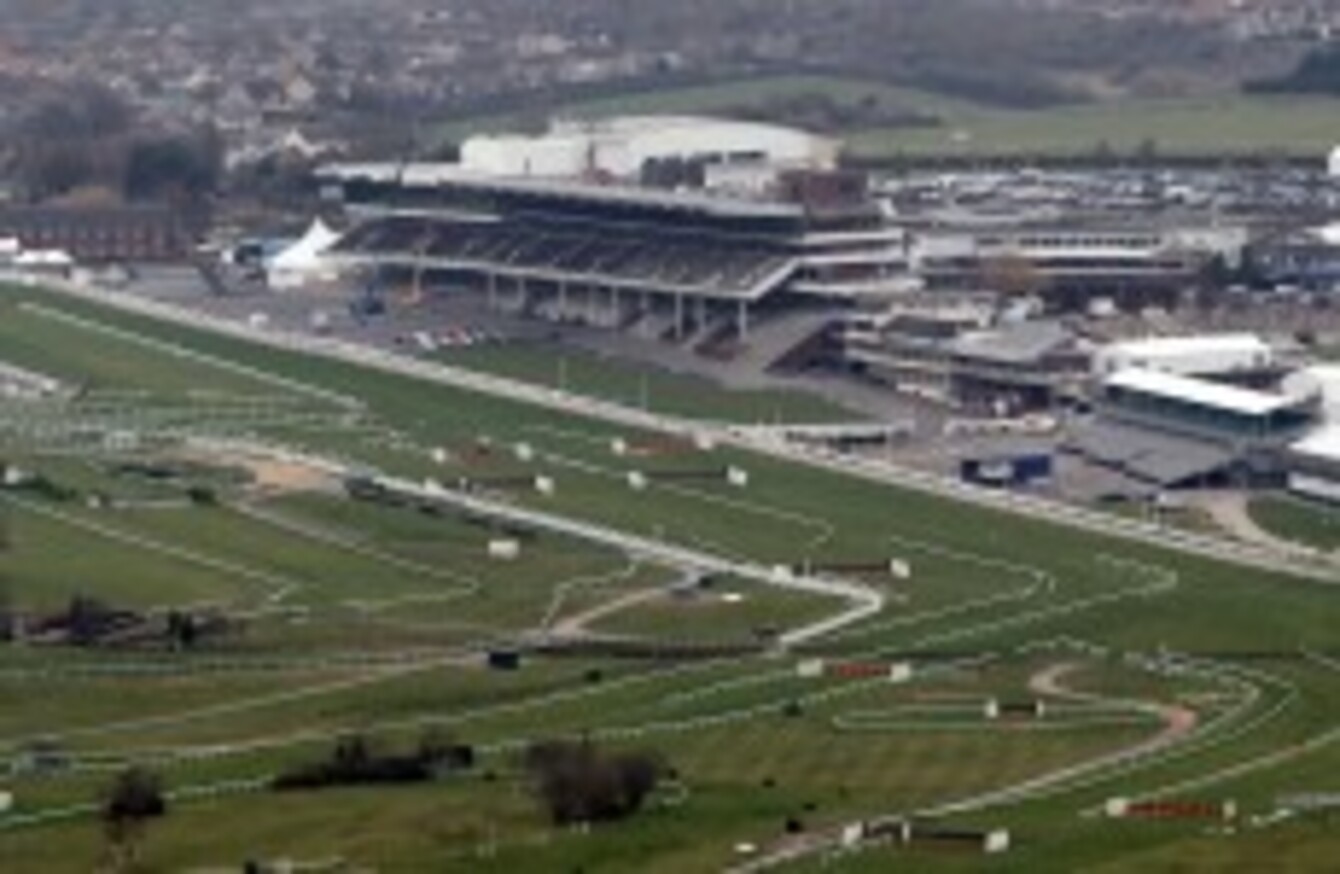 The Cheltenham festival is one of the most prestigious events in the horse racing calendar.
The Cheltenham festival is one of the most prestigious events in the horse racing calendar.
AT ITS MOST basic, racing is incredibly simple – a load of horses line up and whoever gets to the finishing line first is declared the winner.
Of course, racing aficionados will tell you that it's a lot more complex than that.
You don't actually need to know any of the information below to enjoy a race – but it can't hurt to learn a little, can it?
What are the different types of race?
National Hunt Racing (i.e. jumps racing, rather than flat racing) can be divided into two main categories.
The first is a hurdle in which the horses have to jump over are relatively small (three-and-a-half feet) "brush-like" obstacles. The second is a chase in which the horses have to jump bigger, "hedge-like" fences.
Different horses usually excel at either hurdling or chasing. It is not unusual for a hurdler to eventually progress and start racing over the bigger "chase" fences as the horse becomes more used to jumping.
In addition to these two main categories of race, you may also see a cross-county race, which is run over a longer distance and features slightly bigger fences. The Grand National is the best example of a cross-country race.
Finally – a race-card will sometimes feature a race called "a bumper". These are flat races (i.e. with no jumps) designed for horses that are just starting to race in order to allow them to gain a bit of experience over longer distances. Cheltenham's Champion Bumper, which is the last race on Wednesday's card, is the most prestigious bumper in racing.
How long is each race?

In horse racing, races are usually measured in miles and furlongs. There are eight furlongs in a mile.

The majority of races at Cheltenham are usually between two and three-and-a-half miles long, though there are a few longer races. Some horses prefer the shorter races, which are usually run at a much faster pace. Other horses (often referred to as "stayers") prefer to run over longer distances where stamina rather than speed is key to success. This is often the case with older horses.

Can any horse run in any race?

No, some races are restricted to certain type of horses.

The most common restriction is a novices race. This type of race is only open to horses who had not won over either hurdles or chase fences (depending on the type of race) up until the start of the current season.

There are also a handful of races which are only open to mares (i.e. female horses over four years of age).
How do I know which races the best horses will be running in?
Each race on the card is given a classification. The Cheltenham Festival's major events are all Grade One races, which means that the best horses will be competing in these. The next best horses will compete in the Grade Two races, followed by Grade Three and Listed Races. Some of the festival's smaller races will not have to be given grade status, and will instead be identified only by their class number.
So, in simple terms, if you want to watch only the best races at Cheltenham, stick to the Grade One events of which there are three on each day.
When people talk about a horse's "form", what do they mean?
"Form" is the the term used to describe a horse's previous performances in races. It can often be used as one method of judging the horse's chances in a forthcoming race.
Newspapers and websites often use a particular shorthand notation to describe a horse's form which may look something like this 680U54.
A number from 1-9 indicates the position that the horse finished in a race. This shorthand should be read from left (oldest) to right (newest); in this instance, the horse finished fourth in its last race and fifth in the race before that.
A zero (0) indicates that the horse finished outside of the top nine in that race, there are a number of letters which often appear – F (fell while jumping a fence); U (the horse unseated its jockey, usually while jumping); P (the horse "pulled up" or stopped racing short of the finish line); R (the horse "refused" to jump the fence); B (the horse was "brought down" by another horse).
Other symbols that are often frequently used are a dash (-), which is used to separate calendar years and a slash (/), which is used to separate racing seasons.
What is the "going" and why does it matter?
"Going" is a term used to describe the condition of the racetrack as decided by the racecourse stewards at the beginning of each day.
There are seven grades of going, starting with heavy (very wet and soft) > soft > good to soft > good (normal) > good to firm > firm > hard.
The going is important as it can often affect a horse's performance in a race. Some horses perform better on good ground, while others prefer softer, boggier surfaces.
What is a "handicap" race?

A handicap race is a race in which all of the horses carry different weights, as determined by the handicapper. These weights are measured in stones (st) and pounds – there are 14 pounds in a stone.

When you look at the race card for a handicap race, the horse carrying the largest amount of weight is listed at number one while the horse carrying the least amount of weight is at the bottom of the card.

The horses that the handicapper thinks are the best get the highest weights, while the horses he thinks are the worst get the lowest weights. In theory, the handicapper aims to assign the weights in such a way that every horse will have an equal chance of winning. Of course, this is impossible in practice.

What is a horse's "rating"?

A horse's rating is a number that is designed to allow horses to be compared against each other. The rating number is assigned to each horse based on a number of criteria (previous wins, etc).

As an example, if Horse A is rated at 140 and Horse B is rated at 130, it is generally assumed that Horse A is ten pounds stronger than Horse B, i.e. he would need to be carrying ten pounds more weight than Horse B in order for both horses to have an equal chance of winning.

Of course, in a non-handicap race where all horses are carrying the same weight, one might reasonably expect Horse A to finish ahead of Horse B based on their respective ratings. Unfortunately, the ratings system is only a guide and horses don't always perform accordingly.
How do a horse's "odds" work?
Odds are often expressed as a figure in the form A/B (e.g. 4/1), which is read or spoken as "A-to-B" (or "four-to-one").
What this means is that if you stake a bet of amount B and your horse wins, you will win amount A from the bookie, who will also return your initial stake to you.
Let's say you start with €10, which you place on a horse that has odds of 4/1. If that horse wins, you will win €40 from the bookie, who will also give you your €10 stake back. By the end of the race, your initial €10 will have become €50.
Very simply, the odds indicate the chance which the bookies feel that any given horse has of winning a particular race.