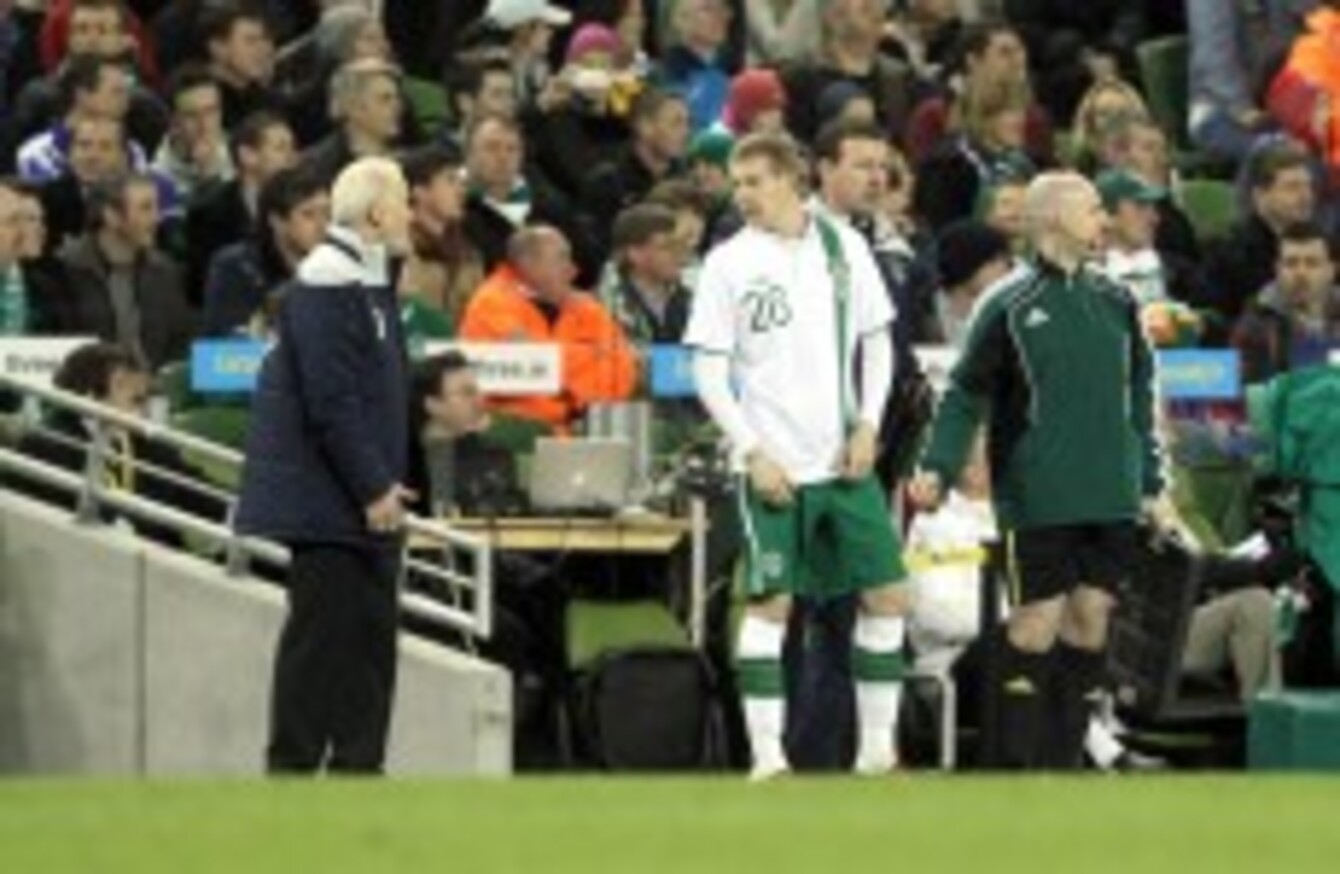 Image: ©INPHO/Donall Farme
Image: ©INPHO/Donall Farme
IT'S OK LADS and lassies, don't worry about it.
If Trap want to cut off his nose to spite his furrowed face, then there's nothing we can do about it.
You, however are back in control and James McClean is still a bargain basement price of £4.9 million.
I wouldn't be making him captain or anything, the Mackems make the short trip to St James' Park (or whatever it's called) and rarely perform too well against Newcastle.
With that in mind – and assuming nobody has been unduly affected by long-haul flights or lost their good form between time-zones – here's how we size up this week.
Two players to pick:
Sergio 'Kun' Aguero: Aguero helped Lionel Messi seal his first international hat-trick on Wednesday. He won't have anyone quite that good alongside him on Saturday, but with Bolton the visitors to Eastlands, he's not likely to need much help.
Yakubu: We don't see many goals flying in this week, but we do see a Villa side in trouble. Blackburn host Alec McLeish's troubled side still (unbelievably) playing for their manager against the crowd and all the other odds.
Nobody has helped keep Steve Kean in a job more than the Yak, and his goals will keep Rovers clear of relegation.
Two to avoid this week:
Gareth Bale: We told you not to pick any Spurs players last week and we were (half) right. Ultimately the house of cards came crashing down for 'Arry's boys at the Emirates but at least they pilfered a few goals on the way in.
Manchester United are a similar psychological hurdle for Spurs, but a more robust team defensively than their Norf Landan rivals. Redknapp would take a draw in this game now. His team cannot up the tempo sufficiently against the traditional 'big four', least of all United who they haven't beaten since 2001.
James Collins: Aston Villa travel to face Blackburn, a gimme three points for many, but Aston Villa have been shorn of Darren bent and Richard Dunne through injury while Robbie Keane has returned stateside. It's going to be a long old run-in for the Villa.
Predictions:
Liverpool 1 – 1 Arsenal

Blackburn 2 – 1  Aston Villa

Man City 4 – 0 Bolton

QPR 2 – 2 Everton

Stoke 2 – 1 Norwich

West Brom 1 – 1 Chelsea

Wigan 0 – 1 Swansea

Newcastle 1 – 0 Sunderland

Fulham  0 – 0 Wolves

Tottenham 0 – 1 Manchester United
How my team got on last week:
Well, not too bad in the scheme of things. I didn't make bad choices with the captaincy, Juan Mata's tally was doubled to 12 thanks to the armband.
Hindsight is 20-20 and I should have entrusted that responsibility to Emmanuel Adebayor… but it wouldn't have made a huge difference as nobody else scored a goal for poor old me.
Who is leading thescore.ie league?
Well it's still Deceptively slow, but Paudie O'Neill's side look like they may actually be even slower normal. 45 points this week means the gap is now 24 points.
But second place no longer belongs to Tog In Your Useless; a god-awful 28 points see David Gilkeson give up the silver medal spot to Noel Crowley's badly punctuated side: Crilly's Fella's.
Astonishingly the top score of the week goes to David Carroll and Mr Muscles 11. I say astonishing because he reached that mark (almost 20 more than anyone else in the league) despite naming Wayne Rooney as captain.
Frank Lampard in the VC role accounted for 28 points while Gary Cahill, Nani and Kun Aguero also chipped in with a half dozen or so.