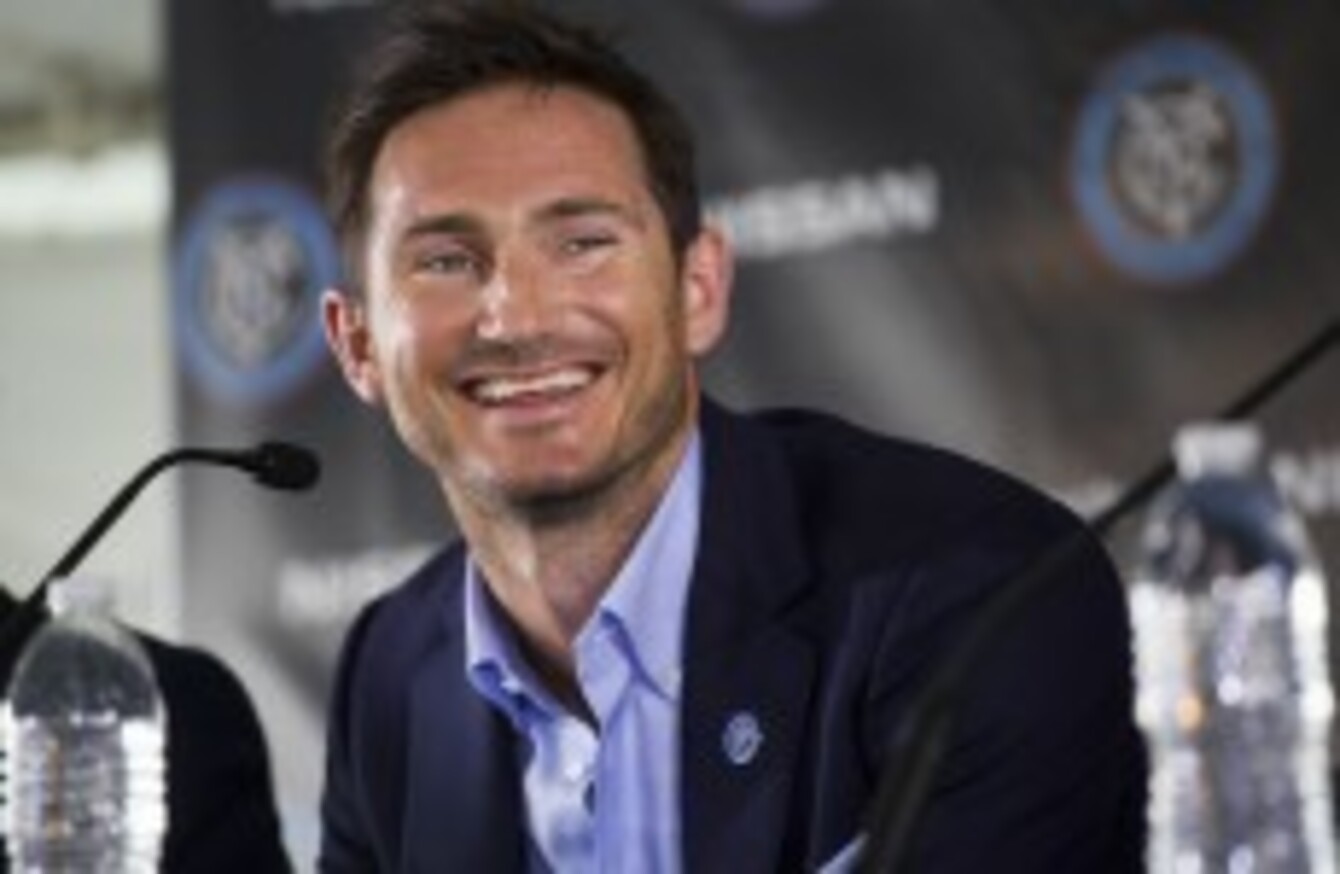 Lampard was unveiled by the franchise in July.
Image: AP/Press Association Images
Lampard was unveiled by the franchise in July.
Image: AP/Press Association Images
THE NEWS OF Frank Lampard's contract extension at Manchester City was a boost for Manuel Pellegrini's side but fans of New York City FC are "outraged" at his decision to stay in England until the end of the season.
Lampard signed for the Major League Soccer franchise after being released by Chelsea in June and has been at the forefront of the club's marketing campaign ahead of their inaugural season in the MLS.
The 36-year-old moved to Eastlands on a short-term deal, which expired yesterday, but the contract has now been extended until the end of the current Premier League campaign.
It means Lampard, who was New York's marquee signing alongside David Villa, will miss the first three months of the MLS season which starts in early March.
A New York fan group has publicly denounced the decision.
"On behalf of the Third Rail, we would like to publicly denounce City Football Group's and Frank Lampard's decision to extend his loan to Manchester City until the end of the Premier League season," a statement said.
"Many fans, including our members, decided to support the team, committed to season tickets, and bought merchandise under the impression that Frank Lampard would be playing for New York City Football Club, not Manchester City. Many of those fans are rightly outraged by this decision, and we support any course of action they take to voice their discontent over this decision."
"Our support for our ownership group has been unwavering until now, but this we cannot support. We reject out of hand any suggestion that NYCFC is in any way secondary to Manchester City FC, regardless of the source, and are disappointed that City Football Group would give such an appearance."
New York City are jointly owned by Manchester City's parent company City Football Group and baseball franchise New York Yankees. The group also owns Melbourne City FC.
Lampard has made a big impression during his time at the Ethiad Stadium. The former England international has scored six Premier League goals and with Yaya Toure set to miss a chunk of games during January when he's away at the African Cup of Nations, Pellegrini was keen to retain his services.
The Premier League season ends on 24 May and New York City admit they are not sure when their new signing will eventually arrive in the States.
"His exact starting date with New York City FC will be confirmed as the EPL and MLS seasons unfold," the franchise said in a statement.
"All parties remain in ongoing dialogue to create the best outcome for all."