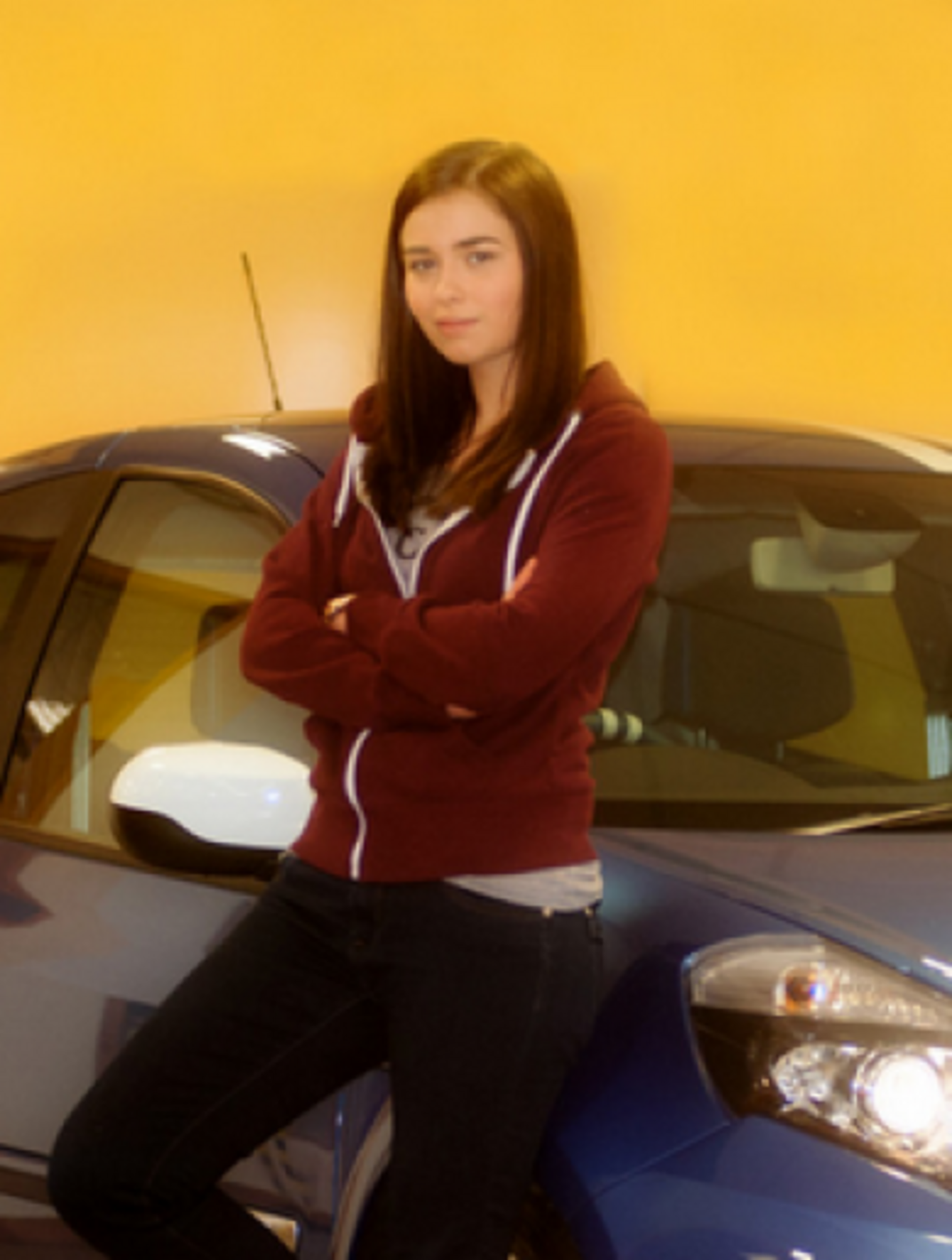 20-year-old McDonald hopes drag racing will be recognised as an official sport in Ireland one day.
20-year-old McDonald hopes drag racing will be recognised as an official sport in Ireland one day.
GABRIELLE MCDONALD DOES not seem like your typical female drag racer, but then who does?
Describing herself as "unassuming," the 20-year-old Dubliner is already highly decorated in her sport. She currently races in a 30-foot long Dragster (the vehicles used in drag racing) that reaches over 300mph in less than four seconds on a 1000-foot track.
Yet, as a child, McDonald admits she had little interest in becoming a top drag racer.
"My Dad used to race in Mondello and both of my grandparents collected old cars," she tells TheScore.ie. "I've been around cars my whole life and my Dad's a mechanic, but I was always a model — acting, singing, dancing. Cars never really interested me at all."
Yet all that changed one day when she was 13-years-old. During a family trip in America, McDonald and her parents stopped off at an amusement park while driving from Los Angeles to Las Vegas.
The amusement park in question happened to have Dragsters and an area in which to compete. After deciding to "give it a go" for a laugh, McDonald ended up achieving a 0.001 of a second reaction time — an incredible feat for a professional, let alone a teenager who was unfamiliar with the sport.
"I kept getting really good reaction times after that and I went on it 18 times in a row, and my parents had to drag me away in the end," she adds.
And from thereon in, McDonald fell in love with the sport. When asked if she ever feels nervous about driving at such a fast speed in potentially dangerous circumstances, she dismisses the suggestion.
"I actually find it so thrilling. If I could live comfortably, I would do this for the rest of my life no problem. I absolutely love it."
(McDonald pictured before the race — credit: Colin Donisthorpe)
However, despite possessing an ostensibly innate sense of fearlessness, there was one occasion where she did narrowly avoid a bad accident.
"It was my second time in the car. I'd never driven anything other than a Junior Dragster," she recalls.
"I did everything that they told me to do and so I was inching forward and the lights came on. I stood on the accelerator, but my tyre didn't have any traction. You need traction, because there's glue on the tracks and it helps you to drive the car.
"I don't know [what happened], as I'm not very good with the mechanical side of it. I literally put my foot down, the tyre completely spun, smoked and the car just went sideways. So I was driving towards the wall and normally you go 100 miles per hour in less than a second. So by 60 feet, which is normally where you'd hit the 100 miles per hour, I was already sideways.
"So I'd taken my foot off the accelerator and I'd always remembered what my Dad had said to me if you're ever driving in snow. If ever your back wheels are turning, match your front wheels to your back wheels and you'll get yourself out of a curve. And for whatever reason, that was in my head at that second and I just turned the car and got it away from the wall and it's not an easy task, because they're very skinny cars, so if you turn too fast, you'll flip.
"I got out at the groove, turned the power off, stopped before the exit and people were like 'are you okay' and I said 'oh yeah, I'm grand'."
(A collection of McDonald's trophies — credit: Colin Donisthorpe)
Furthermore, there was one individual who was particularly relieved that McDonald had the composure to narrowly avoid disaster.
"The photographer was actually in line with me, so if I had kept driving straight towards the wall, I would have hit him. He came up to me afterwards — we knew each other from drag racing, as he always takes the photos — and said 'thanks very much for not killing me Gabby,' and I was like — 'oh yeah, no worries'.
"I was told that especially for a rookie driver, it was an amazing task, because the car was going about 100 miles per hour and it's 30 foot long and trying to get it out of a groove is a very difficult task, and everyone complimented me on it because they couldn't believe it. It's the only time I've ever ran into any sort of difficulty with the car — touch wood that won't happen again."
Yet apart from this one considerable hiccup, McDonald's rise, owing to both an intensive work rate and a clear aptitude for the sport, has been meteoric. At 16, she confirmed her early promise by winning the Triple British Championships, in the process becoming the first girl from outside the UK to do so.
She has since been named Sportswoman of the Year by Shakespeare County Raceway, in addition to being nominated for Tallaght Person of the Year.
Yet despite all this acclaim, most Irish people have never even heard of McDonald. When people ask her what she does when not studying for the final year of a psychology degree in the National College of Ireland, or working part-time in a pharmacy in Tallaght, McDonald invariably has to Google herself to prove to non-believers that she is indeed the country's only female drag racer.
"Loads of people just say: 'I don't believe you, you're a girl.' People look at it as if it was Formula One, where they don't really accept women. It's male dominated, but there are a lot of women drivers and they're very good. Last year, a Top Fuel female driver, Anita Makela, came second in the championship. At the moment, she's the only Top Fuel driver competing in Europe that's a woman. There's also Shelley Pearson and then me, when I have my license."
Source: Gabrielle McDonald/YouTube
Speaking of which, having already triumphed in Britain, McDonald earlier this year went over to Santa Pod Raceway in an attempt to secure her Top Fuel licence — something that requires the individual in question to run 4.7 seconds at 250mph or faster, twice. She consequently now just needs one more run to complete her license.
Moreover, she hopes to achieve this feat with help from a crowdfunding initiative known as Pledge Sports, given that drag racing, after all, is an expensive business.
"There are some teams over in America who, if you want to join them, you have to pay eight million dollars," she says. "And that's only for one year, though it's for all your parts. It's for the crew and the transportation and all that stuff, and you get extra cars. Also, along with that, if something happens to your Dragster, you need millions of dollars [to fix it]."
Having competed already in America on the junior drag racing circuit on a number of occasions, she ultimately aims to move over there long term, as the sport is far more popular in the US compared to Europe, with potential prize money for winning an event as high as half a million dollars. But there are, of course, alternative ambitions to prioritise first and foremost.
"I do want to bring home a European Championship. It will be the first time someone has in drag racing for Ireland, so that's my first goal. As soon as I achieve that, I am going to move over to America, because over there, it's professional. Although it's professional in Europe too, in America, they pay crazy money."
(McDonald pictured in action – credit: Colin Donisthorpe)
Yet for the moment, McDonald's rewards are limited. Ireland currently doesn't recognise drag racing as an official sport, thereby meaning competitors are not entitled to funding from the Sports Council. And it looks like being the case for the foreseeable future, despite McDonald recently meeting with Leo Varadkar and Brian Hayes to discuss the possibility of granting it such status.
This lack of acknowledgement, inevitably, frustrates McDonald to a degree.
"With Ireland, when something's out of the norm, people don't really want to know about it," she says. "Look at Katie Taylor — people weren't really supporting her because they thought 'she's a woman who's a boxer'.
"But when she came back from the Olympics with a gold medal, everyone was all over her. It's because she was different. With Ireland, it's kind of old fashioned — if something is out of the norm, people don't really want to know. Although I have had so many people supporting me in the last couple of years, it has been great. But for the most part, people don't realise there are people who drag race, because it's not recognised as a sport."
(McDonald races at the Santa Pod event — credit: Colin Donisthorpe)
Despite the many obstacles currently confronting her — she estimates that, including other crew members, the cost of competing is €120,000 per year — McDonald remains determined to persevere.
"Drag racing is practically my life. If I'm not at a racing event, I'm watching a stream online," she says.
"For the rest of my life, I plan on promoting it and there will be a day when it's recognised. My little brother is eight this year and in the next couple of years, we're going to be getting him into a car, and I hope by then, it will be recognised so he doesn't have to go through the stuff I have to go through.
"When I first showed up in England, people thought: 'Oh, here are the Paddys, they're just a joke.' And now, we show up and they say 'welcome home'.
"It's really big over in America, so if we had a track here, firstly, it would attract Americans, because Americans love Irish people, but it would also attract people from all over Europe and all over the world. Drag racing is a massive sport, and I think it would bring a lot of money into the country. And that's my dream — that one day, we'll actually have our own track that people can come to."
For more information and to donate to Gabrielle's Pledge Sports crowdfunding campaign, click here.