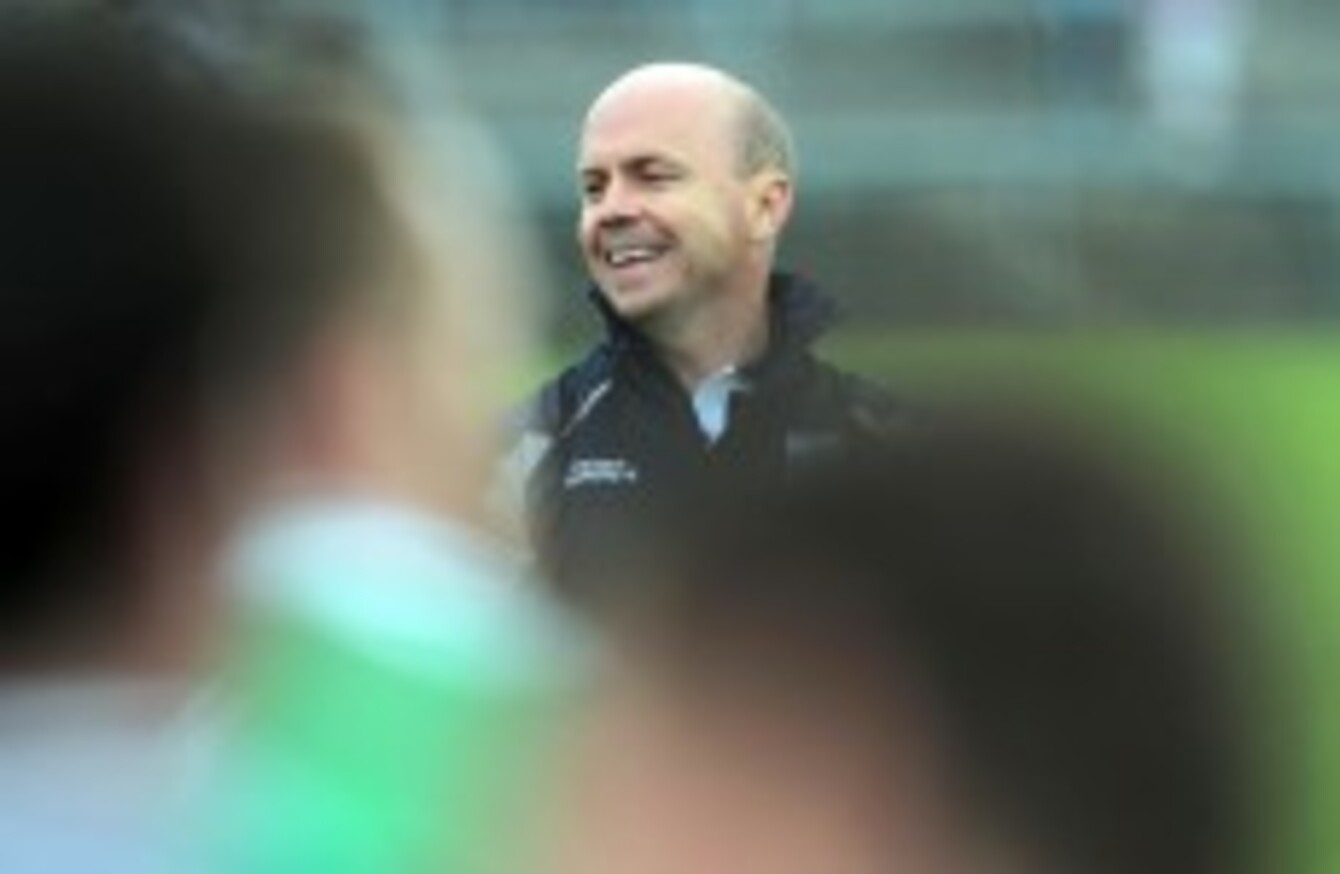 Fermanagh manager Peter Canavan.
Image: INPHO/Presseye/William Cherry
Fermanagh manager Peter Canavan.
Image: INPHO/Presseye/William Cherry
All Ireland SFC Qualifiers Round One
London v Antrim
Saturday, Emerald GAA Grounds, Ruislip, 1.00
Referee P Hughes (Armagh)
So much about the first round of the qualifiers depends on who really wants that extra game or two and who put all their eggs in the provincial basket and doesn't fancy a couple of wins in the back-door as it will simply result in a trip down the road to nowhere. That will be key here.
We know London would love to win another game wherever it takes place and have been through this just a year ago, where they could and should have won in Connacht but made amends the next day out. So it all depends on Antrim and not just their mindset on the day, but their mindset in recent weeks.
If they've got it right, they can bring that pacey, attacking game into mid-summer and their opponents here won't live with them. In somehow finding a way to lose to Monaghan, James Loughrey showed speed and intent that's been missing for a couple of seasons, Michael McCann looked powerful under dropping ball in centrefield and was able to score going forward, while Michael McGill has already put in one of the better full-forward displays so far this year. On top of that, this group goaled more than any side in the top three divisions of the league. We expect to see just why in the English capital.
Verdict: Antrim by six
LONDON TBC
ANTRIM TBC
Wicklow v Waterford
Saturday, Aughrim Park, Aughrim, 2.30
Referee P O'Sullivan (Kerry)
Strange to think that just a season ago the home side were a division below their opponents. Strange, because they are a far superior team right now, even without Leighton Glynn and even if Harry Murphy got his tactics so wrong in their Leinster defeat to Meath after getting so much right in the league. But long before he came along, this was a group that thrived in the qualifiers and this is the perfect game to gain some lost confidence and momentum. Expect James Stafford and Rory Finn to prosper in the middle, expect James Stafford to be the focal point of so much long ball and expect Tony Hannon to finish the day as top scorer via a bounty of frees.
As for Waterford, where do they go from here? The draw gave them a shot at the Munster final, however slim, yet their county board went and scheduled club championship games six days prior to their meeting with Limerick. John Owens has a hard enough job trying to make them competitive without his own rowing in the opposite direction. That's an area he needs to look right after they take their bow and exit the stage here.
Verdict: Wicklow by four
WICKLOW TBC
WATERFORD TBC
Laois v Carlow
O'Moore Park, Portlaoise, 7.00
Referee S Doyle (Wexford)
That drawn game with Meath could have been the highlight of the visitor's season and they could have tip-toed off into the autumn without another decent performance and no one would have thrown them a dirty look. That was until the draw was made and suddenly it all matters again. Even more than a provincial win. This may not be much of a rivalry in Laois, but cross the border and you can be sure they want this badly. If you don't believe us, just ask a Carlow man where Donie Kingston is from?
The problem is we think that draw was a bit of a one-off. Brendan Murphy will be the best player on the pitch here and the fast-maturing Darragh Foley is a fine sidekick in midfield but after that Carlow don't have the scoring power or the defence to match up, what with Daniel St Ledger out and captain Shane Redmond possibly joining him. That's not to say we think Laois are going to go particularly far in this campaign although they'll be going one step further mainly thanks to that inside-forward line of Ross Munnelly and Pádraig Clancy.
Verdict: Laois by seven
LAOIS E Culliton; C Healy, K Lillis, J Kavanagh; D Strong, K Meaney, C Boyle; B Quigley, J O'Loughlin; D O'Connor, C Begley, G Walsh; R Munnelly, P Clancy, C Kelly
CARLOW TBC
Longford v Derry
Pearse Park, Longford, 7.00
Referee M Duffy (Sligo)
Back in July 2006, we stood in this ground and watched younger-versions of Paul Barden and Brian Kavanagh pull off what many thought would be a once-in-a-lifetime victory over a Derry side that contained McCloy, Doherty, Diver and the two Bradleys. Since then though, one county has improved beyond recognition while the other has faded away into the depths of mediocrity. It's because of that, that we don't think a home win would be an upset at all. Indeed Longford's game is suited to this task. They'll defend in numbers, with Michael Quinn holding together a hugely focused and intense defence, meaning just like last day, Paddy Bradley will have to drift out and he'll be bottled up.
Longford have more depth in their attack too, with Brian Kavanagh and Seán McCormack playing an isolated role in a two-man full-forward line surrounded by space while Paul Barden has acted as link man between front and back. It's a daunting task for Derry and the venue won't help them either. John Brennan's comments after their Ulster elimination suggested he'd all but given up on this group. All going to plan for an ever-improving Longford, and provided they play for 70 minutes for the first time this season, Brennan can finally get out of there at the final whistle.
Verdict: Longford by three
LONGFORD TBC
DERRY TBC
Tipperary v Offaly
Saturday, Semple Stadium, Thurles, 7.00
Referee C Lane (Cork)
Both sides were unfortunate to run into top-four opposition in their campaign openers, but only one finished those games with any level of respect still surrounding them. Indeed, rather than Tipperary wondering about the Kerry game getting away from them, they would more than make amends here and it's the sort of match-up they should be winning if they are to push on and become a mid-tier team for all those talented youngsters to join in a season or two. What will be vital is the performance of Peter Acheson and their midfield, as both excelled on day one.
As for Offaly, they won't be far off and certainly won't be ground down physically like they were against Kildare. In fact if they bring the intensity they showed early on the last day and maintain it for long periods they'll go close with Ken Casey crucial up front as during relegation to the basement of the league they averaged less than a goal and just eight points per game and were held to a miserable six points by Kildare. They'll need to more than double that last tally if they're to avoid going two-and-out this summer but we've seen nothing to suggest they can.
Verdict: Tipperary by two
TIPPERARY: P Fitzgerald; A Morrissey, P Codd, C McDonald; B Fox, R Kiely, A Campbell; G Hannigan, H Coughlan; P Austin, P Acheson, D Leahy; A Maloney, M Quinlivan, R Ryan.
OFFALY A Mulhall; S Sullivan, J Moloney, S Pender; B Darby, M Brazil, E Rigney; A McNamee, R Dalton; R Brady, D Currams, N Smith; K Casey, G Guilfoyle, A Sullivan
Westmeath v Louth
Saturday, Cusack Park, Mullingar, 7,00
Referee D Fahy (Longford)
All of a sudden, somehow finding a way to lose in heartbreaking fashion against Louth in the Leinster Championship doesn't look so bad because Westmeath avoided a flaking at the hands of Dublin and now enter the rematch with their heads held higher and with revenge on their minds. They should achieve it if they can win the key battles they did in Navan over a month ago. First up on that list is John Heslin. He's young and volatile but he's also hugely talented as he showed when getting the better of Paddy Keenan last time out. And with Louth's key player missing and Ronan Carroll a doubt, he could dominate.
With decent possession stats, they've a far greater array of scorers too. While Louth will place so much weight on the shoulders of Darren Clarke, since March Westmeath have been averaging seven scorers a game with Kieran Martin, Dennis Glennon, David Glennon and Ger Egan all popping in and getting them to some decent tallies. Against Louth in May they had a massive nine names on the scoresheet. If they come close to that again, they'll finally get the result they deserved before.
Verdict: Westmeath by two
WESTMEATH D Quinn; M Curley, J Gaffey, K Maguire; D Harte, M Ennis, D McDermott; J Heslin, P Bannon; K Martin, G Egan, J Dolan; Dennis Glennon, David Glennon, P Sharry
LOUTH TBC
Fermanagh v Cavan
Sunday, Brewster Park, Enniskillen, 2.30
Referee B Cassidy (Derry)
Whatever about the benefits of winning, there's the shame of losing attached here as whoever goes down will be the worst team in Ulster. It's hard to know where Fermanagh are at because they disappointed in the league final and then a red card took away and chance of giving the Down game a right rattle. But Oisín McConville made a relevant point after that outing. He noted that when it comes to Peter Canavan's job, suddenly it's about keeping his squad disciplined, every bit as much as getting the best out of them and Seamus Quigley has already left the panel after a whole pile of unpleasantness.
As for Cavan, they've plenty look forward to but it depends how long it takes to turn underage success into senior competitiveness. Gearóid McKiernan is a star in the making in midfield, David Givney is very good beside him and with Fermanagh lacking in that area it could given Cavan a foothold. Statistics show that Brewster Park is a hard place to win but that was build on bigger and better Fermanagh teams. Right now, they are finding their true level and it's pretty low.
Verdict: Cavan by one
FERMANAGH TBC
CAVAN TBC
Roscommon v Armagh
Sunday, Dr Hyde Park, Roscommon, 2.30
Referee M Deegan (Laois)
Some expect it to be the game of the weekend. We only see that happening if in recent weeks Armagh have forgotten they looked a top-12 team in losing to Tyrone and with the right draw could be back in an All Ireland quarter-final for the first time since 2008. But one step at a time because they need to look all around them rather than look at the horizon or this is the sort of fixture that will trip them up. Their management have never impressed us, particular in their use of Ciáran McKeever in their last two Ulster defeats and he needs to be allowed play further up the field. If that happens then Aidan Forker and Kevin Dyas will continue to improve and Jamie Clarke could be brilliant if he works on his shot selection and is allowed to work on it courtesy of others pitching in.
Intensity is key because it's what made Armagh look so good the last day and part of what made Roscommon look so bad. But the home side have other issues. Des Newton's game management against Galway was appalling and with the likes of Niall Carty and Peter Domican through to Michael Finneran and Karol Mannion and on to Cathal Cregg, Donie Shine and Senan Kilbride, the team is far less than the sum of their parts. On top of that, the first team into the qualifiers haven't weathered the break well and there have been endless grumblings coming from their camp. All is not well, and it shouldn't be any better after 70 minutes here. In saying that Armagh let us down when we built them up before but here goes again…
Verdict: Armagh by four
ROSCOMMON TBC
ARMAGH P McEvoy; A Mallon, B Donaghy, D McKenna; F Moriarty, C McKeever, P Duffy; M Mackin, K Toner; A Forker, K Dyas, A Duffy; J Clarke, C Rafferty, B Mallon