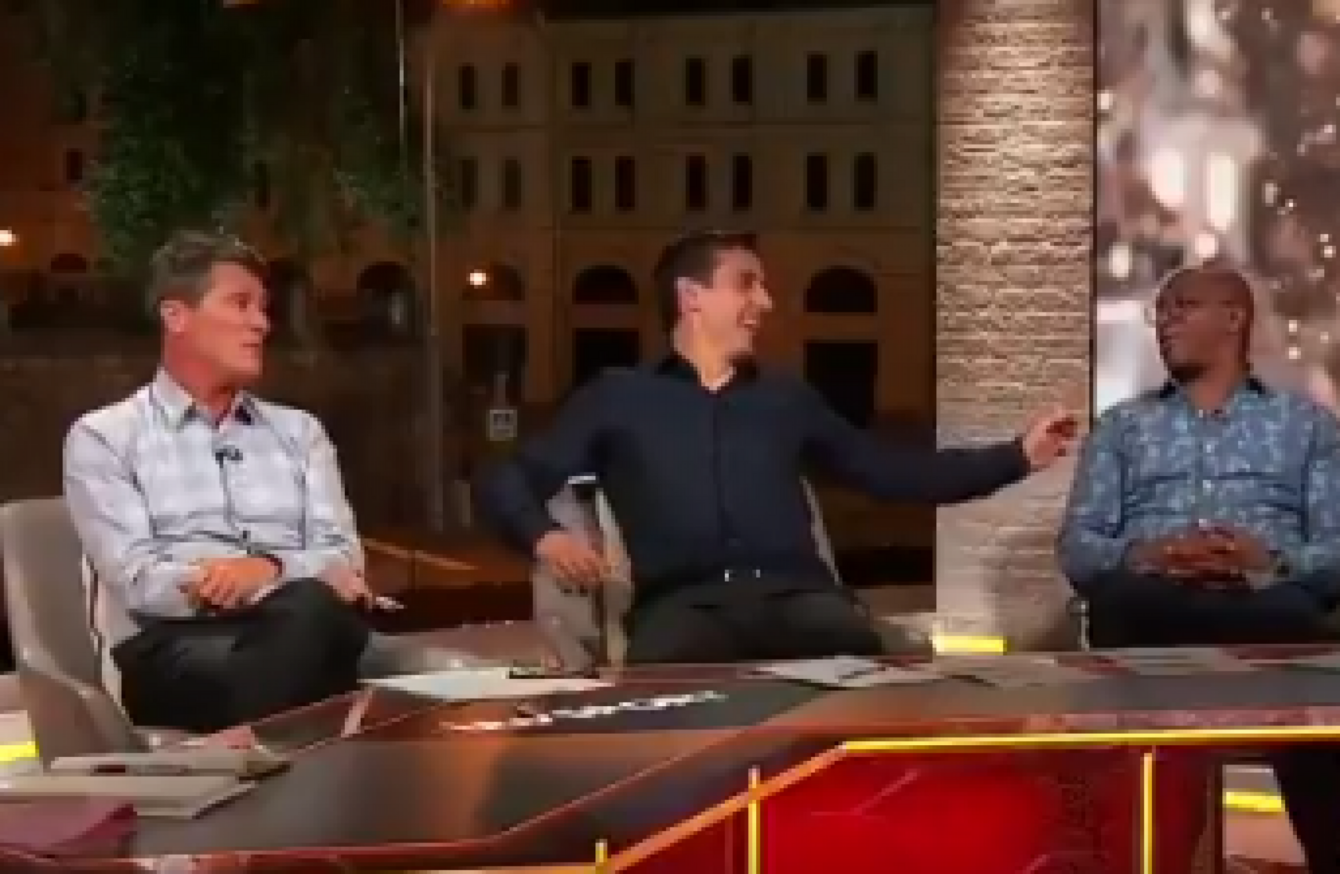 OF ALL THE pundit-related moments of the World Cup, few if any were as memorable as Roy Keane and Ian Wright's argument following the England-Croatia semi-final.
More or less everyone had an opinion on it, even Ed Miliband, with some people feeling Keane was too harsh and others claiming he was simply injecting a dose of realism into a conversation that featured no shortage of hype in relation to England's World Cup performance.
And as recently as this week, Britain's TV watchdog Ofcom said it had decided against launching an investigation following viewer complaints about Wright's mocking of  Keane's accent, arguing that it was intended "in good humour".
Gary Neville memorably laughed on somewhat awkwardly in between the cantankerous pair.
Reflecting on the incident in Dublin this week, Neville refrained from taking either party's side but said that the exchange merely represented what punditry should ideally be — two people with deeply felt opinions debating one another.
Why can't we be excited Roy? Why can't we be happy? We loved every minute of it! 🤷🏾‍♂️ 🦁🦁🦁 pic.twitter.com/F5rNH6wcHu

— Ian Wright (@IanWright0) July 11, 2018
"It was a joy to work at the World Cup full spot," Neville said. "Obviously, it was the first time I'd seen Roy for many years and to be in the company of all of them — Ian Wright, I had not seen Ian Wright for many years either, Lee Dixon. It was almost like a team spirit again, being there for three or four weeks in Moscow. You eat together, you go for walks together, you'll be on the television together.
"Punditry should be about tension. You can see the same incident, and I can be sitting with Slaven Billic, and he would see it completely different to me. That's the beauty of football. That's how punditry should be. People shouldn't be worried about falling out with the guy sitting next to you. that's what good television is. You shouldn't be afraid to fall out with each other, but you shouldn't force it and do it for the sake of it.
"I do it with Jamie Carragher, Graeme Souness and Jamie Redknapp in England. We disagree on things, but as soon as the programme is finished, the first thing you do is shake hands. 'Great show, well done.' That happened every single time [on ITV] for three or four weeks and I loved it.
"It is always fascinating to listen to Roy, he is compelling in terms of his views on football and I enjoyed working with him."
And would Neville like to see Keane appear on Sky's acclaimed Monday Night Football show?
"The three of us? I would, absolutely. You look at some of the pundits working for other channels who have great careers that I played with and played against and you would. You'd like to be in the company of these people.
"You get into the studio and you are with the same person every week… That's why Jamie Carragher and I don't do Monday Night Football together every week. Sometimes Jamie leads on it and I come in for quite a few of them. But there have been guest appearances: Jurgen Klopp, Slaven Bilic, Brendan Rodgers and others. I would absolutely like to be in the presence of different people.
"I get used to how Jamie Carragher and Graeme Souness and Jamie Redknappp see football, so for someone else to come in and throw something different into the mix spikes everybody and gives everyone a different perspective."
Save for a brief ill-fated spell as Valencia manager, the Man United legend has been working regularly for Sky, along with a number of other notable pursuits, since his retirement in 2011. Despite some initial scepticism among certain fans that he would struggle to get past his United allegiances, Neville has developed into arguably the most respected football pundit working on British TV. And yet, he gives the impression of being slightly bewildered by how influential he has become, with both Jurgen Klopp and Jose Mourinho among those to have reacted angrily to the former full-back's criticism on occasion.
A pundit, presenter or commentator never won or lost a football match, or a journalist, for that matter," he says. "Even though sometimes the managers nowadays are obsessed with telling you what the media did.
"I never once during my career criticised a pundit after a match. I never thought it was a good idea to give them the credibility and let them know we were thinking about them.
"Secondly, a pundit never crossed the ball, headed the ball, passed the ball. Journalists don't do that. If you're a player at Manchester United or Liverpool or Arsenal, you have to be able to handle the headlines written about you and what's said about you. That's what you are getting into. It's not easy, but you have to handle it or else you'll struggle."
And while pundits on Sky are sometimes criticised for not being strong or honest enough on certain issues, compared with for example RTÉ (who have the luxury of distance from the players they are discussing), Neville insists he has never been censored in any way.
"I'm happy to give you a few examples, of self-policing and of a producer ringing me up," he adds. "After an Arsenal v Chelsea game, I called a fan an 'idiot' for holding up a banner reading 'Wenger Out' 10 minutes before the end of the game. My problem with that wasn't the fact he had the opinion that Arsene Wenger should leave. It's the fact that this is a guy who went and bought a big piece of cardboard the day before — he's gone to B&Q — and he's got a massive load of paint, and he has painted this before a game in anticipation that his team is going to lose.
"I'm thinking, that's not football. Fans can say what they want, I genuinely believe that. But that doesn't mean I shouldn't call him an idiot.
"The producer rang me up and said he didn't think that was appropriate. You have to take that on board. He didn't say 'don't do it again'.
"In the summer, the Uruguayan boy who started crying six or seven minutes before the end of the game, I think I called it "embarrassing".
Because I was on free-to-air TV, it was a different audience and a lot of them thought it was quite sweet that he was crying. From a football point of view, looking back on it, my feeling is the same. The player should cry at the end of the game and focus until the very last second of the game to try to win his team the game.
"The idea being that if you're crying during a football match, you're not focusing on the next possession, next tackle, next header as you are actually thinking, 'I've lost'.
"It was only 2-0. There were six or seven minutes left. My view, from a punditry point of view, rather than saying it was embarrassing, I probably [should have said], 'Look, stop crying and start concentrating on this game. Go and help your team score a goal. Then at the end of the game, then you can cry.' That's a more compassionate way of dealing with it, rather than coming out with 'that's embarrassing,' which feels like a bit of a hammer over the head.
"I'm never told what to do. You self-police it. Sometimes words come out of your mouth and you say: 'No, come back! I didn't mean that one.' But it's gone. Then you approach your phone after the game wondering 'have people noticed' and, invariably, they have.
"The thing you get criticised most for on social media is commentary. And the thing about your commentary you get criticised for most is your pick for Man of the Match. And I don't even care!
"To be fair, I never thought about it once during my career. 'How've you picked him?', 'You're a disgrace', 'You're biased', 'Have you watched the game I've just watched?'"
The42 is on Instagram! Tap the button below on your phone to follow us!