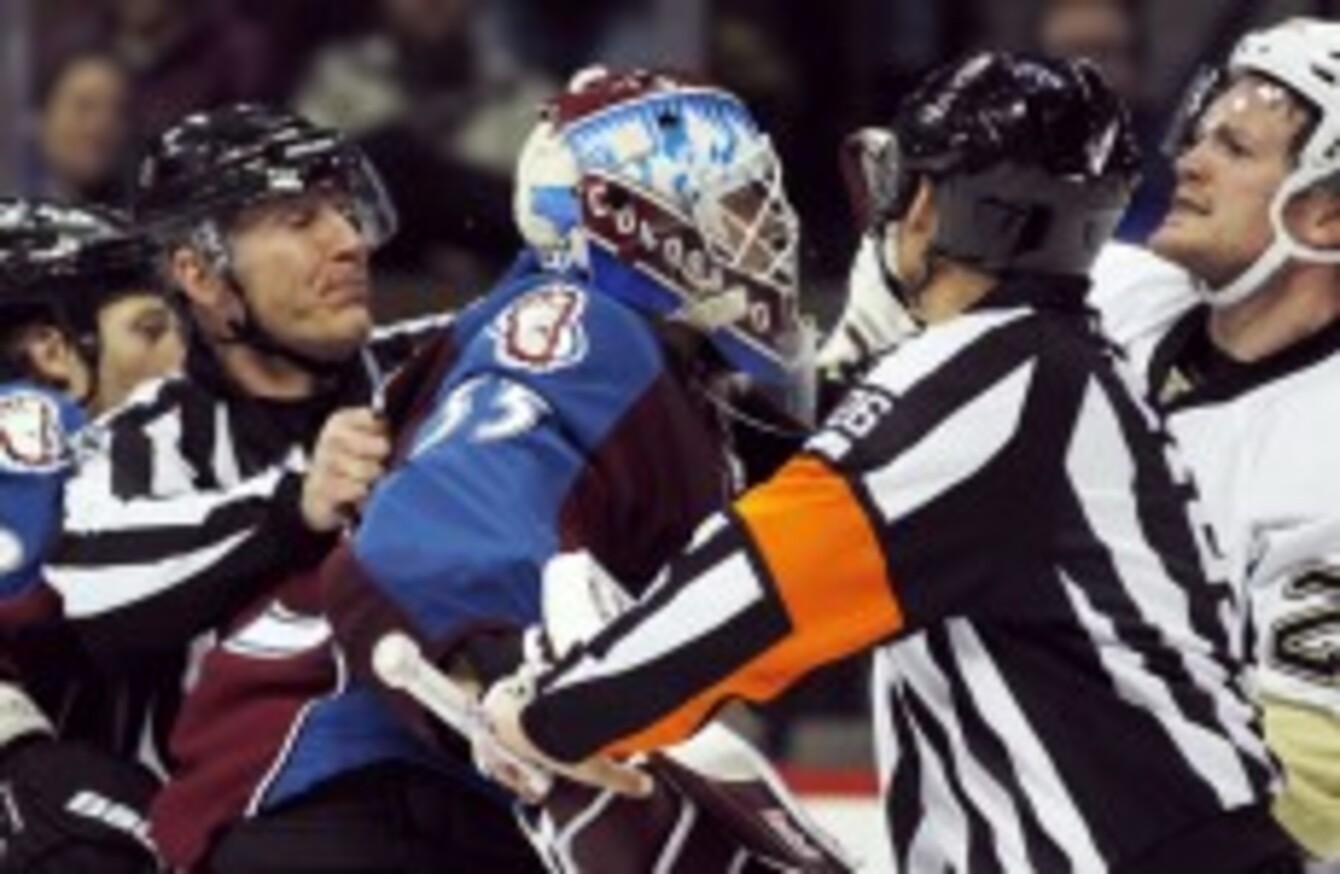 Giguere lets rip at an Anaheim Duck last season.
Image: AP Photo/David Zalubowski
Giguere lets rip at an Anaheim Duck last season.
Image: AP Photo/David Zalubowski
WHEN YOU HAVE won a Stanley Cup and came close in another final, the thought of sitting rock-bottom in the league standings must rankle.
The 35-year-old from Montreal, who currently plies his trade with the Colorado Avalanche, took exception to the losing efforts of his teammates last night.
The Avs lost 3-1 to the Calgary Flames, who were on a 13-game losing streak in away matches, and pulled three points clear of the NHL cellar.
Giguere won the Stanley Cup with the Anaheim Ducks in 2007 and arrived at the Colorado via the Toronto Maple Leafs. He does not take too kindly to his team winning just 12 of their 39 games so far.
Speaking post-match to Adrian Dater of The Denver Post, the netminder let rip. He commented, "At some point, we have to understand. There's no more excuses. It's not about being young, it's not about … we have to put our head into the game.
Some guys are more worried about their Vegas trip at the end of the season than playing the games, than playing every minute of the games. Quite frankly, I don't care about your Vegas trip right now."
"It's not constructive," he added. "We have to find a way to get out of this losing mentality, you know? It starts with me and the guy beside me and everyone has to do their part. It's embarrassing. I'm embarrassed to be here right now. It's not even funny."
Giguere reflected on his 15 years as a top NHL goalie and lamented the lack of effort shown by his teammates, many of whom are hoping to secure contracts for the 2013/14 season and beyond.
Colorado defeated the league-leading Chicago Blackhawks last month but their netminder believes his flailing team need to show similar drive ahead of match-ups against fellow strugglers and the league's lesser lights.
He declared, "Everybody's going to get motivated when you play the Hawks. I mean, the building is full and that's easy to do. But can you get yourself going when you play the Calgary Flames? Can you do that right now? And obviously, we're too immature to do that."
The Avs play Giguere's former team, the Ducks, on Wednesday.