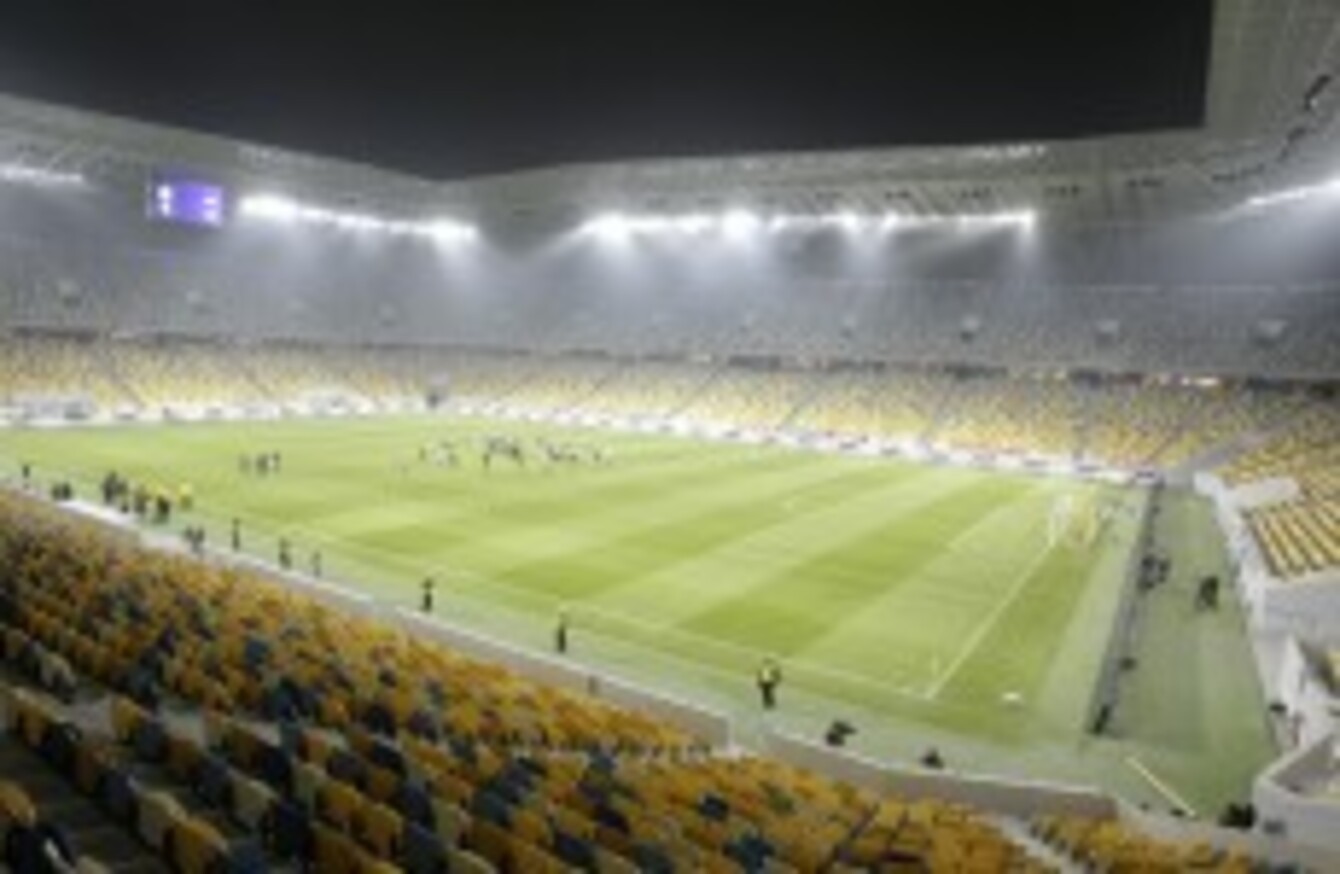 Image: Efrem Lukatsky/AP/Press Association Images
Image: Efrem Lukatsky/AP/Press Association Images
WE'VE CROSSED THE border into the Ukraine so prepare to be confused if you haven't studied your East Slavic language and boned up on you Cyrillic phonetics.
But all that stuff is just extra, unnecessary icing on our great big football cake.
These two stadia will host the tournament's most interesting games (outside of group C).
It's the group of death and Denmark are in for a whoopin'.
Arena Lviv, Lviv
Vital statistics: Purpose built for the tournament and completed in 2011, the Arena Lviv has a capacity of 32, 767. It is unclear whether the stadium will be in full use after this summer or just left to be a sometime venue for the national team.
Karpaty Lviv currently play in the Ukraina Stadium which (with a capacity of over 28,000) is leased to them until 2018. It's hardly worth moving unless they plan to renovate the older ground. FC Lviv play in Ukraine's first division, but only have demands for a sub 5,000 ground.
Як туди дістатися / How do I get there? The city's original football grounds are located close to the city centre, so don't be fooled and follow the floodlights. The arena is on the outskirts of the south side of Lviv and there is no regular public transport link directly there, but we're sure that will change for matchdays. The fan zone is located here on Svobody Avenue in the the heart of the city.
What games are here? Only three group games for this arena, but Lviv will open it's hosting with a bang when Germany meet Portugal. After that, those two sides will meet Denmark.

YouTube credit: lvivremont
(Стадіон) Metalist Stadium, Kharkiv
Vital statistics: Way out east, close to the Russian border we find group B's other venue. In other tournaments when naming rights hold firm, the 35,000 seated home of Metalist Kharkiv is the much less musical Oblast Sport Complex, but the locals call it 'the Spider' due to the support beams which characterise the interior.
Whereas naming rights have only recently come into vogue in western Europe, Kharkiv has been at it since 1926. That was the year this ground came into being and was then known as Traktor, named after the local farm machinery business.
Metalist, who we all know and love from the Champions League has improbably finished third for six consecutive seasons, allowing Shakhtar Donetsk and Dynamo Kiev lead the way
Як туди дістатися / How do I get there? Thankfully, this stadium is connected by existing metro lines and if you don't fancy over an hour's walk across town then you can get the 61000 red line link from the fan-zone to the stadium.
What games are here? The Netherlands play all three group games here. First come the Danes, before the meetings with Germany and Portugal. Neither of these stadia will host a knockout fixture Group B is the end of the line.