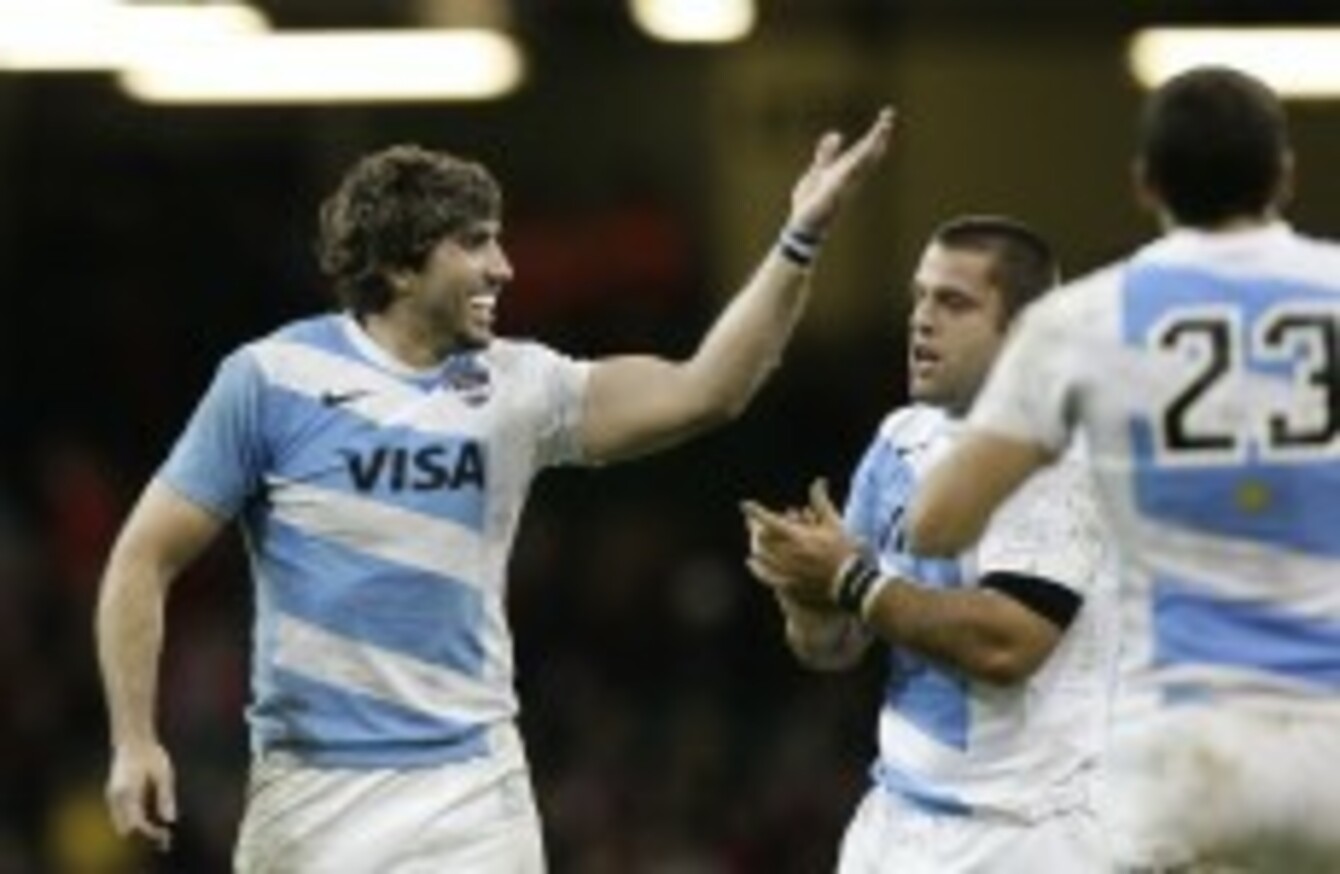 Juan Martin Fernandez Lobbe celebrates the win over Wales.
Image: AP Photo/Jon Super
Juan Martin Fernandez Lobbe celebrates the win over Wales.
Image: AP Photo/Jon Super
CAP NUMBER 50 is not one Juan Martin Fernandez Lobbe will forget any time soon.
The Argentina captain shifted from the back of the pack to blindside flanker against Wales and inspired his team to a stunning 26-12 win.
With Grand Slam winners Wales floundering at present, the Argentineans are on the rise and are targeting a first win over  Ireland since the 2007 World Cup in France.
Lobbe played openside flanker on that fateful day at Parc des Princes when Juan Martin Hernandez kicked Ireland to a slow death and sent Eddie O'Sullivan's men home early.
Ireland avenged that loss a year later at Croke Park and got their first win at the revamped Lansdowne Road in 2010.
However, with the Pumas battle-hardened after their first season in The Rugby Championship, Fernandez Lobbe and his teammates will be looking to end a history-making year on a high.
Captaincy in the blood
The 31-year-old had his first taste of captaincy just under a decade ago when he led Liceo Naval in Argentina.
"It was very special to me," he told Total Rugby Radio, "because it was my club. It has always been my club and, because your teammates chose the captain, it was a great honour for me.
"I learned so much from those people around me."
His philosophy as captain is 'be a leader, do your best and not worry about anything else'.
The mantra served him well during his three seasons at Sale Sharks as he led a side, under coach Philippe Saint-André, that was plagued with injuries and depleted by international call-ups for French, English and Wales.
Super Ted
Fernandez Lobbe joined Toulon in 2009 and is now part of a star-studded side with genuine ambitions on the Heineken Cup.
For now, he insists, thoughts of club rugby are far from his mind and a win over Ireland is top of the agenda.
He believes that the three-month stint former All Blacks coach Graham 'Ted' Henry spent with Argentina as a coaching consultant may be the key to unlocking Argentina's potential. Fernandez Lobbe said:
It is great to learn from someone who has the experience of 140 Test matches. People like him know everything about the rugby. He knows how to talk to you and has a passion for the sport. What you have to do is open up your senses, listen to him and take advantage of all those experiences.
"Every time he had something to say, I listened. The team has taken on his knowledge and experience and continued to grow."
Having played alongside brother Ignacio in over 20 international matches, Fernandez Lobbe reveals that his family's obsession with the sport remains fervent.
He said, "I'm proud of having grown up and seen my brother representing the Pumas. As I grew up, it made me more inspired to wear the jersey as well.
"My mother is our greatest fan, Dad has never missed a match and my sisters get very impassioned when they watch me playing rugby."