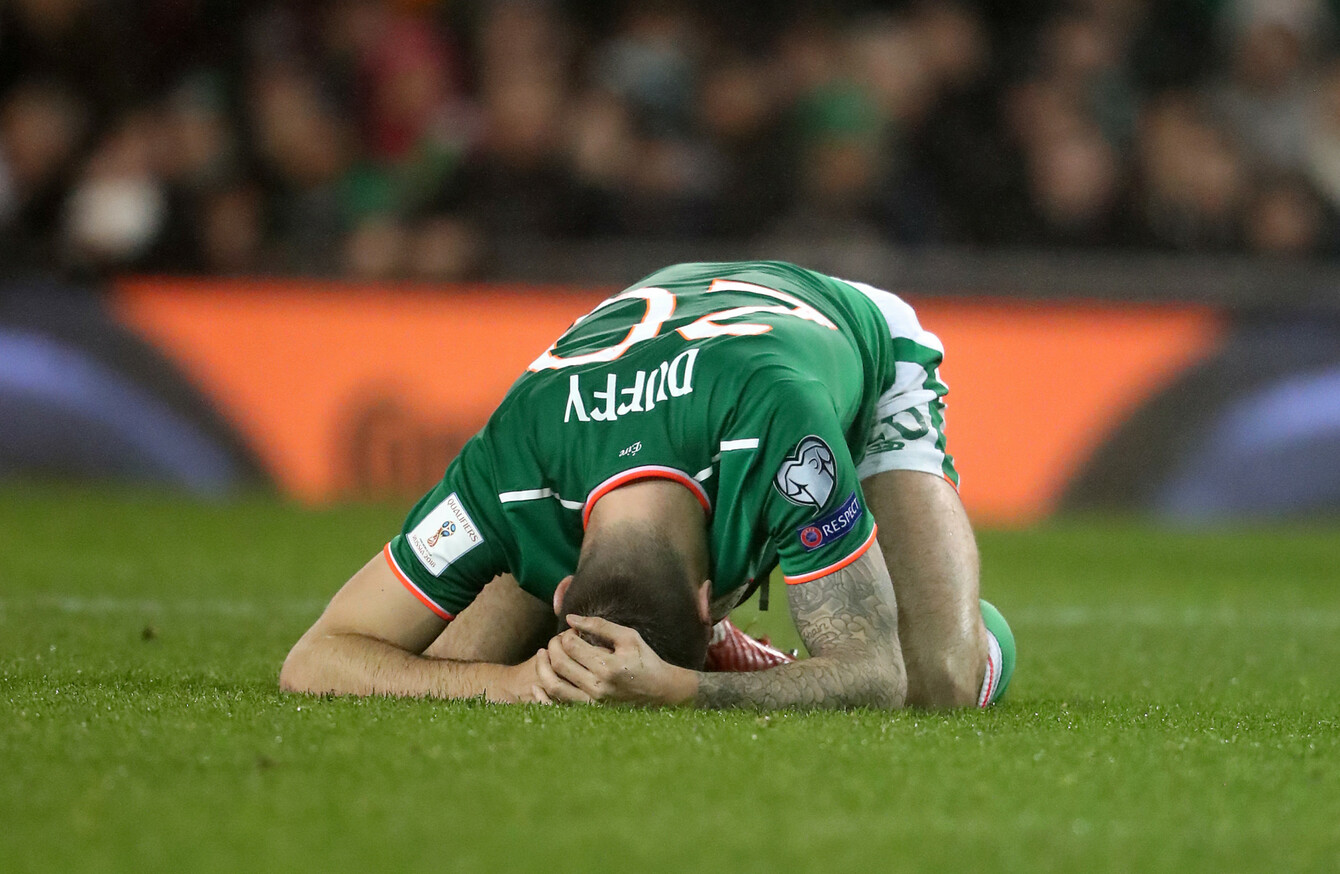 Republic of Ireland's Shane Duffy appears dejected during the FIFA World Cup qualifying play-off second leg match at the Aviva Stadium.
Republic of Ireland's Shane Duffy appears dejected during the FIFA World Cup qualifying play-off second leg match at the Aviva Stadium.
Updated at 10.40
MARTIN O'NEILL NEEDED someone off the bench to win the game for him at the Aviva Stadium last night, and the players he turned to in many ways highlighted Ireland's problems.
Wes Hoolahan, a 35-year-old who is no longer an automatic starter with Norwich. Aiden McGeady, a 31-year-old attacking midfielder who has just five goals in 93 caps, the last of which came more than three years ago, and who is currently playing for a team that are bottom of the Championship. And of course, Shane Long, a striker who has now failed to score in his last 30 appearances for club and country.
The point is not to criticise O'Neill or single out the substitutes he brought on for the sake of it, it is merely to highlight the less than favourable cards the manager has been dealt. After all, it wasn't as if he had many obvious alternatives to the aforementioned trio. His other attacking options were Scott Hogan, a striker who has started just four of Aston Villa's 16 Championship games this season, or Callum O'Dowda, who has been in and out of the Bristol City team and made minimal impact when selected to start the first leg in Copenhagen.
Make no mistake, Ireland have overachieved to get this far. With the group of players O'Neill has at his disposal, they have done very well to reach the last 16 of the Euros and finish second in a World Cup qualification group, where they were originally fourth seeds. It is a testament to the players' tenacity and character more than anything else, as well as the manager's well-documented motivational skills, that O'Neill was ultimately one game away from guiding Ireland to their first World Cup since 2002 and becoming the country's most successful manager since Jack Charlton in the process.
It was therefore simultaneously poignant, heartbreaking and slightly uncomfortable to watch James McClean's post-match interview mainly because it was the antithesis of every other post-match interview in football. McClean is not the type of character who is easily ruffled but the devastating manner of the defeat had clearly left him stunned and struggling to find the right words to rationalise this disaster.
"They were just better than us... I don't know what to say... I am just devastated" - Fair play to James McClean for fronting #Irlden pic.twitter.com/j2dJlQbg8g

— RTÉ Sport (@RTEsport) November 14, 2017
In stark contrast with the typical cliché-ridden post-match interview where footballers are so accomplished in the art of saying nothing, the West Brom winger exuded raw emotion. McClean's reaction would have left footballing PR men pulling their hair out, but now was not a time for trivial responses and the player's brutal honesty would have been appreciated by the fans if nothing else.
When asked if he thought the Irish team had discovered that "heart and spirit weren't enough," McClean replied: "Maybe so… Maybe the occasion… I just don't know… They were just better."
Those last four words are key. Denmark simply have a superior collection of players to Ireland. Christian Eriksen may have been the one world-class star, but the difference in technical ability of the two teams was blatantly obvious.
For long periods, even when the onus was on them to attack, Ireland could not get the ball. According to the official Uefa website, the visitors enjoyed 57% of the possession. They completed 403 passes to Ireland's 244. On Saturday in Copenhagen, the Danes had 68% of the possession. They completed 498 passes compared to Ireland's 124.
So essentially, Ireland played two matches in four days, or 180 minutes largely spent chasing after the ball. This task is incredibly physically demanding. It is a big reason why Ireland's players looked so exhausted towards the end of last night's game, whereas the Danes seemed as if they were enjoying themselves and happy to casually inflict pain on their increasingly punch-drunk opponents.
The same could apply to Euro 2016. Ireland looked shattered in the last-16 match against France, having exerted so much energy in the win over Italy, with the quick turnaround between games especially damaging to a side like O'Neill's men, whose game is based on hard running rather than intricate passing.
Being disciplined and well set-up defensively can only get teams so far. Eventually, Ireland will always hit a ceiling, when they come up against a side with enough quality to harm them, as was the case last night. In a one-off game, the Boys in Green would probably fancy their chances to get a backs-to-the-wall draw against most sides, but this philosophy is unsustainable and not conducive to success in the long run.
In the aftermath of such a demoralising defeat, there is a tendency to look for scapegoats, but there is no obvious one as far as this situation is concerned. The players clearly gave their all and were visibly devastated by last night's outcome. Martin O'Neill is not perfect and in the cold light of day, will probably concede to making a few mistakes during this campaign. But even a coach as accomplished as Pep Guardiola would surely struggle to do considerably better with the technically deficient group of players that Ireland have at their disposal.
Rather than lazily calling for the manager's head or singling out individuals, Irish football must now ask deeper questions of itself.
Denmark  have an estimated population of 5.7 million people, which is only roughly one million more than the Republic of Ireland. Yet they still managed to produce a team of players who can play Ireland off the park in terms of footballing ability. Even Georgia, a country with a population of approximately 3.7 million managed to look far superior technically to the Boys in Green when the sides met in Tbilisi last September.
Some critics have argued that passing the ball and engaging in patient build-up play is simply "not in Ireland's DNA," but anyone who watched the team during the John Giles and Eoin Hand eras will have noticed a side who were willing to keep the ball on the ground and enjoy some success in far from ideal circumstances.
Even the Mick McCarthy era featured some pretty attractive football. After Ireland beat Saudi Arabia 3-0 in the 2002 World Cup, Hand wrote a column in The Telegraph hailing the style of football.
"Reaching the second round of the 2002 World Cup finals, secured by yesterday's 3-0 win over Saudi Arabia, is the Republic of Ireland's greatest ever achievement," he claimed.
"We did it by showing good technique and creating chances in all three games. If we didn't score the number of goals our play warranted, the Irish still outplayed Germany and Cameroon and you can't ask for much more than that.
Jack Charlton's style of play was good at the time for Italia 90 and USA 94. But this is more of a footballing side, which is epitomised by Damien Duff and Robbie Keane.
"You have to play well to give them opportunities to score and this has been the case.
"Mick McCarthy's team plays with more flair than any side of Jack's did. The biggest difference is that Jack imposed his style of play on the players whereas Mick allows his players to impose their imagination on the game."
That era now seems a very long time ago indeed, as Ireland have struggled to play good football or produce players of the calibre of Duff and Keane in the intervening years.
One significant problem seems to be developing players in this country. A number of the national team's older players are expected to retire in the wake of the World Cup failure, and there are not too many obvious candidates to replace them.
In a recent U21 squad, only five of the 19 individuals called up were born in the Republic of Ireland.
Despite their loss yesterday, Noel King's team have generally been performing well, while there are also some promising players coming through the U17 and U19 set-up, such as Brighton duo Aaron Connolly and Jayson Molumby, both of whom have been given a taste of senior football with the Seagulls in the League Cup. Yet whether they can fulfill their undoubted promise is another matter.
Dundalk's progress last year in the Europa League and the recent success of a League of Ireland export in Sean Maguire at Preston are both encouraging signs, while the implementation of U17 and U19 Airtricity League competitions are further positive steps.
Yet in order to thrive, everyone in Irish football needs to be on the same page. As has been pointed out before, there is a degree of dysfunction at schoolboy level.
Consequently, there is a growing sense that young Irish footballers are being left behind, which may be one reason why they are so inferior to other countries from a technical viewpoint. Back in 2014, Brendan Rodgers touched on this issue. "It's a lot more difficult now," he said. "A lot of the Irish lads start their apprenticeship at 16, but even then it's too late as boys across the water are beginning at the age of eight and by the time they're 16, they've been trained technically, tactically, physically and mentally and then they're ready to step into full-time football."
What are they
really like?
Rare insights on sport's biggest names from the writers who know them best. Listen to Behind the Lines podcast.
Become a Member
In an article for The Irish Times last year, former player Graham Barrett shared similar concerns.
He contrasted the period when he emerged as a youth player with Arsenal, when Ireland were consistently punching above their weight at underage tournaments under the guidance of Brian Kerr, compared to the current situation.
"It begs the question, why has there been such a change in our fortunes at youth level?" Barrett asked.
Put simply, our problems are down to the fact that we have stagnated while the football world around us moved on.
"We have stood back and watched as other countries professionalised themselves in how they developed players from an earlier age and invested in new facilities.
"As measures were implemented elsewhere to increase the numbers of properly qualified coaches, we did next to nothing and now it has come back to haunt us.
"All over Europe, aspiring young footballers aged 8-12 train between eight and 12 hours a week while players aged 12-16 can practice as much as 12-15 hours per week at fantastic training facilities.
"At 16, the best players then enter a full-time football environment at professional clubs.
Here at home, our kids get an hour on a Tuesday and Thursday, more often than not on very poor surfaces that might be more fit for a local gang's piss up than a technical football session.
"With just that in mind, how in God's name do we expect to continue to keep pace with other countries unless we radically change our approach?"
Consequently, there have been serious issues at grassroots level, with qualification for major tournaments relatively rare, while Irish football at large has suffered as a result.
But there is no good reason why top-class footballers cannot be produced in this country if they are properly supported. As The42 columnist John O'Sullivan once put it:
An Irish eight-year-old has as much potential as an eight-year-old anywhere else in the world, but it's the responsibility of the FAI, the SFAI, the LOI and the football family to ensure that we put structures, support and coaches in places that harness that potential. If we don't, we'll continue to reach tournaments rarely, and by accident, when every other country is doing it by design."
Of course, these issues can be glossed over at times, especially when the team picks up hard-fought wins over sides like Moldova, Georgia and Wales, or even inspirational victories stemming largely from incredible shows of defensive resilience against a Germany or an Italy, but eventually there will be a wake-up call, when spirit and determination simply are not enough to compensate for the team's conspicuous flaws.
It happened in October 2006 when the team lost 5-2 against Cyprus during the ill-fated Steve Staunton era. It happened throughout Euro 2012, when Ireland were the worst side in the competition by far, enabling Croatia, Spain and Italy to casually cast Trap's teams aside. It happened in October 2012 when the Boys in Green were beaten 6-1 by Germany, their biggest home defeat ever. And it happened again last night when, as McClean says, the Danes were "just better".
Subscribe to The42 podcasts here: