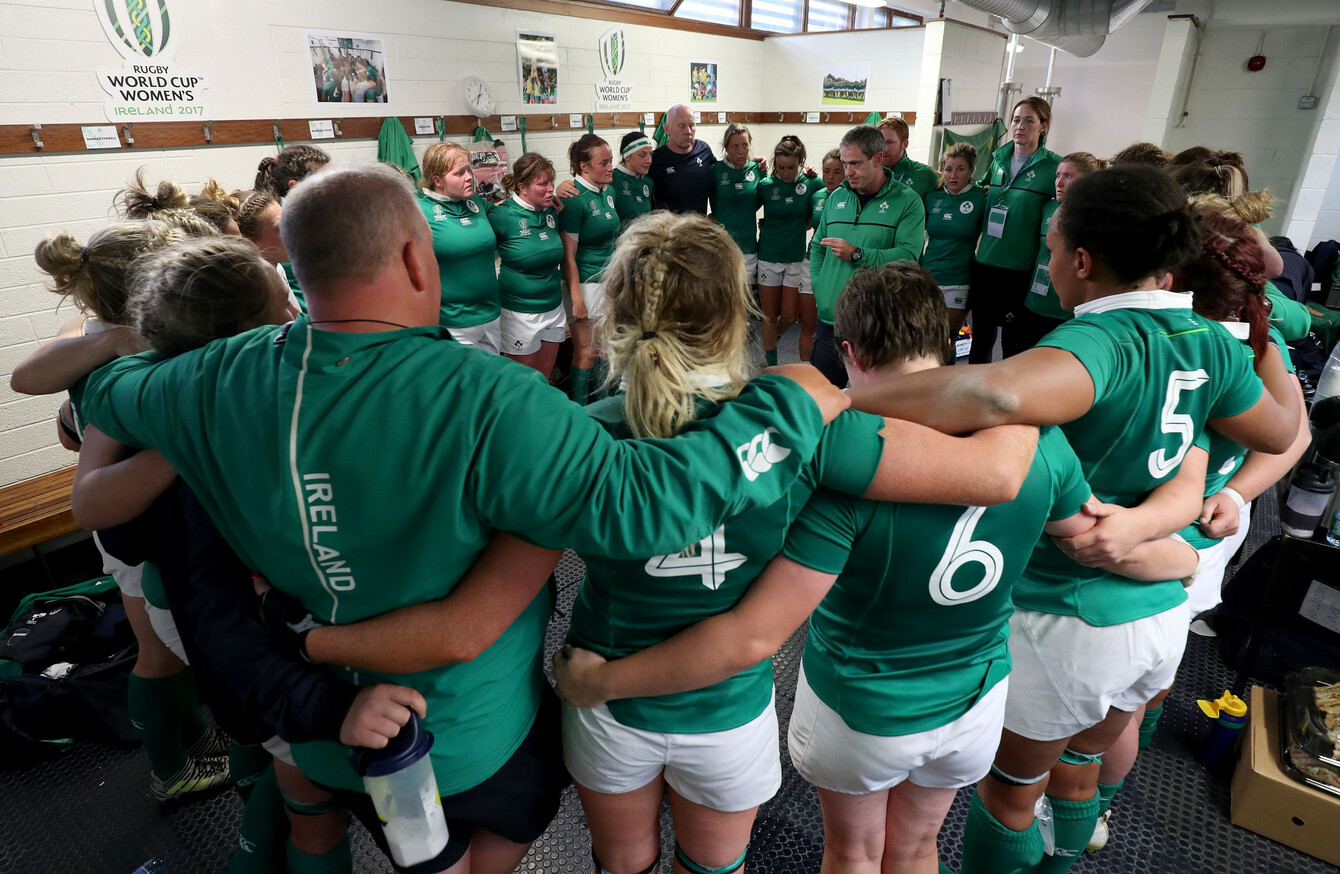 Ireland huddle in the dressing room after the game.
Image: Dan Sheridan/INPHO
Ireland huddle in the dressing room after the game.
Image: Dan Sheridan/INPHO
Ryan Bailey reports from the Belfield Bowl, UCD
A WIN FAR too close for comfort, and one which has done little to vindicate the suggestion that Ireland, the host nation, are one of the genuine contenders to lift this World Cup.
While Tom Tierney's side managed to spare themselves the embarrassment of potentially missing out on an invite to their own party, the last 160 minutes of rugby, although yielding two victories, have been less than convincing.
Basic errors once again undermined Ireland's efforts to string any sort of cohesive phase play together and, most worryingly, it was Japan, ranked 14th in the world, who were far more penetrating and purposeful with ball in hand.
In the end, Ireland managed to dig deep enough to muster a comeback which keeps their tournament hopes alive and sets-up a Pool C decider against France on Thursday, but it wasn't pretty.
But a repeat of this evening's performance against a hugely physical French side who have blown Japan and now Australia away will abruptly halt Ireland's campaign having had charmed lives in the opening two games.
Tierney admitted afterwards that his side 'didn't play well' against Japan and while his side deserve enormous credit for the way they clawed their way back into the game to eventually overturn a 14-0 half-time deficit, the reality is that luck and one-dimensional rugby will only get them so far in this tournament.
For all the talk of a more expansive approach, and the opportunity for the backline to click, Ireland had to resort to the tactic which serves them best; put-it-up-the-jumper rugby and let the forwards batter and bosh their way over the line. It's not overly entertaining but it's hugely effective and has now been the source of all six of Ireland's tries.
Granted the ends justify the means and tournament rugby is all about gaining the results, but Ireland will need to improve immeasurably all over the field for Thursday if they are to stand any chance against Les Blues, who demolished Australia at the Bowl after Ireland huffed and puffed their way past Japan.
What's most concerning is that the strongest areas in Ireland's armour — the set-piece and lineout – failed to fire against an opposition pack which was considerably smaller in size.
Then there are the basics errors which riddled the first half in particular and led to huge frustration both on and off the pitch in Belfield, as well as the withdrawal of fullback Mairead Coyne and the entire front row before and at half time.
As Tierney said afterwards, Ireland are failing to execute the fundamentals of the game and an inability to gather cleanly, kick with any conviction and keep their discipline at the breakdown is making it a lot harder than it should be.
That said, Ireland have two wins from two and sit second behind France in Pool C heading into Thursday's deciding fixture, labelled as a 'cup final' by Tierney, although he was quick to downplay his team's chances, pre-empting the media by installing the hosts as underdogs.
And on this week's evidence it would be hard to disagree with that assertion.
Several members of the Ireland squad stayed to watch France run riot at the Bowl and if there was any doubt as to the scale of the task ahead, it will be patently clear now after two vastly contrasting victories for the Pool C rivals.
France are a big side but they also possess a lethal and clinical edge out with their speedy and evasive backs running dangerous lines and offloading at will; basically everything Ireland have been unable to do so far.
Tierney maintained that the mistakes are rectifiable in the next three days — something we heard on Wednesday night, too — and that his side have the capacity to play in more than one way; it's now time to go out and show it.
The fans will pack the Bowl to the rafters again on Thursday and the role they played in lifting Ireland when they had dug themselves into a deep hole cannot be underestimated, but just like the element of luck, feeding off the home support will only serve Ireland to an extent.
As the billboards dotted around south Dublin tell the supporters: 'They'll bring everything, bring your voice.'
Well, two games into this World Cup, the players need to not only bring heart and passion but execute the skills and gameplan we all know they can unless genuine home interest in this tournament won't extend past Thursday.
The serious stuff starts now, and Ireland need to bring their A-game.
Subscribe to The42 podcasts here: